Trump And The Rule Of Law
In his time as President, Donald Trump has demonstrated as much contempt for the rule of law as he did as a candidate.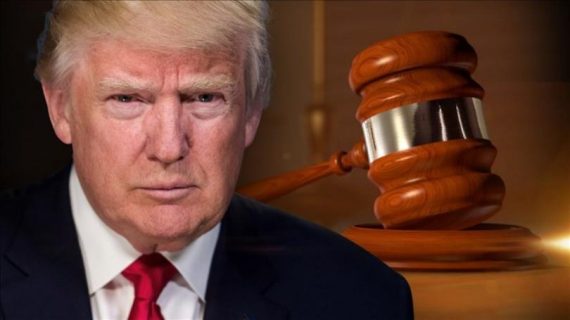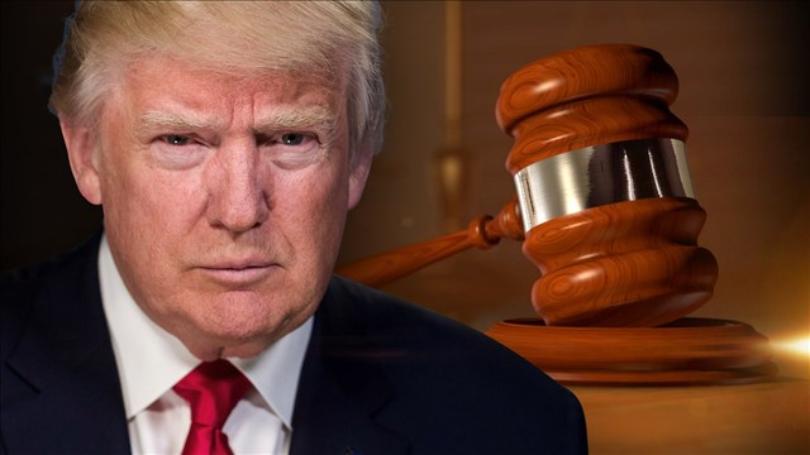 In the days before he departed for a trip that will have him in Asia for much of the next two weeks, President Trump decided it was a good idea to resume his long-standing attacks on the Rule of Law:
WASHINGTON — One of President Trump's biggest disappointments in office, by his own account, was discovering that he is not supposed to personally direct law enforcement decisions by the Justice Department and the F.B.I. So, instead, he has made himself into perhaps the most vocal critic of America's system of justice ever to occupy the Oval Office.

Just this week, he denounced the criminal justice system as "a joke" and "a laughingstock." He demanded that the suspect in the New York terrorist attack be executed. He spent Friday berating the Justice Department and F.B.I. for not investigating his political opponents. He then turned to the military justice system and called a court-martial decision "a complete and total disgrace."

The repeated assaults on law enforcement cross lines that presidents have largely observed since the Watergate era, raising questions about the separation of politics and the law. But as extraordinary as Mr. Trump's broadsides are, perhaps more striking is that investigators and prosecutors are so far ignoring the head of the executive branch in which they serve while military judges and juries are for the most part disregarding the opinions of their commander in chief.

"You know, the saddest thing is that because I'm the president of the United States, I am not supposed to be involved with the Justice Department," Mr. Trump said in a radio interview on Thursday on the "Larry O'Connor Show." "I am not supposed to be involved with the F.B.I. I'm not supposed to be doing the kind of things that I would love to be doing. And I'm very frustrated by it."

That frustration has been fueled particularly by Mr. Trump's inability to control the special counsel investigation into whether his campaign coordinated with Russia during last year's election, an investigation that unveiled its first criminal charges this week against Mr. Trump's former campaign chairman and two other advisers.

Mr. Trump has made clear that he sees the attorney general and the F.B.I. director as his personal agents rather than independent figures, lashing out at both for not protecting him from the Russia investigation.

In May, he fired the F.B.I. director, James B. Comey, who later testified that he had refused Mr. Trump's demands that he pledge loyalty and publicly declare that the president was not personally under investigation. In July, Mr. Trump told The New York Times that he would never have appointed Attorney General Jeff Sessions had he known that Mr. Sessions would recuse himself from overseeing the investigation.

While his lawyers have for now persuaded Mr. Trump not to publicly attack Robert S. Mueller III, the special counsel, the president has not ruled out firing him, a scenario that other presidents facing special prosecutors considered virtually unthinkable. Asked on Friday whether he might fire Mr. Sessions if the attorney general does not investigate Democrats, Mr. Trump left open the prospect: "I don't know," he said.

(…)

[I]n the past four decades, no president has sought to publicly pressure law enforcement as much as Mr. Trump.

In a barrage of a dozen tweets on Thursday night and early Friday, Mr. Trump railed at law enforcement agencies for not investigating Democrats. He cited Tony Podesta — the brother of Hillary Clinton's campaign chairman, John D. Podesta — who stepped down from his firm this week amid scrutiny of his lobbying business by Mr. Mueller. And he cited a book excerpt by Donna Brazile, the former interim Democratic National Committee chairwoman, who wrote that last year's primaries were tilted by a fund-raising agreement that the committee made with Mrs. Clinton.

"I'm really not involved with the Justice Department," Mr. Trump told reporters before leaving on a 12-day trip to Asia. "I'd like to let it run itself. But honestly, they should be looking at the Democrats. They should be looking at Podesta and all of that dishonesty. They should be looking at a lot of things. And a lot of people are disappointed in the Justice Department, including me."
These last comments, which were made as Trump was getting ready to get on Marine One to head to Andrews Air Force Base to start his Asia trip, came after a tweetstorm in which he made even further demands. Keeping his focus on the allegations made by Donna Brazille in her new book, for example, Trump alleged that Hillary Clinton "stole the Democratic Primary" from Bernie Sanders, claiming without evidence that the coordination between the Clinton campaign and the Democratic National Committee was a "major violation of Campaign Finance Laws and Money Laundering." and that "At some point the Justice Department, and the FBI, must do what is right and proper," He also said on Twitter that "Everybody is asking why the Justice Department (and FBI) isn't looking into all of the dishonesty going on with Crooked Hillary & the Dems." In addition to all of this, Trump has tweeted his support for the death penalty for Sayfullo Saipov, the suspect in the Halloween attack in New York City, saying on Twitter that he "SHOULD GET DEATH PENALTY." Trump also commented on the sentence handed down in the case of Bowe Bergdahl, who received a Dishonorable Discharge and reduction in rank to Private after pleading guilty to walking away from his post in Afghanistan in 2009 before being captured by the Taliban. In the past, of course, Trump had referred to Bergdahl as a "dirty, rotten traitor," and as a "traitor" who should be executed for his crimes while a candidate for President, and said he stood by those comments shortly after Bergdahl pled guilty. As the Times article quoted above notes, those comments could a serious impact on future proceedings in both of those cases.
As many commentators have noted over the past week, these comments on Trump's part, and his obvious efforts to exert political influence over things such as the Russia investigation and the actions of the Justice Department are unlike anything we've seen since the Nixon Administration. It was, of course, the effort to obstruct justice in the Watergate investigation and use the Justice Department and the Federal Bureau of Investigation as weapons against his political enemies that ultimately led to Nixon's downfall. The most infamous example of that, of course, was the the so-called "Saturday Night Massacre" in October 1973 when Nixon ordered Attorney General Elliott Richardson to fire Watergate Special Prosecutor Archibald Cox, which Richardson refused to do. Nixon responded by firing Richardson and then Deputy Attorney General William Ruckelshaus when he too refused to obey Nixon's order. Ever since Watergate, though, it has been understood that there is supposed to be a firewall between the White House and the law enforcement responsibilities of the Justice Department and the Presidents since Nixon, while often frustrated by the actions of their own Justice Department, have largely followed that rule. Trump, however, has proven to be an exception to that historical rule, and his behavior in office suggests that he will just become more inclined to use the law and the courts as a weapon against his enemies as his time in office goes on.
None of this should be a surprise, of course. As we saw when he was a candidate, Trump has absolutely no inclination to refrain from attacking the legitimacy of the legal system. The most prominent example, of course, came in his attacks on the Federal District Court Judge who was presiding over the fraud lawsuits against him and his now defunct business venture "Trump University." In those attacks, Trump referred to the Judge, Gonzalo Curiel of the U.S. District Court for the Southern District of California as a "Mexican"notwithstanding the fact that he was born in Indiana, contended that his 'Mexican heritage' created some sort of conflict of interest, and claimed that Curiel was "biased" and "unfair."  In retrospect, it's clear that Trump's attacks were related to Judge Curiel's decision to authorize the release of documents related to the ongoing lawsuit, documents that clearly show the extent to which Trump's so-called "University" was little more than a fraudulent marketing scheme. In reality, though, an examination of Judge Curiel's rulings in the case demonstrated no evidence of the bias Trump allegedly.
As I noted back when Trump was still just a candidate, I made note of his obvious contempt for the Rule of Law:
Based both on his rhetoric and his actions, Donald Trump gives the impression of being a President who sees himself as  unconstrained by the law or the other branches of Government in the tradition of Jackson or Richard Nixon, both of whom set off Constitutional crises from which it took the nation years to recover. As in the case of those two previous Presidents, he would likely justify his actions by appealing to the same populist, anti-establishment rhetoric that has fueled his campaign from the start. The difference is that, this time, he would be President of the United States and his rhetoric would be tied to action that could do real damage to the Rule of Law and to the Constitution. Furthermore, unlike any of his predecessors, Trump seems to have command over a mob of supporters that would rush to his defense even when he was clearly wrong. This is why the arguments that equate Trump to the European far right, and even to fascists and authoritarians of the past, are completely on the mark. Either Donald Trump is lying to his supporters or he is the kind of man who cannot be trusted with political power even in a Constitutionally limited democratic republic. Under the circumstances, it would be foolish for anyone to believe that this is all a big con on Trump's part, and much safer to assume that he quite simply cannot be trusted with political power.
His time in office has proven my assessment regarding how Trump would act have largely proven to be correct. Whether its the recent comments that I note above or his actions such as seeking to pressure James Comey and the heads of the intelligence agencies to end the investigation of former National Security Adviser Michael Flynn, his decision to fire James Comey because of the Russia investigation, or his numerous attacks on his own Attorney General, Trump has demonstrated the same utter contempt for the rule of law that he did as a candidate. And he does it all with the seeming approval of his supporters and the vast majority of his fellow Republicans. In any other President, it would be a President. With this President, it's just another day in office, and it's going to get worse before it gets better.