Republicans Are Actively Helping Trump Undermine The Russia Investigation
Republicans on Capitol Hill and in positions of power are slavishly backing their President over their country. They should be ashamed.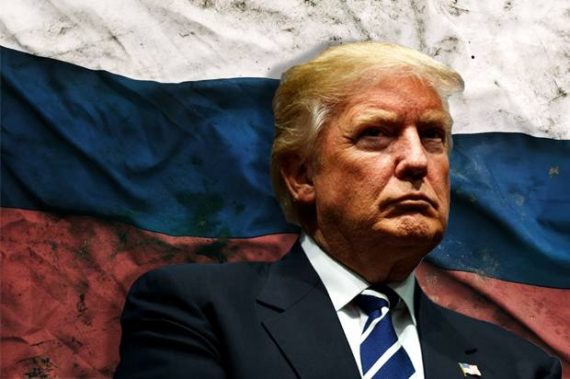 The Washington Post's Greg Sargent notes that Republicans are actively helping the President undermine the Russia investigation:
One of the big political questions of the moment is this: Will GOP congressional leaders act to protect special counsel Robert S. Mueller III's investigation against President Trump's threats to hamstring or kill it?

But in a way, this question, while important, doesn't really get at the full story here, because its premise is that Republicans are mostly behaving passively toward the Mueller probe, clearing the way for Trump to act if he wishes. In reality, Republicans are, under cover of fake oversight, actively working to interfere in the investigation, on Trump's behalf.

Here's the latest on this front: The Post reports that House Judiciary Committee chairman Bob Goodlatte is planning to issue a subpoena for release of the memos that former FBI director James B. Comey has made of his private conversations with Trump, which have been turned over to Mueller.

Those conversations include the ones in which Trump demanded Comey's loyalty and pressed him to drop the probe into former national security adviser Michael Flynn, but there is a lot more in those memos we haven't heard about. They are probably important evidence in Mueller's efforts to establish whether Trump obstructed justice.

The Justice Department is already signaling reluctance to release these memos. Deputy Attorney General Rod J. Rosenstein, who oversees the Mueller probe, has already told congressional Republicans that he wants more time to evaluate "the consequences" of giving them to Congress and worries about "publicizing them."

Does anyone really believe Republicans are motivated by nothing but pure oversight impulses here? There are two other reasons they might want these memos. The first is to deliberately provoke Rosenstein into declining to provide them all — which could create a pretext to hold Rosenstein in contempt of Congress or even for Trump to fire him.

"The Deputy Attorney General should be aware that no matter what he gives to these members of Congress, it will never be enough," Rep. Adam Schiff, the ranking Democrat on the House Intelligence Committee, told me this morning. "The point is to create a conflict with the Justice Department that would give the president grounds to get rid of Mueller or Rosenstein. They don't care what damage they do to our institutions to protect the president." Separately, Schiff is pushing a new bill that would create disincentives for Trump to pardon people involved in the investigation.

The second reason for getting these memos — and let's not pretend this isn't perfectly plausible — would be to selectively leak from them, to mislead the public by, say, creating phony impressions of misconduct on Comey's part that could provide more fodder for Trump and his allies to delegitimize the investigation, possibly manufacturing further pretext to hamstring or kill it. Let me remind you that Republicans already tried a similar caper with the bad-faith-saturated Nunes memo.

(…)

There is a broader principle at stake here: We want such investigations to be generally insulated from political interference, to protect law enforcement's integrity and independence. "This could have a chilling effect on Mueller's team," McQuade said. "If they know that every decision they make is going to be perhaps exposed to the public, it might change the way they do their work. We want them to be able to act independently, so they can make decisions based on objective facts and without worrying about someone twisting their actions in the eyes of the public."

The complication here is that Congress, of course, is supposed to exercise oversight over law enforcement. But there comes a point at which this oversight, when exercised in obvious bad faith, crosses over into something else — that is, overt and deliberate political interference — and good-faith observers need to be able to say so. As former Justice Department spokesman Matthew Miller put it to me: "The president is working with members of Congress to actively thwart his own Justice Department, because he wants it to stop investigating him."

By the way: Does anyone think this would be happening if House Speaker Paul D. Ryan didn't give this effort his tacit blessing? And is there any point at which Ryan, who is now the subject of much discussion summing up how his career will be remembered, will step in and put a stop to it?
In addition to these developments, the efforts by some Republicans and many Democrats to enact legislation that would make it more difficult for President Trump to fire Special Counsel Robert Mueller, but Senate Majority Leader is saying he will not support it:
WASHINGTON — Senate Majority Leader Mitch McConnell on Tuesday thwarted a bipartisan effort to protect special counsel Robert Mueller's job, saying he will not hold a floor vote on the legislation even if it is approved next week in the Senate Judiciary Committee.

McConnell said the bill is unnecessary because President Donald Trump will not fire Mueller.

"We'll not be having this on the floor of the Senate," McConnell said on Fox News.

His comments came amid widespread opposition to the bill among members of his caucus, with several GOP senators saying the bill is unconstitutional. Others said it's simply not good politics to try and tell Trump what to do, likening the legislation to "poking the bear."

The bipartisan legislation was introduced last week as Trump publicly criticized Mueller, who is investigating potential ties between Russia and Trump's 2016 campaign as well as possible obstruction of justice by the president. Trump, fuming about a raid of his personal lawyer's office by a different division of the FBI, said last week that the Mueller investigation is "an attack on our country" and is "corrupt."

Trump has also privately pondered firing Deputy Attorney General Rod Rosenstein, who is overseeing Mueller's investigation.

Within a day of Trump's criticism, Republicans Thom Tillis of North Carolina and Lindsey Graham of South Carolina combined two bills they introduced last summer to protect special counsels. They introduced the new bill along with Democratic Sens. Chris Coons of Delaware and Cory Booker of New Jersey, and Senate Judiciary Chairman Chuck Grassley, a Republican, announced that his committee would vote on the bill.

The legislation would give any special counsel a 10-day window to seek expedited judicial review of a firing, and would put into law existing Justice Department regulations that require a firing to be for "good cause."

Democrats immediately jumped on the legislation, but many Republicans have been cool to it.

At least three of the 11 GOP members of the Judiciary panel have said they will vote against it and another five have said they have questions about its constitutionality. Grassley is one of those with concerns, but said he felt obligated to hold a vote.

Republicans off the committee had questions too — and some acknowledged that it could be politically difficult.

South Dakota Sen. Mike Rounds said Tuesday that Trump that should make the decision on his own and be responsible for the consequences.

"I think having Congress tell him what we believe he should do in this case is simply poking the bear, and I'd just prefer not to do that," Rounds said.

Oklahoma Sen. Jim Lankford said the bill is a "political distraction."

"You create this whole constitutional political stir over something that is not going to happen," he said.

Others said there was little point.

"It's about as popular as cholera with the leader in the Senate and it's about as popular as malaria in the House," said Louisiana Sen. John Kennedy, a member of the Judiciary panel. "I think most people think we're picking an unnecessary fight with the president."
Senator Kennedy does, of course, have a point regarding the likely fate of any bill aimed at protecting Mueller and the Russia investigation in the House of Representatives. While such a bill would likely pass with Democratic support and some support from Republicans if it were allowed to reach the floor of that body, it likely would not have the support of a majority of the House Republican Caucus. Because of that, it's unlikely that the House GOP leadership would ever allow the bill to get to the floor, meaning that the only way to force a floor vote would be via a Discharge Petition that would require the signature of a majority of members of the House. In any case, even if the bill did pass the House and the Senate, it would likely be vetoed by the President and it's not at all clear that there would enough votes to override such a veto in both the House and that Senate. That being said, the fact that Republicans are unwilling to even try to take the steps that could stop this President from trying to shut down the Russia investigation is something that makes them look complicit in the President's ongoing efforts to undermine that investigation.
On some level, of course, this is entirely unsurprising. As a matter of course, it's typically the case that a President's own party will rally behind him in the face of any allegations against him made by the opposing party or by outside forces. We saw it during Watergate with the allegations against President Nixon when Republicans were largely defensive toward the President. Indeed, it wasn't until the very end after the release of the final Oval Office tapes made Nixon's impeachment and conviction inevitable that Republicans on Capitol Hill approached Nixon and told him he needed to resign. It happened during the Iran/Contra investigation under President Reagan, and, of course, it happened with Democrats and the various investigations of Presidents Clinton and Obama during their time in office. Given that, the fact that most Republicans are rallying to the side of the President of their party is not, I suppose, something to be particularly surprised by.
There are some exceptions to this rule, of course. Senator Thom Tillis of North Carolina and Lindsey Graham of South Carolina have taken the lead in pushing the legislation to protect Mueller and, by extension, Deputy Attorney General Rod Rosenstein. Other Senators, such as Jeff Flake, Bob Corker, and Ben Sasse have also been outspoken in this regard, but it's worth noting that two of those Senators are retiring this year and Sasse isn't up for re-election until 2020. Beyond those names, though, most of the rest of the Republicans on Capitol Hill are either slavishly backing the President's efforts to undermine a legitimate investigation or remaining silent in the face of his repeated attacks on Mueller and Rosenstein and his unsupported claims that he has been completely vindicated by the Congressional investigation of the matter.
That being said, the extent to which many Republicans on Capitol Hill, as well as people such as Chairwoman of the Republican National Committee Ronna McDaniel, are not only rallying behind Trump but actively seeking to undermine the special counsel and the investigation into foreign interference in a Presidential election is disturbing. There comes a time when one has to choose between partisan loyalty and loyalty to one's country, and far too many Republicans are quite obviously choosing to side with their party over their country notwithstanding the fact that it could end up harming their own political fortunes in short term.