House Conservatives Want To Impeach Rod Rosenstein For Some Reason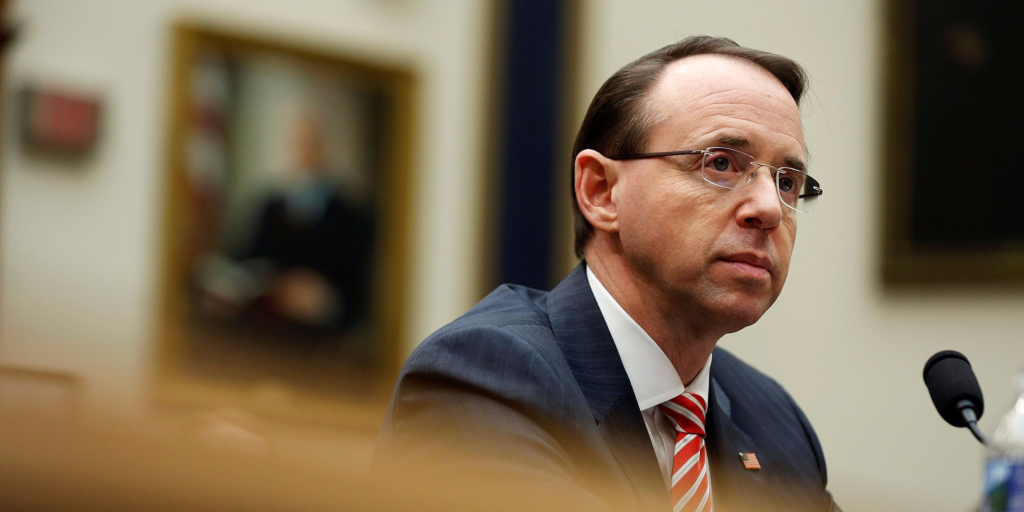 In what can only be described as a blatant exercise of partisanship, a group of hard-right conservatives is seeking to impeach Deputy Attorney General Rod Rosenstein in what clearly seems to be an effort to assist the President in undermining the ongoing Russia investigation:
WASHINGTON — A group of House Republicans escalated their feud with the deputy attorney general, Rod J. Rosenstein, on Wednesday, introducing articles of impeachment in a long-shot bid to oust the official overseeing the special counsel inquiry into Russian election interference.

The move was seen as much as a political maneuver as an act of congressional oversight. The group of 11, led by Representatives Mark Meadows of North Carolina and Jim Jordan of Ohio, would need the support of a majority of the House and two-thirds of the Senate to convict Mr. Rosenstein. The resolution they filed does not require the entire House to vote before Congress adjourns for its summer recess on Friday.

But it could provide President Trump with more ammunition to attack Mr. Rosenstein, who has been in Mr. Trump's cross hairs since he appointed the special counsel, Robert S. Mueller III, to investigate Russia's plot to manipulate the 2016 presidential election and whether any Trump associates were complicit.

Republican lawmakers have been sparring with Mr. Rosenstein for months. They accuse the Justice Department of being less than forthcoming with documents related to several of its most sensitive investigations, including the Russia inquiry.

"It's time to find a new deputy attorney general who is serious about accountability and transparency," Mr. Meadows said in a statement on Wednesday.

While the department has largely produced the documents requested in subpoenas from the House Judiciary and Intelligence Committees, Republicans have complained for months that Mr. Rosenstein and the department have slow-walked production of the papers and hidden information from Congress.

"At almost every opportunity, Mr. Rosenstein has resisted and defied Congress's constitutional oversight," Representative Andy Biggs of Arizona said in a statement. "His time to obstruct our investigations has expired."

The resolution zeroed in on Mr. Rosenstein's decision to sign off on a request to renew a Foreign Intelligence Surveillance Court application to wiretap Carter Page, a former Trump campaign adviser.

A Justice Department spokeswoman declined to comment on the resolution.
By its language, the Constitution does allow Congress to impeach Cabinet-level, and some sub-Cabinet level officials, but it is exceedingly rare in American history. Impeachment itself is something that has happened only nineteen times in American history. Of those nineteen, only one involved the impeachment of a Cabinet-level official, and that was the impeachment of William Belknap, who served as Secretary of War under President Ulysses S. Grant and was one of the members of Grant's cabinet accused of personally profiting from kickbacks related to revenue from trading in Indian territory. Belknap was ultimately acquitted by the Senate. The remaining eighteen impeachments have included two Presidents — Andrew Johnson and Bill Clinton, which both ended in acquittal in the Senate, sixteen Federal Judges who have been charged with crimes such as accepting bribes and other allegations of abuse of their judicial office. Two years ago in the waning year of the Obama Administration, there was an effort to impeach John Koskinen, the Commissioner of the Internal Revenue Service, over disputes with a House committee that were similar to those at the root of the Rosenstein matter. That effort, however, died at the end of then-current session of Congress.
Ostensibly at least, this move is related to issues only tangentially related to the Russia investigation, which Rosenstein has been supervising since last year when Attorney General Jeff Sessions recused himself from the matter due to his involvement in the Trump campaign. Instead, the resolution is supposedly rooted in the Justice Departments allegedly incomplete compliance with subpoenas issued by the House Judiciary and Intelligence Committees. These subpoenas sought production of documents related to the investigation into Hillary Clinton's use of a private email server and her handling of classified information, the use of confidential informants, and the Russia investigation itself. With respect to the final matter, the primary focus of the document requests has apparently focused on the FISA warrants that were issued against former Trump campaign aide Carter Page, which Republicans have claimed was defective due to its supposed reliance on politically biased information. The Justice Department has said that it has complied with the document requests and that it had broadly complied with the remaining subpoena requests and expected to deliver the remaining documents within the next week. Despite this, Republicans have claimed that Rosenstein has been dragging his feet and refusing to provide the requested documents.
As it stands, there is very little likelihood that this resolution will ever be voted on or that it would be approved by a majority of the House if Meadows, Jordan, and the other members of the Freedom Caucus were able to get it to a floor vote. Congressman Trey Gowdy, who heads the House Oversight Committee, rejected the idea of impeaching Rosenstein last week. Additionally, the Republican leadership of the House. and most importantly House Speaker Paul Ryan, has rejected the idea of impeachment, meaning that this resolution can only reach the floor through a rather convoluted process that is unlikely to be successful. Even if it did, though, it seems clear that it would not obtain sufficient votes to send the matter to the Senate for a trial. Furthermore, even if they did manage to put a majority together for impeachment, there's simply no way that they'd be able to get two-thirds of the Senate to vote to remove Rosenstein from office.
Jennifer Rubin argues that this move shows why Republicans are unfit to govern:
It is not Rosenstein who should be removed from office, but rather, the House Republican members who are obstructing an ongoing investigation of the Republican president and his cronies. While their actions are protected (most likely) under the" speech or debate" clause (preventing criminal prosecution or civil suit for actions that would otherwise be actionable), their pattern of conduct (cooking up a misleading memo about the FISA warrant application for Carter Page's surveillance, exposing a confidential intelligence source, smearing the FBI) amounts to multiple blatant attempts to thwart an entirely legitimate investigation. If anyone in the White House is conspiring with them to interfere with the investigation, such individuals could be investigated for obstruction of justice.

(…)

Ironically, Republicans have been arguing that if Democrats ever get control of Congress, they will tie the place up with bogus impeachment hearings and create gridlock. No, Republicans are doing that all on their own. "It's a PR stunt that nobody who knows anything about impeachment could take seriously," says constitutional scholar Larry Tribe. "But it will do great harm anyway by contributing to the degradation of the impeachment power, making it harder to use when it is truly needed to rein in a would be-dictator." Referencing his book with Joshua Matz, "To End a Presidency: The Power of Impeachment," Tribe tells me this is why he and Matz argue that "casual and frequent impeachment talk can damage the already frayed fabric of our dangerously polarized polity."

While House Speaker Paul D. Ryan (R-Wis.) tried to discourage this move, it is he who has indulged the GOP antics — especially the dishonest and grossly inappropriate conduct of House Intelligence Committee Chairman Devin Nunes (R-Calif.). It's he who has refused to support a legitimate independent commission to review the Russia matter, opposed a joint select committee, made light of the president's attacks on the rule of law and refused to consider legislation protecting Rosenstein and Mueller.
In other words, this is nothing more than a political stunt, but as The Washington Post's Amber Phillips notes, it is also connected to the broader Republican effort to undermine the Russia investigation:
A group of Trump allies in the House of Representatives officially made their move to impeach the official who set up the special counsel investigation and whose firing could blunt or end it.

They claim the grounds for impeachment of Deputy Attorney General Rod J. Rosenstein is his alleged stonewalling of their document requests into investigations into Justice investigations of Hillary Clinton and President Trump.

But that gets harder to believe when you look at this group's penchant for using the "i-word" against their political opponents, their Republican colleagues' lack of support for impeaching Rosenstein and all the reasons to believe there is a GOP conspiracy to help Trump undermine the independent Russia investigation.

(…)

We already know making the Russia investigation and people around it look bad is one of Trump's main objectives. He tries to do it on a daily basis. If he wanted to end it without, say, causing a constitutional crisis that firing the special counsel might, getting rid of Rosenstein is the way to do it. Trump could simply put someone else in his place who was more inclined to blunt or hamper the investigation.

Given the shaky lines in this impeachment move and the much starker ones between some Republicans' actions and Trump's desire to undermine the Russia investigation, it seems likely that House Republicans just made their boldest move yet to impede or end the Russia investigation.
That, in the end, is what this is all about.
Here's a copy of the resolution that was filed yesterday:
Rosenstein Impeachment Resolution by Doug Mataconis on Scribd