Polling On Impeachment Largely Unmoved On Eve Of House Vote
With the House of Representatives just days away from impeaching President Trump, polling shows that public opinion on the issue has not changed much since October.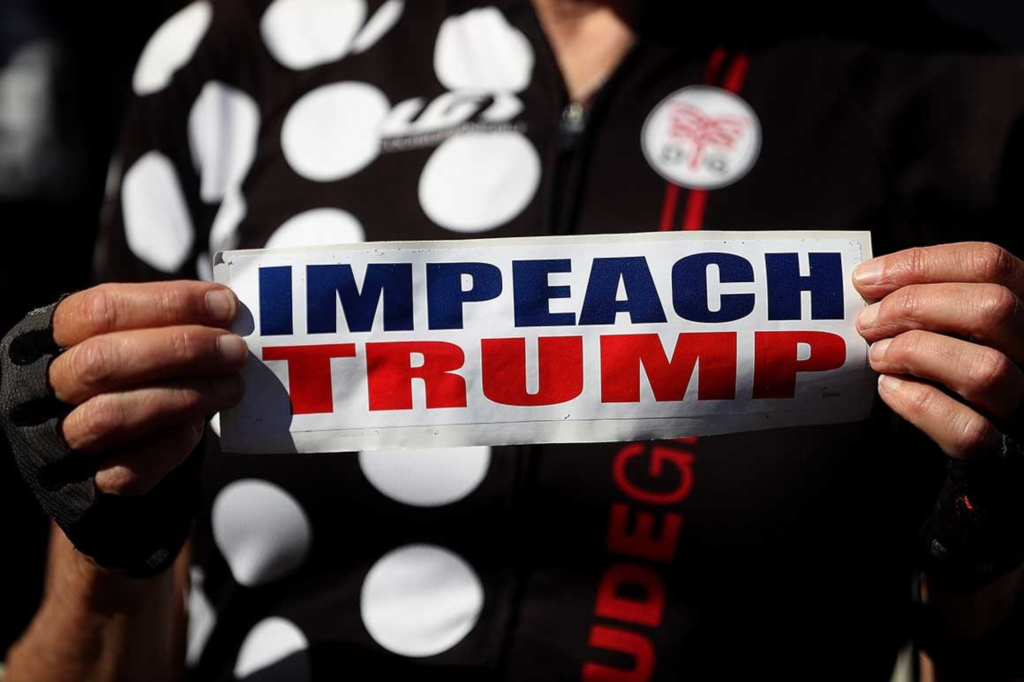 With the House of Representatives set to vote on Articles of Impeachment this week, two new polls show that, while public opinion has not moved significantly since the hearings before the House Intelligence and Judiciary Committees, we are still at the point where half the country supports both impeachment and removal of the President. This can most clearly be seen in a quintet of new polls showing that the public remains essentially equally divided on the question of whether or not the President should be impeached.
First up there's a new poll from Fox News Channel:
Weeks of congressional hearings and debate have failed to move the electorate on impeachment, according to the latest Fox News Poll. At the same time, approval of President Trump's job performance has climbed three points.

Currently, 45 percent of voters approve of the job Trump's doing, up from 42 percent in late October. Over half, 53 percent, disapprove. That lands the president almost exactly where he started the year, as 43 percent approved and 54 percent disapproved in January.

The poll, conducted Sunday through Wednesday, also finds 50 percent want Trump impeached and removed from office, 4 percent say impeached but not removed, and 41 percent oppose impeaching him altogether.

In late October, 49 percent favored impeachment and removal, 4 percent said impeach/don't remove, and 41 percent opposed impeachment.
Next, there are similar results in a new poll from NPR/PBS NewsHour/Marist poll:
American voters are nearly evenly divided over the impeachment of President Donald Trump, views that have gone unchanged since last month despite weeks of long debates and public hearings, according to a new NPR/PBS NewsHour/Marist poll.

Forty-eight percent of voters are against the president's impeachment, while 47% support it. Trump is accused of abusing his power by pressuring the Ukraine president to investigate political rival and former Vice President Joe Biden.

"It's like the hearings have never happened," said Lee Miringoff, director of the Marist Institute for Public Opinion. "The arguments have only served to reinforce existing views and everyone is rooting for their side."
Next, Quinnipiac's poll shows roughly the same numbers:
Just days before the House of Representatives is expected to vote, President Donald Trump's approval rating is at its highest point ever and a slim majority of voters remain opposed to impeachment, according to a Quinnipiac University poll released Monday.

Voters' views on impeachment remain unchanged from last week's poll, when 51% of voters said that Trump should not be impeached and removed from office, while 45% said that he should be impeached and removed. That poll was the first time since the inquiry began that more than half of registered voters indicated opposition to impeachment.

Monday's poll was released the same day the House Judiciary Committee released its report on the impeachment inquiry, in which it laid out its argument that Trump abused the power of his office. A House debate and vote on impeachment will likely occur Wednesday.

"A 50-year low unemployment rate coupled with stocks hitting record highs are adding up to a rosy view of the economy and voters feeling optimistic about their own personal finances. That view of a strong economy seems to be helping President Trump match his highest job approval rating since being elected, despite facing becoming the third president in U.S. history to be impeached this week," said Quinnipiac University Polling Analyst Mary Snow.

(…)

The majority of voters have been engaged with the impeachment inquiry, according to the poll, with 59% of voters reporting that they have been paying a lot of attention to the probe. But most voters have locked in their opinions on impeachment, with 87% of voters saying that their mind is made up, while only 12% say that they might change their mind.

"While a slight majority of voters oppose impeaching the president, a plurality of voters believe the president held up military aid to Ukraine because he wanted the president of Ukraine to announce investigations that would benefit Trump politically," Snow said
Yet another poll conducted by SSRS for CNN finds a dip in support for impeachment:
The American public is about evenly split over whether President Donald Trump should be impeached and removed from office, according to a new CNN Poll conducted by SSRS, with the House of Representatives poised to vote on articles of impeachment this week.

Support for impeaching Trump and removing him from office stands at 45% in the new poll, down from 50% in a poll conducted in mid-November just after the conclusion of the House Intelligence Committee's public hearings. Opposition to impeachment and removal stands at 47% in the new poll, up from 43% in November. Support for impeachment and removal among Democrats has dipped from 90% in November to 77% now.

That finding comes even as public views on the facts driving the impeachment process have held steady. Americans are about evenly divided over whether there is enough evidence against Trump for the House to vote to impeach him and send the case to the Senate for trial (47% say yes, 48% no, about the same as in November). And a narrow majority (51% now, 53% in November) continue to say Trump used the presidency improperly in his interactions with the President of Ukraine by attempting to gain political advantage against a possible 2020 rival.

Looking ahead to a possible Senate trial should the House vote in favor of impeachment, half of adults (50%) say it is not at all likely that anything that might come up during that trial would change their minds on removing Trump from office. That is lower than the 59% who said they were not at all likely to change their minds about removing Bill Clinton from office in 1999 ahead of his Senate trial.

Among the 24% who say a Senate trial on the charges facing Trump would be at least somewhat likely to sway their views, 19% are currently undecided about impeachment and removal, 38% support it and 43% oppose it.

About a third of Americans (32%) believe the impeachment inquiry will ultimately help Trump's reelection bid, while 25% say it will hurt his chances and 37% say it will make no difference. Republicans are fairly bullish on the impact it will have for the President, with a majority of Republicans (54%) saying they believe it will help Trump in 2020. Among Democrats, 40% believe it will hurt the President's shot at a second term, while 38% believe that it will make no difference.

Across 15 battleground states which could decide the election in 2020, views about impeaching and removing Trump are just as divided as they are nationally. In these states — all of which were decided by 8 points or less in 2016 — 46% say Trump should be impeached and removed, while 45% say that he should not. But residents of these states also lean toward believing Trump did improperly use his office to gain political advantage in next year's election: 50% say yes, 45% no.

Nationwide, those who support impeaching Trump and removing him from office are more apt to say they do so because of the particular offenses raised in the impeachment inquiry than for his overall behavior. Nearly nine in 10 who support removing Trump from office say a major reason they do so is because they believe he "sought foreign assistance to benefit his 2020 presidential campaign," or because "Trump used his office improperly to gain political advantage in the 2020 presidential election." More than eight in 10 in this group say a major reason they back removal is because "Trump has obstructed Congressional attempts to investigate his administration." Fewer, 68%, say a major reason they support impeachment and removal is because of other impeachable offenses Trump has committed which are not covered in the charges the House is considering, while 50% say a major reason to back it is because Trump is doing a bad job running the country.

Those who oppose impeaching and removing Trump, however, are more likely to cite Trump's overall job performance (64%) than his innocence (56%) as a major reason to oppose impeachment and removal. About two-thirds say a major reason to oppose impeaching and removing Trump is because he has been "the victim of an unfair investigation" (66%), and 64% say a major reason they oppose impeachment is because they do not think "the offenses Democrats say Trump has committed rise to the level of an impeachable offense."
Finally, a new poll out this morning from ABC News and The Washington Post finds much the same thing as the preceding three:
As the House prepares to vote on two articles of impeachment against President Trump, Americans remain both deeply divided and locked into their positions over which course lawmakers should pursue, according to a Washington Post-ABC News poll.

Weeks of public testimony and days of rancorous committee hearings on the president's efforts to pressure Ukrainian leaders to investigate a political rival have had no impact on how Americans see the charges pending against the president.

Despite the stalemate, most Democrats and Republicans alike expect that a likely Senate impeachment trial will give Trump a fair hearing. Bipartisan majorities, including almost 2 in 3 Republicans, also say he should allow his top aides to testify, something he blocked during the House inquiry.

On the eve of the House vote, 49 percent of Americans say Trump should be impeached and removed from office, while 46 percent say he should not. Those are essentially identical to findings at the end of October, when 49 percent favored impeachment and removal and 47 percent opposed. The latest poll also finds that regardless of whether Trump committed an impeachable offense, 49 percent say he improperly pressured Ukraine to investigate former vice president Joe Biden and his son, while 39 percent say Trump did not do this.

Among Democrats, 85 percent say Trump should be impeached and removed, while 86 percent of Republicans say he should not. Independents split 47 percent in favor and 46 percent opposed. Republican support for impeachment has slipped from 18 percent in October to 12 percent today.

Beyond the partisan distinctions, there are gender, age, educational and racial differences on the question of whether Trump should be impeached and removed from office. A 53 percent majority of women favor it, while the same percentage of men oppose it. A majority of nonwhite Americans support it, while a smaller majority of whites are opposed. A slim majority of whites with college degrees favor impeachment and removal, while those without degrees oppose it. And a majority of Americans under age 40 support it, while those over age 65 are closely divided, and a majority of those in between are opposed.

The outcome of the impeachment proceeding at this point appears preordained, with the Democratic-controlled House expected to vote for the two articles, largely along party lines, and the Republican-controlled Senate expected to acquit the president at the end of a trial in that chamber. The Senate trial is expected to begin in early January.

The lack of drama about the expected outcome and the highly partisan nature of the proceedings have resulted in fewer Americans saying they are paying close attention to this impeachment episode than said so in 1998 during the impeachment of President Bill Clinton.

The Post-ABC poll finds that 62 percent say they are closely following the developments surrounding Trump, compared with 82 percent who said they were closely following the impeachment proceedings in December 1998. In the current poll, 18 percent say they are not following impeachment too closely, while 20 percent say they are not following it at all. In 1998, the numbers were lower in both of those cases, with just 5 percent saying they were paying no attention.

The roughly even split over whether Trump should be impeached and removed also contrasts with public opinion during the Clinton impeachment. At that time, by nearly 2 to 1, Americans said they opposed impeaching and removing Clinton from office. Nonetheless, the House voted to impeach; he was later acquitted in the Senate.
For those of us supporting impeachment and removal, these numbers are, of course, somewhat disheartening. Over the course of the past two months, we have seen the evidence against the President laid out as clearly as possible. Beyond any doubt, that evidence shows that the President intentionally withheld military aid that had been allocated by Congress for Ukrainian defense as well as declining to move forward toward improved relations with the United States. It further shows that this aid was clearly being tied toward an agreement by Ukraine to investigate Joe and Hunter Biden as well as assistance in pursuing a discredited Kremlin-backed conspiracy theory that claims that Ukraine interfered in the 2016 Presidential election on behalf of Hillary Clinton, Given all of that, while support for impeachment and removal is higher than it ever was during the Clinton impeachment and higher than it was for much of the Watergate investigation, the fact that the meter hasn't moved notwithstanding the evidence presented.
That being said, given the demographics in the respective polls, it's not surprising to understand why we are where we are:
Essentially, what this shows us that Democrats are not surprisingly supporting impeachment and removal, Republicans are just as not surprisingly opposing it, and Independents are roughly equally divided on the question. The one exception to that final demographic is the Quinnipiac poll, but that seems to be an outlier when it comes to that particular demographic. Fairly consistently, independents have been fairly equally divided on the impeachment question, mirroring the country as a whole. What's really causing the polls to stay where they are then is the fact that Republicans are almost completely united in opposition to impeachment to an extent that it basically guarantees that there would be a 50-50 divide. As for Independents, I suspect that for many of them there's a combination of frustration with a broken down Washington, a realization that the process in the Senate is already fixed so that the outcome favors the President, and a desire to get on with the 2020 election to allow the voters to have their say.
What all this means going forward is hard to say. Once the Senate trial ends, public attention will shift quickly to the race for the Democratic Presidential Nomination and the impending 2020 Presidential election. At that point, it will be unclear if the impeachment will hang over President Trump's candidacy or whether it will be largely forgotten. Unlike previous impeachments, including the aborted-by-resignation Nixon impeachment and the Clinton impeachment, this one comes in the President's first term and within months of the General Election. We've never faced a situation like that before. President Johnson was technically impeached in his first term but the odds that he would have been the Republican nominee in 1868 were somewhere between slim and none even if he had not been impeached, That's not going to happen with President Trump and it will be interesting to say the least to see what the impeachment but not removal will have on his political fortunes in the fall.