Federal Judge Has Doubts About Trump's Border Wall
The Judge presiding over a case dealing with Trump's proposed border wall expressed doubts about the project. The President will no doubt be irked by the identity of that Judge.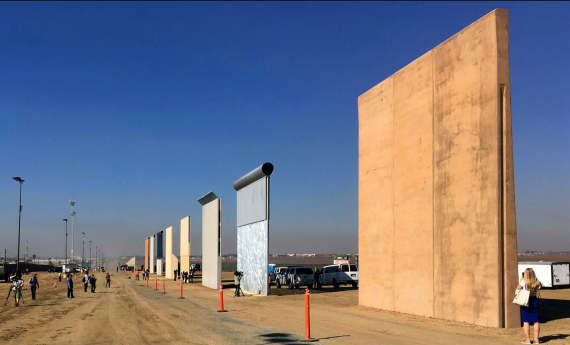 A Federal Judge presiding over a lawsuit connected to President Trump's plans to build a border wall along the U.S./Mexican border expressed doubts about the project in a hearing late last week, and the identity of the Judge in question is likely particularly irking to the President:
SAN DIEGO — The federal judge whom President Trump characterized during his campaign as "a Mexican" and therefore biased against him said he would announce a ruling next week that could determine whether the government can proceed with its expedited plans to build a border wall.

District Judge Gonzalo P. Curiel is presiding over a lawsuit filed by advocacy groups and the state of California challenging the Department of Homeland Security's plans to bypass standard environmental-impact studies and rapidly expand barriers along the Mexican border.

Curiel said Friday that DHS has yet to explain why it must proceed so urgently in its construction plans.

"By waiving environmental protections, we are ignoring something that has been very important to Congress for the past 40, 50 years," the judge told government attorneys. He asked them to provide more information by Tuesday and said he would issue his ruling soon after.

Galen N. Thorp, a government attorney representing the Department of Homeland Security, said DHS's plans were consistent with congressional authorizations.

"This case is about plaintiffs' opposition to Congress's decision that border infrastructure can, in certain circumstances, be a higher priority" than environmental laws, Thorp said.

Plaintiffs in the suit argue that environmental waivers granted by Congress a decade ago involving matters of crucial border security cannot be applied to future wall construction. A ruling against DHS would likely delay the Trump administration's plans to move rapidly if Congress provides billions in funding for the wall.

The plaintiffs said they are not challenging the government's right to replace or maintain existing barriers, only "the projects they want to do now," said Michael Cayaban, an attorney for the state of California.

Curiel was the judge in an unrelated class-action lawsuit against the president's now-defunct Trump University, and the judge's alleged bias against Trump became a running theme during his presidential campaign.

At a rally here in May 2016 that triggered protests, Trump blasted Curiel as "a hater of Donald Trump," then continued to lash out after the judge ordered the release of internal Trump University documents related to the suit requested by The Washington Post.

Trump told supporters at the time that Curiel harbored a bias against the candidate's plans for a border wall because the judge was "Spanish" and "a Mexican."

Curiel's parents were immigrants from Mexico. He was born in Indiana.

"Look, he's proud of his heritage, okay?" Trump said of Curiel in a June 2016 interview with CNN. "He's a Mexican. We're building a wall between here and Mexico."

Trump's remarks were widely condemned at the time, but Curiel did not respond publicly. Trump agreed to pay $25 million to settle the fraud claims in March, soon after moving into the White House.

Brian Segee, the lead attorney for the Arizona-based Center for Biological Diversity, a plaintiff in the suit, said his group is challenging DHS's attempt to bypass standard procedure.

"Did Congress intend, as we argue, to limit the unprecedented and sweeping authority of the DHS secretary to do away with laws at will?" Segee said in an interview Friday. "Was that limited to specific fencing projects that have already been completed? Or was it perpetual authority that can be invoked now, or 10 years or 20 years from now?"

Trump is seeking $25 billion for enhanced border security, including hundreds of miles of new barrier construction. About one-third of the 2,000-mile border with Mexico has some form of wall or fencing, and the president's proposal would extend the structure by about 300 miles, while replacing another 400 miles with more formidable barriers.

DHS is evaluating eight wall prototypes that are on exhibit outside San Diego, and each one is taller and more elaborate than almost anything currently in place.

Environmental groups suing the government say additional barriers will harm wildlife by cutting off their natural migration routes or access to the waters of the Rio Grande.

Stretching from the southern Rockies to the Gulf of Mexico, the river spans nearly two-thirds of the U.S.-Mexico boundary, passing through arid mountain regions and deserts where it is a vital water source for farmers, ranchers and wildlife. Large fauna cross the border in other remote areas where the international boundary is little more than a line on a map.

"The wall could preclude the movement of endangered species or other animals, like the jaguar, that move back and forth, leading to their potential extirpation in the United States," Segee said.
As noted, the Judge in this particular case just happens to be Gonzalo Curiel, the same Judge that President Trump attacked during the Presidential campaign as being biased because his parents were Mexican. As I noted at the time, there was no factual basis for Trump's assertion and that, in fact, Curiel's rulings in the Trump "University" class action fraud case he was handling often were in Trump's favor and there was no actual or apparent evidence suggesting that Curiell was in any respect biased against Trump because of his political views or his well-known vile comments about Mexiccan immigrants in general. As I noted at the time, Trump's attorneys had never filed any motion with the court suggesting that Judge Curiel should recuse himself from hearing the case, although it's unclear whether Trump may have tried to instruct them to do so.  If he had, they no doubt would have wisely advised him that such a motion would be denied and only served to undermine Trump's legal position in the case. Ultimately, of course, Trump settled the case over which Curiel was presiding, and that settlement was approved in April of last year. 
The fact that Curiel is now presiding over this border wall case is, of course, purely coincidental. The ordinary practice in Federal District Courts is that cases are assigned to the available Judges on what is essentially a random basis, usually at the initial time that a particular lawsuit has been filed. Since the Court on which Curiel sits, the U.S. District Court for the South District of California, is one of the jurisdictions that would be most directly impacted by the border wall, he was among the ten sitting Judges and seven Senior Judges who could have been assigned the case. In any event, so far Trump has not had anything to say about Curiel's assignment to the case or the reports about the doubts he expressed about the government's position on the claims asserted in this particular case. Whether that will be true should Curiel rule against the government is, of course, a question we could learn the answer to later this week.
Leaving aside the coincidence of Judge Curiel being appointed to hear this particular case, this particular lawsuit is likely only one of the legal challenges that Trump's wall would face if it actually moved forward. A wall that  actually stretched from the border from Tijuana, Mexico in the west to its most eastern point near Brownsville, Texas would face a vast number of legal challenges on a wide variety of issues. Many of these would include some of the same claims implicating long-standing environmental laws and international treaties on the environment that the lawsuit before Curiel does, as well as other related issues. Additionally, there would likely need to be a vast number of eminent domain claims filed due to the fact that many parts of the border in rural south Texas include areas of private property not currently under the control of the Border Patrol. Each of these cases could take years to resolve even if the White House tries to streamline the process by changing regulations. The cases would also be subject to appeal by whichever party ended up on the losing side of a particular ruling. In addition to all of this, of course, are the many practical and logistical roadblocks that a project like this would face.
In reality, of course, we are never going to see the kind of border wall that Trump and his supporters envisoned during the case. In many cases, it's simply because such a wall would be impractical or logistically difficult to proceed with. This is especially true in those parts of the border that go through mountainous areas that even people seeking to get across the border illegally avoid due to the dangers they would face on their journey, but it also applies to other parts of the border where constructing a massive wall just doesn't make any sense. This is why the current border barrier relies on a variety of techniques, including barbed wire fencing, electronic surveillance, drone technology, manned checkpoints and other means. Indeed, the White House has been quietly conceding for some time now that any "border wall" that does ultimately go forward at this point would consist of a variety of means to enhance border security, although Trump never mentions this when speaking to his supporters on the subject. Finally, of course, how the project proceeds will depend on what kind of funding the project receives from Congress and exactly what Congress authorizes that money to be spent on.
So, basically, there isn't going to be a "border wall" like the one Trump promised, and Mexico isn't going to pay for it.
Photo of border wall prototypes on display in San Diego via  The New York Times