Encouraging Signs For Democrats In New Poll, But There Are Caveats
A newly released poll has encouraging signs for Democrats in 2018, but there are several caveats.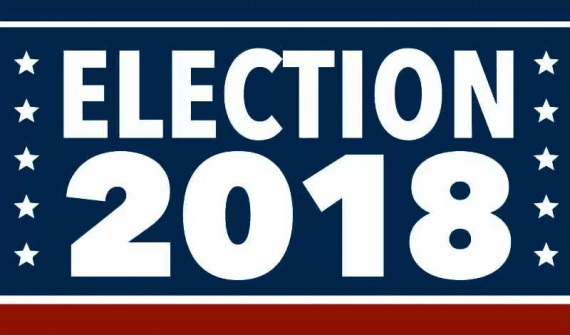 A new poll has some encouraging signs for Democrats seeking to gain control of either the House or Senate, or both, in November, but there are several caveats:
Democrats are just about as likely as Republicans to say they plan to vote in this year's congressional elections, a break from the two previous midterm elections, in which Republicans were significantly more inclined to vote, according to a Washington Post-ABC News poll conducted in January.

Democratic congressional leaders hope anti-Trump sentiment can boost the party to regain control of the House and possibly the U.S. Senate, and the poll finds many fellow partisans feel a similar urgency. Just over half of Democratic-leaning registered voters, 51 percent, say it is "more important to vote" this year than in previous elections, compared with 34 percent of Republican-leaning voters who say the same.

In the past two midterm years, Republicans parlayed heightened conservative enthusiasm and disapproval of President Barack Obama into consecutive victories and control of the House and Senate. Post-ABC polls in 2014 found that, on average, Republican-leaning voters were 10 points more likely to say they were "absolutely certain to vote" than were voters who leaned toward the Democratic Party. In 2010, Republicans held a 12-point advantage on this question.

But turnout appears to be shaping up differently this year, with President Trump in the White House and most Americans disapproving of his performance. Sixty-five percent of Democrats and Democratic-leaning independent voters say they are certain to vote, compared with 63 percent of Republican-leaning voters. Among Republicans, motivation to vote appears to be down from the past two cycles, while Democrats have changed less, although this may reflect the fact that the surveys in previous years were conducted later in those election years.

Turnout in midterm elections overall is far lower than turnout in presidential-election years, with fewer than 4 in 10 eligible voters casting ballots in 2014. Enthusiasm to vote this year ranges sharply within each party. The Post-ABC poll finds 54 percent of Americans who say that at the least they will "probably vote" also say it is more important to vote in 2018 than in previous midterm elections, while 44 percent say it is about as important as in the past and only 1 percent say it is less important.

Two Democratic-leaning groups that have turned out at lower rates in past years also express tepid interest in voting this year. Fewer than half of registered voters ages 18-39, 46 percent, say they are certain to vote, compared with 68 percent of voters ages 40-64 and 77 percent of seniors. And nonwhite voters are nine points less likely than white to say they plan to vote (56 percent to 65 percent).

Low turnout among either group could weaken Democrats' chances this fall, as younger voters favor Democrats by a 20-point margin when asked which party's candidate they support, while nonwhites favor Democrats by a 50-point margin.

The Post-ABC poll found Democrats holding a 12-point advantage over Republicans when registered voters were asked which party's candidates they will support in their congressional districts, the so-called "generic ballot" question that has been correlated with the number of seats parties win. Democrats' advantage has been somewhat smaller in other polls in January, standing at eight points in an average of recent national polls analyzed by The Post. Election analysts forecast that Democrats need a six-to-eight-point advantage in generic polls to win in a majority of House districts.
The fact that Democratic voters are more enthusiastic about voting in the upcoming midterms than they have been in the past is potentially good news for the party. Typically, midterm elections have tended in recent cycles to favor Republicans due to the fact that large segments of the voters that make up the Democratic base end up sitting the election out for one reason or another. This has even been true in election years where Democrats have done well in midterm elections. To the extent that we could be looking at an election where Democrats are more enthusiastic about voting than they have been in previous midterms, this could be a good sign for Democrats going forward.
At least on paper, a twelve point lead among registered voters and fourteen point lead among likely voters is generally indicative of at least the potential for major changes in Congress, but we're still at the point where it pays to be cautious about reading too much into the results at this point in time. The first point is the rather obvious point that we're still nine months away from Election Day and that any poll like this one should be taken with a grain of salt. Generally speaking, we're still too far out from the election to speak with any certainty about what's likely to occur when it comes to the battle for Congressional control. The better time to start watching these numbers closely would be when we get to the summer months and, of course, starting in September, which is when the majority of likely voters are like to start paying attention to the election. Before then, anyone who's looking at these numbers and trying to posit how things will turn out in November is basically just engaging in guesswork.
Another caveat comes from the fact that this is a national poll, meaning that it is drawing from the nation as a whole and isn't necessarily indicative of what will happen in individual districts in which Democrats might actually have of flipping from Republican to Democratic control. The best example of that can be seen in the underlying numbers that show that much of the advantage that the poll is showing for Democrats is coming from parts of the country that they already control:
New breakdowns from the poll show that Democrats hold a 37-point advantage among voters in congressional districts classified as "solid" for Democrats by the Cook Political report, with 64 percent supporting Democrats and 27 percent backing Republicans. In solid Republican districts, Republicans hold a narrower, nine-point, advantage — 49 percent to 40 percent.

The race is tight in districts that are more competitive, with 45 percent of registered voters supporting Democrats and 42 percent backing Republicans. Among 86 districts classified as "likely" for either party, "leaning" one way or "toss-up," 62 are held by Republicans. If each party wins all of its safe seats, Democrats need to win a majority of all competitive seats to take control of the House.
ABC News emphasizes that point in its write up of the poll results:
The wide Democratic advantage in congressional vote preference comes entirely in districts the party already holds, raising questions about the extent of its possible gains in November. Yet the closeness of the contests in GOP-held districts underscores this year's Republican vulnerability.

Democrats lead by 14 points among likely voters in the latest ABC News/Washington Post poll, a result reported previously. But that reflects a vast 38-point Democratic lead in districts already held by Democratic members of Congress. In districts the Republican Partyholds, by contrast, it's a tight 45-51 percent Democratic vs. Republican contest.

The Democrats' lead in their districts, 64-26 percent, marks the extent of potential Democratic overvoting in areas where they're already in control – which partly reflects a Democratic concentration in urban areas, and possibly also gerrymandering of district lines.

At the same time, the closeness of the races in Republican districts indicates Democratic pickup opportunities. And another result points to an enthusiasm gap in the Democrats' favor: They lead very widely among those who say it's especially important to vote this year.

Political independents – often swing voters, given their weaker party loyalty – drive the results of this poll, produced for ABC by Langer Research Associates. In Democratic districts independents favor the Democrat; in Republican districts independents split evenly, 45-46 percent. Partisans on both sides, by contrast, stick nearly unanimously with their party.

Overall, the poll finds that 77 percent of Republicans live in one of the 238 GOP-held congressional districts, while a smaller majority of Democrats live in a district held by their party, 52 percent. Independents are split 50-50 between Democratic and Republican districts. Half the people in Democratic-held districts live in urban areas, vs. a third of those in GOP districts.
In some ways, these numbers remind one of what happened in the 2016 Presidential election. In that election, of course, Hillary Clinton ended up winning the popular vote by nearly three million votes even though she lost the Electoral College. This is the largest margin in American history for any candidate who has won the popular vote while losing the Electoral College. Much of this advantage, though, can be found in state-by-state numbers that show that a large part of Clinton's popular vote win can be explained by the fact that she won by huge numbers is traditionally Democratic states. For example, in California Clinton won the popular vote by more than four million votes, a wider margin than President Obama won the state by in either 2008 or 2012. Similarly, Clinton won Illinois by nearly 1,000,000 votes, New York by nearly 1.7 million votes, and New Jersey by 500,000 votes. All of these are states that a Democrat was going to win anyway, of course, but the fact that Clinton did so well in each of them while under-performing in states such as Wisconsin, Michigan, Ohio, Pennsylvania, and Florida goes a long way toward explaining why her popular vote margin was so large. Running up the popular vote in already Democratic states didn't help in the Electoral College. Similarly, it appears from the underlying data that at least part of the reason for the Democratic lead in the national Generic Congressional Ballot is the fact that Democrats are performing well in districts they already control. If they're going to gain seats in November, they need to work on better performance in districts where they outcome is more competitive, as well as in Republican held districts generally.
Finally, it's worth noting that other recent polls have shown that the Generic Congressional Ballot is closer than what this poll is showing. The most recent Reuters/Ipsos poll, for example, shows Democrats with a lead of just six percent, while similar polls from Fox News, The Economist, Reuters/Ipsos, and Rasmussen show Democrats with a similar single point lead. Meanwhile, a poll released by Monmouth University last week show the Democratic advantage down to two points, although it's worth noting that Monmouth's numbers haven't been entirely reliable recently. For example, their last poll of the Virginia Governor's race had the race a virtual dead heat. That race ended up being won by Democratic Governor Ralph Northam by nine points. It's also worth noting that this PostABC poll was taken in mid-January, before the polls showing a tighter race for control than that poll indicates. In any case, the RealClearPolitics average of the race shows Democrats with a seven point lead over Republicans, which is at the low end of where the numbers need to be if Democrats are going to make significant gains in November. This is also happening at the same time that President Trump's job approval numbers have seen a slight up-tick, with the RealClearPolitics average showing 41,9% approval and 54.2% disapproval, somewhat of an improvement from where the President has been since the beginning of his term.
As I said, we're still at far too early a point to jump to any conclusions regarding the outcome of the 2018 midterms, but there are a few things that we can say. First of all, if history is any guide then we can expect Democrats to gain seats in Congress in November, the only question is whether those gains would be large enough for them to gain control of either the House or the Senate. Second, the numbers we are seeing appear to reflect at least in part that the positive numbers for Democrats are coming largely from districts they already control. While this is to be expected, they are going to have to show gains in battleground districts if they're going to make significant gains in the House. Finally, much of the outcome in November will depend on how the public perceives the President in November. That perception remains largely negative, but if it improves even slightly then Democrats could end up falling short in their bid to get back in charge on Capitol Hill.