As Republicans Run From Trump, The Seeds Of A GOP Civil War May Be Starting To Grow
With top Republicans recoiling from the realization that the GOP is stuck with Trump in 2016, the ground seems to be being prepared for a conflict that could tear the GOP apart regardless of who wins in November.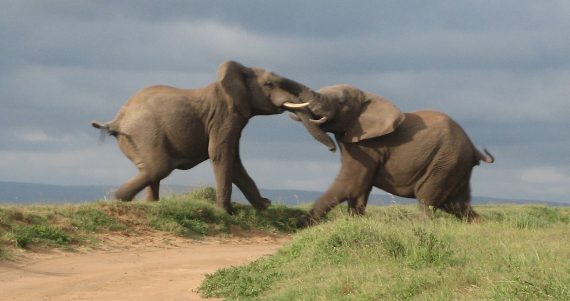 Even as Donald Trump seeks to change the subject from the controversy that has erupted over his comments about the 'Mexican' Judge presiding over the class action trial against Trump University currently pending in Federal Court in Southern California, the blowback continues as Republican officials continue to react to his initial remarks. Unlike politicians like Paul Ryan, who denounced Trump's comments as a "textbook example of racism" but said he will continue support Trump, though, this latest round of leaders is withdrawing their support entirely or at least signaling that it should be considered to be in doubt.
Among the first of these Republicans is Senator Mark Kirk of Illinois:
Republican U.S. Sen. Mark Kirk on Tuesday said he "cannot and will not support"Donald Trump as the GOP's presidential nominee, citing the real estate mogul and former reality TV star's "past attacks on Hispanics, women and the disabled like me."

"It is absolutely essential that we are guided by a commander in chief with a responsible and proper temperament, discretion and judgment. Our president must be fit to command the most powerful military the world has ever seen, including an arsenal of thousands of nuclear weapons," said Kirk, who suffered a stroke in 2012. "After much consideration, I have concluded that Donald Trump has not demonstrated the temperament necessary to assume the greatest office in the world."

The change of heart by Kirk, one of the most politically vulnerable Republican senators seeking re-election this fall, came a day after Democratic challenger U.S. Rep. Tammy Duckworth of Hoffman Estates accused him of being "complicit" in a Trump campaign of "hate and division" because of his silence over Trump's ethnicity-based criticism of a federal judge.

Kirk is the first Republican senator seeking re-election this fall to abandon Trump. Kirk distanced himself as colleague South Carolina Sen. Lindsey Graham urged Republicans to rescind their backing in light of the presumptive GOP presidential nominee's recent comments, including discomfort with a potential jurist of the Muslim faith.

"If he continues this line of attack, then I think people really need to reconsider the future of the party," Graham told CNN on Tuesday.

The discontent with Trump has been far reaching. In Iowa, state Sen. David Johnson, a conservative Republican, likened Trump's campaign to the rise of Adolf Hitler as the veteran lawmaker announced he was leaving the GOP and changing his political registration to "no party."

(…)

For Kirk, the rescinded endorsement seemed inevitable as Duckworth's central campaign message has been to link Trump to the senator. Prior to Kirk's statement, Illinois Democrats launched a website Tuesday highlighting controversial rhetoric used by Trump and the senator and quizzed visitors on which politician said what.

Trump's name is likely to appear above Kirk's on the Nov. 8 ballot, and the senator will need the support of moderate voters who might be inclined to vote for Clinton. But in abandoning Trump, Kirk also risks the ire of Republican conservatives who were never sold on him to begin with.

The decision marks the latest twist in Kirk's political relationship with Trump.

Just before the March 15 Illinois primary election, Kirk said he "certainly would" support Trump if he won the GOP nomination. Since then, Kirk also has contended Trump could be a "net benefit" for his Senate campaign and said that as president, Trump would need his "steady conservative hand" in the Senate.

But in April, Kirk said he would not attend the Republican National Convention in Cleveland, with his campaign saying the senator preferred to stay in his home state and work on his re-election effort. In recent weeks, Kirk has turned aside reporters' questions about Trump, including on May 12 when the business mogul held closed-door meetings with top Republican leaders on Capitol Hill.

Then came Tuesday's statement cutting ties with Trump. A day earlier, Duckworth had appeared at an EMILY's List event where she warned Kirk that "silence is betrayal" when it comes to failing to take a stand against Trump's criticism of Curiel. "Trump may be a clown, but he isn't funny. He's not a riverboat gambler to be admired," Duckworth said.

The Kirk campaign had no direct response Monday. But in his statement Tuesday, Kirk said, "I have spent my life building bridges and tearing down barriers — not building walls. That's why I find Donald Trump's belief that an American-born judge of Mexican descent is incapable of fairly presiding over his case is not only dead wrong, it is un-American."
As I've noted before in this and other contexts, Kirk is among the most vulnerable of the Republican Senators up for re-election this year. According to most polls, he has been trailing his Democratic opponent Tammy Duckworth for some time now and the expectation is that he is likely to lose in November regardless of what he or the rest of the GOP might do. That being said, he is continuing to fight for re-election and can ill afford any mistakes or other issues that could hold him back over the next five months. Chief among those, obviously, is Trump and the fact that he is not only vastly unpopular but even more so in a solidly blue state such as Illinois. If Kirk is to survive, repudiating Trump in the wake of his most recent comments is really his only option at this point. It likely won't be enough in the end, but the fact that he's at the head of those in the GOP formally turning their back on Trump is not at all surprising.
Up next was Wisconsin Governor Scott Walker, who backed away from his support of Trump in comments this morning:
Faced with mounting controversies surrounding his party's nominee for president, Wisconsin Gov. Scott Walker is backing away from his pledge to support Donald Trump.

In an interview with Madison, Wisconsin's WKOW, Walker, who dropped out of the GOP race in September 2015, lamented the general-election matchup between presumptive nominees Trump and Democrat Hillary Clinton.

"It's just sad in America that we have such poor choices right now," he said.

Walker, who endorsed Sen. Ted Cruz (R-Texas) in the Wisconsin primary, had previously pledged to support the Republican nominee "whoever that is," arguing that any GOP candidate would be preferable to Clinton. On Tuesday, however, the Wisconsin governor seemed less certain of his ability to back Trump, pointing to the candidate's accusations of bias against a Hispanic federal judge as especially troubling.

"He's not yet the nominee. Officially that won't happen until the middle of July, and so for me that's kind of the timeframe," Walker said. "In particular I want to make sure that he renounces what he says, at least in regards to this judge."
Walker's comment that Trump wasn't the nominee yet seemed to come out of left field until it was joined by this from conservative talk show host Hugh Hewitt, who now seems to be calling on Republicans to find a way to deny the nomination to Trump even at this late date:
Either the Republican National Committee must change its convention rules or the presumptive Republican nominee needs to change his personality, conservative radio host Hugh Hewitt remarked on his program Wednesday morning.

"They ought to get together and let the convention decide. And if Donald Trump pulls over a makeover in the next four to five weeks, great, they can keep him. It would be better if he had done so 5 weeks ago. But it's awful and it ended bad last night," he said, in reference to Trump's speech from his swanky Westchester County golf club in which he read from a teleprompter and promised to turn the page and earn the votes of Republican voters who opposed him in the primary.

Accepting of Trump as the nominee against Hillary Clinton at this point, Hewitt said, is "like ignoring Stage IV cancer. You can't do it, you gotta go attack it."

"And right now the Republican Party is facing — the plane is headed towards the mountain after the last 72 hours," he said.

Hewitt, who sought to remain studiously neutral during the Republican primary, preceded his remarks by playing a clip of Stephen Colbert on "The Late Show" upon the circumstances of the general election. "It looks like the general election will come down to Hillary Clinton versus Donald Trump, which is fitting, really, since she'll be the first, you know, female nominee of her party, and he'll be his party's last nominee," Colbert cracked.

"Get that America?" Hewitt said. "Our party's last nominee."
While Hewitt didn't go into details, what he's essentially suggesting is that Republican insiders attempt to change the rules prior to the convention in Cleveland in a way that will unbind the delegates that have already been pledged in an effort to both deny Trump a victory on the first ballot and, eventually, nominate some other candidate in his place. Whether this other candidate would be one of the people who ran against Trump this year such as Ted Cruz, Marco Rubio, or John Kasich, or whether it would be someone who was not in the race at all such as Mitt Romney, this is a move that would tear the Republican Party apart more than anything else that could happen other than an independent conservative candidate that ended up costing the GOP the General Election. It would mean denying the nomination to the candidate who has earned at least 1,500 delegates, nearly 1,000 more than his nearest opponent, gotten more than thirteen million popular votes, and won more than 30 of the contests held since February 1st.
As Damon Linker notes, this puts Republicans in a very rough spot:
The fact is that Republican politicians are in a terrible bind. Trump is very bad news. But he won the votes. He was the clear choice of the Republican electorate — just as every presidential nominee since the 1970s has been the clear choice of the party's voters. A lot of writers and analysts, especially committed members of the conservative movement, convinced themselves over the past few months that this wasn't true — that Trump's victory was somehow electorally illegitimate. But now that the primary season is officially over, we can see that this is clearly false.

(…)

Which means that Republican politicians who take a stand against Trump are ultimately taking a stand against the voters — telling them, in effect, that they made a mistake, and that their will deserves to be thwarted.

That's not something done lightly in a democracy. It's not even clear that it can be done successfully.

In the case of individual office holders, taking such a stand could easily lead to retribution at the ballot box, including victory for a pro-Trump challenger, which would ultimately further the overall Trumpification of the party.

As for the party as a whole, if its leadership plotted with pledged delegates to attempt to wrest the nomination from Trump at the convention (as some on Twitter appeared to be advocating on Tuesday), the party itself would be torn apart, with roughly 40 percent of its voters feeling justly betrayed. The only question would be whether they would bolt the party altogether to form a new one — or merely refuse to vote at all.

Either way, the GOP would be shattered — and the anger, discontent, and resentment that Trump tapped into with his campaign would still be out there in country, searching for a tribune and champion, only now it would be even further radicalized by the embittering experience of having its wishes scuttled.
Allahpundit makes a similar point:
For all the windage this past week in conservative media and among Republican pols about his war on Judge Curiel, he's already unified the party to almost the same extent Romney had at this point in the 2012 cycle. That won't hold if the party crowns an eleventh-hour dark-horse nominee instead, especially if Trump runs some sort of informal write-in campaign in the fall or sues to get on the ballot as an independent. His judge comments were in poor taste but most voters won't care; we're so far out from the election still that I wonder how many will even remember them this fall. Either Republican voters, contra the pundits, are right that Trump is the party's strongest candidate against Hillary or they're wildly wrong and deserve to have that demonstrated to them in the most excruciating way possible this fall. That is to say, if Linker's right that this is ultimately a "voter problem," the solution to that problem isn't to have Reince Priebus swoop in and overrule the voters. All that'll do is further convince populists that the elites are stupid and don't play fair. The solution is to let them learn the lesson the hard way. And it will be hard, for everyone.
Linker is right about the consequences of the strategy that Hewitt appears to be advocating, of course, but at this point it's hard to see how a civil war inside the Republican Party can be avoided regardless of what happens over the next five months. If Trump goes head-to-head against Clinton and loses, which certainly seems like the most likely outcome at this point, there will likely be a post-election civil war that could last for years as the pro-Trump and anti-Trump factions fight each other over who was responsible for the loss and what direction the party should take going forward. This fight will only be magnified if the GOP suffers significant down ballot losses in the Senate, the House, and the states. That fight is likely to continue through the elections in 2018 and 2020. If Trump somehow manages to lose, then the battle between the White House and Republican-controlled Congress will likely be carried over into the party rank-and-file. Regardless of what anyone is saying publicly, there are obviously many members of the House and Senate GOP Caucuses who are likely to oppose the more controversial aspects of Trump's agenda, especially in areas such as immigration, international trade, and the like. The battles over these policies are unlikely to be peaceful, which is perhaps one reason why party insiders continue to discuss ways to undercut Trump's campaign even as the Cleveland convention gets closer and closer.
In reality, of course, what Hewitt and others are suggesting is yet another in a long string of "Stop Trump" efforts that amounts to too little, too late. If Donald Trump was going to be stopped, it's clear in retrospect that the time to do so was long ago, when his campaign was still in its infancy and arguably vulnerable to the kind of sustained attack that a rival with real resources and the willingness to take the slings and arrows that would have been directed at them. Instead, what we saw was months of denial among top Republicans and conservative pundits that the Trump phenomenon could possibly last, or that he could possibly sustain the momentum that pushed him to the top of the polls by mid-July of last year. One we were at the point where Trump was not only winning primaries by a wide margin, but also fending off the attacks that opponents such as Ted Cruz and Marco Rubio launched against him with surprising ease for a political amateur, it should have been apparent that stopping Trump before the convention was an idea that simply had no chance of succeeding. Now that he has not only clinched the nomination, but done so decisively, the idea that he can somehow be denied the nomination is foolish nonsense. Regardless of whatever it is Kirk, Walker, and Hewitt may want at this point, Donald Trump will be the nominee of the Republican Party, there's really nothing that can be done about that. As I noted yesterday, that leaves Republicans with a choice, either they support their party's nominee even though he's a bigot or they stand against him, refuse to support or vote for him, and get ready to fix the damage the GOP is likely to suffer when this is all over.