Scott Walker Set To Enter Presidential Race On July 13th
Wisconsin Governor Scott Walker will be entering the race for President later this month, but it's unclear if his recent turn to the hard right will help him or hurt him.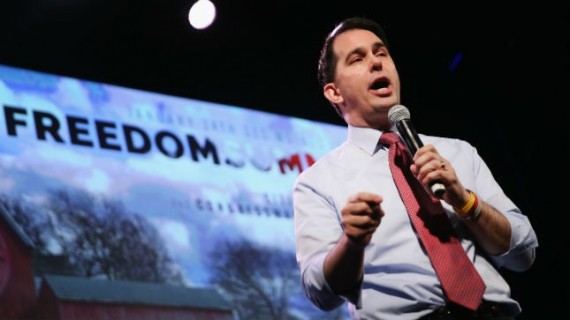 Wisconsin Governor Scott Walker will be the latest person to enter an already crowded Republican Presidential field when he throws his hat in the ring later this month:
Wisconsin Governor Scott Walker will announce his presidential campaign intentions on the afternoon of July 13 in suburban Milwaukee, a Walker aide who wasn't authorized to speak on the record said.

The two-term governor will make his announcement in Waukesha, just west of his home in Wauwatosa, Wisconsin. The date of the announcement was reported earlier Thursday byPolitico.

Walker, 47, is also expected on Thursday to file his papers of candidacy with the Federal Election Commission, the aide said.

If he formally enters the race as expected, he would be the 15th Republican to do so. The most recent public polling in Iowa shows him atop the field in the state that will host the first nomination voting in February, although his standing has slipped this year as others have officially joined the contest.
Walker's entry into the race is, of course, entirely unsurprising to anyone who's been paying attention to American politics for about the past five years. Ever since winning election in Wisconsin in 2010, he has become the focus of attention for Republicans across the nation both because he was among those Republican candidates who managed to win in a typically Democratic state and because of the policies he enacted once in office and the furor that resulted from his opponents. The focus of that furor, of course, were the efforts of Walker and the Republican legislature to cut back on the powers of public employee unions, a confrontation that led to protests, Democratic legislators hiding out in a neighboring state to prevent a quorum, and Wisconsin itself turning into national battleground between the left and the right. Despite all of that, Walker managed to get the reforms passed and sustain them in the fact of  a legal battle that included an effort to unseat a member of the Wisconsin Supreme Court. Electorally, he not only won election in 2010, but then survived a recall effort in 2012 and won re-election in 2014, each time with wider margins of victory than the first. All of this enhanced Walker's profile among Republicans nationally, obviously, and it became rather clear while he was running for re-election that he was at least considering the possibility of running for President.
When he does enter the race, Walker will benefit from the fact that he is already a frontrunner even though he hasn't officially spent a day on the campaign trial. On the national level, he is currently in second place in the polling with an average of 10.6%, behind only former Florida Governor Jeb Bush. Thanks in no small part to the fact that a good part of the Hawkeye State is part of one or more Wisconsin media markets and the fact that he has already been unofficially campaigning there for months, Walker is the undisputed leader in Iowa with a poll average at 17.5% and no other candidate averaging in double digits.Walker's performance in New Hampshire is roughly equivalent to his standing in the national polls in that he has a 10.2% average in the Granite State with only Jeb Bush behind him. However, Walker's numbers here have slipped in recent weeks as Donald Trump has surged. Walker is also in second place in South Carolina where he's averaging 13.3% in the polling, and in Florida where he's averaging 16.0% and leads Florida Senator Marco Rubio, who has slipped to third place in his home state. In other words, Scott Walker is entering the race is a very strong position and will be considered one of the front runners for the nomination from the start his campaign. The question will be whether he can sustain the momentum that has built up while he has waited to enter the race.
In addition to his record in Wisconsin, one of the reasons the Walker is doing so well right now seems to clearly be due to the hard right turn he's taken on a number of issues. On immigration, for example, Walker has essentially flip-flopped on comments he's made in the past that were positive about the idea of an immigration reform plan that included legalization for undocumented immigrants and has even made statements that can only fairly be interpreted as critical of the idea of increased legal immigration. He has been an outspoken critic of the negotiations over Iran's nuclear program, and suggested that if he were elected he would abrogate whatever deal President Obama ends up making during the current negotiations. On social issues he's endorsed the idea of a Constitutional Amendment to ban same-sex marriage, and repeated those comments in the wake of last weeks Supreme Court decision in Obergefell v. Hodges. This last part is a blatant contradiction of the way he responded last October when Wisconsin lost its legal battle over the state's law banning same-sex marriage and quite obviously an effort on his part to appeal to hard right social conservatives in states like Iowa.
From the perspective political strategy, Walker's move to the hard right does make sense. After all, if he fails to win Iowa then his campaign would effectively be over and the Iowa Republican electorate, especially that portion most likely to attend caucuses, is definitely more conservative than the nation as a whole. As Jonathan Martin notes in The New York Times, though, this could end up costing Walker in the long run:
Mr. Walker's shifts on issues this year have created friction with a variety of people open to supporting him. He used to oppose what he called government mandates on the use of ethanol in gasoline, for example, but told Iowans this year that he was willing to continue one, the Renewable Fuel Standard. The reversal was not well received in the political network led by the industrialists David H. and Charles G. Koch, according to a Republican aware of the reaction who spoke on the condition of anonymity because of sensitivities over the group's deliberations.

But his stance on marriage is what has disquieted people who had counted on Mr. Walker taking a more restrained approach to the culture wars.

For several months, according to four people briefed on the discussions who were not authorized to describe an off-the-record meeting, Republican donors who were advocates for legalizing same-sex marriage had worked quietly to try to build bridges to Mr. Walker, whose wife has a lesbian cousin whose wedding reception Mr. Walker attended.

The donors were cheered by a remark Mr. Walker made in the fall when he was locked in a hard-fought re-election battle. Asked about same-sex marriage after his state's ban was struck down in federal court and the Supreme Court refused to review that decision, Mr. Walker said, "For us, it's over in Wisconsin."

The remark was also the subject of much critical discussion among social conservatives, according to one leader of that faction of the party, who was given anonymity to describe private conversations

At a gathering of Republican donors in New York in the spring, Mr. Walker indicated that his response to an eventual Supreme Court ruling, if it deemed same-sex marriage constitutional, would be in keeping with the spirit of his earlier remark about the question being a settled one in Wisconsin, people who attended the meeting said.

But since then, Mr. Cruz — whose uncompromising brand of conservatism and potential appeal to evangelical conservatives is, in the eyes of some Walker supporters, a direct threat in Iowa — is said to have benefited from more than $30 million in donations to "super PACs" supporting him.

(…)

If centrists and evangelical Republicans are concerned about what they see as Mr. Walker's penchant for tactics over principles, his moves to strengthen his standing on the right in Iowa could come at a cost in other states — particularly New Hampshire, which has a much more secular electorate.

"Scott takes this path at his peril in New Hampshire," said Charlie Bass, a former congressman there. By aligning himself with more conservative candidates on marriage, Mr. Walker puts at risk the support of more economy-focused voters in the first primary state, Mr. Bass said.

But Mr. Walker appears to have calculated that New Hampshire, and the states that come after it, will matter little if he does not succeed first in Iowa.

"He's an establishment guy trying to show his conservative credentials," said former Representative Tom Reynolds of New York. "He's got to go in and win Iowa, and therefore his message has to resonate enough there on the right."

That may also have explained his reversal on immigration: Until this year, Mr. Walker supported a comprehensive overhaul, including a pathway to citizenship for people in the country illegally.

Stephen Moore, a conservative scholar at the Heritage Foundation who backs an immigration overhaul, called Mr. Walker's embrace of a border security first approach "a lurch to the right and probably something very popular among Iowa conservative voters."

Mr. Moore said he had become concerned about Mr. Walker's stance in recent weeks, but was reassured after a phone call with the Wisconsin governor.

He said, 'I'm not going nativist; I'm pro-immigration,'" Mr. Moore recalled of the conversation.
As things stand right now, Governor Walker is shaping up to be the most credible of the more conservative alternatives to Jeb Bush. Tacking to the right in Iowa is something that pleases activists not only there, but in other parts of the country, and only helps to add to the national reputation that Walker has developed over the past four and a half years since he became Governor. At the same time, though, he risks turning off voters in far more important states early in the process. After all, if you look at the history it's far more important for a Republican to win the primary in New Hampshire and/or South Carolina than it is to win in Iowa. Only twice — Bob Dole in 1996 and George W. Bush in 2000 — has the winner of the Iowa Caucuses gone on to win the Republican nomination, and only one of those two candidate won the General Election. By concentrating so much on Iowa and the conservative voters he has to appeal to there, Walker may end up hurting his chances in New Hampshire, Florida, and the states that follow where the electorate is not going to be nearly as conservative as Iowa even in a closed primary. Whether Walker is able to figure out how to thread that needle and parlay success in Iowa into something national is something that we'll have to watch as the months go on.