Same-Sex Marriage Gets Its Day At The Supreme Court
A sharply divided Court heard argument today on an issue that has sharply divided the nation.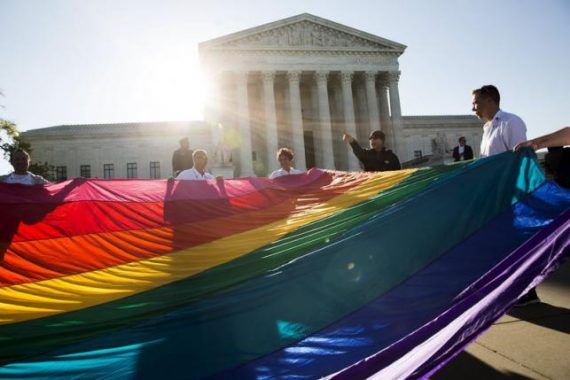 In a hearing that lasted more than twice as long as a typical oral argument, and which dealt with two related yet separate legal issues, the Supreme Court heard argument today in Obergefell v. Hodges and the three related cases that accompanied it from the Sixth Circuit, and not surprisingly it was clear by the end of the day that the Court was sharply divided on something that remains a hot-button social issue:
WASHINGTON — The Supreme Court on Tuesday seemed deeply divided about one of the great civil rights issues of the age: whether the Constitution guarantees same-sex couples the right to marry.

The questions from the justices suggested that they were divided along the usual lines — conservative and liberal — with Justice Anthony M. Kennedy holding the controlling vote. On the evidence of his words, he seemed torn about what to do. But Justice Kennedy's tone was more emotional and emphatic when he made the case for same-sex marriage. That, coupled with his earlier judicial opinions, gave gay rights advocates reason for optimism by the end of the arguments, which lasted two and a half hours.

The justices appeared to clash over not only what is the right answer in the case but also over how to reach it. The questioning illuminated their conflicting views on history, tradition, biology, constitutional interpretation, the democratic process and the role of the courts in prodding social change.

Justice Kennedy said he was concerned about changing a conception of marriage that has persisted for so many years. Later, though, he expressed qualms about excluding gay families from what he called a noble and sacred institution. Chief Justice John G. Roberts Jr. worried about shutting down a fast-moving societal debate.

Justice Samuel A. Alito Jr. asked whether groups of four people must be allowed to marry, while Justice Antonin Scalia said a ruling for same-sex marriage might require some members of the clergy to perform ceremonies that violate their religious teaching.

Justice Stephen G. Breyer described marriage as a fundamental liberty. And Justices Ruth Bader Ginsburg and Elena Kagan said that allowing same-sex marriage would do no harm to the marriages of opposite-sex couples.

Until recently, the court has been cautious and halting in addressing same-sex marriage, signaling that it did not want to outpace public support and developments in the states. Now, though, a definitive decision will probably be handed down in about two months.

At the start of Tuesday's arguments, Chief Justice Roberts said he had looked up definitions of marriage and had been unable to find one written before a dozen years ago that did not define it as between a man and a woman. "If you succeed, that definition will not be operable," the Chief Justice said. "You are not seeking to join the institution. You are seeking to change the institution."

Justice Kennedy weighed in with skepticism as the advocates for gay marriage made their case. He said the definition of marriage "has been with us for millennia."

"It's very difficult for the court to say, 'Oh, we know better,' " he said.

Justice Scalia echoed Justice Kennedy's concerns about the weight of history and the relative recentness of gay marriage. About halfway through Mary L. Bonauto's argument for the recognition of a right to same-sex marriage, Justice Scalia asked whether she knew of "any society prior to the Netherlands in 2001 that permitted same sex marriages?" He repeated Justice Kennedy's observation that the definition of marriage as between a man and a woman has been in effect "for millennia."

Later, when the lawyer for the opponents of gay marriage began arguing, Justice Breyer forcefully questioned why states should be able to exclude gay people from marriage. "Marriage is open to vast numbers of people," he said. Many same-sex couples, he noted, "have no possibility to participate in that fundamental liberty — and so we ask why."

Several of the more liberal justices pressed the opponents of gay marriage to say how, exactly, extending marriage to same-sex couples could harm heterosexual couples who want to marry.

Justice Ginsburg was particularly blunt on that point. "You are not taking away anything from heterosexual couples" if the state allows gay couples to marry, she said.

Justice Sonia Sotomayor seemed equally unpersuaded, asking how denying marriage to same-sex couples strengthens marriage for heterosexual couples.
The description of a divided court is repeated in the summaries of today's arguments provided by The Washington Post, The Wall Street Journal, and CNN, and SCOTUSBlog's Amy Howe conveys much the same assessment in her summary of today's proceedings:
So where does this leave us?  Once again, it may all come down to Justice Kennedy, and he didn't tip his hand during his questions and comments in the first part of today's arguments.  Kevin Russell, who contributes frequently to this blog, has suggested that the Chief Justice's questions during the second part of the oral argument could be part of an effort to broker a compromise, in which the Court rules that there is no right to same-sex marriage but still gives the plaintiffs much of what they are seeking by requiring states to recognize same-sex marriages that happen somewhere else.  Notably, however, Justice Anthony Kennedy was quiet during the arguments on the recognition question.  Does that silence mean that he had already decided to rule for the plaintiffs on the first question, eliminating any need to worry about the second one?  His colleagues will know the answer later on this week, when they meet to vote on the case.
Buzzfeed's Chris Geidner, though, came away thinking that the oral arguments meant good news for the proponents of marriage equality:
WASHINGTON — At Tuesday's Supreme Court arguments over same-sex couples' marriage rights, the majority of the court appeared to be comfortable with Justice Anthony Kennedy's understanding of human dignity as including gay people's equal treatment under the law.

While Kennedy, who is considered the key swing vote in the case, did not make any unambiguous statement about the end result of the case, he harshly questioned the state of Michigan's argument that it should be allowed to exclude same-sex couples from marriage.

At one point, Kennedy commented to Michigan's lawyer that its law banning same-sex couples from marrying "assumes" that those couples can't have the same "more noble purpose" as opposite-sex couples have for entering marriage.

Kennedy — joined often by Justices Stephen Breyer, Sonia Sotomayor, and Elena Kagan — peppered the lawyer defending marriage bans, John Bursch, about what other limits states could constitutionally place on marriages and whether the states' claimed interests amounted to anything more than, as Sotomayor put it at one point, a "feeling" that "doesn't make any logical sense."

Although questions were asked, including by Kennedy, about the length of time — "millennia," he noted — that the understanding of marriage was only an institution between one man and one woman, Kennedy noted in the same question that "about the same time" passed between the Supreme Court's decision ending "separate but equal" with regards to racial discrimination and its landmark decision ending interracial marriage bans as has passed between the Supreme Court's decision ending sodomy laws and today's arguments.

Justices Ruth Bader Ginsburg also appeared in questioning to be sympathetic to same-sex couples' marriage arguments.

Chief Justice John Roberts asked probing question of both sides, never betraying a strong affinity towards either sides' arguments, while Justice Samuel Alito strongly questioned the plaintiffs' claims — raising questions about polygamy and why siblings shouldn't be able to receive the same protections as same-sex couples.
As is always the case, of course, one should be extremely cautious in trying to divine what the Court as a whole or a single Justice is thinking based upon what questions they ask at oral argument. Sometimes, the question actually does reflect a doubt or question the Justices does have about the argument being advanced by whomever they are questioning, but it's often the case that the question may be serve some other purpose, such as supporting what will eventually constitute the conversation the Justices will have about this case when they hold their conference on Friday. Sometimes, the question is just meant to push the argument in a specific direction. Justice Kennedy in particular seemed to raise some concerns among proponents of marriage equality this morning when he raised the point about the traditional definition of marriage, but as Geidner notes above, he quickly followed that up with a comment suggesting that the question didn't really reflect a doubt of his own, but perhaps an effort on his part to anticipate a question one of the other Justices might ask. Additionally, while I haven't been able to read through the entire transcript or listen to the oral arguments, it does appear that Kennedy was tougher on the counsel for the states than he was on the Plaintiff's attorney or on the Solicitor General, who was arguing on behalf of the Obama Administration in favor of the Plaintiff's argument. Therefore, the concerns that Kennedy may have suddenly "gone soft" on this issue just when it matters the most appear to be somewhat overblown.
There were actually two issues before the Court today, and while they are both related they are quite different. The first issue, which took up roughly the first ninety minutes of argument, was the question of whether or not the state law bans against same-sex marriage are per se unconstitutional pursuant to the 14th Amendment. This, of course, is the ultimate question that most observers are looking to the Court to resolve once and for all, but it also appears to be the one that the Justices have been the most cautious about over the years. Most recently, in both United States v. Windsor and Hollingsworth v. Perry, the Court essentially avoided the issue entirely. In Windsor, this was relatively easy because principles of federalism made it clear that the Federal Government really had no place in defining what was and was not marriage beyond the definition that may be used in the individual states, and that it lacked the authority to override the decisions of states that had already decided to include same-sex couples in the definition of marriage under state law. In Perry, which dealt with the constitutionality of California's Proposition 8, the Court avoided dealing directly with the 14th Amendment issue by determining that the parties that had appealed the previous court rulings striking down Prop. 8 did not have standing to pursue the appeal at all, meaning that the lower court decision stood but that it would have no real national impact. The 14th Amendment issue, of course, is the one that has been at the core of the numerous Federal Court rulings that have led to today's oral arguments, and while it's likely that the Court will try to tailor its ruling on this first question as narrowly as possible, if it does rule for the Plaintiff's it will have no choice but to do so on 14th Amendment grounds.
The second issue the court dealt with concerned the question of whether a state could be required to give legal recognition to a same-sex marriage performed in another state where that marriage is legal. Generally, the Full Faith And Credit Clause of Article IV of the Constitution requires each state to give recognition to the laws and judgments of all other states, but there have often been exceptions to that rule recognized in the area of marriage or other areas where a specific state law may  violate the "public policy" of its sister states. That exception, combined with Section 2 of DOMA, which was not impacted by Windsor, as well as specific state statutes providing that same-sex marriages performed in other states will not be considered valid. Two of the four cases before the Court today deal with this issue, and the argument that it is a violation of both the Full Faith and Credit Clause and the 14th Amendment for a state to refuse to recognize a validly performed marriage from another state even if that marriage would not be valid if performed there. On this point, it actually seems as though there may be more agreement than there is on the pure 14th Amendment question, especially based on the comments that Chief Justice Roberts made during this part of the arguments today. Theoretically, then it could be possible that the Court could find that there is no 14th Amendment right to same-sex marriage, but that each state must recognize validly performed same-sex marriages from other states. That would be a less than ideal outcome from the point of view of the marriage equality movement, and would likely be seen as a setback, but it would still be quite a substantial development all on its own.
In any case, speculating about how the Court will rule in these cases is really somewhat pointless. For the most part, anyone who makes a prediction in that regard given how divided these arguments seem to have been is guessing, and probably revealing their own preferences about how the case should turn out. That being said, I maintain my belief that we're likely to see a 5-4 majority in favor of finding a 14th Amendment right to same-sex marriage. If that happens, of course, the second issue will be largely moot since every state in the Union will be required to grant legal recognition to same-sex marriages. However, that's just a guess at this point, and we're all just going to have to wait until June to find out for sure.
If you're interested in finding out how today's arguments went, there are a number of resources available, both in written and audio form, for the 14th Amendment Question (Transcript, Audio) and the Full Faith And Credit Question (Transcript, Audio)