Oregon Judge Refusing To Perform Same-Sex Marriage Ceremonies
A trial court Judge in Oregon is the latest public official to refuse to do his job.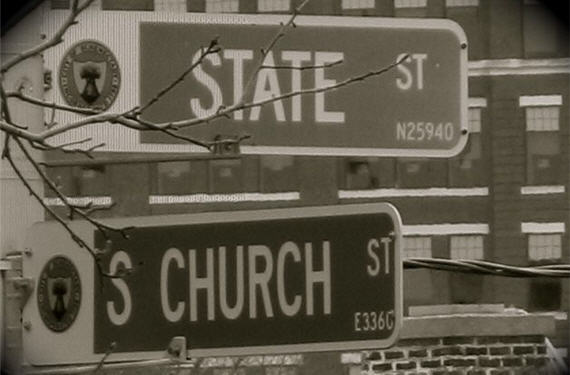 A trial court Judge in Oregon is now the latest government official to refuse to participate in civil marriages between same-sex couples:
PORTLAND, Ore. – A Marion County judge has refused to perform same-sex marriages and has asked his clerks to refer couples seeking same-sex marriages to other county judges.

Judge Vance Day, a circuit court judge and former chairman of the Oregon Republican Party, is now facing an ethics investigation over that decision, according to the judge's spokesman.

Spokesman Patrick Korten said Day instructed his staff to tell couples that the judge will not perform same-sex marriages. The staffers were instructed to refer same-sex couples to other Marion County judges willing to issue them a marriage license.

Korten said Day took the action based on his "deeply-held religious beliefs."

"It's an exercise of his religious freedom rights under the First Amendment," Korten said.

Day hasn't performed any same-sex marriages since he joined the bench in 2011, but only stopped doing marriages of any kind this past spring. Judges in Marion County are not required to perform marriages, and Marion County's website lists five active judges and one retired judge who are available for marriage ceremonies.

That decision led to an ethics investigation by the Oregon Commission on Judicial Fitness, Korten said.

Korten said he couldn't discuss specifics of the complaint against Day until the commission released it to the public.

It's not clear when that complaint will be made public. Until that happens we won't know the exact details of what Day is accused of doing, aside from what he publicly discusses.

According to Phil Lemon with the Oregon Judicial Department, the commission isn't required to publicize complaints until they schedule a public hearing.
Given the ongoing public debate that has been prompted by the case Rowan County, Kentucky Clerk Kim Davis, who continues to sit in jail due to her refusal to issue marriage licenses to same-sex couples, the case of Judge Day is likely to get more national attention than it otherwise would. On the surface at least, the analogy seems pretty obvious given the fact that Davis and Day are both government officials who are refusing to do their duties in connection with civil marriages due to the legalization of same-sex marriage. The situation, though, is slightly different because of the fact that as County Clerk, Davis is required by Kentucky law to issue marriage licenses to all people who otherwise meet the statutory requirements. Judge Day, on the hand, is not statutorily required to perform civil wedding ceremonies, and there are apparently some Judges who sit in the same Court that Judge Day does who do not perform ceremonies at all and have not done so for many years. However, the analysis doesn't necessarily end there, and the facts behind Judge Day's decision could pose a problem going forward.
This case is nearly identical to one that arose in Toledo, Ohio in the aftermath of the Obergefell decision. In that case, trial Court Judge C. Allen McConnell refused to perform a ceremony for a same-sex couple based on what he said were his personal religious beliefs. Several weeks later, though, after McConnell's actions were copied by several other Judges across the state, the Ohio Supreme Court, which oversees judicial ethics in the state, ruled that neither McConnell nor any other Judge in the state could refuse to perform ceremonies for same-sex couples if they made themselves otherwise available for ceremonies for opposite-sex couples. The Court also stated in its informal, advisory opinion that it would also be improper for Judges to decline to perform any marriage ceremonies at all just to get out of performing same-sex ceremonies. This doesn't mean that a Judge could never decline to perform ceremonies, but the Court noted that if they do they may be required to provide some reasonable justification, such as an increased case load that makes taking the time out to perform ceremonies on a daily or weekly basis difficult. The Court also did not say that a Judge who refused to perform same-sex ceremonies, or all ceremonies, could be subject to discipline, although one imagines that such action could be possibly if the action were part of a broader pattern of discriminatory activity. Instead, the Court said that such Judges would at least be required to recuse themselves from any future cases involving same-sex couples because of the apparent prejudice, and again one imagines that parties could also argue for recusal in any case where a party's sexual orientation was at issue. Obviously, a Judge that refused to recuse themselves in such cases could potentially be subject to discipline in the future.
The cases of Ms. Davis and Judges McConnell and Day seem to make clear that, while most of the country seems to have moved on from the same-sex marriage debate in the wake of the Supreme Court's decision, there remains a small minority continues to resist. and that a new battleground has been opened:
Kim Davis did more than register a protest when she went to jail last week after defying a federal court order to issue marriage licenses to gay couples. Ms. Davis, the clerk in Rowan County, Ky., also helped unravel an uneasy détente in the nation's culture wars that had prevailed since the Supreme Court declared a constitutional right to same-sex marriage in June.

Some Republican presidential aspirants rushed to the defense of Ms. Davis, a Democrat, and other public employees who say sanctioning same-sex marriage undermines their religious freedom. Her resistance seems certain to generate a burst of new legislation aimed at carving out exemptions for such employees, and it could spur others to risk jail in states like Alabama, where religious objections are strong.

Ms. Davis, 49, who has said she attends her Apostolic Christian church "whenever the doors are open" and who cited "God's authority" in turning away gay couples who sought to marry, has emerged as a heroine to religious conservatives, many of whom feel deeply aggrieved by the Supreme Court's 5-to-4 decision on same-sex marriage, in Obergefell v. Hodges. Her lawyer, Mathew Staver, called her "the poster child for why you need religious liberty exemption laws."

Yet her jailing by a Federal District Court judge, David L. Bunning, a former federal prosecutor who was appointed to the bench by President George W. Bush, has also exposed divisions within the Republican Party. While all 17 Republican presidential contenders are opposed to same-sex marriage, not all of them embraced Ms. Davis.

Although polls show more than half of Americans support same-sex marriage, a national survey released in July by The Associated Press found that Americans were split on whether state and local officials who have religious objections should be required to issue marriage licenses to gay couples. Forty-nine percent of respondents said officials should not be required to do so; 47 percent said they should.

(…)

Twenty-one states have some form of religious-exemption law, but just one — North Carolina — has a specific measure exempting public officials from participating in same-sex marriages, according the Movement Advancement Project, which tracks gay-rights legislation. Some legal experts, including Katherine M. Franke, a law professor at Columbia University who studies religious freedom and sexual liberty, say the North Carolina statute will not hold up in court — for the same reason that Judge Bunning ruled that Ms. Davis must issue licenses.

Government officials, Professor Franke said, "don't have a First Amendment right to pick and choose which parts of the job they are going to do."

Other states, including Georgia, Minnesota, Oklahoma, South Carolina and Texas, this year considered passing religious exemption laws targeted to public officials but failed. Religious conservatives say they expect similar measures to be proposed as state legislatures reconvene in the coming months.

Other states are trying to tackle religious objections in other ways. In Alabama, where probate judges in 13 of 67 counties are, like Ms. Davis, declining to issue marriage licenses to anyone, State Senator Greg Albritton, a Republican, said some of those judges were "preparing to go to jail" if ordered, as Ms. Davis was, to issue same-sex marriage licenses. When the Legislature convenes a special session next this week, Mr. Albritton said, he intends to reintroduce legislation requiring couples to draft their own marriage contracts, which the state would simply record, putting Alabama out of the business of issuing marriage licenses.

"Kentucky is a precursor to where we are headed," Mr. Albritton said.
Even before the Obergefell decision, the issue of how the law should handle people who claim to have sincere religious objections to same-sex marriage was becoming a hot political issue. In March, the state of Indiana passed a law modeled on the Federal Religious Freedom Restoration Act which many critics asserted would provide private businesses with a defense to claims of discrimination against people based on sexual orientation, which is barred by municipal legislation in cities such as Indianapolis but not statewide. After a tremendous public uproar, Indiana Governor Mike Pence ended up asking the state legislature to pass an amendment to the law that made clear that it could not be used a s defense in discrimination cases. The legislature did this is quick order, and Pence signed it into law. At the same time that the Indiana bill was being debated, a similar bill was pending in Arkansas, and even though it passed Governor Asa Hutchinson ended up asking for changes in the law similar to those in Indiana after a public outcry that included critical statements from Walmart, the state's biggest employer. Additionally, efforts to pass similar legislation in states such as Georgia, Virginia, Nevada, North Carolina, and Louisiana were quickly abandoned in the wake of the Indiana controversy. Louisiana Governor Bobby Jindal did try to implement part of the proposed Louisiana law via Executive Order, but that's not surprising given his previous statements on the issue and it's not clear that his order actually accomplished anything. Nonetheless, the debate over how to handle religious liberty issues in these situations is one that remains unresolved and is one that is likely to be around for some time to come.
The cases we're seeing right now, though, are fundamentally different. Kim Davis and Judges McConnell and Day are public servants, elected pulic servants at that, who took an oath to follow the law, and that includes the legal recognition of same-sex marriage. When they refuse to issue a license or perform a ceremony for same-sex marriages, it is fundamentally different from the case of the baker who refused to bake a cake for a same-sex wedding reception. In the baker's case, we are dealing with a private business and, unless there is a law barring discrimination based on sexual orientation, they are free to refuse to do business as they choose. Even if there is such law, they at least have a somewhat of a credible case that they should be provided an exemption, especially if there is a RFRA law in their state. This is not true of public servants like Clerks and Judges. When they act, they are acting as agents of the government, and when they discriminate they are effectively condoning illegal discrimination by the government. This kind flouting of the Rule of Law is simply impermissible, and people in this position need to either follow the law or quit their jobs. That is why exemption statutes such as the one passed earlier this year in North Carolina are unacceptable, and why politicians like s Ted Cruz, Mike Huckabee Bobby Jindal,, and Texas Attorney General Ken Paxton are simply wrong when they support such proposals. The idea that public servants should be able to pick and choose who they provide services to is something that nobody who believes in equality under the law should accept.
So far, the case of Kimberly Davis is sending the right signal. If you are a government official or employee and don't follow the law, and if you ignore the orders of a Court, you will pay the price. Perhaps this will send a message to others who make think like she does that they need to either change their outlook, or find a new job.