Idaho Ministers Threatened With Jail For Refusing To Perform Same-Sex Wedding Ceremonies
A collision between marriage equality and religious liberty, but it seems clear that religious liberty should win this one.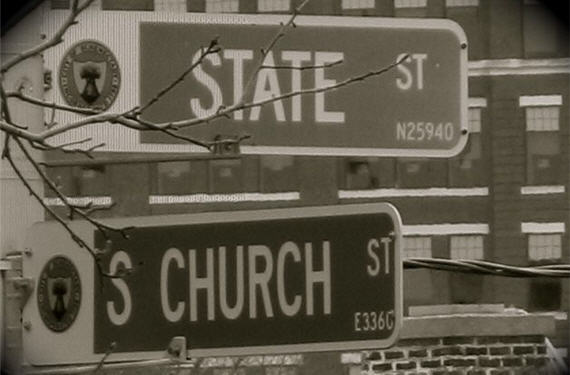 Donald and Eveyln Knapp, a married couple who also happen to be ordained Christian ministers, have operated The Hitching Post Wedding Chapel in Coeur D'Alene, Idaho since 1989, although the business itself appears to date further back in the history of the city. The chapel, which just happens to be located across the street from the County Courthouse where couples can go to get marriage licenses is, according to the Knapp's part of their ministry as Christians and has provided only Christian wedding ceremonies to anyone willing to pay the fees that the chapel charges. Although the Knapp's consider it a ministry, the chapel is operated as a for-profit business, and operates as a limited liability company known as a Hitching Post Weddings, LLC, a company of which the Knapp's appear to be the sole owners and which is described in its founding document as  a "religious corporation" and an "extension of their sincerely held religious beliefs" to "help people create, celebrate, and build lifetime, monogamous, one-man-one-woman marriages as defined by the Holy Bible."  Beginning in May when a Federal District Court Judge found Idaho's law banning same-sex marriage to be unconstitutional, though, the Knapp's have been warned by city officials that they must agree to provide wedding ceremonies to same-sex couples or risk penalties under the city's anti-discrimination law, which could include fines and up to 180 days in jail:
The Hitching Post is one of the most well known chapels in the Inland Northwest. In its 95 years of operation thousands of people have been married in the small chapel. But the owners are willing to walk away if the ban on gay marriage is permanently lifted.

When the future of same-sex marriage in Idaho is finally sorted out in court, the owners of the Hitching Post said they are prepared to close their doors rather than conduct same-sex marriages.

"I think the Bible is pretty clear that homosexuality is not his way, and therefore I cannot unite people in a way that I believe would conflict with what the Bible teaches," Hitching Post owner Donald Knapp said.

When it comes to who can and can't be married at chapels like the Hitching Post, Warren Wilson at the Coeur d'Alene City Attorney's Office references a different set of rules. The laws of the land.

"For profit wedding chapels are in a position now where last week the ban would have prevented them from performing gay marriages, this week gay marriages are legal, pending an appeal to the 9th Circuit," Warren Wilson with the Coeur d'Alene City Attorney's Office said.

The 9th Circuit Court hasn't yet issued a stay but they are putting a halt to gay marriages until they make a decision.

If gay marriage stands, by law Knapp wouldn't have a choice as to whether he would marry same-sex couples.

"If you turn away a gay couple, refuse to provide services for them, then in theory you violated our code and you're looking at a potential misdemeanor citation," Wilson said.

Therefore the Hitching Post may be facing their last summer and the thought is hard for the owners.

"The people of Idaho spoke when they passed the law regarding marriage, but it seems to me like it's no longer by the people of the people and for the people, but what one judge decides," Knapp said.

Knapp said he's okay with other ministers performing marriages at their facilities but it is not something he will do.

"I don't hate those people. I don't think anybody should ever be abusive or mistreat them or anything like that, but I cannot in clear conscience unite such a couple," Knapp said.
That article is from May, and in a contemporaneous piece Knapp talks further about the issue and what he and his wife would do if the city told them that they personally had to officiate at a ceremony they believed to be in contravention of their religious beliefs. Now that the Ninth Circuit Court of Appeals has denied Idaho's appeal of that May ruling, and the Supreme Court refused to enter a stay on the ruling, same-sex marriage is the law of the land in the state and the dilemma that the Knapp's faced in May is now reality. That has led them, represented by counsel and an organization called the Alliance Defending Freedom to file suit on their behalf seeking a Federal Court Injunction against enforcement of the law against them:
COEUR D'ALENE, Idaho – Alliance Defending Freedom attorneys filed a federal lawsuit and a motion for a temporary restraining order Friday to stop officials in Coeur d'Alene, Idaho, from forcing two ordained Christian ministers to perform wedding ceremonies for same-sex couples.

City officials told Donald Knapp that he and his wife Evelyn, both ordained ministers who run Hitching Post Wedding Chapel, are required to perform such ceremonies or face months in jail and/or thousands of dollars in fines. The city claims its "non-discrimination" ordinance requires the Knapps to perform same-sex wedding ceremonies now that the courts have overridden Idaho's voter-approved constitutional amendment that affirmed marriage as the union of a man and a woman.

"The government should not force ordained ministers to act contrary to their faith under threat of jail time and criminal fines," said ADF Senior Legal Counsel Jeremy Tedesco. "Many have denied that pastors would ever be forced to perform ceremonies that are completely at odds with their faith, but that's what is happening here – and it's happened this quickly. The city is on seriously flawed legal ground, and our lawsuit intends to ensure that this couple's freedom to adhere to their own faith as pastors is protected just as the First Amendment intended."

"The government exists to protect and respect our freedoms, not attack them," Tedesco added. "The city cannot erase these fundamental freedoms and replace them with government coercion and intolerance."

The Hitching Post Wedding Chapel is across the street from the Kootenai County Clerk's office, which issues marriage licenses. The Knapps, both in their 60s and who themselves have been married for 47 years, began operating the wedding chapel in 1989 as a ministry. They perform religious wedding ceremonies, which include references to God, the invocation of God's blessing on the union, brief remarks drawn from the Bible designed to encourage the couple and help them to have a successful marriage, and more. They also provide each couple they marry with a CD that includes two sermons about marriage, and they recommend numerous Christian books on the subject. The Knapps charge a small fee for their services.

Coeur d'Alene officials told the Knapps privately and also publicly stated that the couple would violate the city's public accommodations statute once same-sex marriage became legal in Idaho if they declined to perform a same-sex ceremony at their chapel. On Friday, the Knapps respectfully declined such a ceremony and now face up to 180 days in jail and up to $1,000 in fines for each day they decline to perform that ceremony.
When I first read about this story late yesterday, I was somewhat skeptical about the claims I was seeing about the potential for jail time in this situation. Ordinarily, anti-discrimination laws involving public accommodations such as the one at issue here are civil in nature and the penalties that can be enforced are limited to fines and Court orders that the offending party comply with the law. Theoretically, of course, someone can be jailed for failure to comply with a Court Order. However, it does appear that the law in question, which can be found here, does include a provision classifying a violation of the act as a misdemeanor and, under the City Code, punishable by a fine of not more than one thousand dollars ($1,000.00), or by imprisonment not to exceed one hundred eighty (180) days." So, it does appear that the Knapp's are potentially facing jail time here  because of their refusal to provide wedding services to same-sex couples.
This isn't a new issue, of course. With the increasing acceptance of same-sex marriage across the nation, there have been several cases involving wedding vendors who have refused to provide services to gay couples and have run afoul of anti-discrimination or public accommodation laws in various jurisdictions. In Washington State, a florist found herself in litigation over her refusal to provide services to a same-sex couple's wedding. In Colorado, it was a baker who refused to bake cakes for same-sex weddings and found himself running afoul of the Colorado Civil Rights Commission. In a New Jersey case that arose before that state had even legalized same-sex marriage a church that operated a beach venue that was generally open to the public for weddings and other events was told that it could not ban same-sex couples from renting the venue under the state's anti-discrimination law. A New York couple was fined some $13,000 for refusing to allow a lesbian couple to use their farm for their wedding, an event which caused them to cease making the farm available for any wedding at all. And, perhaps most famously, the New Mexico Supreme Court ruled last year that an Albuquerque photographer had violated an anti-discrimination ordinance when he refused to provide services for a same-sex wedding. Earlier this year, the Supreme Court declined to hear an appeal of that decision alleging, among other things, that the photographer's First Amendment rights outside of the issue of religion had been violated.
Each of these cases, among others, have been cited by opponents of same-sex marriage as evidence that recognition of same-sex marriage would harm religious liberty because it would force people to recognize, and provide services for, unions that violate their religious beliefs. What is actually involved here, of course, is a clash between the religious liberty claims of business owners and the public interest as expressed in anti-discrimination laws, such as the one in Coeur d'Alene, that include protections not only for discrimination based on race, gender, ethnicity, and religion, but also sexual orientation. For the most part, these laws already contain exemptions for explicitly religious and other institutions; indeed, the law in question here has such exemptions itself. The difference here is that the Knapps operate the Hitching Post as a for-profit business, and have incorporated it as a limited liability company for tax and other liability purposes. In some sense, then, the Hitching Post as a business is somewhat analogous to Hobby Lobby and other businesses in their opposition to the PPACA's contraceptive coverage mandate. However, because of the fact that the city is essentially trying to mandate that the Knapp's themselves perform certain acts, it strikes me that they have a much stronger case than the Plaintiffs in those cases did.
Eugene Volokh looks at the situation and finds that the Knapps have a strong case:
[T]he Knapps moved for a temporary restraining order, arguing that applying the antidiscrimination ordinance to them would be unconstitutional and would also violate Idaho's Religious Freedom Restoration Act. I think that has to be right: compelling them to speak words in ceremonies that they think are immoral is an unconstitutional speech compulsion. Given that the Free Speech Clause bars the government from requiring public school students to say the pledge of allegiance, or even from requiring drivers to display a slogan on their license plates (Wooley v. Maynard (1977)), the government can't require ministers — or other private citizens — to speak the words in a ceremony, on pain of either having to close their business or face fines and jail time. (If the minister is required to conduct a ceremony that contains religious language, that would violate the Establishment Clause as well.)

I think the Knapps are also entitled to an exemption under the Idaho RFRA. The Knapps allege that "sincerely held religious beliefs prohibit them from performing, officiating, or solemnizing a wedding ceremony between anyone other than one man and one woman"; I know of no reason to think they're lying about their beliefs. Requiring them to violate their beliefs (or close their business) is a substantial burden on their religious practice.

And I find it hard to see a compelling government interest in barring sexual orientation discrimination by ministers officiating in a chapel. Whatever interests there may be in equal access to jobs, to education, or even in most public accommodations, I don't see how there would be a "compelling" government interest in preventing discrimination in the provision of ceremonies, especially ceremonies conducted by ministers in chapels.
Volokh is correct, and his point is strengthened even more by the statement from Knapp in the article from May that I highlighted above in which he states that he would be fine with same-sex couples using his facility, and presumably paying a fee for doing so, as long as and his wife weren't the ones required to perform the ceremony. To me, this seems like a completely reasonable accommodation under the circumstances. No doubt, the Hitching Post benefits from the fact that it is located directly across the street from the County Courthouse where people go to get their marriage licenses. Apparently, the business has been in that location for quite a long period of time and no doubt has provided services many times to people who had gotten their licenses and decided to complete the process by simply going across the street to have the marriage solemnized and made legal by someone authorized by the state to perform wedding ceremonies.
However, the Knapps are not government employees, unlike the New York Town Clerk who refused to provide liceses to same-sex couples after that state legalize same-sex marriage, they are private citizens, and private citizens who are ordained ministers who see themselves as having a religious mission in presiding over wedding ceremonies at that. Forcing them to solemnize a marriage that they object to on a religious basis because they happen to be operating a for profit business. The issues here are also quite different from those involving the wedding services vendors. In those cases, we are talking about people who are engaged in what are clearly non-religious services who are saying that their religious beliefs should give them an exemption from otherwise generally applicable laws. This is an issue that will need to make its way through the court system. In this case, the Knapps are ordained ministers who perform explicitly religious wedding ceremonies who object to same-sex marriage. They have said that they are willing to allow their venue to be used for same-sex weddings as long as they are not compelled to do preside over the ceremony. Forcing them to do so would be as much a violation of their religious liberty as it would be if we were talking about the Roman Catholic Bishop of Boise. Even if one believes that the Knapps are wrong in their disapproval of same-sex marriage, and I believe that they are, they have a right to hold that belief and they have a right under the First Amendment to no be compelled to preside over a religious service under circumstances that they object to. The city is wrong here, and the Knapps ought to prevail.
Here is the Complaint filed on behalf of the Knapps:
Knapp Et Al v. City of Coeur D'Alene by Doug Mataconis
And here is the Motion for a Temporary Restraining Order: