Texas Attorney General Makes A Particularly Silly Argument Against Same-Sex Marriage
Texas Attorney General Greg Abbott has made an incredibly weak argument in favor of his state's ban on same-sex marriage.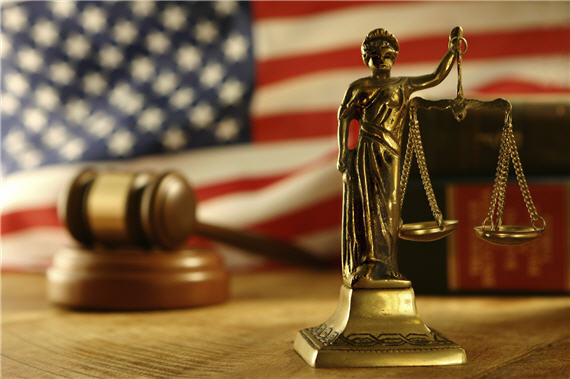 Texas Attorney General Greg Abbott, who is running for Governor and expected to win easily in November, has filed a brief with the Fifth Circuit Court of Appeals arguing that the state's ban on same-sex marriage is constitutional because it advances the state's goal of reducing out-of-wedlock births:
AUSTIN – Attorney General Greg Abbott says Texas' same-sex marriage ban should remain in place because legalizing it would do little or nothing to encourage heterosexual couples to get married and have children.

Writing in a brief filed to the Fifth Circuit Court of Appeals on Friday, Abbott said the state was not obligated to prove why gay marriage might be detrimental to the economic or social well-being of Texans. It was only required to show how opposite-sex marriage would be more beneficial for its citizens.

"The State is not required to show that recognizing same-sex marriage will undermine heterosexual marriage," the brief read. "It is enough if one could rationally speculate that opposite-sex marriages will advance some state interest to a greater extent than same-sex marriages will."

The new filing largely reiterated the same "responsible procreation" argument Abbott made in July, when the state first appealed a a February district court's ruling overturning the Texas gay marriage ban. In it, Abbott argued marriage among heterosexual partners is more beneficial to society because it encourages married couples to have children and provides an example for other couples to do the same.

"First, Texas's marriage laws are rationally related to the State's interest in encouraging couples to produce new offspring, which are needed to ensure economic growth and the survival of the human race," Abbott wrote.

He added, "Second, Texas's marriage laws are rationally related to the State's interest in reducing unplanned out-of-wedlock births. By channeling procreative heterosexual intercourse into marriage, Texas's marriage laws reduce unplanned out-of-wedlock births and the costs that those births impose on society. Recognizing same-sex marriage does not advance this interest because same-sex unions do not result in pregnancy."

In the brief, Abbott concedes that same-sex marriage might have some positive effects for society, like increasing household wealth and adoptions or providing a more stable environment for children raised by gay couples. While there might be benefits, however, he said it's for the Legislature, not the courts, to decide whether to expand the right to marry.

Abbott, who is also the Republican nominee for governor, said parallels could not be drawn between the fight for same-sex marriage and previous cases that overturned bans on sodomy or affirmed the right for interracial couples to marry.

He denied that other courts' decisions to overturn gay marriage bans represented salient precedent, saying these rulings simply represented the "purely subjective" beliefs of a few judges: "That is not a government of laws, but of men."

San Antonio-based District Judge Orlando Garcia ruled the Texas ban unconstitutional in Februarybecause it violated same-sex couples' 14th Amendment equal protection rights. The state appealed, pushing the case to the New Orleans-based Fifth Circuit Court of Appeals that hears cases for Louisiana, Mississippi and Texas.

Politicians, legal scholars, faith leaders and health care professionals have been eager to weigh in on the case.

Earlier this summer, 63 Republican lawmakers – including the frontrunners for lieutenant governor and attorney general, state Sens. Dan Patrick and Ken Paxton – signed a brief supporting the state's ban. In it, they wrote allowing gay marriage could lead to Texas eventually legalizing pedophilia, polygamy and incest. A number of religious organizations and the attorneys general for 10 states with bans in place have also thrown their support behind Abbott.

Corporations and mental health organizations have argued against the ban, including 32 companies such as Amazon.com, Google, Starbucks and Target, as well as the American Psychological and American Psychiatric Associations. In September, 16 attorneys general from states with gay marriage already in placefiled an amicus brief arguing their own experiences show only positive effects from allowing gays and lesbians to marry.

Last week, the court agreed to fast-track the Texas case. The request for expedited hearing came from Nicole Dimetman, a plaintiff in the case who is due to give birth to the second child with her wife, Cleopatra DeLeon, in March. The two were married in Massachusetts.
So, yes, the Attorney General of Texas is essentially arguing that the ban on same-sex marriage is justified because it encourages people to get married rather than have children out of wedlock. On some level, you could actually see the logic in his argument, but the problem is that there's just no connection between the goal of limiting out of wedlock pregnancy and the ban on allowing gays and lesbians to enjoy the legal benefits of marriage. In the abstract, one can see an argument in favor of marriage laws in general that says that the state should recognize marriage and grant it certain special legal rights not available to others because of the fact that it would tend to discourage pregnancy outside of marriage, which numerous statistics show leads to serious social and economic problems for both the mother and any children she may be raising on her own. It doesn't follow from that, however, that marriage should be limited only to men and women. If one were to take Abbott's argument to its logical extreme, actually, then the state would be within its authority to refuse to recognize marriages between people who are not of child-bearing age, marriages between people who are physically incapable of having children, and marriages between people who choose not to have children and take affirmative steps (i.e., vasectomy or tubal ligation) to make sure it doesn't happen. In fact, one could even seen Abbott's argument being used to argue that the state should have the power to strip its recognition of a marriage once the couples involved have passed child bearing age and all of the children born of the marriage have reached the age of majority.
All of these would be absurd things for the state to do, of course, but they are no more absurd than the argument that achieving the goal of reducing out of wedlock births is a justification for banning same-sex marriage. For one thing, the goal that Abbott focuses on is not the only one that marriage helps to advance. Recognizing and even encouraging marriage also helps promote family stability, it tends to lead to higher incomes, and it increases the ties that people have to the greater community around them. All of these are goals that can be achieved by granting marriage rights to same-sex couples as much as it can be achieved by limiting it to opposite sex couples. Moreover, as Abbott appears to concede and the Supreme Court's majority in United States v. Windsor recognizes, gays and lesbians are generally permitted to adopt anywhere in the country and allowing marriage is good for the children involved in these adoptions. In other words, there is absolutely no contradiction between Abbott's stated goal of preventing out of wedlock births and recognizing same-sex marriage, and there is no evidence that doing so would somehow increase out of wedlock births.
On a side note, it's worth noting that Texas's ban on same-sex marriage does not appear to be achieving the goal Abbott has set for it given the fact that, to pick just one category, Texas has some of the highest rates of unmarried teen pregnancy in the country: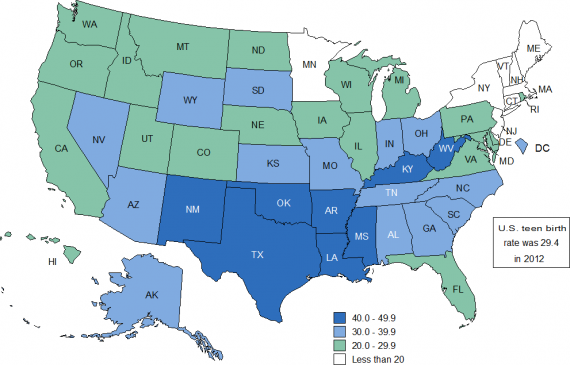 Additionally, a Census Bureau report from 2013 [PDF] shows that Texas's rate of unwed births generally is roughly equivalent to the national average, while many states that recognize same-sex marriage have lower than average rates of out of wedlock births.  So, arguably, that ban on same-sex marriage doesn't seem to be doing much to help Texas achieve that goal of theirs.
Abbott isn't the first Attorney General or advocate of laws banning same-sex marriage to make an argument like this, of course, It is in fact an argument that has been made by advocates of such laws since the litigation on this issue first started and, by and large, it has been consistently rejected by all but a handful of the Judges who have heard it. Part of the problem that people in his position face, of course, is that the legal arguments in support of the bans have been so thoroughly eviscerated in court after court in recent years that its hard to come up with anything that sounds any more credible. This is one of the reasons why, from a legal point of view, the same-sex marriage argument is fast approaching its end. All the arguments have been made and responded to, and there really isn't anything new out there. Abbott does arguably have an obligation to defend the laws of his state in Court, of course, and I generally try not to criticize attorneys who advance legal arguments that are legally and factually tenuous. The fact of the matter is, though, that even he has to recognize that the writing is on the wall at this point. Whatever happens at the Fifth Circuit, and the outcome there is by no means certain notwithstanding the fact that the Court's majority is made up of Judges appointed by Republican Presidents, is almost irrelevant. They will either strike down the ban and marriage equality will spread to Texas, Louisiana, and Mississppi, or they will uphold and the case will head to the Supreme Court where it will likely serve as the vehicle for the Justices to have their final say on this issue.
If you care to read the brief that Abbot field, you can do so here:
DeLeon et al v. Perry et al Texas 5th Circuit Brief by Doug Mataconis