Kentucky Clerk Kim Davis Released From Jail, But She May Not Be Free For Long
Rowan County, Kentucky Clerk Kim Davis is being released from jail, but it may end up being a very short reprieve.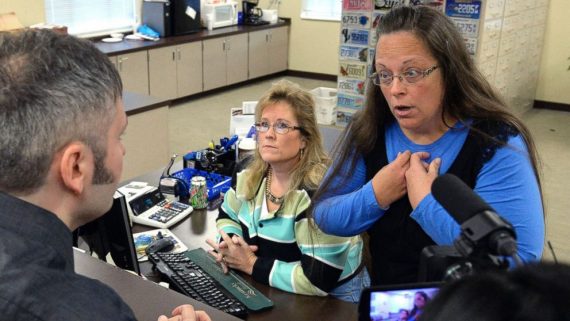 Kim Davis, the Rowan County, Kentucky Clerk who was jailed last week for her refusal to comply with a Federal Judge's Order that she issue marriage licenses to same-sex couples, has been released, but it's unclear if she will be able to avoid being held in contempt all over again:
Kim Davis, the Kentucky county clerk who was jailed last week after she defied a court's order that she issue marriage licenses to same-sex couples, was ordered released on Tuesday.

In a two-page order issued Tuesday, the judge who sent her to jail, David L. Bunning of the Federal District Court, said he would release Ms. Davis because he was satisfied that her office was "fulfilling its obligation to issue marriage licenses to all legally eligible couples."

Judge Bunning ordered that Ms. Davis "shall not interfere in any way, directly or indirectly, with the efforts of her deputy clerks to issue marriage licenses to all legally eligible couples." He he said that any such action would be regarded as "a violation" of his released order.

Although a Supreme Court decision in June legalized same-sex marriage throughout the United States, Ms. Davis, the Rowan County clerk, said her beliefs as an Apostolic Christian kept her from sanctioning any such nuptials. Judge Bunning last month said she was required by law to issue the licenses, but she maintained her resistance and was sent to jail.

Ms. Davis's argument and incarceration have resonated deeply among Christian conservatives, many of whom fear an erosion of religious liberty, and transformed the clerk of a rural Kentucky county into an unyielding symbol of opposition to same-sex marriage.

Ms. Davis's deputies began processing licenses after she was jailed. In a signal of the possible courtroom battles to come, Ms. Davis's lawyers have questioned whether those licenses are valid, but Rowan County officials have insisted they will be recognized.

Reports of Ms. Davis's release came shortly ahead of visits planned by two Republican presidential candidates, Senator Ted Cruz of Texas and Mike Huckabee, the former governor of Arkansas, and a rally in support of Ms. Davis. A handful of local schools were closed Tuesday as the streets of this small town, population 4,200, near the border with West Virginia, swelled with traffic.

(…)

Last month, Judge Bunning ruled against Ms. Davis' claim that giving licenses to same-sex couples would infringe on her freedom of religion, and ordered her to resume issuing the licenses. She appealed. A federal appeals court turned down her request to stay Judge Bunning's order, pending the outcome of her appeal, and on Aug. 31, the Supreme Court did the same.

But in a court hearing last Thursday, she held to her refusal to issue any licenses. Five of her six deputies told Judge Bunning that they would be willing to issue and sign the licenses without her approval, but Ms. Davis' lawyer said she would not allow that.

The judge held Ms. Davis in contempt and ordered her to jail, and told her deputies to begin issuing marriage licenses.

On Friday, amid loud protests on both sides, and a throng of journalists, the Rowan County clerk's office gave marriage licenses to six same-sex and two opposite-sex couples.
Davis should be out of detention in a few short hours at the latest, and at that point the ball will be in her court. As Judge Bunning says in his order, the fact that the Plaintiffs in the original case were able to obtain their marriage licenses and that Davis's deputies are willing to continue issuing those licenses essentially means that the original reason for her being held in contempt no longer exist. Given that, continuing to hold her in custody could have potentially been seen by the Court of Appeals, to whom Davis had appealed Bunning's contempt finding, as an abuse of discretion. The purpose of the contempt ruling was to get her to comply with the original order that Davis issue licenses to the Plaintiff's. Since that has essentially happened, although not because of her cooperation, the Court's order has been satisfied for now. If problems occur in the future with Davis's compliance with the August 12th ruling, then that will have to be the subject of future proceedings.
Judge Bunning's new order does not require Davis herself to issue marriage licenses to anyone, but it does forbid her from interfering with her deputies in the issuance of licenses to anyone, including same-sex couples. Since the deputies themselves are now represented by counsel independent from those representing Davis, it's possible that whatever pressure Davis might have been putting on them to follow her in her crusade to violate the law and the duly issued orders of a Federal Court will be lessened. If she does interfere, though, then it is likely that she will be back before Judge Bunning, and it's unlikely that he will be as charitable to her as he was today. So Kim Davis's future fate is entirely in her hands.
At least according to initial reports, that future may involve her heading back to jail very soon:
Just minutes after a judge ordered Kim Davis released from jail on Tuesday, her lawyers told CNN that she would violate a court order by forcing her clerks to stop issuing marriage licenses to same-sex couples.

An order from U.S. District Court Judge David Bunning said on Tuesday that Davis would be released after serving six days in jail on the condition that she "shall not interfere in any way, directly or indirectly, with the efforts of her deputy clerks to issue marriage licenses to all legally eligible couples."

CNN correspondent Martin Savidge, who was at the jail, explained following the order that her attorney, Harry Mihet, said that the judge had ordered the release because her office had satisfied the court by issuing marriage licenses to same-sex couples while she was behind bars.

"The problem here is that the attorney says she has not changed her mind, that Kim Davis is adamant that as long as her name appears on those marriage licenses, she objects and she will attempt to stop those licenses from being distributed," Savidge reported. "Which means if she goes back on the job as is expected, she will bring the process to a halt. That's what her attorneys believe."

"They have said they expect her to go by her conscience which means we may go through this all again," the CNN correspondent noted.

Savidge said that Davis' legal team told him that they did not feel that they had won a victory because the judge had not accommodated her demands to have her signature removed from marriage licenses.
If this report is accurate, and Davis continues to defy the Court's order by blocking her deputies from issuing licenses, then this will be a very short reprieve indeed and Davis may well end up back in jail before the end of this week.
Here is Judge Bunning's Order: