Kentucky Clerk Found In Contempt And Jailed For Refusal To Issue Same-Sex Marriage Licenses
Rowan County, Kentucky Clerk Kimberly Davis was found in contempt of court and jailed for her refusal to issue same-sex marriage licenses.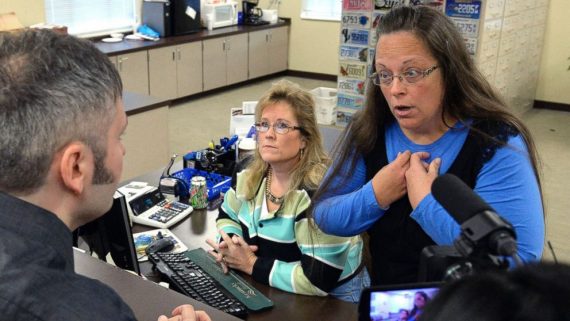 A Federal Judge in Kentucky has found Rowan County, Ky. Clerk Kimberly Davis in contempt of court for her refusal to issue marriage licenses to same-sex couples and placed her in the custody of the U.S. Marshal Service until she agrees to comply with his Order:
ASHLAND, Ky. — A federal judge here on Thursday ordered a defiant county clerk jailed for contempt of court because of her refusal to issue marriage licenses to same-sex couples, despite a Supreme Court ruling against her.

The clerk, Kim Davis of Rowan County, was sent to jail after a hearing before Judge David L. Bunning of Federal District Court. The contempt finding was another legal defeat for Ms. Davis, argues that she should not be forced to issue licenses that conflict with her religious beliefs.

"The court cannot condone the willful disobedience of its lawfully issued order," said Judge Bunning, who was appointed by President George W. Bush. "If you give people the opportunity to choose which orders they follow, that's what potentially causes problems."

Ms. Davis's stance has put her at the center of political conflict.

The White House press secretary, Josh Earnest, said he had not discussed the developments with President Obama. But he said Ms. Davis should not defy the Supreme Court.

"Every public official is subject to the rule of law," Mr. Earnest said. "No one is above the law. That applies to the president of the United States and it applies to the clerk of Rowan County, Kentucky, as well."

Rand Paul, The Republican presidential candidate, told CNN it was "absurd to put someone in jail for exercising their religious liberties."

At the hearing, Judge Bunning told Ms. Davis, who is an elected official, that she would be released once she agreed to comply with his order and issue the marriage licenses.

Ms. Davis tearfully testified that she had not hesitated to stand by her religious views and defy the courts. "I didn't have to think about it," she said. "There was no choice there."

At the hearing, Ms. Davis, an Apostolic Christian, was asked how she defined marriage.

"Marriage is between one man and one woman," she replied, before a lawyer asked her whether she had "the ability to believe marriage is anything else."

Ms. Davis offered a terse response: "No."

Later, one of the women who has unsuccessfully sought a marriage license in Rowan County, April Miller, told Judge Bunning that Ms. Davis's stand "marginalizes us again."

Judge Bunning left little doubt about his thinking, and said Ms. Davis's explanation for disobeying his order was "simply insufficient."

"It's not physically impossible for her to issue the licenses," he said. "She's choosing not to."

Lawyers for the couples had asked Judge Bunning to fine Ms. Davis and not send her to jail, but the judge said he thought that a fine would not be enough to prompt the clerk's compliance.

As marshals led her from the courtroom, Ms. Davis said, "Thank you, judge."

The hearing Thursday was the first since the Supreme Court on Monday turned down Ms. Davis's appeal of an Aug. 12 ruling by Judge Bunning directing her to issue marriage licenses. The justices' decision was expected to clear the way for same-sex marriages in Rowan County. But on Tuesday, the clerk and her employees again refused to issue licenses in Morehead, the seat of Rowan County.

Within hours lawyers for the couples who had initially sued Ms. Davis asked Judge Bunning to hold her in contempt.
More from the Louisville Courier-Journal:
ASHLAND, Ky. A federal judge ordered Rowan County Clerk Kim Davis into the custody of federal marshals Thursday until she is ready to resume issuing marriage licenses.

U.S. District Judge David Bunning said fines were not enough to force her to comply with a previous order to provide the paperwork to all couples. Bunning said allowing her to defy the order would create a "ripple effect."

"Her good-faith belief is simply not a viable defense," he said. "Oaths mean things."

Bunning said society relies virtually every day on people complying with court orders and that to allow otherwise would create a slippery slope.

The court "cannot condone willful disobedience," he said. "If you give people opportunity to choose what orders they follow, that is what potentially causes problems."

Davis, who was tearful at times, testified that she could not obey the order, and that God's law trumps the court.

"My conscience will not allow it," she said. "… God's moral law convicts me and conflicts with my duties."

After the ruling was announced, cheers and chants erupted outside the federal courthouse in Ashland, where more than 100 protesters had gathered in advance of the hearing.

The court is expected to reconvene at 1:45 p.m., when Davis' deputies will tell the judge whether they will comply with the order or risk jail.

Attorneys with the Liberty Counsel, which is representing Davis, argued that she met a legal test for protection under federal law because her convictions created a "factual inability" to issue licenses to same-sex couples.

But attorneys for the couples repeatedly pressed her to admit that her policy is the result of a personal choice.

Bunning agreed, saying Davis' convictions alone were insufficient to meet the test. He also raised concerns that supporters would pay any fine he levied against Davis, hampering its force.

"I don't do this lightly," he said. "It's necessary in this case."

Though Davis was tearful as she testified how she came to Christ in 2011 following the death of her mother-in-law, she appeared straight-faced as marshals led her out of the courtroom.

As word of the ruling reached demonstrators, supporters broke into cheers and chants.

"I'm glad the court sent a strong message that you have to follow the law," said Timothy Love of Kentucky, one of the plaintiffs in the Supreme Court case that legalized gay marriage.

Those supporting Davis decried the decision, with one man falling on the courthouse steps to pray.

"It's very unjust," said the Rev. Randy Smith, of Morehead. "Religious liberty has been trampled on today."
This all began, of course, in the wake of the Supreme Court's decision in Obergefell v. Hodges when Davis, as well as some other officials around the country, made it clear that she would not issue marriage licenses to same-sex couples because of her religious beliefs. Most likely because she quickly realized, or was advised, that singling out gay and lesbian couples would put her in even greater legal jeopardy than she is now, Davis quickly decided that she would not issue any marriage licenses at all, and ordered her deputies not to do so either. Davis wasn't alone, of course. Several Republican candidates for President, including ch as Ted Cruz, Mike Huckabee and Bobby Jindal, argued that government officials who objected to same-sex marriage should be able to refrain from issuing licenses to same-sex couples, as did the Attorney General of Texas. Clerks in Alabama and Arkansas, Mississippi, and a Judge in Ohio refused to perform their regular duties in marriages involving same-sex couples. The State of Kansas continues to be involved in a legal battle over its own ban on same-sex marriage notwithstanding the Supreme Court's decision. Davis's case, though, quickly became the focus of national attention mostly because most of these holdouts have given in and because her attorneys have turned her case into a political cause. In early July, the ACLU of Kentucky filed a lawsuit against Davis on behalf of gay and straight couples who had been refused marriage licenses, and in early August Judge Bunning, a George W. Bush appointee who is the son of former Kentucky Senator Jim Bunning, ruled against Davis and ordered to begin issuing marriage licenses as required by law. Davis continued to refuse to comply with the law, however, and appealed the matter to the Sixth Circuit Court of Appeals, which rejected her request for a stay of Judge Bunning's ruling. When she further appealed to the Supreme Court, the Justices in Washington also rejected her request, thus bringing us today.
The penalty that Judge Bunning imposed here is the most serve available to a Court when holding a party in contempt, and generally one that is left for the most egregious situations. The Plaintiff's in the case had merely requested that the Judge impose a fines against Davis that would accumulate until she complied with his Order, but he said from the bench today that he did not believe fines would be sufficient to compel her action due in no small part to the fact that she was receiving monetary support from outside sources. At this point, there isn't really much that Davis can do other than comply with the Court's ruling, which she can do merely by agreeing to allow her deputies to issue licenses if they are willing to do so, but so far she has been unwilling to do that. There are reports late this afternoon that the Judge is going to give her one more chance to purge the contempt by authorizing her deputies to act, but given her intransigence to date it seems unlikely that she will be agreeable to this solution since she has rejected it in the past.
Davis isn't alone in her crusade. At least two other Clerks of Court in Kentucky, Casey Davis and Kay Schwartz, have also said that they will not issue same-sex marriage licenses. It's unclear if there are any lawsuits pending against those individuals, but one assumes they will be filed eventually given the fact that there is absolutely no legal merit to the arguments that are being raised by those who say Ms. Davis should be free to ignore the law. As Jonathan Adler noted at The Volokh Conspiracy, Davis's moral objections to same-sex marriage, even if they are sincerely and deeply held, are not justification for her refusal to comply with the law. Moreover, the argument that some of Davis's supporters have made that she is being forced to implement a Supreme Court ruling is also without merit since, in reality, she is simply being asked to carry the duties of her job as defined by the laws of her state and the Constitution. Pursuant to Obergefell, that includes providing marriage licenses to same-sex couples who otherwise meet the statutory requirements that all people seeking to get married in Kentucky must meet. If she is unable to do that, then she needs to resign. Instead, she wants to keep her job, which includes a reported salary of $80,000 per year, and still impose her religious beliefs on the taxpayers of Rowan County. That's why she's sitting in a jail cell today.