Kentucky Clerk Kim Davis May Be Interfering With Issuance Of Marriage Licenses Again
A lawyer for one of the Deputy Clerks working for Kim Davis raises the concern that she is once again interfering with the issuance of marriage licenses in violation of a Federal Court Order.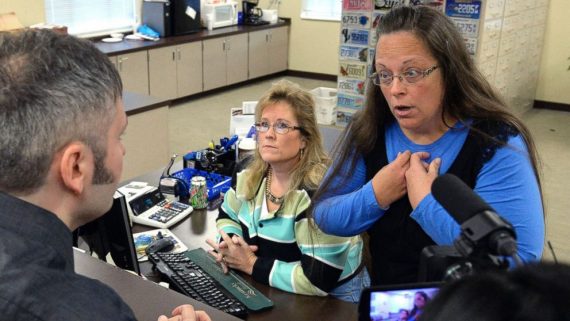 The lawyer for one of the Deputy Clerks working for Rowan County, Kentucky Clerk Kim Davis has raised concerns that Davis may still be interfering with the issuance of marriage licenses:
A deputy clerk in Rowan County, Ky., raised questions on Friday about whether a slapdash solution to a legal standoff about same-sex marriage licenses complied with the order of the federal judge who this month jailed the county's clerk, Kim Davis.

The deputy clerk, Brian Mason, disclosed his concerns to a federal judge in a three-page filing in which his lawyer, Richard A. Hughes, wrote that he believed that changes to marriage license forms in Rowan County this week "were made in some attempt to circumvent the court's orders and may have raised to the level of interference against the court's orders."

The filing could help prod Judge David L. Bunning of Federal District Court to decide whether the changes ordered by Ms. Davis comply with his order that she not interfere with the licensing process.

Ms. Davis, who was held in contempt of court and jailed this month after she defied an August order from Judge Bunning, said on Monday that anylicenses handed out by her office would not carry her authorization. Ms. Davis's fix involved altering the marriage license paperwork to remove, among other items, her name. Instead, the licenses say they are issued, "Pursuant to Federal Court Order."

Mr. Mason issued at least one license under the modified procedure, but Mr. Hughes said the deputy clerk had become concerned that there may be "some substantial questions about validity" of altered licenses.

The American Civil Liberties Union, which has signaled that it might challenge Ms. Davis's plan, said in a footnote to a different court filing on Friday that the "alterations call into question the validity of the marriage licenses issued, create an unconstitutional two-tier system of marriage licenses issued in Kentucky and do not comply with this court's September 3 order prohibiting Davis from interfering with the issuance of marriage licenses."
When Davis was released from custody after having been found in contempt of court for her refusal to issue marriage licenses, she was specifically ordered by Judge Bunning not to interfere with the issuance of licenses by any of the Deputy Clerk's in her office that wished to do so. For the moment, it appears that David Mason is the only person in that office willing to issue licenses, and he has told reporters that he would do so even if Davis ordered him to. While she hasn't done that, when she returned to the office on Monday after having taken the entirety of last week off after being released from jail, changes were made to licenses that were being issued that call the validity of the licenses into question. Originally, while Davis was still in jail, the Clerk's in her office had issued licenses that removed Davis's name but still noted that the licenses were being issued by Rowan County. The licenses that have been issued this week remove any reference to Rowan County and to state that the licenses were being issued pursuant to Judge Bunning's Order issued in early August that required Davis and her office to issue licenses to all eligible couples pursuant to the Supreme Court's ruling in Obergefell v. Hodges. As Mason's lawyer notes in his pleading, there have been some suggestions that these modified licenses may not be valid under Kentucky, or at least that their validity could be questioned. As I said earlier this week, these questions about the validity of the licenses could be resolved by the state legislature of by a state court judge, but that has not happened yet and, obviously, the fact that the licenses that Rowan County has been issuing since Davis returned to work may not be valid is a serious issue that needs to be addressed.
Ultimately, the question of whether or not Davis's actions since returning to the office constitute the type of interference that would violate the order that issued earlier this month is a question that Judge Bunning will need to answer. His Order doesn't specifically spell out what would constitute the type of interference that would be a violation of the Order, but that's not all that unusual. On the surface, it would certainly seem that mandating changes to the form that aren't authorized by the state law, and which may call the validity of the licenses in to doubt, does constitute interference on Davis's part. She's not required to issue license herself, but the Order states that any interference at all would be considered a violation. At the very least, it seems clear that Davis has not lived up to the promise that she made when she returned to the office on Monday that she would not interfere with the issuance of marriage licenses. In theory, if Judge Bunning finds that she has again violated his Order he could hold her in contempt and send her to jail again, but that is only one of the possible options available to him. Whatever he decides to do, though, it's clear that this case isn't exactly over just yet.
Here's the filing: