Kim Davis Basically Surrenders In Same-Sex Marriage Fight
Rowan County, Kentucky Clerk Kim Davis says she won't interfere in the issuance of marriage licenses to same-sex couples.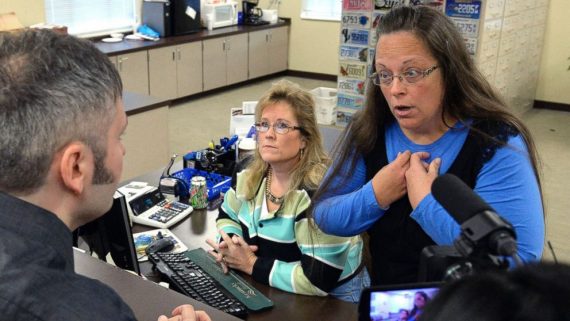 Rowan County, Kentucky Clerk Kim Davis has returned to work, and she's saying that she will not interfere with Deputy Clerk's that issue marriage licenses, but questioned validity of those licenses:
MOREHEAD, Ky. — Kim Davis, the Rowan County clerk who was jailed this month for defying a court order that she issue marriage licenses, said Monday that she would not block her employees from processing licenses for same-sex couples.

But she warned that the licenses would be issued without her authorization — she said they would note that they had been processed pursuant to a court order — and she raised questions about whether they would be legal. Ms. Davis, an Apostolic Christian, has objected to processing marriage licenses for same-sex couples because of her religious beliefs.

"Effective immediately, and until an accommodation is provided by those with the authority to provide it, any marriage license issued by my office will not be issued or authorized by me," Ms. Davis said on Monday, her first day at work since her Sept. 8 release from the Carter County Detention Center. "I want the whole world to know."

It was not immediately clear how Judge David L. Bunning of the Federal District Court would respond to Ms. Davis's announcement, which she made outside the courthouse minutes before her office opened. Last week, when Judge Bunning allowed Ms. Davis to go free, he wrote that she should not "interfere in any way, directly or indirectly, with the efforts of her deputy clerks to issue marriage licenses to all legally eligible couples."

One of her deputies, Brian Mason, said Monday that he would continue to issue marriage licenses. But Ms. Davis, who sometimes appeared tearful when she spoke, said that while she would not block employees like Mr. Mason from processing licenses, "any unauthorized license that they issue will not have my name, my title or my authority on it."

Ms. Davis, a Democrat who was elected last year, said she harbored "great doubts" as to whether licenses provided "under these conditions" would be recognized under Kentucky law. She urged Gov. Steven L. Beshear and state legislators to support changes to the state's statutes that she said would balance her religious beliefs with this summer's Supreme Court ruling that the Constitution guarantees a right to same-sex marriage.

Mr. Beshear, also a Democrat, has so far refused to convene a special session, but Democrats and Republicans alike are pressing him to do so. If he does not, any legislative fixes will have to wait until at least next year.

The American Civil Liberties Union, which represents couples who sued Ms. Davis, expressed reservations about the clerk's announcement on Monday.

"Ms. Davis has the absolute right to believe whatever she wants about God, faith and religion — that is her constitutionally protected right," Amber Duke, a spokeswoman for the group's Kentucky chapter, said in an email. "But as a government official who swore an oath to uphold the law, she cannot pick and choose who she is going to serve, or which duties her office will perform based on her religious beliefs."

Ms. Duke noted that some state and local officials, including the Rowan County attorney, have said that the deputy clerks are permitted to issue licenses.
If Davis is sincere in what she is saying here, then it would appear that we've reached the end of this standoff, at least as it concerns her non-compliance with Judge Bunning's order of August 12th and the rulings that have come out since then. In his most recent order releasing her from custody last week, Bunning ruled that Davis must not interfere with the issuance of licenses by the deputies in her office who are willing to do so, and that doing so would subject her to the potential of once again being held in contempt of court. Based on that, and assuming Davis is genuine in what she's saying her, then she will likely avoid contempt under that order. Her arguments about the validity of the licenses issued by the deputies themselves is another matter. Kentucky law does appear to require that marriage licenses be issued in the name of the Clerk of Court, but there are also provisions that allow the licenses to be issued by others if the Clerk is unable or unwilling to do so. Additionally, both the County Attorney for Rowan County and the Attorney General of Kentucky have opined that the licenses issued by the Clerk's are valid as issued. Finally, even if there is some question about the validity of the licenses that the deputies have issued, these questions could easily be resolved by either a judicial decree ruling that the licenses are valid, or by legislation. For that reason, I would tend to dismiss the claims that Davis is making here as little more than an effort on her part to make it appear to her supporters that she has in fact not given up, even though that's exactly what she has done.
What essentially amounts to a surrender on Davis's part isn't the end of this matter, of course. The underlying case that brought Davis to Court to begin with is still under appeal to the Sixth Circuit Court of Appeals, for example. While it seems highly unlikely that she will fare any better than they she did in her efforts to stay the impact of Judge Bunning's ruling, it's apparent that both she and her lawyers will continue to pursue whatever legal avenues they can for as long as they can. Additionally, it's worth noting that there are two other counties in Kentucky whose Clerks are also refusing to issue same-sex marriage licenses. The actual status of the situation in either of those counties is unclear, but it seems obvious that if their resistance continues we will see lawsuits arising in those cases as well. Additionally, there are apparently still isolated pockets of resistance to the Court's ruling in states such as Alabama, Mississippi, and Kansas. How long it will take to resolve these matters is unclear, but it's likely that there will be another Kim Davis out there before long.