Defying A Court Order, Kentucky Clerk Refuses To Issue Marriage Licenses To Gay Couples
A Clerk in Kentucky appears to be headed for a showdown with a Federal District Court Judge that she is destined to lose.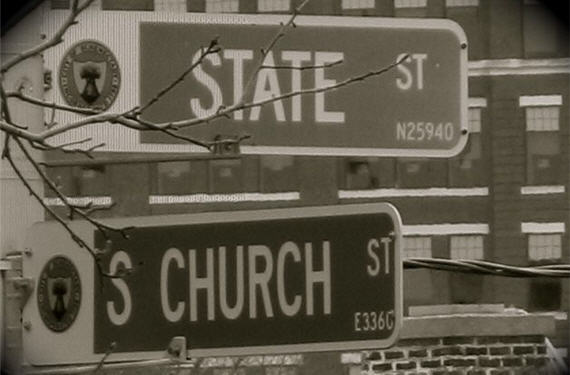 A Kentucky Clerk who was ordered by a Federal Judge to issue marriage license to same-sex couples is refusing to comply with the Court's order:
MOREHEAD, Ky. — A county clerk here is apparently defying a federal court order to issue marriage licenses to same-sex couples. Two same-sex couples seeking licenses left the Rowan County courthouse empty-handed Thursday morning.

The Rowan County clerk, Kim Davis, who says her Christian faith bars her from authorizing same-sex marriages, has refused to issue any licenses, either to same-sex or heterosexual couples, in the wake of the Supreme Court's decision in June granting a constitutional right to same-sex marriage.

On Wednesday, Judge David L. Bunning of the Federal District Court of Eastern Kentucky, ruling in a case brought by the American Civil Liberties Union on behalf of four couples — two same-sex and two heterosexual —ordered Ms. Davis to resume issuing licenses. But lawyers for Ms. Davis immediately appealed, and Thursday morning, Ms. Davis was not at work

(…)

In Kentucky, county clerks issue marriage licenses, which authorize others to "solemnize" the marriage. Ms. Davis, a member of an Apostolic Christian church who has said she attends "whenever the doors are open," and ministers to female inmates at the local county jail, has testified in court that she cannot issue the licenses — or have her deputies do so — because her name is on them. She has said she is refusing to issue licenses to same-sex or heterosexual couples so as not to discriminate against gays and lesbians.

But Judge Bunning, in his 28-page ruling, rejected that argument.

"Davis remains free to practice her Apostolic Christian beliefs," the judge wrote. "She may continue to attend church twice a week, participate in Bible Study and minister to female inmates at the Rowan County jail. She is even free to believe that marriage is a union between one man and one woman, as many Americans do. However, her religious convictions cannot excuse her from performing the duties that she took an oath to perform as Rowan County Clerk."
This case is the same one that wrote about in early July in the wake of the Supreme Court's decision in Obergefell v. Hodges and the controversy that erupted at that point among certain people on the right. The issues that the Davis case raises, though, actually began arising long before the Supreme Court legalized same-sex marriage nationwide. After the New York legislature legalized same-sex marriage in 2011, at least one town clerk refused to perform same-sex marriages, citing the same alleged "religious" objections that Davis raises in her case. Earlier this yer, in response to the fact that same-sex marriage had become legal there in the wake of the Supreme Court's October 2014 denial of the state's appeal, North Carolina's legislature passed a law granting clerk's the right to exempt themselves from providing licenses to same-sex couples if it conflicted with their religious beliefs. As I said at the time, that law is constitutionally suspect and that seems to be even more apparent in the wake of the ruling in Ms. Davis's case. Giving government employees a special exemption from doing their job based on supposed religious beliefs, even if those beliefs are genuine, seems to be a clear violation of the Establishment Clause, but that will take a future legal proceeding to determine.
The issue came up again in the wake of the Supreme Court's decision in June thanks in part to several Republican political leaders. For example, the Attorney General of Texas, backed up by Senator Ted Cruz, told clerks in Texas that they could ignore the Supreme Court's ruling if they had religious objections to same-sex marriage. Attorney General Paxton's advice, of course, has no legal merit whatsoever, and any Clerk in Texas who actually follows it is probably setting themselves up for the same kind of lawsuit we see in this case. Former Arkansas Governor Mike Huckabee made similar comments when he said that clerks should be excused from having to issue a license to a same-sex couple if they have a "conscientious objection." Louisiana Governor Bobby Jindal, meanwhile, purported to reassure clerks in his state that they would not be forced to issue licenses if it conflicted with their religious beliefs. While one could easily dismiss these statements as an effort by two Presidential candidates to pander to the religious right, this case in Kentucky, along with similar instances of clerks refusing to issues licenses to same-sex couples in Alabama and Arkansas, in Mississippi, and even a Judge in Ohio who was recently told by the state's judicial ethics board that he could not refuse to issue licenses to same-sex couples demonstrates that there are still efforts by some people out there to resist the law.
As for this particular case, the eventual outcome is as obvious as it was when I first wrote about this matter. Either Davis will comply with the Court's order, or she will be in contempt, something which could result in both monetary fines and jail time and would likely result in her removal from office. Her other option, of course, would be to resign her position since she obviously is not willing to perform the duties the law requires of her or to treat the citizens that she works for with the equality demanded under the law. Any argument that this is an infringement of her religious liberties would be absurd. Davis is not performing a religious act when she issues a license to a couple that wishes to get married, she performing a clerical act required of a government employee. Either she is willing to do the job in the manner the law requires, or she isn't. The choice is entirely hers.
Update: Here's the opinion: