New North Carolina Law Allows Government Employees To Refuse To Do Their Job
A new North Carolina law allows government employees to decline to perform their jobs by claiming it violates their "religious liberty."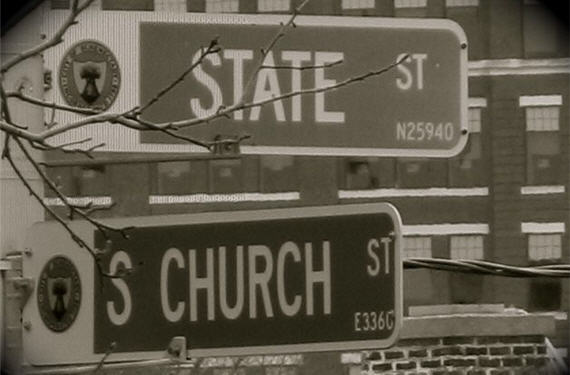 A new law in North Carolina will allow government employees to refuse to do their job by claiming it violates their religious liberty:
RALEIGH, N.C. (AP) — A measure allowing some court officials to refuse to perform gay marriage responsibilities because of their religious beliefs became law in North Carolina on Thursday, with the state House voting to override the governor's veto of the bill.
The Senate had voted to do the same with Republican Gov. Pat McCrory's veto a week ago. Thursday's House vote was just over the three-fifths majority needed.

The law means some register of deeds workers who assemble licenses and magistrates to solemnize civil marriages can decide to stop performing all marriages if they hold a "sincerely held religious objection."

McCrory had said no one who takes a government oath should be allowed to avoid performing duties required by that oath.

Before North Carolina, only Utah had passed such a similar exemption, earlier this year.

The law says court officials who disclose a "sincerely held religious objection" must stop performing marriage duties for both gay and heterosexual couples for at least six months. The chief District Court judge or the county register of deeds — both elected officials — would fill in on marriages if needed.

Senate leader Phil Berger, R-Rockingham, introduced the bill shortly after rulings by federal judges last October that overturned North Carolina's constitutional ban on gay marriage approved by voters in 2012. Berger responded to several magistrates who resigned when the state's top court administrator wrote that magistrates who declined to officiate for same-sex couples could be punished, terminated or face potential criminal charges.

In his May 28 veto message, the Republican McCrory said that while many North Carolina residents like himself believe marriage is between a man and a woman, "we are a nation and a state of laws."

"No public official who voluntarily swears to support and defend the Constitution and to discharge all duties of their office should be exempt from upholding that oath," McCrory wrote.

While the Senate overturned McCrory's veto quickly, House Republicans put off a vote because some supporters of the original bill were absent. Others were on the fence about where they stood, according to Rep. David Lewis, R-Harnett, chairman of the powerful House Rules Committee.

Most legislative Democrats aligned themselves with gay rights groups that said the bill created a new form of discrimination similar to biases of a generation ago against multiracial marriages. They also said the bill didn't prevent delays for gay couples getting married if a court official suddenly disclosed a religious objection when a couple approached the office counter of the magistrate or a register, particularly in smaller counties with fewer staff.

McCrory's decision put him at odds with social conservatives aligned with Republicans. Concerned Women for America accused McCrory of betraying state residents and forcing court officials to violate their consciences. Republicans supporting the law said federal laws provided religious accommodations to government officials, in keeping with the U.S. and state constitutions.
The religious liberty argument here is, of course, patently ridiculous. These people took a job with the state of North Carolina that includes among its job duties performing marriages that are valid under the laws of the state.Since the Supreme Court's decision to decline to review the ruling of the Fourth Circuit last October, that now includes marriages between same-sex couples. This isn't a situation where a government employee is being denied the opportunity to practice their religion in some way due to job requirements, it isn't a situation where they are being required to endorse some other religious faith, this is a situation where some people are claiming that their religious liberty would be infringed if they did the job they applied for in the first place. It's as if someone who adhered to a religious faith that precluded the use of violence for any reason decided to become a police officer and then said that carrying a gun violated their religious beliefs. Performing marriages is part of the job that these people have, if they can't fulfill that duty because the thought of two men or two women make them squeamish, then they can find another job.
None of this is new, of course, When New York State legalized same-sex marriage several years ago, a town clerk was sued because she refused to perform same-sex marriage and attempted to pass the job off to a deputy who was only available by appointment every two weeks. When Congress was considering repealing the military's Don't Ask, Don't Tell policy, some people on the right were claiming that it would lead to infringements on the religious liberty of military chaplains, something that has not arisen in any documented case since the law was repealed never five years ago. More recently, we've seen the argument raised in states such as in Indiana, Arkansas, and Louisiana in the form of efforts to pass laws that would give private business owners the right to claim exemptions to generally applicable laws including, according to many of the sponsors of these bills, exemptions from anti-discrimination laws that bar discrimination based on sexual orientation. The North Carolina law, though, goes a step beyond all of these laws by saying that government employees don't have to do their jobs if they claim that it would violate their religion. Now, on some level, one can easily see situations where someone's job duties and their religious beliefs might conflict, but this is not one of them. They are not being asked to attend anyone's wedding, they are not being asked to condone or bless it. They are being asked to perform a completely clerical duty, and it's simply absurd to give them a pass for any reason at all. If they don't like the job, they can go find another one.