Federal Judge Rules Ohio Must Recognize Same-Sex Marriage Performed In Maryland
A major ruling on recognition of same-sex marriages out of Ohio.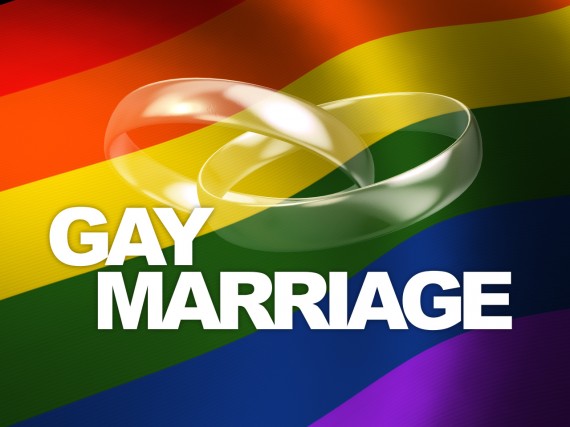 A Federal District Court Judge has issued an order requiring the State of Ohio to recognize a marriage between two men that was legally performed in Maryland:
A federal judge in Ohio ordered state officials Monday to recognize the marriage of two men that was performed in Maryland on the death certificate of an Ohio resident in hospice care who the judge says "is certain to die soon."

"The end result here and now is that the local Ohio Registrar of death certificates is hereby ORDERED not to accept for recording a death certificate for John Arthur that does not record Mr. Arthur's status at death as 'married' and James Obergefell as his 'surviving spouse,'" Judge Timothy Black wrote in granting the couple a temporary restraining order Monday. The order is in effect until 5 p.m. Aug. 5, unless the court extends the order at a later date.

"By treating lawful same sex marriages differently than it treats lawful opposite sex
marriages," the judge concluded, Ohio's 2004 constitutional amendment banning recognition of same-sex couples' marriages and Ohio's statute addressing the same issue "likely violate[] the United States Constitution."

The couple's attorney, Al Gerhardstein, said in a statement, "This order is a major step on the march toward marriage equality in Ohio."

Addressing the constitutional question, Black explained, "Although the law has long recognized that marriage and domestic relations are matters generally left to the states, the restrictions imposed on marriage by states, however, must nonetheless comply with the [U.S.] Constitution."

To that end, the court examined the Supreme Court's decision striking down part of the Defense of Marriage Act this June in United States v. Windsor, the 1996 decision in Romer v. Evans, and in other decisions addressing differential treatment found to be unconstitutional under the Constitution's guarantee of equal protection of the laws.

Looking at Ohio's bans on recognizing same-sex couples' out-of-state marriages, while acknowledging its recognition of the marriages of opposite-sex couples who would not be allowed to marry in Ohio, Black concluded, "The purpose served by treating same-sex married couples differently than opposite-sex married couples is the same improper purpose that failed in Windsor and in Romer: 'to impose inequality' and to make gay citizens unequal under the law."
Reading through the relatively short 15 page opinion, it's clear that the key factor in this case is the fact that Ohio law already makes it clear that marriages between opposite-sex couples that are valid in the jurisdiction where they are performed are valid in Ohio, even if the marriage itself would not have been legal if attempted in Ohio itself:
Thus, for example, under Ohio law, as declared by the Supreme Court of Ohio in 1958, out-of-state marriages between first cousins are recognized by Ohio, even though Ohio law does not authorize marriages between first cousins. Mazzolini v. Mazzolini, 155 N.E.2d 206, 208 (Ohio Sup. Ct. 1958) (marriage of first cousins was legal in Massachusetts and therefore is legal in Ohio regardless of the Ohio statute to the contrary).

Likewise, under Ohio law, out-of-state marriages of minors are recognized by Ohio, even though Ohio law does not authorize marriages of minors. See Hardin v. Davis, 16 Ohio Supp. 19, at *22 (Com. Pl. Hamilton Co. May 18, 1945) ("But, although first cousins cannot marry in Ohio, it has been held that if they go to another state where such marriages are allowed, marry, and return to Ohio, the marriage is legal in Ohio"); see also Slovenian Mut. Ben. Ass'n v. Knafelj, 173 N.E. 630, 631 (Ohio App. 1930) ("It is true that, under the laws of Ohio, if she were his first cousin he could not marry her; but they could go to the state of Michigan, or the state of Georgia, and perhaps many other states in the United States, and intermarry, and then come right back into Ohio and the marriage would be legal"); see also Peefer v. State, 182 N.E. 117, 121 (Ohio App. 1931) (where underage couples leave the state to marry in a state in which their marriage is valid and return to Ohio, the marriage cannot be set aside based on Ohio's law against marriage of underage people); see alsoCourtright v. Courtright, 1891 Ohio Misc. LEXIS 161, at *7, aff'd without opinion, 53 Ohio 685 (Ohio 1895) (marriage between persons considered underage in Ohio married in a state where their marriage is legal "cannot be set aside, either because it was not contracted in accordance with the law of this state, or because the parties went out of the state for the purpose of evading the laws of this state").

Quintessentially, Plaintiffs have established a substantial likelihood that they will prevail at trial on their claim that by treating lawful same sex marriages differently than it treats lawful opposite sex marriages(e.g., marriages of first cousins and marriages of minors), Ohio law, as applied here, violates the United States Constitution which  guarantees that "No State shall make or enforce any law which shall … deny to any person within its jurisdiction equal protection of the laws."

Moreover, as the United States Supreme Court found in Windsor, there is no legitimate state purpose served by refusing to recognize same-sex marriages celebrated in states where they are legal. Instead, as in Windsor, and at least on this early record here, the very purpose of the Ohio provisions, enacted in 2004, is to "impose a disadvantage, a separate status, and so a stigma upon all who enter into same-sex marriages made lawful by the unquestioned authority of the States." Windsor, 133 S.Ct. at 2639. The purpose served by treating same-sex married couples differently than opposite-sex married couples is the same improper purpose that failed in Windsor and in Romer: "to impose inequality" and to make gay citizens unequal under the law. See Windsor, 133 S.Ct. at 2694; see Romer, 517 U.S. at 635-36. It is beyond cavil that it is constitutionally prohibited to single out and disadvantage an unpopular group.
Although it's not directly mentioned, this is nothing less than a direct assault on Section Two of the Defense of Marriage Act, which purports to say that states are not required to recognize same-sex marriages performed in other states. In essence, the Court is saying that if a state recognizes a marriage performed in a sister state even though that marriage would not have been valid had it been performed in the state in question, then it cannot pick and choose which out-of-state marriages it is and isn't going to recognize without some kind of rational basis. The decision doesn't require Ohio to legalize same-sex marriage inside its borders any more than it requires that marriages between First Cousins or minors be recognized. However, if state law is going to recognize those marriages between opposite sex couples as long as they are performed in states where such marriages are legal, then it must also recognize the marriages of same-sex couples performed in states where same-sex marriage is legal.
Will Baude at The Volokh Conspiracy makes these observations:
– For the most part, the opinion strikes me as a plausible interpretation of Windsor. Windsor did have some discussion of federalism, which wouldn't necessarily extend to the interstate context. But the opinion also put emphasis on how "the State's decision to give this class of persons the right to marry conferred upon them a dignity and status of immense import," and this logic might well extend to interstate recognition of marriage in addition to federal recognition. Expect to see Windsor cited in a lot of same-sex marriage recognition cases in the near future.

– The couple in this case apparently were not domiciled in Maryland when they got married there ("Plaintiffs traveled to Maryland in a special jet equipped with medical equipment and a medical staff necessary to serve Mr. Arthur's needs, whereupon plaintiffs were married in the jet as it sat on the tarmac in Anne Arundel County, Maryland. They returned to Cincinnati that same day"). It is not clear whether such a marriage must be recognized even for federal purposes — a questionWindsor avoided because Ms. Windsor's home state of New York chose to recognize her marriage. That is a noticeable extension of Windsor.
The question of domicile strikes me as being relevant only if it is relevant under Maryland law. Some states do require that people much be domiciled in the state for some, typically short, period in order to be issued a marriage license, but most states do not have such requirements. Assuming that Maryland does not have such a requirement, then there's no reason for either the Court or the State of Ohio to look to the question of the Plaintiff's domicile in determining the validity of the marriage.
Beyond that question, though, Baude is correct that this is yet another example of how far-reaching the Court's holding in United States v. Windsor is likely to end up being. We're still at a very early stage of the proceedings here, and it's hard to predict how the case will go in the end. However, assuming for the sake of argument that the Court's ruling on Monday holds up through the final stages of the District Court proceeding and then on Appeal, then it will potentially apply far beyond the boundaries of the Buckeye State. This wouldn't be a direct attack on same-sex marriage laws at the state level, but it would mean that nearly every American state could eventually be required to recognize out-of-state same-sex marriages regardless of what their state laws say. Eventually, that will create its own inequality in that same-sex marriages performed outside of a particular state will be considered valid, but the citizens of the state would be forbidden from having such marriages performed in their home state. Most likely than itself will become a grounds for challenging state laws against same-sex marriage on the basis of equal protection. We can expect some pushback from those opposed to marriage equality along the way, of course, but the legal challenges to these laws have gotten a major boost thanks to this one judge in Ohio.
Here's the opinion:
Obergefell and Arthur v. Kaisch et al Memorandum by dmataconis