Federal Judge Strikes Down Wisconsin's Same-Sex Marriage Ban
Another legal victory for marriage equality.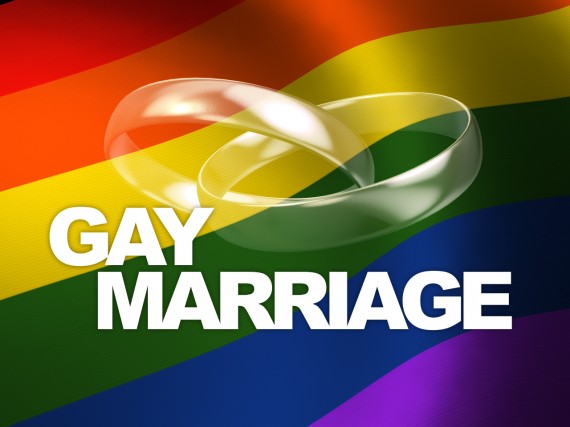 A Federal Judge in Wisconsin has become the latest Federal Judge to strike down a state ban on same-sex marriage, although the ruling has not yet officially gone into effect:
Madison — U.S. District Judge Barbara Crabb in Madison Friday overturned Wisconsin's gay marriage ban, striking down an amendment to the state constitution approved overwhelmingly by voters in 2006.

Crabb did not stay her ruling but also did not immediately issue an order blocking the enforcement of the order, sparking a hasty debate among lawyers who had not even fully digested the decision on whether it meant that couples could immediately marry in the courthouses of Wisconsin.

Instead, Crabb asked the gay couples who had sued over the ban to describe by June 16 exactly what they wanted the judge to block with respect to the enforcement of the law. She said she would then address whether to stay her decision while the matter is on appeal.

Attorney General J.B. Van Hollen, a Republican, said that "current law remains in force" in Wisconsin and he would appeal the decision.

Dane County Clerk Scott McDonell said he would issue marriage licenses beginning at 5 p.m. Friday into the evening. He said someone from the state Department of Justice advised him not to issue the license but he decided to it anyway.

"They don't get to tell me that," he said of DOJ. "A judge gets to. If someone comes to me, how could I say no to them?"

Milwaukee County Clerk Joe Czarnezki said that his office would accept same-sex marriage applications until 9 p.m. Friday and on Saturday from 9 a.m. to 1 p.m. The county's corporation counsel advised him that the applications could be issue.

"Personally, I'm pleased she struck the ban down," he said. "It makes us proud to be in Wisconsin and a state that's standing up for marriage equality."

He said the phone has not stopped ringing with inquiries with questions.

In a statement, Van Hollen said that he was "encouraged by the District Court's refusal to issue an immediate injunction."

"We have seen the disruption to couples and families throughout the United States when courts have first allowed same-sex marriage only to have those marriages subsequently called into question by another court. I anticipate the United States Supreme Court will give finality to this issue in their next term," Van Hollen said.

Tamara Packard, a Madison attorney who supports the right to marry but was not involved in the case, said she read the decision to mean same-sex couples could immediately go courthouses to get married.

"People are likely running to their county clerks' office right now," she said.
More from Lyle Denniston:
As other judges have done in nullifying same-sex marriage bans, Judge Crabb relied in prt upon the Supreme Court's U.S. v. Windsor decision late last June striking down a key part of the federal Defense of Marriage Act, even though that ruling did not apply to state bans on such marriages.

Citing the Windsor decision, along with "the many [court] decisions that have invalidated restrictions on same-sex marriage since Windsor," the judge wrote, "it appears that courts are moving toward a consensus that it is time to embrace full legal equality for gay and lesbian citizens.  Perhaps it is no coincidence that these decisions are coming at a time when public opinion is moving quickly in the direction of support for same-sex marriage."

Counting some rulings in state courts along with the string of decisions in federal district courts, there have been twenty consecutive rulings against state bans on same-sex marriages.  In fact, with the filing of a a new lawsuit in North Dakota earlier today, there is now a legal challenge in every state that continues to ban such marriages.

Same-sex marriage is now fully legal in 19 states.  Bans in some other states also have fallen in court rulings, but those decisions are on hold — except in Oregon and Pennsylvania.
Most interestingly, and amusingly, Judge Crabb followed several other Judges in discussing how the Supreme Court's decision in Windsor applies to state-level bans on same-sex marriage, with much of the credit going to Justice Scalia for an argument he raised in his dissent:
Finally, in Windsor, 133 S. Ct. at 2693, the Supreme Court concluded that, by denying federal benefits to same-sex couples married under the laws of a particular state, the"practical effect [was] to impose a disadvantage, a separate status, and so a stigma upon all who enter into same-sex marriages made lawful by the unquestioned authority of the States." The Court repeated the theme of stigma and second-class status multiple times. Id. at 2694(DOMA "tells [same-sex] couples [married under state law], and all the world, that their otherwise valid marriages are unworthy of federal recognition. This places same-sex couples in an unstable position of being in a second-tier marriage. The differentiation demeans the couple, whose moral and sexual choices the Constitution protects."); id. at 2696 ("DOMA instructs all federal officials, and indeed all persons with whom same-sex couples interact,including their own children, that their marriage is less worthy than the marriages of others."); id. (effect of DOMA is to treat some persons as "living in marriages less respected than others."). Throughout the decision, the Court emphasized that DOMA imposes a disability on same-sex couples, demeans them, violates their dignity and lowers their status. Id. at 2692, 2695.

(…)

On its face,Windsor does not apply to state law bans on marriage between same-sex couples. Windsor,133 S. Ct. at 2696 (limiting its holding to denial of federal benefits of same-sex couples married under state law); Kitchen, 961 F. Supp. 2d at 1194 ("The Windsor court did not resolve this conflict in the context of state-law prohibitions of same-sex marriage."). However, as noted by Justice Scalia in his dissent, it is difficult to cabin the Court's reasoning to DOMA only. Windsor, 133 S. Ct. at 2709-10. If anything, the Court's concerns about the "second-class status" imposed by DOMA on same-sex couples would be more pronounced by a total denial of the right to marry than by the "second-tier" marriages at issue in Windsor that provided state but not federal benefits. Further, although Windsor  involved a federal law rather than a state law, I am not aware of any other case in which the Court applied equal protection principles differently to state and federal government.  Buckley v. Valeo, 424 U.S. 1, 93 (1976) ("Equal protection analysis [with respect to the federal government] in the Fifth Amendment area is the same as that under the Fourteenth Amendment [with respect to the states.]"). This may be the reason why all federal courts  reviewing a ban on same-sex marriage since Windsor have concluded that the ban is unconstitutional.

(Emphasis mine)
Judge Crabb's opinion, which I've embedded below, is worth a read for those interested in the legal issues in these cases, largely because she does a fairly detailed examination of all the applicable case law on each of the issues involved in the case. Typically, when a trial court judge does something like that, it is in no small measure to prepare a defense in advance of the holding that would hopefully be persuasive to an appellate court. In this case, the appeal would be had to the Circuit Court of Appeals for the Seventh Circuit, which I do not believe has had any of these cases reach it as of yet. The 7th Circuit includes Judges Richard Posner and Frank Easterbrook, both of whom have been generally deemed to be libertarian-leaning , although there is of course no guarantee that either of them would end up on the three judge panel that would be assigned to hear an appeal.
Before it gets to the 7th Circuit, of course, the State of Wisconsin would have to appeal the case. That's a decision that will be left to either State Attorney General J.B Van Hollen, or Governor Scott Walker. Both are Republicans, of course, but Van Hollen is leaving office at the end of his current term and Walker is up for re-election in a race that remains quite tight. What influence that might have over their decision making, and whether they might be inclined to follow Pennsylvania Governor Tom Corbett's lead and not appeal the decision is unclear, but it's a possibility that shouldn't be discounted at this point.
In any event, this is yet another victory for marriage equality, and another step along a road that seems to be leading to an inevitable conclusion. The only question now seems to be how soon we'll get there.
Here's the opinion: