Indiana To Give Religious Business Owners The Right To Discriminate Against Gays
Indiana is about to become the latest state to grants special rights to religious business owners.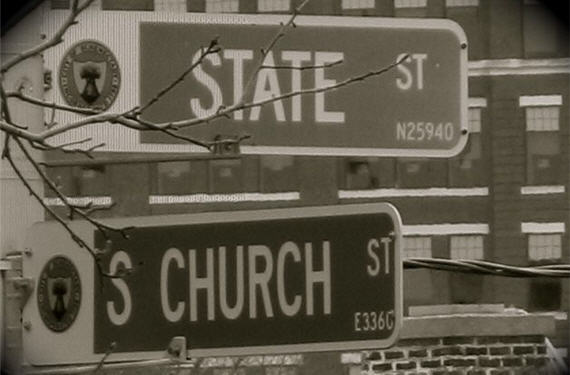 Indiana is set to become the next state to pass a bill that would give business owners the ability to evade liability under laws banning discrimination based on sexual orientation by claiming that complying with the law violates their religious beliefs:
Controversial religious freedom legislation that could protect business owners who don't want to provide services for same-sex couples is poised to become law in Indiana.

The Republican-controlled Indiana House approved the measure Monday on a 63-31 vote, largely along party lines. Five Republicans joined 26 Democrats in opposing the bill.

The vote likely clears a path for the hot-button legislation to become law. The Senate already approved a slightly different version of the bill last month and Senate author Dennis Kruse, R-Auburn, said he plans to concur with the House version, possibly later this week.

The bill will then go to Gov. Mike Pence, who said Monday he plans to sign the legislation.

Senate Bill 101 would prevent state and local governments from "substantially burdening" a person's exercise of religion unless the government can prove it has a compelling interest and is doing so in the least restrictive means.

Supporters say the measure would protect people and business owners with strong religious beliefs from government intrusion.

"It's important that we allow our citizens to hold religious beliefs, maybe even those we might be appalled by, and to be able to express those," said Rep. Tom Washburne, R-Inglefield.

Opponents say it would license discrimination, particularly against gays and lesbians.

"It basically says to a group of people you're second rate, you don't matter, and if you walk into my store, I don't have to serve you," said Minority Leader Scott Pelath, D-Michigan City.

Social conservatives have pushed hard for such measures across the country following recent federal court rulings that legalized same-sex marriage in Indiana and other states.

The proposal is modeled on a 22-year-old federal law known as the Religious Freedom and Restoration Act. That law played a key role in the U.S. Supreme Court's decision that allowed Hobby Lobby and other closely held corporations with religious objections to opt out of an Affordable Care Act requirement that they cover certain contraceptives for women.

Nineteen other states have adopted similar "religious freedom" laws, and several others are considering legislation.

Gay rights groups and several major Indiana employers — including Salesforce, Cummins, and Eskenazi Health — have opposed the measure, fearing it will encourage discrimination and hurt Indiana's reputation as a welcoming state.
This is a legal and political battle that has been heating up as the legal battle over same-sex marriage has moved forward and the forces opposed to marriage equality have suffered loss after loss in the courthouse and at the ballot box. Two years ago a florist in Washington state was charged with violations of laws forbidding discrimination based on sexual orientation when she refused to provide services for a wedding between two gay men. A Colorado baker ended up in similar legal trouble last year over his refusal to bake a cake  for a same-sex wedding ceremony. In New York, a couple that owned a farm which they rented out for wedding ceremonies and receptions was charged with violations of state anti-discrimination laws when they refused to rent the facility to a lesbian couple. A New Jersey church found itself in similar legal trouble over its refusal to provide access to a beach facility it owned and made available to the public generally to a gay couple for their ceremony. The most famous recent case of this type, of course, involved a photographer in New Mexico who refused to provide services for a same-sex wedding and was found to have violated a municipal anti-discrimination law. The New Mexico Supreme Court upheld that ruling, and the U.S. Supreme Court declined to hear the appeal that was filed in that case. Unsurprisingly, these cases have raised much hire among those on the religious right, with claims that they involve attacks on religious liberty and fevered speculation about whether religious liberty will "survive" the legalization of same-sex marriage.
In response to these cases, Republicans in general and religious conservatives in particular have embarked on a vigorous effort to pass legislation at the state level that would essentially give business owners immunity from laws forbidding discrimination based on sexual orientation if they claim a religious basis for their objection. Such a bill was passed by a wide majority in Arizona's legislature last year, but failed to become law thanks only to the fact that former Governor Jan Brewer decided to veto the bill after the state came under a high degree of criticism and national businesses, including the National Football League, made clear that such a bill would cause them to reconsider the state as a site for conventions and events in the future. There hasn't been quite the national uproar about the Indiana bill, at least not yet, but Governor Mike Pence seems committed to signing the bill into law. So, absent a court challenge down the line, it appears that Indiana will join nineteen other states in giving business owners who claim to have religious objections to homosexuality an exception to an otherwise generally applicable law that no other business owner in the Hoosier State would be entitled to. This is a bad law, and bad precedent.
In many respects, of course, the Indiana law is similar to the federal Religious Freedom Restoration Act that was at the center of last year's Hobby Lobby case. That law was passed in response to the Supreme Court's 1990 ruling Employment Division v. Smith, in which the Court ruled that a Native American could be denied unemployment benefits when he was fired after failing a drug test notwithstanding the fact that the drug in question was used as part of a Native American religious ceremony. Mainstream religious groups reacted negatively to the ruling, fearing that it could lead to a whole host of situations where pastors and parishioners would be punished for following their faith and, thanks to their lobbying, the RFRA was passed overwhelmingly by a Democratic Congress and signed into law by President Clinton. In the Hobby Lobby case, of course, the Supreme Court ruled that the RFRA barred the Federal Government from forcing a religious employer from providing coverage for certain types of birth control as part of their employee health plan. As I said at the time the decision was handed down, it was rather apparent that the majority's reading of the law and it's application to the facts of that case was correct. However, there is also a rather persuasive case that the RFRA itself is unconstitutional as an establishment of religion barred under the First Amendment.
State laws such as the one set to be passed in Indiana suffer from the same defects as the federal RFRA, and they are also particularly bad policy even if they are constitutional. At the outset, it's worth noting that there is a sound libertarian case to be made against public accommodation laws in general that rests on the idea of private property rights and, indeed, ideally businesses and customers ought to be free to do business, or not do business, with whomever they wish for whatever reasons they wish. At the same time, though, I recognize the fact that there were very good reasons based in the 14th Amendment and the history of post Civil War America for the public accommodations laws that were passed at the Federal and state level in the wake of the Civil Rights Movement. Furthermore, it's rather apparent that those laws are not going to be repealed any time soon, and it's not entirely clear that doing so wouldn't lead to a return of some kind of Jim Crow like system in at least some parts of the country.
Leaving that argument aside, though, there is simply no persuasive case based in individual rights for the types of laws being advanced in Indiana and elsewhere in response to the rapid legalization of same-sex marriage. These laws are not based in recognizing property rights, nor are they really about protecting anything approaching religious liberty. The  last time I checked, the Bible didn't say anything about how to run a flower shop, for example, nor did it say that believers should not do business with people they think are acting immorally. Instead, these laws are about creating special rights for a specific group of people that give them an exemption from laws that are otherwise applicable to the rest of the public. That's not libertarian in any sense of the word, and it doesn't really help to expand individual liberty. Religious liberty is an important concept, and the law should not discriminate against people based on their faith nor should it prevent them from practicing that faith, but that doesn't mean that their faith gives them an exemption from laws that are applicable to anyone else. If Republicans in Indiana and elsewhere are as outraged about public accommodation laws as they say they are, then let them work to repeal those laws across the board. Otherwise, creating special rights for a small segment of society is quite simply hypocritical and discriminatory.