Ted Cruz To Announce He's Running For President
Ted Cruz kicks off with the first of what is likely to be a string of candidates getting into the 2016 race in the coming month.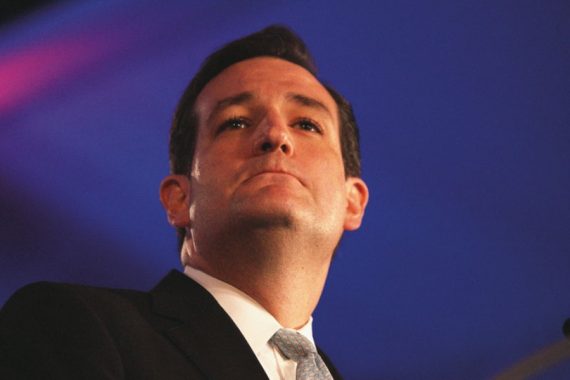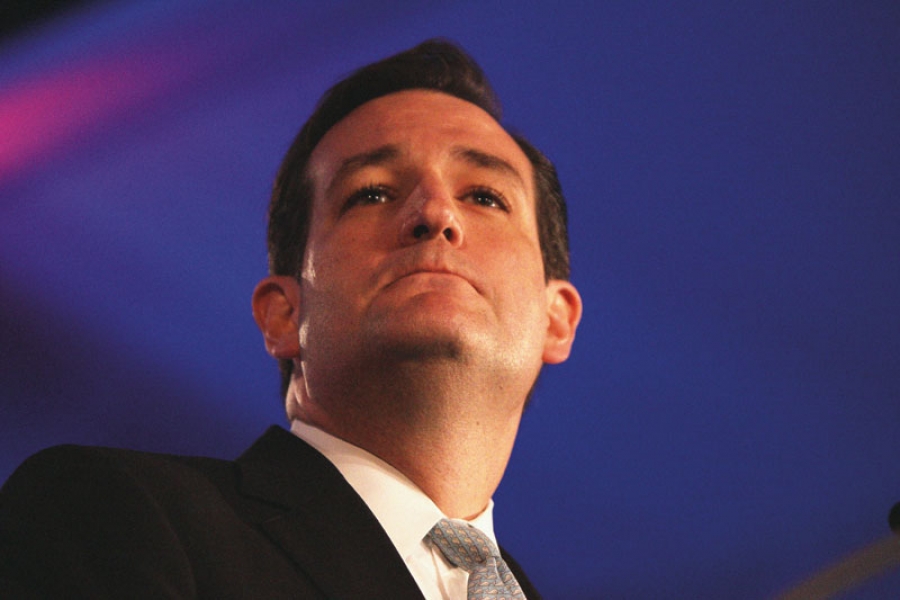 The Houston Chronicle, in a report last night that has since been confirmed by several other media outlets, broke the story last night that Texas Senator Ted Cruz will be announcing his candidacy for President in a speech tomorrow at Liberty University in Lynchburg, Virginia:
Sen. Ted Cruz plans to announce Monday that he will run for president of the United States, accelerating his already rapid three-year rise from a tea party insurgent in Texas into a divisive political force in Washington.

Cruz will launch a presidential bid outright rather than form an exploratory committee, said senior advisers with direct knowledge of his plans, who spoke on condition of anonymity because an official announcement had not been made yet. They say he is done exploring and is now ready to become the first Republican presidential candidate.

The senator is scheduled to speak Monday at a convocation ceremony at Liberty University in Virginia, where he is expected to declare his campaign for the presidency.

Over the course of the primary campaign, Cruz will aim to raise between $40 million and $50 million, according to advisers, and dominate with the same tea party voters who supported his underdog Senate campaign in 2012. But the key to victory, Cruz advisers believe, is to be the second choice of enough voters in the party's libertarian and social conservative wings to cobble together a coalition to defeat the chosen candidate of the Republican establishment.

The firebrand Texan may have few Senate colleagues who will back his White House bid, but his appeal to his party's base who vote disproportionately in Republican primaries could make him competitive in Iowa and beyond.

Yet critics of Cruz argue that he will have trouble raising high-dollar donations from traditional contributors, will land few endorsements from the nation's political establishment and be unable to escape comparisons to President Barack Obama, who also ran for president in his first Senate term. And if he advances to a general election, Cruz trails likely Democratic nominee Hillary Clinton solidly in early public opinion polls.

"I don't consider him a mainstream candidate, and usually to win you've got to be inside the 45-yard lines," said Greg Valliere, a political adviser to Wall Street firms who believes that if Cruz did earn the nomination, he would not win more than a dozen states in the general election. "The enthusiasm for him will be tremendous in maybe a third of the party, but another third of the party will be strongly opposed and another third of the party will be wary."

Senior advisers say Cruz will run as an unabashed conservative eager to mobilize like-minded voters who cannot stomach the choice of the "mushy middle" that he has ridiculed on the stump over the past two months in Iowa, New Hampshire and South Carolina.

"Ted is exactly where most Republican voters are," said Mike Needham, who heads the conservative advocacy group Heritage Action for America. "Most people go to Washington and get co-opted. And Ted clearly is somebody that hasn't been."
Cruz will be the first candidate from either major party to formally enter the race, but he's not going to be the last. Reports last week indicated that Kentucky Senator Rand Paul is likely to be entering the race some time in early April shortly after Easter, with many pundits pointing to a speech in New Hampshire scheduled for April 8th as the likely announcement date. Ben Carson, who was the first major party candidate for form an exploratory committee, seems likely to enter the race soon as well, and we will likely see candidates such as Scott Walker, Rick Perry, and others on the Republican side start to throw their own hats in the ring in response to Cruz's move. Jeb Bush, who also formed an exploratory committee, may wait just a bit longer to get into the race since he doesn't have the same name recognition issues that other candidates do. On the Democratic side, meanwhile, Hillary Clinton seems likely to enter the Democratic race early next month as well given the fact that there are no more paid speeches on her public schedule and reports have indicated that staffers who have been hired to work on a Clinton campaign have been told to report to work beginning April 1st. In addition to Clinton, former Maryland Governor Martin O'Malley and former Virginia Senator James Webb will likely enter the race sooner rather than later, and may possibly even do so before Clinton's announcement. Given that we're at the beginning of what will likely be a tidal wave of Presidential announcements, then, Cruz's campaign is making a smart move by jumping in first. For at least a week or so, the political media will be giving him a lot of free air time since he'll officially be the only person in the 2016 race at the time. The closer we get to the time when the "big" names like Clinton and Bush enter the race, the less likely a lesser known candidate will get that kind of coverage.
Making the announcement at Liberty University, as opposed to in Iowa, New Hampshire or Texas, is somewhat unusual for a Presidential candidate, but not at all surprising for Cruz since, as the Chronicle notes, appealing to social conservatives will be a huge part of his campaign:
Forty percent of the electorate may vote for the establishment candidate, the advisers predict, but Cruz will "crush" with the 25 percent of voters who come from the tea party bracket. He will then peel some second-choice support from the 10 percent who consider themselves libertarians and from the rest of the voters who identify as social conservatives.

Advisers to Cruz, the son of a pastor, believe he can make a special argument to these religious voters like the thousands of students he is expected to address at a basketball arena Monday at Liberty, a school founded by leader of the religious right Jerry Falwell. About half of the voters in the Iowa caucus this year are expected to be evangelical Christians.

That theory – and those percentages – is described by some Republican hands as overly charitable to the element of the party that Cruz represents. Henry Olsen of the Ethics and Public Policy Center, a conservative think tank, said the Cruz campaign was dramatically underestimating the voting power of the liberals, moderates and establishment Republicans in a presidential primary. Olsen argued that about 70 percent of the party will choose the candidate who aligns with the left or the center.

"They seem to like experience, they seem to like rhetorical modulation, they seem to like conservatism – but not in excess," Olsen explained. "Ted Cruz has nothing to say to the moderates."
Appealing to social conservatives isn't a bad strategy per se, and it's certainly something that makes sense for Cruz given that he's been pandering to that element of the GOP since before he was even elected Senator, however it doesn't seem like it's a viable path to victory. First of all, as noted, you simply can't win the Republican nomination by relying on one segment of the party coalition. It can help in states like Iowa and South Carolina, no doubt, as well as in some states in the Deep South and those  states in the Midwest and Mountain West that hold caucuses other than primaries. By itself, though, it simply isn't enough to win the nomination. Pat Robertson learned it in 1988, Pat Buchanan learned it in 1992, Mike Huckabee learned it it in 2008, and Rick Santorum learned it in 2012. To win the nomination, a Republican candidate has to appeal beyond this limited base to a broader coalition of primary voters. This is especially true in the large, delegate rich states, most of which hold open primaries which attract a far different electorate than, say, the Iowa Caucuses or South Carolina Primary. The successful candidate for the GOP nomination will appeal not just to social conservatives, but also to economic conservatives, the business community, the more-or-less libertarian wing of the party, and the vast swath of "moderates" in the middle. Ted Cruz seems ill suited to be that person to say the very least. Second, Cruz is unlikely to be the only candidate in the race trying to appeal to these voters in the primaries next year. To some degree, all of the candidates will try to appeal to some portion of this group, of course, but most of all potential candidates such as Rand Paul, Ben Carson, Rick Perry, Bobby Jindal, Mike Huckabee, and Rick Santorum. Not all of these candidates will end up running, of course, but many of them will and, like Cruz, they are going to be making their appeal to the same voters that he's relying upon. The odds that he'd be the one to rise to the top in the fight seem slim at best.
You can see evidence of Cruz's problems in recent polling of the potential Republican field. Despite the fact that he has become something of a conservative darling since winning his Senate seat in 2012, Cruz is near the bottom of the list in the polls. The current RealClearPolitics average of the national polls of the potential field, for example, puts Cruz at 4.7%, behing everyone except Rick Perry, Bobby Jindal, and John Kaisch. He stands in roughly the same position in the polling of Republicans in Iowa and New Hampshire, and doesn't even show up in the polling in South Carolina. As Philip Bump notes, Cruz enters the race with less support than any candidate in more than twenty years. While those numbers will likely rise once he enters the race, it seems unlikely that Cruz will be able to overcome the negative opinions that have come into existence about him, opinions which are based largely on his own actions and policy positions. In the end, I suspect that these will be too much of an albatross for him to overcome.
However this plays out, though, the 2016 race officially starts tomorrow. It's going to be a long twenty months.