Supreme Court: Some Employers Can Refuse To Cover Contraceptives For Religious Reasons
Hobby Lobby wins, but it's unclear just how far this opinion will go.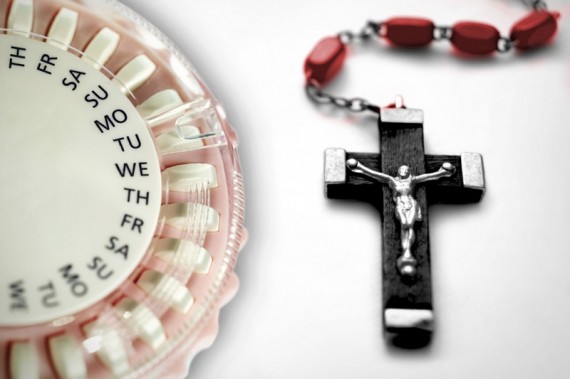 As expected, one of the most anticipated decision of the Supreme Court's October 2013 Term was handed down today. In Burwell v. Hobby Lobby and Conestoga Wood Specialties v. Burwell, the Supreme Court was dealing with the question of whether the religious beliefs of the owners of non-publicly traded, and yet still for-profit, corporation could be ignored in order to enforce a mandate issued by the Dept. of Health and Human Services pursuant to the Affordable Care Act to cover birth control in employee health plans. Although nearly 50 cases had been filed around the country by employers contesting this regulation, the cases as a whole came to be personified by Hobby Lobby, a chair of more than 250 retail stores based around the country that is owned by Oklahoma businessman David Green and members of his family. In their specific case, the Greens argued that the requirement, specifically as it applied to a handful of drugs that they considered abortifaceants, violated their religious belief because it forced them to pay for a procedure they believe to be sinful. The government and those supportive of the mandate argued that Hobby Lobby, which is a legally distinct entity from the Green family, does not have religious rights under either the First Amendment or the Religious Freedom Restoration Act.
Today, the Supreme Court issued a narrow ruling that Hobby Lobby, and other "closely held corporations" like it, did indeed have the right to refuse to comply with the regulation, but it is unclear just how far-reaching this ruling will ultimately end up being:
WASHINGTON — The Supreme Court ruled on Monday that requiring family-owned corporations to pay for insurance coverage for contraception under the Affordable Care Act violated a federal law protecting religious freedom.

The 5-to-4 decision, which applied to two companies owned by Christian families, opened the door to challenges from other corporations to many laws that may be said to violate their religious liberty.

Justice Samuel A. Alito Jr., writing for the court's five more conservative justices, said a federal religious-freedom law applied to for-profit corporations controlled by religious families. He added that the requirement that the companies provide contraception coverage imposed a substantial burden on the companies' religious liberty. He said the government could provide the coverage in other ways.

(…)

Justice Ruth Bader Ginsburg, writing for the court's four-member liberal wing, said the contraception coverage requirement was vital to women's health and reproductive freedom. Justices Stephen G. Breyer and Elena Kagan joined almost all of the dissent, but they said there was no need to take a position on whether corporations may bring claims under the religious liberty law.

On that point, Justice Ginsburg, joined by Justice Sonia Sotomayor, said the court's decision "is bound to have untoward effects" in other settings.

"The court's expansive notion of corporate personhood," Justice Ginsburg wrote, "invites for-profit entities to seek religion-based exemptions from regulations they deem offensive to their faiths."
Before going any further, I think it's important to understand some basic points here.
First of all, the Supreme Court did not rule today that all for-profit corporations may make claims under the Religious Freedom Restoration Act. Instead, it limited its opinion to "closely held corporations," which are typically defined as corporations where a majority of the shares are owned by five or fewer people (although the number can vary from state to state). Most closely held corporations are small businesses that don't even have enough employees to fall under the requirement that employers provide coverage to their employees under the PPACA. Some, however, like Hobby Lobby, are larger corporations that still happened to be owned by a small number of people. Other well-known businesses that could potentially be classified as "closely held" include Chick-Fil-A, which is principally owned by Dan Cathy and members of his family. Additionally, although I am not certain of the current ownership structure, Hallmark Cards and all of its subsidiaries were principally owned by Joyce Hall and his family members and descendants and may still qualify as "closely held." The point is that, this case does not mean that McDonald's, or Exxon Mobil, or Fedex, are now suddenly vested with religious liberty rights. Indeed, given the fundamentally different ownership and management structures between closely held and publicly held corporations, it would be completely illogical to speak of the "religious liberty" rights of a publicly held corporation.
Second, as I have noted in other discussions of this case, Hobby Lobby, and a company called Conestoga Wood Specialties in a companion case, were claiming that the Religious Freedom Restoration Act, a law that was passed into law by a Democratic Congress and signed into law by President Clinton in response to the Court's opinion in Employment Division v. Smith, required that they be given an exemption from the law. Reading the language of the statute, one has to admit that they had a strong argument in their favor in that regard and it's difficult for me to say that the Court was wrong in its interpretation of the law here. Part of what the law requires is that the Court balance the religious claims asserted by the employers with the interests asserted by the government. In this case, the interest in question would be providing increased access to birth control to women. Even if you agree that this is a legitimate and important government interest though, it's plainly obvious that there are means by which the government could accomplish this goal without requiring employers like the Greens to violate their religious beliefs. The most obvious means, of course, would be some form of direct subsidy to employees but there are other means as well. In addition, the Court found that the mandate in question placed a "substantial burden" on the religious liberties of the Greens and those similarly situated to them. Given this, the balancing test came down clearly in favor of the Greens.
Third, as noted above, the Court did not say that RFRA gives owners of companies like Hobby Lobby the right to refuse a whole host of items typically covered under a health insurance policy just because they might have a religious objection to those procedures. So, this case is not going to lead to Jehovah Witness employers refusing to cover blood transfusions or transplants. The Court also said that the holding should not be seen as meaning that a private employer of any kind could avoid liability for a claim of illegal discrimination based on their religious beliefs. This would seem to be addressed to concerns regarding people trying to use religion to avoid liability under laws banning discrimination against people based on sexual orientation. Obviously, what this decision actually means for future cases will depend on the facts of those cases and the Judges that hear them. However, it's important to note that, just as it did in the Heller gun control case, the Supreme Court seems to be sending a signal here that its holding is not as broad as some advocates for one side or the other might hope or fear.
Finally, although it's easy to understand why it is being characterized in this manner by political partisans, it is important to note that the Supreme Court did nothing today that actually impacts the ability of anyone to have access to birth control. You can still go to the pharmacy and buy the pills, you can still get an IUD implanted. All the Court has said is that, in these very limited set of circumstances, the religious objections of employers deserve protection. That is not "taking away birth control," and I think it's intellectually dishonest political hackery to characterize it in that manner.
As for the opinion itself, I think the Court got the result right for the most part. In the end, a closely held corporation is really nothing more than a partnership with tax advantages. What ever you might call it, it is still a business that is owned by a small amount of people. If Hobby Lobby were a partnership or sole proprietorship, there would be no question that the Greens would be within their rights to assert a religious objection under the RFRA. Given that, it doesn't strike me as being all that radical to say that they retain those rights when they enter into a different kind of business form that, ultimately, was chosen so that they could expand the company to the national operation employing thousands of people that it is today. We are still talking ultimately about the individuals who own the company and their rights, which is why this decision would not make any sense if you applied it to a publicly traded corporation owned by tens of thousands of individuals and institutions like Apple, or Exxon Mobil. Additionally, the Court's determination that the mandate imposed a "substantial burden" on the Greens and others seems correct based on the facts of the case. It is always difficult for a court to judge how sincerely an asserted religious belief actually is, of course, but there's a general rule that courts ought to be deferential in that regard. Finally, the Court is also correct that there are less restrictive means to accomplish the government interest that is at stake here. I've already discussed one such means, the direct subsidy to employees, but another one can be found in the manner in which the Administration attempted to deal with this issue as it applied to strictly religious organizations. Taking all of that into account, it's difficult for me to say that the Court got this wrong as a matter of law.
As noted above, it's impossible to say what the legal consequences of a decision like this will ultimately be. To a large degree, that will depend on what kind of cases make it before future courts and the makeup of the judges that hear those cases. At the very least, it is obvious that the pending cases brought by other employers that qualify as "closely held corporations" will all be decided in their favor. Additionally, there are a series of cases ending at various levels in the Federal Court system by religious non-profit organizations that raise objections to the mandate. Lyle Denniston discussed those cases in a SCOTUSBlog post yesterday. I suspect that they too will end up winning their cases. Beyond that, it's hard to say what Hobby Lobby will mean for the future
Here's the opinion: