Citizens United And Hobby Lobby Are About Individual Rights, Not 'Corporate Rights'
Much of the criticism of Hobby Lobby, and Citizens United before it, is based on a fundamental misunderstanding of what those decisions stand for.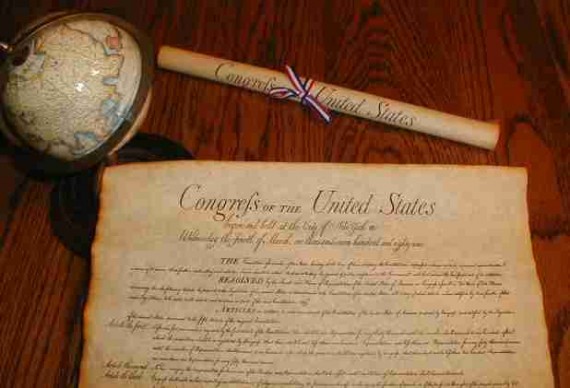 The Supreme Court's ruling in the Hobby Lobby case has revived an old debate about corporate personhood and the rights of individuals who choose to organize in the form of a corporation and, as usual, much of the analysis of the case itself and the issue in general is completely missing the point. In many respects, this debate started when the Supreme Court handed down its decision in the Citizens United v. FEC, a case which has been a particular whipping boy on the left and which President Obama openly criticized during a State of the Union Address that most of the Court attended. Democrats have campaigned against the decision in each of the last two Federal election cycles, and, most recently, Senate Democrats opened a quixotic campaign to back a Constitutional Amendment that would effectively overturn the decision. Central to all of these criticisms of Citizens United, and becoming apparent in the criticisms of Hobby Lobby, is the contention that the Supreme Court is deciding that corporations have rights under the First Amendment. For several reasons, that is both a completely incorrect representation of what the two decisions said, and a fundamental misunderstanding of what the idea of the "rights" of corporations actually means.
Corporations, most especially the closely held corporations at issue in Hobby Lobby and the non-profit corporations at issue in Citizens United, are in the end nothing more than groups of people organized together to achieve a common goal. It doesn't matter whether that goal is to make a profit or to advance a set of public policies. In either case, the corporation exists primarily as a means for the individuals to achieve a personal agenda and, typically, the main reason for adopting the corporate form is for tax purposes or to allow the business to expand beyond the kind of smaller operations that partnerships are capable of handling. Ilya Somin addressed this point quite well in a post at The Volokh Conspiracy written shortly after Citizens United was handed down:
It's true, of course, that corporations "are not human beings." But their owners (the stockholders) and employees are. Human beings organized as corporations shouldn't have fewer constitutional rights than those organized as sole proprietors, partnerships, and so on. In this context, it's important to emphasize that most media organizations and political activist groups also use the corporate form. As Eugene points out, most liberals accept the idea that organizational form is irrelevant when it comes to media corporations, which were exempt from the restrictions on other corporate speech struck down by the Court today. The Supreme Court (including its most liberal justices) has repeatedly recognized that media corporations have First Amendment rights just as broad as those extended to media owned by individuals. Yet the "corporations aren't people" argument applies just as readily to media corporations as to others. After all, newspapers, radio stations, and TV stations "are not human beings" and they too "have no consciences, no beliefs, no feelings, no thoughts, no desires." We readily reject this reasoning in the case of media corporations because we recognize that even though the corporations in question are not people, their owners and employees are. The same point applies to other corporations.
Somin points out here the mistake that nearly every critic of Citizens United would go on to make. Namely, the fact that the Court's opinion in that case wasn't really about the rights of corporations, it was about freedom of speech in the context of a political campaign. The fact that the entity that wished to exercise that speech happened to be organized as a corporate entity was relevant from a legal point of view because of the law at issue in the case, but it wasn't relevant at all when it comes to the question of whether or not the First Amendment can apply to a corporate entity. The easiest way to understand this is to realize that every single media company in the United States is organized as a corporation or some other form of corporate entity. Nobody would suggest, however, that the First Amendment doesn't apply to The New York Times, or that CNN could not assert protections under the Fourth Amendment if a group of police officers just decided to show up at their Atlanta headquarters and start looking through computers to see what they could find without first producing a search warrant. These are both corporate entities, but nobody would question that they have rights of a sort under the Constitution. Vox's Dylan Matthews catalogs a range of other situations where we have long recognized the fact that corporate entities have Constitutional rights, including several why people on the political left should support the idea of corporate personhood. Mitt Romney was criticized for it, but in the end he was right. Corporations are people and people don't lose their rights just because they organize in a corporate form.
Some will argue that the Court's decision in Hobby Lobby is different because it purports to extend religious liberty rights to corporate entities in general, and for-profit corporations specifically. As with Citizens United, though, this is a misreading of what the Court decided and a misunderstanding of the issues at stake in the case. As I noted in my post on the Court's decision last week, the Court's decision was specifically limited to closely-held corporations, which are generally privately held corporations where the stock is owned by a very small number of people. While there are many closely held corporations in the United States — one estimate says that nearly 40% of Americans work for a closely held corporation — many of these companies are so small that they aren't going to be covered by the PPACA's insurance coverage mandate to begin with. More importantly, as Steve Chapman notes, the actual number of closely held corporations that are likely to be asserting these kind of religious liberty claims is probably going to be fairly small.
Obviously, there are going to be questions about what kinds of actions and lawsuits the Court's holding in Hobby Lobby will inspire in the future. As I noted in my post last week, one of the most obvious areas where it will likely be tested is in the area of religious objections to same-sex marriage in states that have laws that ban businesses from discriminating on the basis of sexual orientation. It's worth noting with regard to that specific issue that Justice Alito's opinion specifically says that the decision wouldn't necessarily apply to a claim for a religious exemption to generally applicable laws against discrimination. Additionally, one could see how the balancing test that courts are required to apply under the RFRA would come down in favor of the anti-discrimination law rather the claim of religious liberty, especially since there would not seem to be a "less intrusive means" for the government to accomplish the goal of the law as the Court pointed out existed in the case of the contraceptive coverage mandate. We can't know how any court will handle questions like this until they are actually before a court of law, of course, but it strikes me that much of the reaction regarding what the Court's ruling will lead to is as much partisan panic mongering as anything else.
As with Citizens United, the Court's holding in Hobby Lobby isn't about the creation of new rights for corporate entities, it is an answer to the question of whether or not individuals lose their Constitutional rights when they organize as a corporate entity. In both Citizens United and Hobby Lobby, the Court's answer to that question has been no, and that isn't nearly as controversial an outcome as most of the rhetoric about these cases would have you believe.