The Non-Existent Conflict Between DADT Repeal And Religious Liberty
With DADT Repeal now on its way to being fully implemented, the right is now claiming that it poses a threat to the religious liberties of military chaplains. As with their other arguments, this one is totally without merit.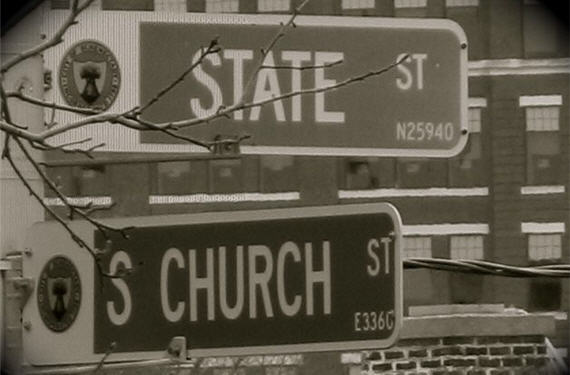 Politics Daily's Matt Lewis picks up on an objection to the repeal of Don't Ask, Don't Tell that I've heard from other conservatives, that it could somehow infringe on the religious liberty of service members, and especially military chaplains:
Sooner or later, however, the gay issue will bump into a new one — religious liberty. And that's arguably where the next battle will take place. The repeal of "Don't ask, don't tell," for example, raises this issue.

For example, will Army chaplains be required to perform marriage for same-sex couples? Will chaplains be allowed to preach against homosexuality from the pulpit — or counsel against homosexual conduct? While these are sure to be questions the military must grapple with, one can also imagine this issue eventually making its way into the civilian world.

Just as we have seen controversies arise over medical doctors who refuse to perform abortions, what about civilian pastors who — because their faith teaches them homosexuality is a sin — refuse to perform gay marriages? Could they one day lose their legal right to perform marriages at all — or jeopardize their tax-exempt status? And what about free speech — could a pastor one day jeopardize his church's tax status by preaching against homosexuality from the pulpit?
Lewis links to an August Daily Caller column by Daniel Bloomberg of the Alliance Defense Fund, which happens to be a public policy/legal organization founded by such far-right evangelicals as James Dobson, Donald Wildmon,  and the late D. James Kennedy. In support of his assertion that the repeal of Don't Ask, Don't Tell would represent the beginning of an assault on the religious liberties of military chaplains, Bloomberg relates this anecdote:
The U.S. military operates what might best be called an "exchange program" that allows chaplains to become functioning members of foreign military chaplaincies.  One such U.S. chaplain—whose name and the distinctive aspects of his service must be withheld to avoid censure—recently discovered when his faith contradicts the military's endorsement of homosexuality.

A junior officer approached the chaplain with numerous questions about Christianity, and they talked for hours about a wide range of subjects, including a brief discussion about orthodox Christianity's stance on homosexual behavior.  The officer left satisfied.  Later, though, a more senior officer berated the chaplain publicly for his religious perspective on homosexual behavior.  This officer threatened him, saying that if the chaplain had not been a U.S. service member, he would certainly have been written up for "harassment."

Later, a female service member was brought to the chaplain for help regarding relationship issues with her same-sex partner.  The chaplain happily provided emotional support and sought administrative solutions so that she could return to her duties.  After the situation was resolved, she met with the chaplain for follow-up counseling during which she asked how she might have a healthier relationship with her partner.  He explained that, in this instance, since his faith teaches that no homosexual relationship can be healthy because it is innately against the will of God, he would instead help her find another chaplain who could counsel her if she would like.  Her response?  She said she knew of his beliefs and that she was willing to seek counsel from him anyway because she trusted him.

But when he later explained his decision to his supervising chaplaincy officer, the officer ominously warned him that he should be careful who he talked to honestly about his beliefs and that he shouldn't discuss them in an open public forum.  The officer particularly cautioned him to keep silent about those beliefs in an upcoming chaplaincy-wide meeting because one of the senior chaplains, who openly self-identified as "gay," would not tolerate open statements about orthodox religious belief on homosexual behavior.
In addition to the fact that it is often unwise to make policy based on anecdotes, there's one basic fact about Bloomberg's tale that he glosses over and then fails to not the significance of is simple, but crucial; he was talking about the operation of a foreign military, not the United States military. It doesn't necessarily matter which nation, he's talking about because it's certain that it doesn't have the legal protections for religious freedoms that we do thanks to the First Amendment. While there may certainly be occasions where a chaplains official duties might conflict with his religious beliefs, it's also certain that our laws provide them with far more protection than any foreign nation would. So, using this example of something that may or may not have happened in the military of a foreign nation is entirely irrelevant to a discussion of implementing DADT repeal in the United States.
As for the examples that Lewis brings up, I cannot honestly understand why a military chaplain would, in the normal course of his duties in that position,  feel the need to preach about the supposed evils of homosexuality in front of his congregation of soldiers, many of whom may not even belong to the same sect of Christianity as he does, or who may not even be Christian at all. The military chaplain, after all, is charged with seeing to the religious needs of all the service men and women that he may be stationed with, not just the ones who agree with his particular version of Christianity — think of Father Francis Mulchahy from M*A*S*H as an example of a military chaplain fulfilling that role. In that role, a fire and brimstone speech about the evils of homosexuality would seem to be out of place and incompatible with the duties of his assigned task.
Furthermore, the gay marriage example is a canard that has been raised repeatedly in the battle over same-sex marriage. and the answer here is the same as it is there. The First Amendment would clearly prohibit the government from forcing a clergy member from marrying someone in a religious ceremony in a manner conflicts with their religious beliefs. It isn't going to happen and if it did the courts would put a stop to it immediately.
This supposed conflict with religious liberty is just another example of a "gays in the military"  horror story that people will end up laughing about in 20 years or so when they wonder just why it was so hard for us to do something so simple as allow gay people to serve their country.