Louisiana Set To Become The Next 'Religious Freedom' Bill Battleground
A bill pending in Louisiana seems likely to become the next national focus in the debate between marriage equality and claims of 'religious freedom.'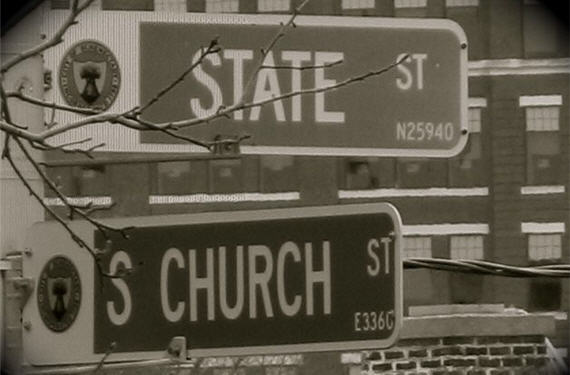 Things seem to have quieted down after last weeks kerfuffle over 'religious liberty' bills that many perceived as attempts by conservative Republicans to give the imprimatur of law to discrimination against gays and lesbians. The changes made by legislators in Indiana and Arkansas after national groups and major corporations spoke out against the laws pending in those states seem to largely address the concerns that were being raised in the wake of the passage of Indiana's law earlier last month. Additionally, efforts to pass similar legislation in Georgia and Nevada stalled, and appear to be in doubt in North Carolina and Virginia. Despite all of that though, the debate over the conflict between same-sex marriage rights and what religious conservatives see as their right to live by their religious beliefs even while operating a business is far from over, and it appears the next battleground will be in Louisiana, where a bill that in many ways goes far beyond what previous similar laws have attempted to do will be pending when the state legislature convenes later this month:
The fight over religious freedom legislation that has embroiled Indiana and Arkansas over the past week is headed to Louisiana this month when the Legislature convenes for its spring lawmaking session.

State Rep. Mike Johnson, R-Bossier City, has filed a bill that would allow private businesses to refuse to recognize same-sex marriage, should it become legal in Louisiana. The legislation would — among other things — allow a private company to not offer the same benefits to legally-recognized same-sex married couples as other married couples, on the basis of a religious objection. 

"It would be a license to the private sector to refuse, for religious or moral reasons, to recognize same-sex marriages. It covers not just churches and religious organizations, but also the for-profit sector, and with no limit on size or diversity of ownership," said Douglas Laycock, a constitutional law and religious liberty expert at the University of Virginia who read the bill.

Laycock said the Louisiana bill would accomplish what many people thought the controversial legislation in Indiana was doing. Under pressure from the business community and sports leagues like the NCAA, both Indiana and Arkansas backed off their religious freedom legislation this week — adding language to specify the new laws did not sanction discrimination against the gay and transgender community.

Louisiana's leading conservative Christian advocate, Gene Mills, acknowledged the bill was similar to those put forward in Indiana and Arkansas, though not entirely the same.

"It delves into — but not entirely — what is taking place in Arkansas and Indiana," said Mills, who heads up the Louisiana Family Forum, an umbrella group for conservative Christians.

Yet Johnson, the bill's sponsor, has always insisted the legislation isn't supposed to be similar to what was proposed in Indiana and Arkansas. He describes his bill as protecting business owners from government retaliation based on their personal beliefs about marriage. It is meant to protect people on both sides of the same-sex marriage debate, he said.

"This is not an Indiana thing. This is not an Arkansas thing," Johnson said, "I'm not sure why it would upset anyone."

Johnson's legislation does include a number of provisions that would prohibit state government from yanking tax benefits, licenses and state government contracts from business owners based on their views about marriage. His bill would not affect local parish law if passed, so there would be no impact on the local New Orleans and Shreveport ordinances that protect LGBT people from housing and employment discrimination.

LGBT advocates say Johnson is trying to frame the legislation as being substantially different from that proposed in Indiana and Arkansas to try in order to avoid the backlash those states have seen.

"He realized he couldn't bring this in through the front door, so he is trying to bring it in through the back door," said Bruce Parker, coalition manager for Equality Louisiana, a pro-LGBT advocacy group.

The LGBT community believes the bill is supposed to be a preventative measure, in case the U.S. Supreme Court strongly favors same-sex marriage in a ruling later this summer. The court's decision could affect whether Louisiana would get to keep its ban on same-sex marriages.

"With a decision coming from the Supreme Court that could possibly allow same-sex couples in Louisiana to obtain marriage licenses, Rep. Johnson is trying to preemptively give individuals and businesses a way to disregard federal laws and rulings," said Equality Louisiana in a written statement.
If anything, the Louisiana bill goes a step beyond the original version of the bills in Indiana and Arkansas in that it appears to explicitly authorize discrimination against gays and lesbians by and employer who claims that they are acting in accordance with their religious beliefs. Perhaps the most extreme example of that, of course, can be found in the fact that it would authorize an employer to deny spousal benefits to an employee who is married merely because their spouse is of the same gender. This is important, of course, because it seems increasingly likely that the Supreme Court will issue a ruling in June that strikes down laws against same-sex marriage nationwide. Assuming that happens, and depending on how long it takes for courts in other jurisdictions to act based on the Supreme Court's ruling, same-sex marriages would be occurring in Louisiana at some point in 2015. If it passes in its present form, this law would mean, among other things, that an employer who provides additional benefits to married employees would be free to decline to provide those benefits to an employee in a legally recognized same-sex marriage based on the claim that doing so would somehow be an infringement on his religious liberty. As a practical matter, there's really no difference between a law that authorizes this and a similar hypothetical bill passed in the wake of Loving v. Virginia that allowed an employer to deny benefits to an employee that was part of a legally recognized interracial marriage. The only difference in this case, of course, is the claim that 'religious liberty' is somehow involved here, although for the life of me I can't see how providing employee benefits is a matter of 'religious liberty.'
Given that this is Louisiana and the fact that the state legislature is heavily Republican, it would seem on paper at least that this bill has a strong likelihood of being passed. However, as we learned over the past two weeks, nothing is a certainty even in a heavily Republican state, especially once the glare of national media attention starts to have an impact. In Indiana, for example, Governor Pence was defiant in the face of criticism when he signed that state's RFRA bill into law but after less than a week of intense media coverage and criticism from business interests both inside and outside the state, he was standing in front of reporters calling on the legislature to amend the bill to address the criticisms. Much the same thing happened in Arkansas, where Governor Hutchison made the same request of his legislature after seeing what had happened just a few states to the north. No doubt, it was that national outcry that also heavily influenced the fate of the RFRA bills in Nevada and Georgia as well. It seems likely that the Louisiana bill will garner similar national attention, especially given some of its more extreme provisions, and once that happens the statements of politicians like Governor Jindal may end up being meaningless once they find themselves under the scrutiny of the national media microscope.
As for the bill itself, I've noted my skepticism about RFRA laws in general in the past, and those criticisms would seem to apply equally here. Generally, the idea that a claim of 'religious freedom' should be a near absolute defense against the application of a generally applicable law is troubling one, because it creates two classes of citizens in the form of those to whom the applies and those to whom it doesn't. More broadly, though, even if you agree that business owners should be free to decline to do business with whomever they wish, there are parts of this bill that go far beyond that and seem to be clearly aimed at turning gays and lesbians into second class citizens. Allowing an employer to use 'religious liberty' as an excuse to allow them to deny equal benefits to employees in legal marriages, for example, does more than just protect the individual liberty of a business owner it gives them the right to ignore the laws definition of marriage if it conflicts with their religious beliefs. More importantly, though, the law is so open-ended in what it would allow a business owner or employer to do, that there would seem to be no real limit on its application. Additionally, while the bill's sponsor says that it would not impact the anti-discrimination laws that are on the books in cities like New Orleans and Shreveport there's nothing in the text of the bill that says that and it would really be up to individual judges to determine what the law does and does not cover. At the very least, though, it seems to clearly send the message that, as far as the State of Louisiana is concerned, treating gays and lesbians like second-class citizens is perfectly fine. At least that's the message that would be sent if the bill passes. As we approach the upcoming session in Baton Rouge, I suspect that national attention on The Pelican State will become even more intense than it was on Indiana.
Here's the text of the bill: