RFRA Battle Moves Beyond Indiana
Arkansas, North Carolina, and Virginia may soon see the same battle over RFRA laws that is playing itself out in Indiana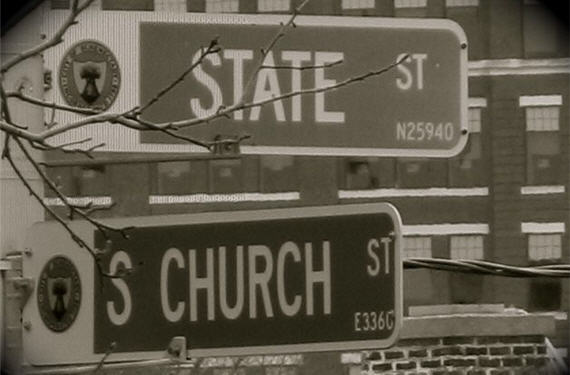 As Governor Mike Pence and Republican legislators in Indiana lick their wounds over the battle over the Hoosier State's version of the Religious Freedom Restoration Act and the national uproar that has accompanied it, Republicans in Arkansas are moving forward with their own version of the law even as national attention shifts south:
WASHINGTON — Arkansas passed a religious freedom bill on Tuesday that is similar to an Indiana law that has faced national backlash for legalizing discrimination against lesbian, gay, bisexual and transgender people.

The bill cleared the Arkansas Legislature and now heads to the governor's desk, where it is expected to be signed. Like the Indiana law, the Arkansas legislation allows a person who feels his or her exercise of religion has been "substantially burdened" to cite that argument as a claim or defense in a private lawsuit. The legislation also grants corporations the right to religious freedom. This language is not in the federal Religious Freedom Restoration Act (RFRA), and critics say it could be used to override existing anti-discrimination protections.

"The Arkansas and Indiana bills are virtually identical in terms of language and intent," said Sarah Warbelow, legal director at the Human Rights Campaign. "They place LGBT people, people of color, religious minorities, women and many more people at risk of discrimination."

Indiana Gov. Mike Pence (R) defended his state's law on Tuesday, calling for a legislative fix that would clarify that the law does not allow businesses to discriminate. Earlier in the week, Arkansas lawmakers also tried to head off concerns about that state's bill,approving language that says "the General Assembly finds that it is a compelling governmental interest to comply with federal civil rights laws."

However, according to Eunice Rho, advocacy and policy counsel at the ACLU, federal civil rights laws have no explicit protections for LGBT people, and this legislative finding — while helpful — is not part of the law. "If the Arkansas Legislature is serious about preventing discrimination, they need to write it into the actual code," she said.

"We would like to see both Indiana and Arkansas adopt language clarifying that the state RFRA cannot be used to undermine federal, state or local non-discrimination laws," Warbelow said.

During Monday's committee hearing, some lawmakers raised concerns about the bill being inconsistent with federal and state RFRA laws when it comes to protecting civil rights. Some proposed a simple solution: adding a non-discrimination disclaimer to the legislation.

"It's not a philosophical debate with me at this point. I think we're going well beyond the other states," said state Rep. Camille Bennett (D), who ultimately voted against the bill.

But the bill's author, state Rep. Bob Ballinger (R), said its language was staying put, and that it would be too confusing to try to define what constitutes discrimination.

"If that means that you can force somebody who has deeply held religious beliefs to engage in some activity that violates their deeply held religious beliefs, and that the state has the right to force them into doing it, I can't say that I do agree with that," he said.
While the bill awaits Governor Hutchinson's expected signature, though, it is coming under criticism from some of the state's biggest employers:
LITTLE ROCK, Ark. — Local and state leaders and organizations urged Arkansas Gov. Asa Hutchinsonto veto House Bill 1228 — the "Religious Freedom Restoration Act" — and raised concerns about what the measure could mean for the future of business in the Natural State.

The full House passed the "religious freedom" bill Tuesday afternoon after three concurred amendments passed the House Judiciary Committee on Monday. The measure was originally sponsored by Republican Rep. Bob Ballinger of Hindsville. Hutchinson has said he will sign the bill into law.

Retail giant Walmart, headquartered in Bentonville, posted a statement to Twitter on Tuesday saying that HB 1228 does does not reflect the company's values, and urged Hutchinson to veto the legislation.

On Monday, Acxiom Corp., one of Arkansas' largest employers and a longtime supporter of workplace diversity, announced the marketing technology company's firm opposition to the bill. In a letter to the governor, the company wrote, "The bill inflicts pain on some of our citizens and disgrace upon us all."

Little Rock Mayor Mark Stodola encouraged Hutchinson to veto the bill. In a press release Tuesday he stated, "Any piece of legislation that is so divisive cannot possibly be good for the state of Arkansas and its people."

"There certainly is that impression that it would be a negative step," said state economic forecaster Michael Pakko. He said it's not clear if there would be drastic implications for the state if the bill becomes law, but it would affect some business decisions, especially for companies that have taken a stance against the bill.

"There is a likelihood this bill would cause confusion more than anything else, and that alone could have some negative impact on the economy," Pakko said.

"It's just not the way to do business, and we're not going to do it that way," said North Little Rock Chamber of Commerce CEO Terry Hartwick.
There is also a similar bill pending in the Republican controlled North Carolina legislature, but Governor Pat McCrory, who is also a Republican, is publicly criticizing the bill in a way that suggests he might veto it if it gets to his desk:
Gov. Pat McCrory told a Charlotte radio host Monday that he opposes a bill that would allow magistrates to opt out of performing weddings and didn't see the need for a broader religious freedom bill.

"What is the problem they're trying to solve?" McCrory asked during Monday's broadcast of WFAE's Charlotte Talks program.

Large parts of the program focused on situations where McCrory had differences with conservative Republicans at the state legislature, particularly in the state Senate.

Senators have already passed a bill that would allow magistrates opt out of performing weddings if they have a "sincere religious objection" to performing particular ceremonies. The measure, which is now making its way through the House, is seen as a way to shield magistrates who do not want to perform same-sex marriages.

North Carolina's constitutional amendment and a related law blocking same-sex marriages was overturned by a federal court last year.

"At this time, I would not sign it the way it's written because … I don't think you should have an exemption or a carve-out when you swore an oath to the constitution of North Carolina or to the Constitution of the United States of America," McCrory said.

During the same discussion, McCrory said he didn't see the need for a broader religious freedom bill that would protect a number of businesses and state officials from liability should they refuse service based on their personal religious beliefs. The topic of the "Religious Freedom Restoration Act" was at the center of national media attention this weekend, as leaders of large companies said they did not want to do businesses in states that pass such legislation.
Finally, there is also a RFRA bill pending in Virginia, however in that case it seems unlikely that the bill will pass. Presently, the bill is in Committee in the House of Delegates, which does not meet again until mid-April at which point it is likely to be spending the majority of its time dealing with state budget issues. Given the outcry over the Indiana law, it seems likely that the bill may never get out of committee but, even if it does and it manages to make its way to Governor McAuliffe's desk, it seems likely that he would veto the bill and there simply aren't enough Republican votes in the General Assembly to override a veto unless a whole lot of Democrats defect, which seems unlikely.
Leaving aside for the moment the argument about whether or not RFRA is a good idea beyond the same-sex marriage debate, and as I've stated before I think that there's a good argument that these laws are a bad idea, it seems clear that what happened in Indiana ought to be a lesson for other states that are considering these types of laws. While in the past it may have been possible to pain these laws as little more than a response to a Supreme Court decision regarding the use of peyote by Native Americans, in today's cultural context it is clearly seen as an attack by the forces opposed to same-sex marriage. The fact that comments by legislators who have supported these laws recently in Indiana and elsewhere has made it clear that this was precisely their motivation notwithstanding the appeals to religious liberty and the insistence of those such as Governor Pence that the laws were not intended to legitimize or excuse discrimination based on sexual orientation. Shaking this perception is not going to be easy after what happened in Indiana.
More broadly, though, the outcry over the Indiana law is yet another indication of the cultural and political shift that has occurred over the issue of gay and lesbian relationships:
Public opposition to the bill drowned out support for it, but businesses likely made the difference. Apple is a fairly liberal company; Angie's List is not. Accenture and Eli Lilly and Levis aren't exactly known for staking out positions on the far left of the political spectrum. That the NCAA turned the screws even slightly in the state that houses its headquarters — and which must be one of the states most friendly to its product (see: Hoosiers) – seems, stepping back a bit, to be remarkable. I mean, NASCAR opposed the bill. Being anti-gay is bad for business, and being bad for business is bad politics.

The issue of same-sex relationships will come up again, especially as the 2016 Republican presidential primaries approach. Indiana's law is the sort of thing that offers a safe space for 2016 candidates, allowing them to avoid having to speak out against gay marriage if they don't want to (some weren't worried about it) but to still appeal to the most conservative element of the base. And, sure enough, most offered their support for Indiana's bill. Whether or not the more viable of those candidates criticize Pence's call for amendment remains to be seen, though.

But the battle in Indiana is over. And barring some dramatic shift, so is the war over the status of gay relationships in the United States. Millennialssee homosexual relationships as morally preferable to casual sexual ones. It seems hard to believe that, in a decade or two, they'll see this moment as part of an still-potent struggle, rather than as a footnote to a years-long change in the country's politics.
And that, I think is really the important point. The battle over the conflict between gay rights and what some people contend are matters of religious liberty will continue after the same-sex marriage itself comes to an end. For the right, it will be seen as part of the effort to fight a rear guard action in a cultural war that they have already lost. For the left, it will be seen as recognition of the fact that, from their point of view, the battle over same-sex marriage has only been one skirmish in a broader battle. Given the way the culture has moved, as demonstrated most clearly by the overwhelmingly negative response from the business community, it seems fairly clear how this will end, though.