Utah Will Not Recognize Same-Sex Marriages Performed Before Stay Issued
About 1,000 same-sex couples married in Utah before the Supreme Court stay find themselves in an odd legal limbo.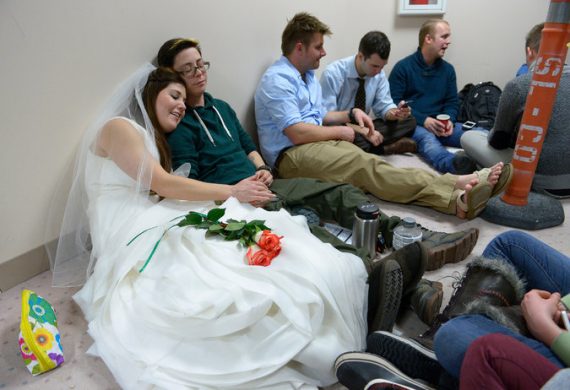 Late last month, a Federal Judge in Utah declared that state's law banning same-sex marriage to be unconstitutional, a ruling which is currently under appeal to the 10th Circuit Court of Appeals. In the immediate aftermath of that appeal, the state requested a stay of that ruling that was denied both by District Judge Shelby and by a panel of the 10th Circuit. Ultimately, of course, the stay was granted by an apparently unanimous Supreme Court earlier this week. In the intervening period of about two weeks, though, nearly 1,000 same-sex couples in Utah were married based upon the District Court Judge's ruling. Those marriages ceased as a result of the Supreme Court stay, of course, but left open is the question is the status of those marriages conducted between the date of the initial ruling and the time that the Supreme Court's stay went into effect.
For it's part, the State of Utah is taking the position that these marriages are not valid:
DENVER — The fortunes of 1,300 newlywed same-sex couples in Utah were thrown into turmoil on Wednesday after the governor's office announced that it would not recognize their marriages while it presses its legal efforts to limit marriages to one man and one woman.

It was the latest twist in the 19-day tale of same-sex marriage in one of the country's most socially conservative states. Last month, a surprise ruling by a federal judge overturned Utah's voter-approved ban on marriage among gay couples, prompting hundreds to rush jubilantly to county clerk's offices to obtain Utah marriage licenses.

After unsuccessfully petitioning two lower courts to halt those weddings, Utah succeeded Monday in persuading the United States Supreme Court to issue a stay while the state appeals. The ruling blocked any additional same-sex unions from taking place and effectively reinstated Utah's disputed ban.

For gay couples, it was a moment of emotional whiplash after the elation and celebration of the past two weeks. They said they still hoped a higher court would agree that same-sex couples in Utah have a fundamental right to marry, but they worried about the effects of the state's actions on their families and finances.

Nicole Campolucci, a mother of three who married her partner on Dec. 23, said the couple had planned to meet with a family lawyer to discuss how Ms. Campolucci could become a legal guardian to her partner's children. She said that now seemed unlikely.

"We are starting to feel persecuted," she said. "The state is going out of their way to make things as difficult for people as they possibly can."

Clifford Rosky, the chairman of Equality Utah, a leading gay rights group, said that the marriage licenses obtained by about 1,300 same-sex couples were still valid despite the stay, and that they deserved the same rights as any other married couples in Utah. Advocates predicted gay couples would sue to challenge Utah's move and to seek recognition for their marriages.

"The State of Utah is now trying to take back all of these marriages by refusing to recognize them," Mr. Rosky said in a statement. "This is an unprecedented step, which inflicts severe harms on more than 1,000 families."
The United States, meanwhile, is apparently taking the position that these marriages are valid and will receive the same recognition under Federal Law as those performed in the seventeen states and the District of Columbia where same-sex marriage is legal:
WASHINGTON — The Obama administration on Friday said that it would recognize as lawful the marriages of 1,300 same-sex couples in Utah, even though the state government is refusing to do so.

Wading into the fast-moving legal battle over same-sex marriage rights in one of America's most socially conservative states, the administration posted a video on the Justice Department's website making the announcement. Attorney General Eric H. Holder Jr. said that the federal government would grant federal marriage benefits to the same-sex couples who rushed to obtain marriage licenses after a federal judge last month unexpectedly struck down Utah's ban on same-sex marriage.

"I am confirming today that, for purposes of federal law, these marriages will be recognized as lawful and considered eligible for all relevant federal benefits on the same terms as other same-sex marriages," Mr. Holder said in the video. "These families should not be asked to endure uncertainty regarding their status as the litigation unfolds."

The Justice Department's intervention added a further sense of whiplash to the highly charged dispute, which began on Dec. 20 when a Federal District Court judge, Robert J. Shelby, ruled that Utah's constitutional amendment limiting marriage to one man and one woman violated the federal Constitution.
As a matter of law, the status of these marriages is not entirely clear, but it strikes me that Utah is on shaky legal ground here.
After Judge Shelby issued his opinion last month, both the Governor's Office and the County Clerk's offices across the state determined that the state was obligated by law to abide by the letter of the ruling unless and until a contrary ruling was received from either Judge Shelby himself or a higher authority. The Utah Attorney General arguably conceded this point by the very act of apply for a stay with Judge Shelby while at the same time applying for stays from the 10th Circuit before Judge Shelby had ruled on the initial application. Those first applications to the 10th Circuit were, of course, rejected because they were premature. However, when Judge Shelby rejected the request for a stay, Utah submitted a new request for a stay to the 10th Circuit which was ruled on based on the merits. When the 10th Circuit rejected that application, Utah submitted a stay application to the Supreme Court via Justice Sonia Sotomayor, who is the Circuit Court for the 10th Circuit. Throughout that time period, and indeed until the Supreme Court announced its ruling granting the stay last Monday, gay and lesbian couples, acting in reliance upon the state's decision to comply with Judge Shelby's Order, applied for and received marriage licenses and in at least 1,000 cases went through with the proper steps to solemnize their marriages under Utah law. Now, the State of Utah is saying that these marriages are not valid under Utah law.
This situation is quite similar to what happened in California in 2008. In June of that year, the State Supreme Court in a case titled In Re Marriage Cases, ruled that same-sex marriage must be recognized under California law. In response, every County Clerk in the state began issuing marriage licenses for same-sex couples and same-sex people went through the process to apply for license and get married. In the meantime, of course, those opposed to marriage equality managed to get Proposition 8, a voter initiative that would overturn the Court's decision on the 2008 ballot. That initiative passed, but in the meantime thousands of same-sex couples, including many celebrity couples, including people such as Star Trek actor George Takei, had taken advantage of the ruling in In Re Marriage Cases to marry their long-time partners. In a decision handed down in 2009 that also included challenges to Proposition 8 itself under state law that proved unsuccessful, the California Supreme Court ruled that the marriages performed between the time of their initial ruling and the passage of Proposition 8 must be considered legal and valid.
Although smaller in number, the married same-sex couples in Utah find themselves in a legal position similar to those who were married in that period in California before Prop. 8 became law. As an initial matter, it strikes me that there ought to be a distinction made between those people who had received marriage licenses and gone through the remaining steps required to solemnize their marriage under Utah law(and please note that my understanding of those conditions is based on only a rudimentary review of material available via a Google search, so I could be incorrect here) before the Supreme Court stay became effective and those who had received a marriage license but whom, for whatever reason, had not taken those final steps required to create a valid marriage under state law. The second group, it strikes me, is likely out of luck by virtue of the fact that they had not taken the proper steps to validate their marriage, which seems to require the performance of a marriage ceremony by someone legally permitted to do so under state law, before the state went into effect. The first group, however, is in a very different position. Before the Supreme Court issued its ruling on the stay, they took all the steps necessary to create a legal and binding marriage under state law and, most importantly, there is nothing in the Supreme Court's ruling on the stay application that makes its holding retroactive. All of this makes the position that the State of Utah is taking puzzling to say the least.
At this point, it seems fairly clear that the issue of the validity of these marriages, at least as far as Utah is concerned, will have to be resolved in Court. The question is which Court ought to be the proper venue to decide this question. Ordinarily, this would be an issue of state law under the jurisdiction of state courts. However, given the fact that it was a ruling from Judge Shelby based on the United States Constitution there is a fairly strong argument that this is a question that needs to be addressed directly to him. It seems to me that the default position ought to be that any marriage performed between the time of Judge Shelby's ruling and the issuance of the Supreme Court stay must be considered valid under both State and Federal Law. Indeed, the State of Utah is arguably risking contempt of court charges for failing to recognize those marriages. The law being what it is, though, it will likely be some time before we get anything approaching a definitive ruling on the matter.