The Blame Game Begins In Virginia
Polls in Virginia don't open for another 48 hours or so, but the end result has become fairly apparent when you look at the polls.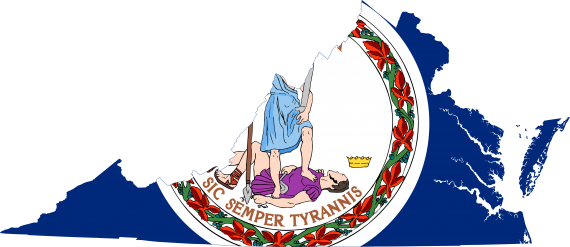 Polls in Virginia don't open for another 48 hours or so, but the end result has become fairly apparent when you look at the polls. Notwithstanding the fact that we saw a few polls last eek that seemed to show that the gap between Terry McAuliffe and Ken Cuccinelli was closing, the overall pro-McAuliffe trend in the race is pretty much the same as it has been for weeks. In the RealClearPolitics average, the former Clinton fundraiser and DNC chair holds a +6.4 point lead in a head-to-head race with the Virginia Attorney General and a +7.5 point lead in a three way race that includes the still surprisingly strong Libertarian candidate Robert Sarvis. Further down the ballot State Senator Ralph Northam is beating E.W. Jackson Jr. in the Lt Governor's race by an even wider margin, while State Senator Mark Obsenshain, the Republican, and Democratic nominee Mark Herring. Barring a voter turnout model that is vastly different from what the polls have been projecting, then, Virginia Democrats are likely to pick up at least two of the three statewide offices up this year, and possible get a three-way sweep for the first time in some four decades.
Republicans here in the Commonwealth will tell you it wasn't supposed to be this way. In the past, the party that lost the Presidential election has typically ended up winning in Virginia, and this year there has been plenty of Tea Party enthusiasm behind the Cuccinelli campaign. Despite all of that, though, Cuccinelli began fading quickly as the summer went along and he actually hasn't led in a poll since a Roanoke College poll conducted in early July. The rise of the Sarvis campaign has, at least according to some Cuccinelli supporters, drawn attention away from their candidate to the point where they spent the better part of last week attacking Sarvis and his supporters online. They've also accused national and state Republicans of abandoning the campaign even as the Republican Governor's Association has invested millions in the race. In other words, the votes haven't even been cast yet and the blame game has started:
National Republicans agree on this much about the 2013 campaign in Virginia: It wasn't supposed to go like this.

Well before the last votes are cast in the state's off-year governor's race, GOP leaders are already engaged in a spirited debate over why, exactly, a fight against a Democrat as flawed as Terry McAuliffe has turned into such a painful slog of a campaign. Even Republicans who haven't yet counted out their nominee, state Attorney General Ken Cuccinelli, view the governor's race as a profile in frustration for the GOP – an election that should have leaned toward the Republicans, but where Democrats have held a persistent lead in polling, money and tactical prowess.

The GOP's internal discussion about the race mirrors much of the broader national tug of war within the conservative coalition, between officials and strategists who want the party to trim back some of its most confrontational tactics and hard-edged rhetoric, and activists bent on drawing the starkest possible lines of contrast with the Democratic party of President Barack Obama.

The clearest battle lines will emerge after Tuesday; but the Washington community has groused for months about Cuccinelli's history of incendiary, ultra-ideological stances, while rank-and-file activists have watched with horror as well-tailored GOP donors have defected to McAuliffe. Everyone in the party – establishment and tea party alike – has fumed over the ongoing ethics controversies that have rocked outgoing Gov. Bob McDonnell's administration and undercut Cuccinelli's anticipated advantage over McAuliffe on personal integrity.

A Cuccinelli defeat, in other words, would have a thousand fathers. But this much is already clear: the GOP's accumulated problems in Virginia have brought the party to the edge of a historic defeat in a nationally pivotal swing state, potentially producing a Republican shutout of all five statewide offices (governor, attorney general, lieutenant governor and two U.S. senators) for the first time since the Nixon administration.
The most tempting explanation for Cuccinelli's problems, of course, would be to point to his well-known position on social issues ranging from abortion and contraception to same-sex marriage. No doubt, this is certainly a part of Cuccinelli's problem, and a reason that, for example, he is losing so badly among women in every poll that has come out for the past several months. Indeed, Cuccinelli was known statewide as one of the most prominent Republican advocates on these issues long before he even ran for Attorney General. No doubt, Democrats have been preparing the playbook that they have used against him this year for some time now based solely on his public statements, the legislation that he co-sponsored while a State Senator, and his record as Attorney General. At the same time, though, it's worth noting that Cuccinelli isn't necessarily any more radical than anyone else in the Republican Party of Virginia has been on these issues  over the years, and they've managed to win elections statewide quite handily. In fact, Democrats tried many of the same "social issues" arguments against Governor Bob McDonnell in 2009 only to fail miserably. Additionally, if Cuccinelli had not been the Republican nominee, then the RPV would have nominated Lt. Governor Bill Bolling, who is also pro-life and opposes same-sex marriage, although he admittedly does not have the same public reputation as an activist on these issues that Cuccinelli does (neither did McDonnell). In this day and age, in other words, whomever the RPV nominated in 2013 was going to be generally conservative on social issues. So that suggests that it isn't just social issues that is the cause of Cuccinelli's problems, especially considering his inability to even perform competently against a candidate as bad as McAuliffe, who couldn't even win his party's primary four years ago against a relatively unknown State Senator. If you ask Cuccinelli supporters for the reason that their candidate has underperformed in this election and is likely to lose, they'll point to what they claim is a betrayal by the so-called GOP establishment:
Among conservatives, all that establishment grief overlooks the role that GOP elites have played in hampering Cuccinelli. National party leaders chastise the right for focusing on purity over big-tent pragmatism – but a collection of prominent GOP finance types have closed their own tent to Cuccinelli, complaining about his social views on the record or even cutting checks to McAuliffe instead.

Those GOP defections "are proving Cuccinelli's undoing," Richmond Times-Dispatch columnist Jeff Schapiro wrote.
There's no doubt that many Virginia Republican stalwarts have either rejected the Cuccinelli campaign outright or stood on the sidelines for this election. The most prominent of those would be Lt. Governor Bill Bolling, who originally was running against Cuccinelli for the GOP nomination before dropping out when it became apparent that there was no way he could win a convention-based nomination against him. This was the end of an episode of incredibly bad blood between the two men that started when Bolling had agreed to hold off running for Governor in 2009 so that then Attorney General McDonnell could do so. At the time, there was at least a "gentleman's agreement" that Cuccinelli would not oppose Bolling in 2013, but it quickly became apparent that wasn't the case. So, in addition to dropping out Bolling essentially divested himself of any support for Cuccinelli and even, briefly, flirted with the idea of an independent bid for office that he rejected (a decision I bet he might be regretting right now.) Bolling's opinion of Cuccinelli seems to be shared by many what you might call "patrician" Virginia Republicans, who seem to have have decided to sit this race out.
The other side of the equation, of course, is that the Cucccinelli campaign and its Tea Party supporters  did its best from the beginning to completely piss off veteran Virginia Republicans, starting from the point at which there was a fairly conscious and obvious effort to take control of the state party's Central Committee as part of a plan that ultimately ended in the decision to go forward with a convention rather than a primary. This alienated not just people like Bolling and his supporters, but also a large part of the traditionally Republican business community who looked on with horror as their party's nominees were chosen by an incredibly small number of people who cared more about ideological purity than they did about winning elections. So, in some sense, you might say that turnabout is fair play.
The final part of the equation, though, is what may be the most important one. Ideology aside, the one thing that has become apparent throughout this race is that Ken Cuccinelli just hasn't come across as a very likable candidate. Admittedly, I'm not an unbiased person in this regard since I've had a fairly negative opinion of Cuccinelli myself for some time now, but one need only look to the polls and Cuccinelli's negative favorability ratings, which haven't moved much at all since the campaign began. Say whatever you might about Terry McAuliffe, and there's plenty to say about him, but it seems abundantly clear that voters in Virginia just plain don't like Ken Cuccinelli, and it's hard to win an election for Governor when people don't like you.
In the end, then, the blame for what looks like a likely Cuccinelli loss on Tuesday evening can really only be aimed in one direction, and that's toward Ken Cuccinelli. Whether it's because of his extreme social conservativism, the fact that he's run a bad campaign that never really bothered to make up for the fact that voters had an extremely negative opinion of him, or the fact that he alienated a large segment of the traditionally Republican Virginia business community, it really all goes back to the candidate.