Virginia Governor's Race Now Looks Like A Democratic Win
Absent an unlikely major change, it looks like the Democrats will win the Governor's race in Virginia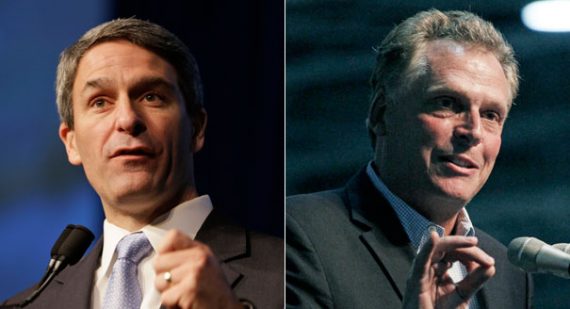 NBC and Marist College are out with the latest poll in the Virginia Governor's race and, just like every other polls over the past month or so, it shows Democratic nominee Terry McAuliffe with a solid lead over Attorney General Ken Cuccinelli, and perhaps the first indication that the government shutdown could have real world implications for Republican candidates going forward:
National Republicans may be glad the midterm elections are a year away after polls have shown the party's favorability at all-time lows because of the federal government shutdown. But one Republican – in a swing state – is caught in the buzz saw.

A new NBC4/NBC News/Marist poll finds Republican Ken Cuccinelli slipping further behind Democrat Terry McAuliffe, 46 to 38 percent in the race for Virginia governor among likely voters. That's 3 points wider than McAuliffe's 43 to 38 percent lead a month ago – before the shutdown. Libertarian Robert Sarvis gets 9 percent.

Virginia was one of the top states impacted by the shutdown — with hundreds of thousands of federal workers, contractors, and military service members and retirees in the state. And a majority (54 percent) in the poll blames Republicans for the shutdown. Just 31 percent of likely voters blame President Barack Obama.

Four-in-10 – 39 percent – said either they or a family member has been affected by the shutdown, whether it's employment, services or benefits.

Many say the shutdown will have an impact on their vote — 38 percent of registered voters said it would have a major impact on it; 21 percent said it would have a minor one. Among respondents who said it has had a major impact on their vote, McAuliffe is winning them 55-27 percent. Among those who say it is a minor issue, McAuliffe also leads, 52-33 percent.

Cuccinelli only leads with those who say the governmtent shutdown is not an issue, 49-36 percent.

"Just when Cuccinelli needed to start closing the gap against McAuliffe, the government shutdown became a huge roadblock," said Lee M. Miringoff, director of the Marist College Institute for Public Opinion, which conducted the poll.

The Republican Party brand appears to be badly damaged in the commonwealth – 62 percent said they had an unfavorable view of the party, while just 33 percent said they viewed the party favorably. Among independents, it was even worse. By a 71-23 percent margin, the GOP was viewed negatively.

The Democratic Party and President Obama get better scores – 45-50 percent unfavorable for the party, 50-48 percent favorable for Obama.

(…)

McAuliffe has expanded his lead with independents from 2 points in September (36-34 percent) to 8 points now (41-33 percent). In September, Cuccinelli got a 31-45 percent unfavorable score with the group. Now, a majority give say they view him unfavorably – 34-51 percent. McAuliffe doesn't fare much better — with a 36-47 unfavorable, but that might not be the point.

"It's not that independents are enamored with McAuliffe," Miringoff said, "they just dislike Cuccinelli more."
In addition to the shutdown and Independents hurting Cuccinelli, the poll also confirms what we've seen before, that Cuccinelli is losing women by a massive margin:
With less than three weeks until Election Day in Virginia, Republican Ken Cuccinelli's woman problem is only getting worse.

A new NBC4/NBC News Marist poll of next month's hotly contested race for governor shows Democrat Terry McAuliffe's lead growing-thanks to a widening gender gap along with a backlash toward the GOP for the shutdown in the Old Dominion.

McAuliffe now leads the race by eight points,46%-38%, with libertarian Robert Sarvis taking 9% of the vote. But the Democrat's lead with women is now at 20 points-a two-point jump since last month's NBC poll-with McAuliffe up among female likely voters 52%-32%. Cuccinelli still leads among men, 44%-40%, but that's been cut in half since his eight point lead with likely male voters last month.

But while the socially conservative Cuccinelli is especially succeptible to attacks aimed at female voters, pollsters say it's indicative of a larger trend nationwide for the GOP.

"What we're finding increasingly mirrors what the national polls say as well," said Lee M. Miringoff, director of the Marist College Institute for Public Opinion, which conducted the poll. "It's not surprising this is the case. When you have a candiate that's open to the the kind of issue attacks Cuccinelii is, the Democrats know how to take full advantage of that – and they are right now."

McAuliffe's campaign is indeed relying on the growing gender gap and is working to reinforce it in the race's final days. On Saturday, the Democratic nominee will bring in Hillary Clinton for a rally in the vote-rich Northern Virginia suburb of Falls Church. The trip to the critical swing state is her first foray back onto the campaign trail since leaving the State Department.

His latest ad on the airwaves is harsh against Cuccinelli on social issues, featuring shadowy footage of Cuccinelli talking about abortion at an event for a Christian group, ending with the fade-to-black tagline, "too extreme for Virginia."
Interestingly, the other Republican running for Governor in 2013 isn't having any problem with female voters at all. According to the latest Quinnipiac poll, Chris Christie has a twenty point lead among women over his Democratic nominee Barbara Buono despite the fact that Christie is, at least on paper, as much pro-life as Cuccinelli. The difference, of course, is that Christie does not have the political record of pushing a far-right socially conservative agenda during his career and, indeed, has barely talked about the issue during his first term. Assuming that this gender gap continues, and there is no reason to think that it won't then it's hard to see how Cuccinelli makes inroads in areas like Northern Virginia and Hampton Roads, which is likely going to be where the race will be decided. This is especially true given the fact that the McAuliffe campaign continues to push heavily on Cuccinelli's record on these issues in its ad campaign.
Not everyone agrees with the idea that Cuccinelli's record on social issues is what's hurt him in this campaign, though. In a truly odd Op-Ed in today's Washington Post, Maggie Gallagher of the National Organization for Marriage argues that Cuccinelli is losing because he hasn't been socially conservative enough:
The one lesson Republicans probably will not learn from Ken Cuccinelli's troubled campaign for Virginia governor is the most important: Politically, the "truce strategy" on abortion fails. If it is not abandoned, it will drag down the GOP.

Democratic charges of a Republican "war on women" are predicated on the GOP's self-imposed truce on social issues: Republican candidates pledge not to run ads on topics such as abortion. When social subjects arise, GOP candidates go mute, retreat and change the subject.

For an example of the truce strategy in action, recall the July 19 debate between Cuccinelli, a Republican, and his Democratic opponent, Terry McAuliffe, a man whose position on abortion is far outside the Virginia mainstream.

Debate moderator Judy Woodruff asked Cuccinelli whether he would push for tougher laws on abortion. The state attorney general responded: "I do not expect to use the political capital of the governor's officeto be moving those pieces of legislation. My focus is on job creation and job growth." Translation? He doesn't want to appear to care about the issue enough to govern on it.

(…)

The truce strategy demoralizes the GOP base and makes it hard for the grass roots to care about Republican candidates. Conservative candidates are advised to deflect or retreat when social issues are raised, and their refusal to speak clearly and hold the line allows Democratic candidates to adopt more extreme positions, energizing their own base and unleashing a flood of money at no political cost. Democrats are confident that their opponents will not make an issue of their positions. Republican candidates' apparent discomfort discussing such issues makes it look like they have something to hide, confirming to many voters Democratic suggestions that GOP candidates' positions are extreme.
My one question for Ms. Gallagher would be what truce?  The last time I checked, when former Indiana Governor Mitch Daniels suggested the idea of a "social issues truce" back in 2011, he was shot down across the board. The 2012 Republican platform certainly didn't emphasize the idea of a truce, and Cuccinelli hasn't exactly run away from his previous positions even if he hasn't emphasized them. The fact that he's talking about the economy isn't a sign of a "truce," it's a recognition of the fact that the economy is the issue that voters care about the most. No doubt, though, if and when Cuccinelli does lose, people like Gallagher will argue that it was because Cuccinelli, the most conservative Gubernatorial nominee in the recent history of Virginia, wasn't "conservative enough."
The other factor that has clearly hurt Cuccinelli, of course, is the government shutdown, and that has happened despite the fact that he made every effort during the course of the shutdown to distance himself from the Republicans on Capitol Hill. Does this mean that there will be long-term damage to the GOP brand from the events of the past three weeks heading into 2014? It's quite obviously too hard to tell because it will depend largely upon how the upcoming budget negotiations go, and most especially what happens in January and February when we find ourselves at the deadlines for government funding and the debt ceiling. If we end up with another shutdown, or even just the threat of one because of the actions of a minority of Republicans in the House and Senate, then the ability of the party to recover from its disastrously stupid actions this October will be impeded significantly, and the party's efforts to pick up the six Senate seats it needs to grab control of that body.
Getting back to the Virginia Governor's race, McAuliffe now holds a +7.4 point lead in the RealClearPolitics average both in a head-to-head match-up with Cuccinelli and in a three-way race that includes Libertarian Robert Sarvis, who continues to average about 9% in the polls. McAuliffe's lead has been solid and growing for more than a month now, while Cuccinelli remains mired around 38%, a level that he has not been able to break out of since the summer. Some Republicans seem to be assuming that the people telling pollsters that they're supporting Sarvis are going to "come home" to Cuccinelli at some point, but I'm not sure that they're right. To a large degree, Cuccinelli's problems in the polls are due to his own unfavorability and, no doubt, a lot of the people lining up behind Sarvis right now are likely people who might be typically Republican voters, but who can't bring themselves to vote for Cuccinelli. Perhaps if the GOP had nominated a different candidate Sarvis would not be doing so well, but the Virginia GOP made its choice to go with Cuccinelli, and now they have to live with it. Given that Sarvis's numbers have been relatively solid over the past two months, why should we think that these people are going to suddenly decide to vote for a guy they clearly don't like? It seems to me that that it's more likely that they'd either stick with Sarvis or stay home. In either case, that's not going to help Cuccinelli get out of the hole that he's in.
At this point, it would take a major development in the race to change momentum, and that just doesn't seem to be likely to happen. For all his faults, and there are plenty, McAuliffe seems to be running a fairly good campaign so I don't think that Virginia Republicans should count on their opponent making a major mistake. Additionally, Cuccinelli has spent the entire campaign trying to define himself as something other than the socially conservative hard-right Republican that Virginians know him to be, and he's failed miserably. There's no reason to think that will change any time in the next three weeks. Therefore, absent some kind of exceedingly unlikely major change in the tone of the race, it looks like Virginia Democrats are going to defy recent history and pick up the Governor's mansion1 this year.
1 In every Virginia Governor's race since 1981, the winning party has been the opposite party of the one that one the White House the previous year. A McAuliffe win this year would break that trend.