Put A Fork In Ken Cuccinelli, He's Done
There's still a week to go in Virginia's Governor's race, but it's clear that this race is effectively over.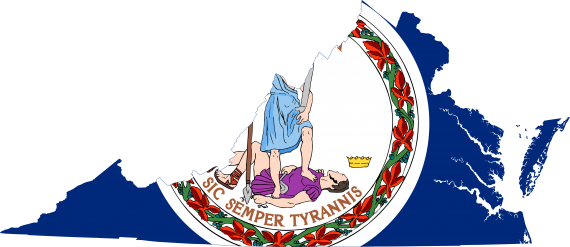 With just over a week to go until polls open to select Virginia's next Governor, a new Washington Post poll shows Democrat Terry McAuliffe with a double digit lead over Republican Ken Cuccinelli, while libertarian Robert Sarvis continues to draw nearly 10% support:
Democrat Terry McAuliffe has opened a double-digit lead over Attorney General Ken Cuccinelli II in the race for Virginia governor, capturing increasing dissatisfaction among voters with Cuccinelli's party and his conservative views.

According to a new Washington Post-Abt SRBI poll, McAuliffe tops Cuccinelli 51 percent to 39 percent among likely voters in next Tuesday's election. McAuliffe led by eight points in a poll taken in September. Libertarian Robert Sarvis, who has capitalized on voter unrest with the two major party candidates, is at 8 percent, according to the new poll.

The margin between the two candidates is driven by a huge gender gap. Among men, the two candidates are running even, with Cuccinelli at 45 percent and McAuliffe at 44 percent. But among women, Cuccinelli trails by 24 points — 58 percent to 34 percent.

McAuliffe's substantial lead puts him in a position to break a long pattern in Virginia gubernatorial races. In the nine most recent elections, the party holding the White House has lost the governor's race. Cuccinelli's weaknesses, more than McAuliffe's strengths, put that streak in jeopardy, according one question in the poll.

Among those supporting the Democrat, 64 percent say they are voting against Cuccinelli rather than for McAuliffe. Meanwhile, among the attorney general's supporters, 50 percent say they are casting a positive vote for the candidate while 44 percent say they are voting against McAuliffe.

McAuliffe's strong position also could boost Democrats' chances of sweeping statewide offices for the first time in a quarter-century — and make substantial gains in the GOP-dominated House of Delegates. According to the poll, the race for lieutenant governor is equally lopsided for the Democrat, while the Democratic candidate for attorney general is just three points ahead of the Republican — within the margin of error.
Also present in the poll are the same negative opinions about Cuccinelli that we've seen in pretty much every poll since Labor Day:
In the poll, more than half the likely electorate (54 percent) say Cuccinelli's views on most issues are too conservative, while only 36 percent say his views are "just about right." McAuliffe's ideology, in contrast, is viewed as about right by 50 percent of likely voters, while 40 percent say he is too liberal.

A week before the election, 58 percent of likely voters now have an unfavorable view of Cuccinelli, while 41 percent view him favorably. Negative perceptions have jumped six points in a month. In contrast, 53 percent of likely voters view McAuliffe favorably, with 44 percent holding an unfavorable impression. The Democrat's numbers have held steady over the past month.

Rebecca Fisher, 64, of Toms Brook, was among those who said theirs would be a hold-your-nose vote.

"I am not a fan of Terry McAuliffe. I think he's kind of a lightweight," said Fisher, a retired elder care executive who nevertheless plans to push the button for the Democrat. "I would have preferred a stronger candidate, but if he's the only Democrat, he gets my vote. … The devil himself would be better on women's issues than Ken Cuccinelli."

Cuccinelli's problems have been compounded by the fallout from the government shutdown. The Republican Party's image has reached record lows in several national polls, and the new survey of Virginia voters confirms those trends.

The survey found that 65 percent of likely voters have an unfavorable view of the national Republican Party and 57 percent look unfavorably on the Virginia GOP. Meanwhile, bare majorities of voters say they see both the national and Virginia Democratic Party favorably.

There has been a rapid deterioration in the national Republican Party's image among Virginians. In a May survey, the margin between positive and negative views of the national GOP was minus 18 points. Today it is minus 33 points.
This is the second poll in a week to show McAuliffe with a double digit lead in the race. Last week, a new Rasmussen poll showed the Democratic nominee with a 17 point lead, although that poll was brought somewhat into question by a Quinnipiac poll just a few days later that showed McAuliffe up by the slightly more consistent with recent polling eight percentage points. Whatever the margin, though, it is quite apparent that Cuccinelli has not only failed to make any progress on closing the gap between himself and McAuliffe in the final ten days of the campaign, but that he's actually falling further behind. The impact of this can be seen in the down ballot races, where Democrat Ralph Northam is leading Republican E.W. Jackson Jr. 52% to 39% in the Lt. Governor's race and Democrat Mark Herring is beating Republican Mark Obenshain 49% to 46% in the Attorney General's race.
Among the other interesting facts that can be found in the poll are these:
While McAuliffe gets the support of 94% of self-identified Democrats, Cuccinelli only gets the support of 85% of self-identified Republicans while 7% of that group says they support McAuliffe and 6% say they support Sarvis;
McAuliffe now leads among Independent voters 47% to 36% with 15% backing Sarvis;
Among Sarvis supporters, 53% say they'd support McAuliffe if Sarvis were not in the race while 42% say they'd vote for Cuccinelli;
Cuccinelli's "Strongly Unfavorable" number (43%) is nearly twice as high as McAuliffe's (24%); and,
Among Registered voters, 82% disapprove of the Government Shutdown, including 68% of self-identified Republicans
Factoring these numbers into the RealClearPolitics numbers leads to predictable numbers. In a strictly head-to-head matchup against Cuccinelli, McAuliffe has an average lead of +9.9 points and he has a +9.6 point lead when Sarvis is factored into the race. In other words, the gap between McAuliffe and Cuccinelli is growing, not shrinking, and time is running out for the Republican. On some level, this is entirely unsurprising. Cuccinelli's socially conservative record has been well-known in Virginia for years now, and Democrats have had the better part of four years to prepare the ground for what looked like an inevitable Cuccinelli run for the top spot in the state, whether it were to have occurred this year or in 2017. Add in the fact that Cuccinelli has been vastly outspent in media buys in this race and the result seems rather inevitable.
What's amusing now is to see how Cuccinelli supporters are reacting to the bad news over the past several weeks. There has been a rather concerted and obvious effort on the part of the campaign to go after Robert Sarvis and his supporters both by bringing in people like Rand Paul to campaign for Cuccinelli and by peppering social media and the blogosphere with what can only be described as rather lame attempts to question Sarvis's libertarian bona fides. Missing from their rhetoric, though, has been any real articulation of a reason that people who have hung with the Libertarian candidate throughout this race to vote for Cuccinelli. Now, it's entirely possible that Sarvis's numbers in the polls will not hold up when Election Day comes around and that he'll end up with something closer to 3-5% of the vote instead of something in the range of 10%, a magic number that would give the Libertarian Party a ballot line in Virginia for at least the next four years. However, given the poll results here, that show that Sarvis supporters would be more likely to vote for McAuliffe than Cuccinelli, it seems unlikely that any peeling away from Sarvis will help the Republicans. Indeed, that number suggests that no small part of Sarvis's support comes from disaffected Virginia Republicans annoyed with their party's tilt to the right with the Cuccinelli and Jackson nominations.
Whatever happens to the Sarvis numbers, though, it's pretty apparent now that this race is pretty much over. McAuliffe is going to win, the only question is by how much.