McAuliffe Wins, But Virginia Is Still A Purpleish State
The race for Virginia Governor turned out to be much closer than many predicted, but that should not be a surprise.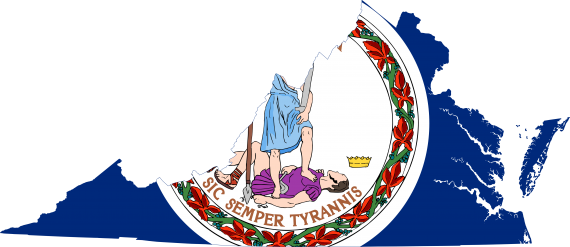 Going into yesterday's elections, all the polling seemed to indicate that Democratic nominee Terry McAuliffe would coast to a fairly easy victory over Republican nominee, and Attorney General Ken Cuccinelli. As I've chronicled here at OTB for months, and especially since Labor Day, all of the polling was pointing toward a McAuliffe win between six and eight percentage point and, indeed, the final RealClearPolitics Average showed McAuliffe leading by nearly seven points when the votes for Libertarian Party nominee Robert Sarvis were factored in. As I noted in several of my posts last week, though, the final result in Virginia would depend largely on who turned out to vote. Traditionally, off year elections in Virginia have tended to be more favorable to Republicans than Presidential election years, even during the period from 1968 to 2004 when Republicans won the state at the Presidential level consistently. This has been especially true in the past twenty years or so, and accounts for election victories by such Republican victories as George Allen, Jim Gilmore, and, even in the wake of President Obama's victory in 2008, Bob McDonnell just four years ago. So, the possibility always existed that the election results in the Commonwealth would be far closer than the polls were indicating, and that's exactly what happened:
TYSONS CORNER, Va. — Terry McAuliffe, a longtime Democratic fund-raiser and ally of Bill and Hillary Rodham Clinton, was elected governor of Virginia on Tuesday, narrowly defeating the state's conservative attorney general, Kenneth T. Cuccinelli II, and confirming Virginia's evolution as a state increasingly dominated politically by the Democratic-leaning Washington suburbs.

Mr. McAuliffe, 56, ran as a social liberal and an economic moderate focused on job creation. Mr. Cuccinelli, a Republican who was the first attorney general to sue over President Obama's health care law, ran as a hard-line social conservative and aimed his campaign almost exclusively at the Tea Party wing of his party.

Still, despite substantially outraising Mr. Cuccinelli, $34.4 million to $19.7 million, Mr. McAuliffe won by a margin — just over two percentage points — that was smaller than some pre-election polls had suggested.

Mr. McAuliffe benefited from an electorate that was less white and less Republican than it was four years ago. He drew about as large a percentage of African-Americans as Mr. Obama did last year. Blacks accounted for one in five voters, according to exit polls conducted by Edison Research. Mr. Cuccinelli's strong anti-abortion views also brought out opponents, with 20 percent of voters naming abortion as their top issue; Mr. McAuliffe overwhelmingly won their support. The top issue for voters was the economy, cited by 45 percent in exit polls.

In a victory speech here, Mr. McAuliffe thanked the "historic number of Republicans who crossed party lines to support me" and invoked a tradition of bipartisanship in Richmond, the capital. In a checklist of recent governors who had moved the economy forward, he included the incumbent, Bob McDonnell, a Republican.

"Over the next four years, most Democrats and Republicans in Virginia want to make Virginia a model for pragmatic leadership that is friendly to job creation," Mr. McAuliffe said.

His tone was notably more conciliatory than that of Mr. Cuccinelli, who struck a defiant note at a rally in Richmond, interpreting the closeness of the race to a rejection of Mr. Obama's health care law. "Despite being outspent by an unprecedented $15 million, this race came down to the wire because of Obamacare," Mr. Cuccinelli said, adding, "We were lied to by our own government."

That Mr. McAuliffe was elected in a onetime Republican stronghold while unapologetically supporting gun restrictions, same-sex marriage and abortion rights will no doubt be scrutinized by both parties, particularly by Republicans concerned about the appeal of the Tea Party in swing states and districts ahead of the 2014 midterm elections. And Mr. Cuccinelli's defeat in a Southern state will no doubt be contrasted with the Republicans' great success of the day, the dominating re-election of Gov. Chris Christie of New Jersey, who appeals to swaths of Democrats. But the close result, after a race in which Mr. Cuccinelli was substantially outspent, could make it difficult to draw firm conclusions.

Mr. Cuccinelli, 45, whose passionate base seemed to give him an early edge in a race between two flawed candidates, rattled business-oriented Republicans. A surprising roster of the party's establishment — including Will Sessoms, the mayor of the largest city, Virginia Beach — endorsed Mr. McAuliffe.

Mr. McAuliffe's career as a wealthy business investor yielded many unflattering and, critics said, possibly unethical details. But he neutralized the issue by arguing that Mr. Cuccinelli's social agenda, which included hostile comments about homosexuality, staunch opposition to abortion and an attempt to discredit a climate scientist at the University of Virginia, would give the state a retrograde image that would deter businesses from moving here.

A key issue was Mr. McAuliffe's embrace of a roads bill championed and signed by Mr. McDonnell, which Mr. Cuccinelli opposed because it raised taxes. In rapidly growing Northern Virginia, snarled traffic is the chief concern of chambers of commerce and Mr. McAuliffe was able to portray himself as pro-business and bipartisan.

Although a majority of female voters chose Mr. McDonnell four years ago, Mr. Cuccinelli trailed Mr. McAuliffe among women by nearly 10 percentage points. Nearly seven in 10 unmarried women supported Mr. McAuliffe.

Both Planned Parenthood and the Susan B. Anthony List, an anti-abortion group, poured money into the race. Abortion rights groups created graphic television ads linking the Republican ticket to a failed state bill in 2012 that would have required vaginal ultrasounds for women seeking abortions.

The McAuliffe campaign pounded on Mr. Cuccinelli's support for failed "personhood" bills that could have banned some common forms of birth control, and for being one of only three attorneys general in the country to oppose the federal Violence Against Women Act.

Six months ago, the race seemed Mr. Cuccinelli's to lose. He was a conservative of impeccable credentials and a national figure because of the lawsuit over the president's health care law in 2010. Mr. McAuliffe had drawn an unserious self-portrait in his 2007 memoir, "What a Party!," including a story about leaving his wife, Dorothy, in the car with their newborn child to duck into a Democratic fund-raiser.

Mr. McAuliffe's previous bid for governor, in 2009, ended in a humiliating defeat in the primary after he was accused of being a carpetbagger. His effort to strengthen his business ties to Virginia through an electric car company, GreenTech, backfired when he set up production in Mississippi and news reports revealed the company was the target of federal investigators.

But Mr. Cuccinelli was unable to profit from the tarnishing of Mr. McAuliffe because the attorney general had his own problem with a political gifts scandal emanating from the governor. A benefactor of Mr. McDonnell's who lavished him and his wife with a Rolex watch and other favors also gave Mr. Cuccinelli and his family vacations at a lake home.

Mr. Cuccinelli secured the Republican nomination in May by packing the state party with his supporters, who chose to skip a primary in favor of a nominating convention, ensuring a more ideological slate of candidates.

In the middle of the federal government shutdown, which hit hard in Virginia, with its many federal workers and its defense industry, Mr. Cuccinelli appeared at a family values rally with Senator Ted Cruz of Texas, the architect of the shutdown. In exit polls, about a third of voters said the shutdown had affected someone in their household, and most of them voted for Mr. McAuliffe.

Mr. Cuccinelli spent the final weeks of the campaign barnstorming with national Tea Party stars. He appeared on election eve with the former presidential candidate Ron Paul, meant to call home votes from a third-party candidate, Robert Sarvis, a libertarian.

Meanwhile, with money pouring into Mr. McAuliffe's campaign, thanks to his ties to major donors, including supporters of the Clintons, he set off an avalanche of negative ads. Mr. McAuliffe outspent his opponent by nearly 75 percent, and beginning in late summer drove up Mr. Cuccinelli's unfavorable ratings, where they remained.
So, instead of a six to eight point victory, McAuliffe walked away with about a 2.5 point victory and, while a win is a win, the narrowness of the win tells us much about Virginia and what kind of state it is likely to be politically for many years to come. Taking a glance at the exit polls (PDF), for example, one finds that while McAuliffe won the female vote, he did so by a much smaller margin than polling had indicated he might, six points instead of the nearly 20 points that most recent polling was showing. In fact, Cuccinelli actually beat McAuliffe among white women by 54% to 38%. Additionally, McAuliffe and Libertarian Sarvis ended up pulling away a far smaller percentage of the self-identified Republican vote than polling had been indicating. Cuccinelli also managed to eke out a plurality among the 45% of voters who said that the economy was the most important issue to them in the election.
More importantly, though, there were indications in the election returns that public sentiment regarding the Affordable Care Act and the President's job performance had an impact on the outcome in the Old Dominion:
Cuccinelli called the off-year election a referendum on Obamacare at every stop during the final days.

"Despite being outspent by an unprecedented $15 million, this race came down to the wire because of Obamacare," Cuccinelli said in his concession speech Tuesday night.

When President Barack Obama crossed the Potomac for McAuliffe on Sunday, he glaringly avoided even mentioning his signature accomplishment — trying instead to link Cuccinelli with the federal government shutdown.

Exit polls show a majority of voters — 53 percent — opposed the law. Among them, 81 percent voted for Cuccinelli and 8 percent voted for Libertarian candidate Robert Sarvis. McAuliffe won overwhelmingly among the 46 percent who support the health care overhaul.

Cuccinelli actually won independents by 9 percentage points, 47 percent to 38 percent, according to exit polls conducted for a group of media organizations. They made up about one-third of the electorate.

"Obamacare helped close the gap," said Richmond-based strategist Chris Jankowski, the president of the Republican State Leadership Committee.

(…)

A 54 percent majority of those voting Tuesday disapproved of Obama's job performance, according to the exit polling. But 30 percent of those who "somewhat disapproved" of Obama nonetheless voted for McAuliffe.

And despite the widespread criticism directed at Republicans for the government shutdown, an equal number of voters pinned the closure on Obama vs. congressional Republicans.

The president's approval rating has slipped in the wake of the Obamacare fiasco and other scandals of his fifth year in office, and his trip to Virginia Sunday probably motivated some independents and Republicans to back Cuccinelli, but he still has deep appeal with the Democratic base.
On the other side of the coin, there are indications that the government shutdown and Cuccinelli's publicly known opinion and record on social issues such as abortion and same-sex marriage were a drag on his vote totals. McAuliffe overwhelmingly won among the slight plurality of voters who blamed the GOP for the government shutdown, as well as among the minority (about 1/3 of voters) who said that they or someone in their household was personally impacted by the  shutdown. Some 50% of those responding described Cuccinelli's positions as being "too conservative" and, of those, McAuliffe won 73% of the vote. He also won handily among the roughly 60% who said that abortion should be "always" or "mostly" legal, and among the 60% of voters who said they opposed the Tea Party movement.
In other words, except for the fact that the gender gap was smaller than expected, the votes for both candidates went about where you would have expected them to go.
So, what happened, and why did the polls get this so wrong?
One factor you can rule out is a vastly more pro-Republican turnout than polls were predicting. According to the exit polls, the electorate was 37% Democratic, 32% Republican and 31% Independent. This isn't all that different from most of the of D/R/I distributions that we were seeing in the polling and also weren't entirely different from the 2012 exit polling, which had a 39/32/29 D/R/I. Perhaps more significantly for Cuccinelli, though, they were very different from the 2009 exit polling, which showed a 33/37/30 D/R/I distribution in the year that the GOP swept all three of the state's top spots. So, McAuliffe managed to win, albeit narrowly, with roughly the same distribution by party that saw President Obama repeat his victory in the Old Dominion just last year. And it's in that victory that I think the explanation for what really happened in Virginia last night lies.
Another factor that can be ruled out is raw turnout since there were, narrowly, more votes case in 2013 than there were in 2009. According to the preliminary vote totals, there were some 234,000 more votes cast yesterday than were cast in 2009 despite the fact that some pundits had been predicting lower turnout based on public disdain for the two main party candidates.
The down ballot races also don't seem to have had much of an impact on the Governor's race. In the Lt. Governor's race, State Senator Ralph Northam defeated E.W. Jackson Jr. quite handily by margins matching those we'd seen in recent polling. In the Attorney General's race, meanwhile, the race turned out to be even closer than the pre-election polls predicted. As I write this, Democrat Mark Herring leads Republican Mark Obenshain in that race by some 541 votes in an election that seems likely to be head to a recount.
Instead of looking for differences between now and 2012, though, it may make more sense to see this year's results as entirely consistent with what seems to be becoming the status quo in the Old Dominion.
While the passage of just a year's time may cloud memory, it's worth remembering that President Obama won Virginia by less than four percentage points, this despite the fact that some pre-election polling had shown him winning the state by a larger margin. In 2008, he had won the state by more than seven points only to see Republicans go on to significant wins in elections in 2009, 2010, and 2011. Viewed in that context, McAuliffe's roughly two point victory perhaps isn't quite as puzzling, and it seems clear in hindsight that the polls were, for some reason, overestimating the level of support  Had the GOP nominated a less controversial nominee who ran a more competent campaign than Cuccinelli did, it's quite possible that they would have been able to reverse these results just enough to pull off a win.
Cuccinelli supporters will also argue that his campaign was hobble by two other factors. First of all, it's demonstrably true that segments of the old line GOP establishment in Virginia either sat this race out or backed McAuliffe, in some cases openly. To some degree, this was due to aversion to Cuccinelli's positions on social issues, but my impression is that, to a large degree, it was a reaction to the infighting that had occurred within the party that had occurred leading up to 2013. It was that infighting that led Lt. Governor Bill Bolling to drop out of the race for Governor after Cuccinelli supporters manipulated the process to eliminate the statewide primary in favor of a convention where everyone knew that Bolling would be highly disfavored by what was likely to be a very pro-Cuccinelli convention crowd. The animosity between the two men was so bad that, at one point, Bolling was rather obviously openly considering running as an Independent. Second, Cucccinelli supporters will argue that the presence of Robert Sarvis on the ballot and the roughly 7% of the vote he received deprived Cuccinelli of the votes that would have put him in office. The evidence for this, however, appears thin considering that pre-election polling showed that a majority of Sarvis voters would vote or McAuliffe if Sarvis were not on the ballot. Nonetheless, it's true that Cuccinelli did have the same united coalition that McDonnell did in 2009, but that's something that ought to be blamed on the candidate, not the GOP establishment or people who voted for Sarvis.
In the end, the explanation for what happened seems to me to be fairly simple, Virginia remains a purple, and very competitive, state that is likely to be hotly contested by both parties for years to come.