November 5th Not Looking Good For Virginia Republicans
With debate season over, it's looking less and less likely that Virginia Republicans will be able to hold back the Democrats on November 5th.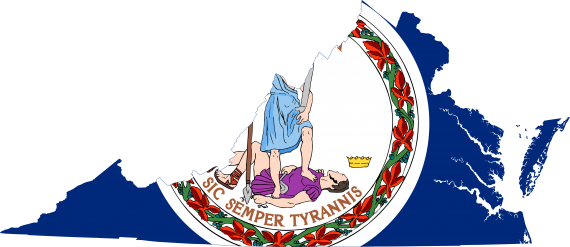 As I've noted several times in the past few weeks, the one competitive race in the United States this year has been looking decidedly non-competitive as Democrat Terry McAuliffe has been pulling ahead of Republican Ken Cuccinelli in the Virginia Governor's race to the point where, based on current RealClearPolitics numbers, he has a +10.2 point lead over Cuccinelli in a head to head matchup and a +9.2 lead if Libertarian candidate Robert Sarvis is included in the race. This is the end result of a trend that has developed since mid-September when McAuliffe began pulling away from his opponent and the race began in earnest. Now, with less than two weeks left in the race, veteran Virginia political analyst Larry Sabato and his team at Sabato's Crystal Ball are forecasting a big night for Virginia Democrats on November 5th:
Some history is being made in Virginia.

The statehouse battle was supposed to be close. But as we look at Virginia's gubernatorial contest in the stretch, just about everything is moving in a Democratic direction. The final debate Thursday night changed little, in our view — especially because it wasn't even broadcast statewide.

You might recall that the Crystal Ball was the first ratings agency to tilt the race to ex-Democratic National Committee Chairman Terry McAuliffe (D), and we did so at the end of August. Today we move the race from Leans Democratic to Likely Democratic.

The list of McAuliffe advantages is as long as the list of problems for state Attorney General Ken Cuccinelli (R). On the fundraising front, McAuliffe has cemented his advantage: As of Sept. 30, McAuliffe had outraised Cuccinelli $26 million to $17 million.

The structure of the contest favors McAuliffe, too. Libertarian candidate Robert Sarvis, though unknown, is benefitting from a general unhappiness with the quality of both major-party candidates, as well as the overwhelmingly negative tone of the campaign. The latest RealClearPolitics aggregate has Sarvis' polling average right at 10%. Most polling shows Sarvis is, net, costing Cuccinelli about 2%-3%, because the Libertarian disproportionately takes votes from the GOP column. Even should Cuccinelli close hard and fast, Sarvis thus gives McAuliffe a cushion that makes it difficult for Cuccinelli to overtake him.

The federal government shutdown, in a state heavily dependent on military and civilian government work, has been a disaster for Cuccinelli. Voters have mainly blamed the GOP and the Tea Party, both Cuccinelli's labels. The Republican Party's image has been severely damaged in Virginia at precisely the wrong time for a Republican candidate for governor. It hasn't necessarily shown up in the polls — which showed consistent leads for McAuliffe before the shutdown began — but the federal fracas also robbed Cuccinelli of an opportunity to change the race, and his remaining days are dwindling.

And then there's Gov. Bob McDonnell (R). A year ago, with his popularity soaring, he was expected to play a major role in the 2013 contest, helping his party retain the statehouse. After his Gift-gate scandal, and facing possible federal indictment, McDonnell is useless to Cuccinelli. McDonnell is also still furious that Cuccinelli dethroned the governor's preferred successor, Lt. Gov. Bill Bolling (R), while Cuccinelli deeply distrusts McDonnell. By the way, many senior McDonnell appointees are sitting on their hands, doing nothing to help Cuccinelli.

All of this is on top of Cuccinelli's self-created problems on social issues (abortion, gay rights, climate change, immigration, etc.). His right-wing positions have become unacceptable in the new Purple, competitive Virginia, and they have pushed many moderate Republicans to publicly or privately back McAuliffe — or to stay neutral.
One of Cuccinelli's last chance to make any headway against the McAuliffe onslaught would have come in last night's final Gubernatorial debate, which was held a the nominally GOP-friendly area of the state. By all accounts, though, the Attorney General failed in his task:
BLACKSBURG, Va. — Ken Cuccinelli II and Terry McAuliffe took turns tying the other to Washington partisanship and offered sharply different visions on gun control, job creation and health care policy in the final debate of the Virginia governor's race Thursday night.

The hour-long debate echoed the main themes of a deeply contentious campaign that comes to a close in just 12 days. Cuccinelli tried to cast McAuliffe, the exuberant fundraiser and former chairman of the Democratic National Committee, as unserious, partisan and ill-prepared to govern. McAuliffe portrayed his opponent, the Republican attorney general, as far too extreme for most Virginians, particularly on social issues such as abortion.

Cuccinelli linked McAuliffe to the troubled rollout of the new federal health-care law — an effort to reclaim an anti-Washington mantle that slipped away during a government shutdown blamed largely on Republicans. McAuliffe likened Cuccinelli's no-compromise positions to the politics that caused the shutdown.

"Just this week he refused to say whether he supported reopening government," McAuliffe said, referring to Cuccinelli's comment that he wasn't sure how he would have voted on the spending deal that ended the federal shutdown.

Countered Cuccinelli: "Terry not only supported Obamacare, he didn't think it went far enough," Cuccinelli said. "Can you imagine?"

With McAuliffe consistently leading in the polls, Cuccinelli sought to play the aggressor onstage at Virginia Tech in an effort to regain momentum in his final appearance before a statewide audience. There was no dramatic moment likely to change the trajectory of the race.

The debate was sponsored by the university and the Roanoke television station WDBJ.

"Terry McAuliffe literally did nothing for Virginia or Virginians before deciding to run for governor. Nothing," Cuccinelli said at the debate's start.

Instead, Cuccinelli said, "My opponent's plan has been to attack me and scare Virginians — especially women — into voting for him; to speak in platitudes."

Cuccinelli repeatedly returned to what he described as a lack of substance in McAuliffe's policy blueprints, and he accused him of making promises he couldn't back up.

"Those are platitudes. They're not plans," Cuccinelli said. "I like those too. I like education. I like puppies. But I don't bring a puppy home if I don't have a plan for how I'm going to deal with that puppy. … And he' s all puppy and no plan."

From the start, McAuliffe called himself someone "who will work with both parties to focus on jobs and education." Cuccinelli, he said, "has become increasingly desperate" and has lobbed "false attacks."

McAuliffe frequently cited endorsements by Republicans as evidence that Cuccinelli is too extreme for Virginia — and that McAuliffe would work across the aisle.

(…)

McAuliffe touted his support for Medicaid expansion, which states may opt for — and the federal government would largely pay for — under the health law. He said he would rely on the savings in state dollars to boost spending for education and other programs.

Cuccinelli mocked Medicaid expansion as the "magical money tree" that McAuliffe thinks would pay for everything.

"Folks, it's welfare," Cuccinelli said of Medicaid. "It's not a jobs program."

After the debate, McAuliffe acknowledged to reporters that the HealthCare.gov rollout has been flawed.

"Obviously it doesn't work and whoever was responsible for it should be held accountable, and it needs to be fixed," McAuliffe said.

Gun issues also played a key role in a debate staged at the school where 32 people were killed by a gunman in 2007. The back and forth over firearms provided a dramatic window into the way the political landscape of Virginia, a once-deeply pro-gun state, has evolved in recent years.

"I don't care what grade I got from the NRA," McAuliffe said after making clear he did not support the idea of arming teachers in schools. He emphasized that he supports universal background checks, even for currently exempt purchases at gun shows, which Cuccinelli has opposed.

Cuccinelli stressed his own longstanding work on mental-health issues and on keeping guns away from the mentally ill, but he did not say whether he supported arming teachers. He bragged that he is an "A-rated candidate" according to the NRA.
Much like the first two debates in this campaign, there really wasn't any kind of home run hit or gaffe committed by either of the candidates, and certainly nothing that would seem to be guaranteed to change the tone of the race significantly in the next eleven days, and certainly nothing that would blunt McAuliffe's momentum going forward. Some Virginia conservatives are contending today that McAuliffe's line about the National Rifle Association is going to hurt him in the race, citing the fact that previous candidates for Governor of both parties have been generally solicitous of the group and loath to cross its path. Frankly, I'm not sure its going to matter. Yes, there are many parts of the state where any kind of support for gun control is going to hurt a candidate in the polls, but to be honest McAuliffe isn't going to win in those parts of the state. Instead, McAuliffe's position is quite clearly aimed at the suburban vote in Northern Virginia and Tidewater, and the fact that he's running commercials up here touting his support for expanded background checks, an issue that has overwhelming public support in the Commonwealth. My guess is that the NRA line, even if it ends up in a commercial over the coming week, has little to no effect on the race.
The bigger point of the debate, though, was that this was essentially Cuccinelli's last chance to turn the tide in the race, albeit at an incredibly late date. Even halfway through the thing, it was clear that he was failing in that regard. Neither he nor McAuliffe are what I would call great debaters, and both candidates did a very good job at evading requests for specifics abiout their plans, but it was Cuccinelli who went into last night trailing badly in the polls and he's the one who had the burden. In the end, it seems pretty clear to me that he failed to meet that burden. Now, we're headed into the final ten days of the campaign and both campaigns will be focused on getting out their respective bases. Based on the polls, that's going to be a far easier task for McAuliffe than Cuccinelli.
The forecast also sees good news for Virginia Democrats in the down ballot races:
With the election dynamics moving in the Democrats' favor, the race for lieutenant governor is now Safe Democratic. Not only is Jackson controversial for his political views, but his campaign has been a mess. New revelations about his past financial problems and his campaign's failures to properly disclose donations reflect a sloppiness or incompetence that was always going to make it hard for him to win. Now in the final days of the campaign, state Sen. Ralph Northam's (D) campaign is going to hammer Jackson with television ads and mailers using the large volume of opposition research at its fingertips. Northam has raised significantly more than Jackson, so he will have the resources to do this effectively.

Meanwhile, the battle between the Marks for the state's attorney general position is going to be the real race to watch on election night. Because of the likely coattails from McAuliffe and Northam, we're moving this very close race from Toss-up to Leans Democratic.
The Attorney General's race could be the one bright spot for the GOP this year. Obsenshain has managed to run a fairly independent campaign that has disassociated him from both Cuccinelli and Jackson, which is likely the main reason why he remains competitive in the polls. Additionally, there's the historical oddity that, regardless of who has won the top two races, Republicans have won the Attorney General's race in every election going back to 1993. If Obenshain does win, though, he'll likely be the lone Republican victory in what will otherwise be a bad night for Virginia Republicans.