Scott Walker Says He'd Nuke The Iran Deal Even If Our Allies Objected
Scott Walker's response to the Iranian nuclear deal is perhaps the most irresponsible so far.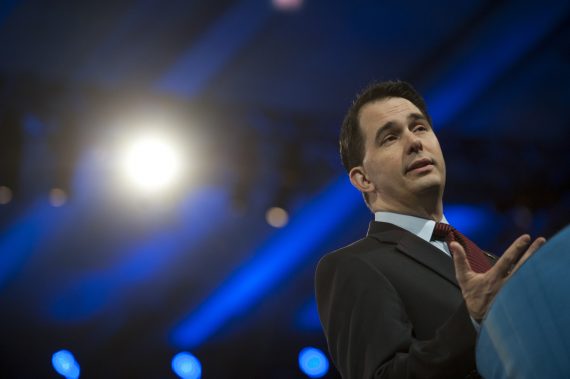 As I noted last week, the Republican response to the deal announced at the conclusion of the 'P5 Plus 1' talking in Switzerland regarding Iran's nuclear program has been overwhelmingly negative. However, outside of Senator Mark Kirk's statement equating the agreement with the agreement reached between Neville Chamberlain and Adolf Hitler in Munich in 1938, perhaps the most vehement response has come from Wisconsin Governor Scott Walker. In his initial comments after the agreement were reached, Walker stated that he would seek to undo the deal the minute he became President:
Add Wisconsin Gov. Scott Walker (R) to the list of Republicans voicing strong opposition to any deal the US would come to with Iran over its nuclear weapons program.
"Absolutely," Walker said in response to a question on Hugh Hewitt's radio show about whether he would "disown" such a deal. "On day one. I mean, to me…the concept of a nuclear Iran is not only problematic for Iran, and certainly for Israel, but it opens the doors. I mean, the Saudis are next. You're going to have plenty of others in the region. People forget that even amongst the Islamic world, there is no love lost between the Saudis and the Iranians."
Just a few days after this, the topic came up again during an interview with Charlie Sykes, a Wisconsin radio host:
SYKES: You have said that you would cancel any Iranian deal the Obama administration makes. Now would you cancel that even if our trading partners did not want to reimpose the sanctions?

WALKER: Absolutely. If I ultimately choose to run, and if I'm honored to be elected by the people of this country, I will pull back on that on January 20, 2017, because the last thing — not just for the region but for this world — we need is a nuclear-armed Iran. It leaves not only problems for Israel, because they want to annihilate Israel, it leaves the problems in the sense that the Saudis, the Jordanians and others are gonna want to have access to their own nuclear weapons…
It's worth taking in what Walker is saying here. He's saying that, if he became President, he would cancel the deal with Iran, which presumably would include reimposing any American sanction on Iran that had been repealed in the previous two years, even if America's European allies, who have been working together with us to keep the international sanctions that brought Iran to the table to begin with in place, disagreed with him. Presumably, he also means that he would renege on the deal even if there was demonstrably evidence that it was working and that the Iranians were complying with their obligations regarding scaling back on the research that could lead to development of nuclear weapons and allowing the IAEA inspections to go forward. As Greg Sargent notes, Walker isn't alone in taking this position, and even after a few short days it seems like a pledge to undue the deal with Iran regardless of whether its working or not is becoming something of a litmus test among Republican candidates for President.
On its face, this is of course an absurd position to take, especially at this early stage in the process. Just as was the case with the letter that Senate Republicans "sent" to Iran last month, pronouncements like this that a future American Administration will not comply with agreements entered into by its predecessor potentially serves to undermine the very framework of the agreement, guaranteeing that the predictions of failure coming from so many people on the right will come true. After all, if the Iranians truly believe that there's a chance that the President that follows Obama might not live up to the agreement that was reached in Switzerland, then the incentive for them to comply with the agreement becomes considerably lessened. Better to continue nuclear research in secret and get closer to a nuclear weapon just in case that happened. So, effectively, Walker is taking a position that seems pre-designed to guarantee that the agreement will fail. It certainly isn't likely to help it succeed.
Walker's suggestion that he'd void the agreement even it was succeeding and even if America's European allies objected to his position is similarly irresponsible. For one thing, scrapping an agreement that actually appears to be working at the time would quite simply be irrational, and guaranteed only to send the Middle East down the path toward a war that would make Iraq and the conflict with ISIS seem like a Sunday picnic. Moreover if a Republican-led United States actually followed through on this threat, it would likely cause serious harm to our relationships with our European allies. As it is, the coverage of the denouement to these negotiations have shown that the French, and to some extent the British, were quite skeptical of the idea that the Iranians could be brought to an agreement. Now that's it has happened, and assuming the Iranians comply with it, does anyone seriously believe that they are going to be on board with the idea of reneging on the deal? And what about the Russians? As one Professor that Sargent quotes in his piece puts it, Vladimir Putin isn't going away any time soon and an American move against Iran under those circumstances would likely cause Russia to become closer to Tehran, which of course would risk any confrontation with the Islamic State turning into something far more significant.
If Walker had any real experience with or understanding of foreign policy, one would think he would realize this.
There is another possibility, of course. It's possible that Walker is not serious when he says things like this, but that he knows that saying them curries favor with a Republican Party whose base is both incredibly anti-Obama, overly pro-Israel, and willing to believe just about anything bad anyone tells them about a nation like Iran. (That's not to say the Iranians are saints, of course, but then there are no saints in international relations.) If Walker's comments are really just pandering to the GOP base, though, then that just seems to make them more irresponsible. Foreign policy shouldn't be a political football, and that's what he and many of his fellow Republicans are turning it into when it comes to Iran.