Netanyahu's New Claims Against Iran Prove To Be Much Ado About Nothing
Israeli Prime Minister gave a speech yesterday designed to undermine the nuclear deal with Iran. The evidence was unconvincing, but the speech was really only aimed at an audience of one.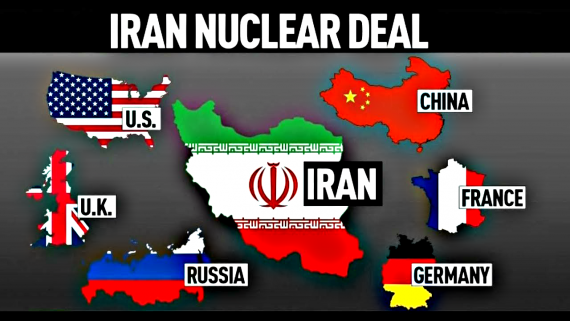 Early yesterday, the Israeli government announced that Prime Minister Benjamin Netanyahu would be addressing the nation in a television address later in the day with what it claimed was a 'major announcement' regarding Iran and the nuclear weapons deal. The speech took place about one in the afternoon Washington, which was roughly eight in the evening in Israel. While such a late night speech seemed somewhat unusual, it was clear that the primary audience for the speech was not in Israel, but in the United States and that the primary intended target of the speech was the President of the United States, who has said he will be making a decision on the fate of the Iran nuclear deal by May 12th. The speech itself was dramatic and at times seemed to have more in common with Steve Jobs or Tim Cook presenting the latest iPhone than a serious foreign policy speech, but it was significant that Netanyahu chose to first give his speech in English and then deliver it in Hebrew, the primary language spoken in Israel and one of its three official languages. As I said, it's clear from both the timing and the format of the speech that Netanyahu wasn't concerned so much with informing his nation of something significant as it was with giving President Trump a larger basis on which to base a decision to withdraw from the Joint Comprehensive Plan Of Action (JCPOA), the nuclear deal with Iran.
In the end, though, Netanyahu's speech, and the evidence he presented proved to be rather anti-climatic: 
JERUSALEM — Revealing a huge archive of stolen Iranian nuclear plans, Prime Minister Benjamin Netanyahu of Israel accused Iran on Monday of lying for years about its efforts to build a nuclear weapon.

Days before President Trump was to decide whether to pull out of the 2015 nuclear deal with Iran, Mr. Netanyahu presented records from a secret warehouse in Tehran, making the case that Iranian leaders had deceived the international nuclear agency when they insisted their nuclear program was for peaceful purposes. Israeli spies seized the documents in an overnight raid in January, a senior Israeli official said.

But Mr. Netanyahu did not provide any evidence that Iran had violated the nuclear agreement since it took effect in early 2016. That suggests that the Israeli prime minister — who has opposed the deal since its inception, and even went to the American Congress to try to block it — was hoping that the disclosures would bolster Mr. Trump's resolve to scuttle the agreement on May 12.

Doing so could be one of the most momentous foreign policy decisions of Mr. Trump's time in office. In recent days, a succession of European leaders, including President Emmanuel Macron of France and Chancellor Angela Merkel of Germany, have gone to the White House to make the case that the United States was more secure with the Iran deal than without it. Mr. Netanyahu's presentation seemed intended to push the president in the other direction.

Mr. Trump was coy about his plans. Speaking at a Rose Garden news conference minutes after Mr. Netanyahu's presentation, he gave no indication of whether he would scrap the deal or continue his effort to force the European partners who helped negotiate it — Britain, France and Germany — to try to reopen it.

"In seven years, that deal will have expired, and Iran will be free to make nuclear weapons," Mr. Trump said, incorrectly stating the terms of the deal. While some restrictions on Iran are relaxed starting in about seven years, Iran cannot make nuclear fuel until 2030, and it is never permitted to make nuclear weapons: It has signed the Nuclear Nonproliferation Treaty, which bans it from weapons production. "Seven years is tomorrow," Mr. Trump added.

Iran's deputy foreign minister, Abbas Araghchi, a top Iranian negotiator of the nuclear agreement, called Mr. Netanyahu's remarks "a very childish and even a ridiculous play."

In a telephone interview with state-run television, he said Mr. Netanyahu's presentation was "a prearranged show with the aim of impacting Trump's decision, or perhaps it is a coordinated plan by him and Trump in order to destroy the J.C.P.O.A.," the Joint Comprehensive Plan of Action, the nuclear agreement's formal name.

Mr. Netanyahu, in a highly theatrical presentation from the Israeli Defense Ministry in Tel Aviv, played clips of Iranian leaders repeatedly attesting that their country harbored no ambition for building nuclear weapons — and then pointed to photos, videos, blueprints and other evidence Israeli agents had harvested, he said, that showed the Iranians had been deceitful all along.

"These files conclusively prove that Iran is brazenly lying when it said it never had a nuclear weapons program," Mr. Netanyahu said, pointing to copies of what he said were 55,000 printed pages and 183 compact discs.

He said Israel had passed the information on to the United States, which "can vouch for its authenticity."

Mr. Netanyahu said that Iran had intensified its efforts to hide evidence of its weapons program after signing the nuclear deal in 2015, and in 2017 moved its records to a secret location in Tehran that looked like "a dilapidated warehouse."

"Few Iranians knew where it was, very few," Mr. Netanyahu said proudly. "And also a few Israelis."

The senior Israeli official, who spoke on the condition of anonymity to discuss a secret mission, said that Israel's Mossad intelligence service discovered the warehouse in February 2016, and had the building under surveillance since then.

Mossad operatives broke into the building one night last January, removed the original documents and smuggled them back to Israel the same night, the official said.

Mr. Trump was informed of the operation by the Mossad chief, Yossi Cohen, on a visit to Washington in January, the official said. The official attributed the delay in making the material public to the time it took to analyze the documents, the vast majority of which were in Persian.

But the Iranian program to design and build nuclear weapons was hardly a secret; its existence was the reason that the United States, under President George W. Bush and then President Barack Obama, moved to block it. Both presidents said publicly that Iran had a bomb project underway, and the United States mounted, with Israel, a vast covert program to undermine the Iranian effort with one of the world's most sophisticated cyberattacks.

American intelligence agencies concluded in 2007 that Iran suspended the active portion of the bomb effort after the beginning of the Iraq war, in 2003, and Mr. Netanyahu confirmed that in his presentation. But he said that other elements of what Iran had called "Project Amad" went ahead, directed by Mohsen Fakhrizadeh, an Iranian scientist.

(…)

Iranian diplomats greeted Mr. Netanyahu's accusation with derision.

"Ha, ha, ha," said Mohammad Marandi, a University of Tehran professor who is close to Iran's leaders and participated in the nuclear talks in Vienna. He said that Israel had "fabricated evidence" before and might have again. He called the timing of the Israeli disclosure suspect, and raised the idea that it might have been orchestrated in cooperation with the Trump administration.

"It's very convenient to bring this up two weeks before the decision on the nuclear deal is made," Mr. Marandi said. "No one in their right mind will take this seriously, unless there is a prearranged deal with the White House."
Here's the video:
As many experts who have followed the Iranian nuclear program over the years pointed out after the speech was over, notwithstanding the dramatics and theatrics of the speech, there was nothing new in what Netanyahu revealed, but given the intended audience that likely doesn't really matter. As early as 2007, several American intelligence agencies had concluded that Iran had an active program to develop nuclear weapons but that the program had been suspended in 2003 shortly after the start of the Iraq War. Netanyahu confirmed that in his speech, and the documents he presented all indicate that the program ended in 2003 and the plans to develop up to five bombs roughly equivalent to the bomb that was dropped on Hiroshima had been shelved. Netanyahu seemed to confirm that as well when he stated that the documents had been obtained by Israel from a "secret archive." In addition to this 2007 assessment from American intelligence, the International Atomic Energy Association (IAEA) gave a presentation in 2008 at which it presented many of the same documents that Netanyahu to support his allegations in the speech. Other elements of what Netanyahu revealed had been known to the United States and other foreign governments for years prior to the negotiations to the JCPOA, and it was in response to that information that the Obama Administration was able to get international support for the sanctions that ultimately brought Tehran to the table in Switzerland.
Many experts in the field have argued in the wake of the speech that, ironically, the Israeli Prime Minister's presentation arguably makes the case for why the JCPOA was necessary and why the United States should stay in it, which is obviously the opposite of the impact he wanted it to have. Paul Pillar, who had a long career in the intelligence community specializing in the Middle East, makes exactly that argument:
The history of secret Iranian work related to nuclear weapons design is all the more reason to keep the JCPOA and is why the agreement was designed as it was.  It is an agreement for doing business with a state that has lied and kept secrets, not one that is entirely honest and trustworthy.  This was the reason not only for the tight restrictions on enrichment and other nuclear activities but for the establishment of a highly intrusive regimen of inspections and monitoring by IAEA inspectors.  The JCPOA provides not only for regular monitoring of declared nuclear sites but also for inspection of any other locales in Iran if the IAEA is given reason to suspect any prohibited activity.  If Netanyahu really were interested in ensuring there is no Iranian nuclear weapon rather than putting on a television show to try to kill the agreement, he would provide his material to the IAEA (which, as far as we know, may already have it) to be checked out.  As the office of European Union foreign affairs chief Federica Mogherini tweeted, "IAEA is the only impartial international organization in charge of monitoring Iran's nuclear commitments. If any country has information of non-compliance of any kind [it] should address this information to the proper legitimate and recognized mechanism."

Netanyahu, Trump, and the other American players inside and outside his administration who are intent on killing the JCPOA, while dispensing with logic, are relying on emotion and confusion to try to achieve their objective.  Netanyahu's theme of Iran lying serves partly as innuendo that will lead some people to believe that Iran somehow is violating the JCPOA, even though it isn't.  The IAEA has repeatedly certified that Iran is living up to its obligations under the JCPOA.  (Holding files is not a violation of the agreement.)  The violations so far are all on the U.S. side.  The emotion part involves getting people angry in general about Iran and relies on a popular misconception that the JCPOA is some kind of reward or act of generosity to Iran rather than a restriction on, and evidence of mistrust of, Iran.
Fred Kaplan makes a similar argument in Slate:
In his Monday broadcast, which he recited in English and Hebrew, Netanyahu did publicize a remarkable heist by Israeli intelligence agencies—if his claims are true—of 55,000 pages of "files" and "archives" showing that 15 years ago, Iran did have a plan with an avowed intent to build nuclear weapons.

But did the prime minister think his viewers, at home and abroad, would glide over those key words—files and archive—or that they wouldn't notice that the quotations from some of those files were dated 2003?

He said and showed nothing to suggest that the Iranians ever put their plan into motion or that they are violating the deal's restrictions on nuclear activities now. In fact, at one point in his telecast, he acknowledged that Iran stopped the program—supporting the conclusion of a U.S National Intelligence Estimate, published in 2007, that Iran had halted its nuclear weapons program in the fall of 2003.

Netanyahu said the newly uncovered files indicate that Iranian officials have violated an article of the Iran deal requiring them to reveal their past plans or intentions to build nuclear weapons. Faced with the question, Iranian officials have denied that they ever had such intentions. If the files are authentic, they show that those denials are false. This is not a new point, but it is not trivial either, and the International Atomic Energy Agency should investigate the claims. (They may well find that Iran's written plans about building nuclear weapons don't amount to activities—nothing in Netanyahu's presentation proves otherwise—and, therefore, don't amount to a violation at all.)

However, the larger message of the archive—and Netanyahu's briefing—is that the Iran nuclear deal, now more than ever, is worth preserving. Netanyahu pointed to documents suggesting that Iran had plans—he talked of secret documents, charts, presentations, and blueprints—for every aspect of designing, building, and testing nuclear weapons. What he neglected to point out is that the deal gives international inspectors highly intrusive powers to verify whether Iran is taking any steps to pursue those plans.

In Senate hearings last week, Secretary of Defense James Mattis testified that after reading the full text of the deal three times, he was struck by how solid its inspection provisions are. "I will say it is written almost with an assumption that Iran would try to cheat," Mattis said. "So the verification, what is in there, is actually pretty robust as far as our intrusive ability to get in" and check on compliance.
The fact that there was very little substance to Netanyahu's presentation, and certainly nothing new about it, is hardly a new thing of course. The Israeli Prime Minister has a long history of giving dramatic, danger-laced, speeches regarding Iran and its nuclear program in the past. The most notable of these, of course, have occurred during his annual addresses to the United Nations General Assembly, including one in which he used a somewhat cartoonish drawing of a bomb to demonstrate the need for international action against Iran to stop it from developing nuclear weapons. To a large degree, of course, Netanyahu succeeded in that effort since the United States, United Kingdom, France, Germany, Russia, and China all coordinated sanctions against Iran that ultimately brought it to the table for the talks that led to the JCPOA. While I've said many times in the past, while that agreement is admittedly far from perfect, it is far better than the status quo that existed before it went into effect and it was likely the best that could have been expected under the circumstances.
In the end, of course, the purpose behind Netanyahu's speech had nothing to do with presenting the world with evidence that Iran was currently violating the JCPOA, which it most emphatically did not do. Instead, Netanyahu was essentially speaking to an audience of one, the President of the United States who has made his hostility to the deal well known since he became a candidate for President and who most recently declined to certify that Iran was complying with the agreement despite fact that his own Secretary of State and Secretary of Defense, along with the IAEA, were all saying that the Iranians are in fact complying with the agreement. Most recently, French President Emmanual Macron and German Chancellor Angela Merkel both came to the United States for the express purpose of trying to convince Trump to keep the United States in the deal. Those arguments likely fell on deaf ears, and by the end of his visiting Macron was admitting that Trump was likely to pull out of the deal for "domestic reasons." In the meantime, Macron and Merkel, along with British Prime Minister Theresa May continue to work behind the scenes to try to find a way to save the JCPOA, but those efforts seem as though they will be in vain.
Walking away from the JCPOA would be as foolish as decertifying Iranian compliance was and would serve only to embolden the hardliners in Iran while also undermining the United States just as we are on the verge of high stake negotiations with North Korea regarding its nuclear weapons program. A rational person would see these things and step away from the brink. Instead, we have a President who is clearly intent on fulfilling a foolish campaign promise and taking action that is only likely to increase tensions in the Middle East even while we're dealing with a host of other problems around the world. Unfortunately, we don't have a rational actor behind the Resolute Desk, we have Trump.
Note: For some reason, this post was published with commenting turned off. That was an inadvertant error. Commenting is now open for this post.