Israeli Police Recommend Charges Against Benjamin Netanyahu
Israeli police have recommended that charges be brought against Prime Minister Benjamin Netanyahu. Whether that damages him politically remains to be seen.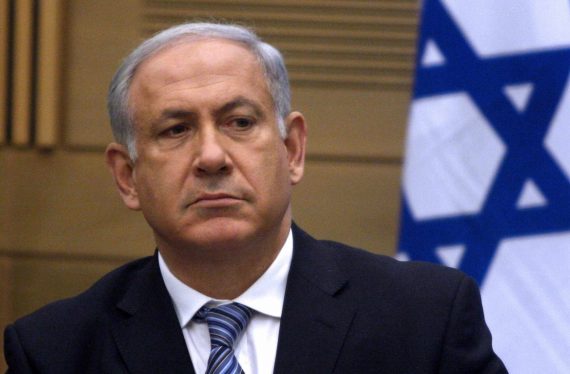 Israeli police are recommending that Israeli Prime Minister Benjamin Netanyahu be charged in connection with a bribery probe that has been going on for the past year:
JERUSALEM — The Israeli police recommended on Tuesday that Prime Minister Benjamin Netanyahu be charged with bribery, fraud and breach of trust, casting a pall over the future of a tenacious leader who has become almost synonymous with his country. The announcement instantly raised doubts about his ability to stay in office.

Concluding a yearlong graft investigation, the police recommended that Mr. Netanyahu face prosecution in two corruption cases: a gifts-for-favors affair known as Case 1000, and a second scandal, dubbed Case 2000, in which Mr. Netanyahu is suspected of back-room dealings with Arnon Mozes, publisher of the popular daily Yediot Aharonot, to ensure more favorable coverage.

All told, the police accused Mr. Netanyahu of accepting nearly $300,000 in gifts over 10 years.

Mr. Netanyahu, addressing the nation live on television even before the police released their findings, made clear that he would not step down. "I feel a deep obligation to continue to lead Israel in a way that will ensure our future," he said, before embarking on a 12-minute defense of his conduct.

"You know I do everything with only one thing in mind — the good of the country," he said. "Not for cigars from a friend, not for media coverage, not for anything. Only for the good of the state. Nothing has made me deviate, or will make me deviate, from this sacred mission."

The police findings must now be examined by state prosecutors and the attorney general, Avichai Mandelblit. The final decision about whether to file formal charges lies with Mr. Mandelblit and is subject to a hearing beforehand with Mr. Netanyahu's lawyers. Reaching that threshold alone could easily take months.

According to the police, expensive cigars, jewelry and pink champagne flowed into the prime minister's official Jerusalem residence in quantities sufficient to stock a small cocktail lounge. The generous patrons included Arnon Milchan, the Israeli movie producer, and James Packer, an Australian billionaire.

But it is the favors Mr. Netanyahu may have given his wealthy friends in return that could herald his downfall. A formal bribery charge would be by far the most serious outcome, and the most ominous for his political survival.

Mr. Netanyahu is serving his third consecutive term since his election in 2009, and his fourth overall since the 1990s. If he remained in the post through July 2019, he would set a record for total time in office, surpassing that of the state's founder, David Ben-Gurion.

Mr. Netanyahu has vehemently denied any wrongdoing and has vowed to fight on, saying that no police recommendation would prompt his resignation.

His longevity attests to his political agility and to his perfection of a campaigning and governing style in which he casts his political foes and critics as enemies of the broader body politic. Though he has formed previous ruling coalitions with those to his left, his current government is often described as the most right-wing and religious in Israel's history. And he has presided over an increasingly bitter relationship with the Palestinians in the territories Israel has occupied for more than a half-century, whose hopes of soon gaining a state of their own have dwindled as Israeli settlements expand.

But while Mr. Netanyahu has prepared the public for this moment for months, and made strenuous efforts to discredit those investigating him, he has not prepared Israel or his government for the possibility that he may be unable to continue to lead. He has designated no successor, and no single member of his own coalition has emerged as ready to step into his shoes. Meanwhile, a centrist opposition, led by Yair Lapid of the Yesh Atid party, has been gaining strength.

In a twist straight out of a political thriller, a key witness against Mr. Netanyahu, according to Israeli news reports Tuesday night, turned out to be Mr. Lapid himself, who had been Mr. Netanyahu's finance minister in a previous coalition.

According to a police statement about the investigation, Mr. Netanyahu promoted the extension of a 10-year tax exemption to expatriate Israelis returning to the country, "a benefit that has great economic value for Milchan," who has long worked in Hollywood. But the Finance Ministry blocked this legislation, saying it was against the national interest and fiscally unsound.

The Israeli law enforcement authorities have handled the cases with great caution, wary of the possibility of bringing down a prime minister who might then be proved not guilty in court, not least with Israel facing increasing security threats on its northern and southern frontiers.

But Israel's constant state of alert has led some critics to argue all the more that a prime minister so focused on fighting his own legal battles cannot be entrusted with fateful decisions of peace and war.

Mr. Netanyahu long ago earned the nickname "the Magician" for his uncanny knack for political endurance, and even his most ardent opponents have been hesitant to write him off.

At what point Mr. Netanyahu might be legally required to step down, short of a final conviction, is likely to be a matter of increasingly heated debate, though public opinion and political pressure could in the end play a decisive role.

Israel's Supreme Court has ruled in the past that government ministers or deputy ministers, once indicted, may not remain in their posts. Whether that principle should also apply to the elected prime minister is an open question.

Mr. Netanyahu would be something of a test case as Israel's first sitting prime minister to be formally charged.

His predecessor, Ehud Olmert, announced his resignation in September 2008, a week after the police recommended he be charged with bribery, breach of trust, money laundering and fraudulent receipt of goods. That case involved an American businessman and a travel-expense scandal from Mr. Olmert's days as mayor of Jerusalem and minister of industry and trade.

Mr. Olmert was eventually convicted in various cases and served 19 months of a 27-month prison sentence. He was released last year.

Pre-empting the police recommendations, Mr. Netanyahu told the public to expect them and did his best to minimize their importance.

"Any fair-minded person will ask themselves how people who say such delusional things about the prime minister can investigate him objectively and make recommendations in his case without bias," he wrote on a Facebook post last week, accusing the police commissioner, Roni Alsheich, of having an agenda.

In December, Mr. Netanyahu told a gathering of his right-wing Likud Party supporters in December: "The vast majority of police recommendations end in nothing. Over 60 percent of the police recommendations are thrown in the trash. Over 60 percent of the police recommendations don't get to an indictment."

Experts have disputed those figures, however, and the prime minister's opponents have begun quoting from an interview he gave in 2008, at the height of Mr. Olmert's legal troubles, to turn the tables on Mr. Netanyahu.

Describing Mr. Olmert as "up to his neck in investigations," Mr. Netanyahu said of his political rival at the time: "He does not have a public or moral mandate to determine such fateful matters for the state of Israel when there is the fear, and I have to say it is real and not without basis, that he will make decisions based on his personal interest in political survival and not based on the national interest."
Gregg Carlson at Politico Magazine tries to answer the question of whether or not Netanyahu can survive:
Now the question is: Can Netanyahu, Israel's second longest-serving prime minister, survive?

So far, he has denied any wrongdoing. And in a televised speech on Tuesday, delivered minutes after the news broke, he vowed to stay in office. "I will continue to lead Israel responsibly and faithfully," he said. "These recommendations mean nothing in a democratic society."

In a sense, he is right. Under Israeli law, a minister charged with serious offenses must resign, but a prime minister does not have to. Both cases will now go to the attorney general—a Netanyahu appointee—who will decide whether to press charges, a process that could drag into next year. Netanyahu will only be forced out of office if the attorney general decides to press charges and then, after a trial, he is convicted.

So for now, the question of survival remains political rather than legal: Can he maintain his coalition? A decade ago, Prime Minister Ehud Olmert, who was accused of taking bribes, could not. It was in fact Netanyahu, who was opposition leader at the time, who spent months campaigning mercilessly against his rival. "A prime minister who is sunk up to his neck in investigations has no moral and public mandate," he said. Olmert eventually lost the support of his own party, Kadima, which decided to dump him, and he stepped down soon after.

The Israeli media have relished replaying Netanyahu's 2008 words. He sounds hypocritical in hindsight. But Netanyahu might well survive where Ohmert could not. For one, his own foes are too feckless to point out his hypocrisy effectively. The Labor Party, the onetime stalwart of Israel's center-left, is adrift. Isaac Herzog, the nominal opposition leader, no longer controls the party; he was voted out in a primary last year. His replacement, Avi Gabbay, has been sinking in the polls. Yair Lapid, another centrist challenger, is actually serving as a key state's witness—a fact that Netanyahu can harp on to dismiss the whole investigation as a politically motivated witch hunt.

He is already doing so. President Donald Trump may have raised eyebrows with his frequent attacks on the FBI—but viewed from Jerusalem, his rhetoric is tame. Netanyahu has berated the police for months, accusing them of bias and arguing that a top investigator should have recused himself. The prime minister's closest allies use even more florid language. After the police announced their findings, Yariv Levin, the tourism minister, called their statement a "coup against the people's will." In a television interview last week, Roni Alsheikh, the police chief, even hinted that Netanyahu had sent private investigators to collect information on the cops working the case. (He offered no evidence no support his claim.)

Netanyahu's campaign against law enforcement actually resonated with many of his right-wing supporters, and the broader Israeli public is apathetic. They have little trust in a political class that Transparency International ranks as among the most corrupt in the developed world. Aryeh Deri was convicted of taking bribes while serving as interior minister in the 1990s; he was reappointed to the same job in 2016, and quickly fell under investigation again. One poll found that 50 percent of Israeli Jews don't trust the authorities to properly investigate the prime minister. Regular anti-Netanyahu protests this winter only drew thousands of participants, hardly a groundswell of opposition that might force his coalition to bolt.
Now that the Israeli police have made their recommendation, the decision on whether or not to formally charge the Prime Minister falls to Israel's Attorney General Avichai Mandelblit, who was put in his position by Netanyahu himself. Whether Mendebllit will remove himself from the decision making process given that relationship is unclear, indeed I can't specifically say what Israeli law or practice may be on this issue. Whatever the case, though, the fact that it is an agency of Netanyahu's own government that must decide whether or not to file charges, an action that could remove him from power if it goes forward, is likely to complicate things greatly and seems like it could become a point of political controversy regardless of what decision is made. It's also not clear how long Mandeblit might take in evaluating the evidence the police have gathered. Suffice it to say, though, that the fact that law enforcement authorities have made the recommendation that charges be files is likely to put considerable pressure on the Attorney General, as are his political ties to the Prime Minister.
Since I'm not at all well versed in Israeli law or the circumstances under which a sitting Prime Minister can be removed from office, I'm not going to comment on the legal merits of the police findings or the question of whether he should be forced to step down. At the same time, though, the fact that he has failed to designate a potential successor and has consistently reassured his party and his supporters that there is no merit to the accusations could indicate a conscious effort on his part to avoid any effort to force him to step down while charges are pending should they be filed. Without such a designation, the political situation in Israel would presumably be forced into crisis as the leaders of the various factions that make up the ruling coalition in the Knesset would end up fighting each other in Netanyahu's absence, something that could lead to the necessity for new elections due to the inability of any of these leaders to keep the coalition together. That would mean new elections at a, particularly vulnerable time for Israel on the international stage.
If on the other hand Netanyahu is forced to step down, it would be a significant political development for Israel. He has served as Israel's Prime Minister for nine years now and also served in the position for three years in the late 1990s. This makes him the longest continuously serving Prime Minister in Israel's history, and he will become the single longest serving Prime Minister (counting both terms in office) if he remains in office until mid-July 2019, surpassing David Ben Gurion, who served a total of thirteen years broken up into two terms in office. As such, he has become as much the face of Israel as any single person can claim to be at this point in history. Other than this, though, it's unclear that there would be much of a change in policy from Israel when it comes to foreign policy issues. There seems to be a general consensus in the country when it comes to issues such as policy toward the Palestinians, the settlements issue, and policy toward Iran. Given that, it's unlikely that a change at the top would have much of an impact on the issues that directly impact the United States and our interests.
On that note, in the Politico article quoted above, Gregg Carlson notes that the current focus on foreign affairs in Israel likely helps Netanyahu politically:
Ironically, if there was one person who gave Netanyahu a real boost this week, it was Ali Khamenei, the supreme leader of Iran. The police recommendation comes just days after a major flare-up on Israel's northern border. Early on Saturday morning, an Iranian drone crossed into Israeli airspace and was shot down. When Israeli jets crossed the border to retaliate, one of them was shot down. It was the air force's first combat loss since the 1980s, a symbolic blow to Israel's military superiority—and a sign of further confrontations to come.

These days, Netanyahu devotes most of his time to foreign affairs and security. He jets around the globe to warm welcomes from world leaders, from Trump to Narendra Modi. He has navigated Israel through seven years of regional chaos and kept the West Bank quiet. Though there were two wars in Gaza, he resisted demands from his hawkish coalition partners to re-occupy the territory.

While he waits for the attorney general's decision, Netanyahu will put a simple question to his supporters: As international tensions flare, would you risk removing an experienced prime minister over some cigars and chats with a newspaper publisher? Indeed, on Thursday, barely 36 hours after tonight's bombshell news, he will depart for Germany to attend the Munich Security Conference—another chance to shake off the shroud of corruption and appear statesmanlike. The law may eventually catch up to Netanyahu. But for now, it seems the politics will not.
In other words, since there doesn't seem to be any legal basis to force him to step down, at least not until he's formally charged or maybe not even until he's convicted, Netanyahu will likely benefit from the idea that it would be unwise for Israel to change leaders mid-stream given the threats that he face. This, of course, races the possibility that he could seek to increase those tensions in a way that helps him politically, such as expanding international settlements in the West Bank generally and around Jerusalem specifically. As they say, stay tuned.