Netanyahu Gets First Crack At Forming New Israeli Government
Prime Minister Benjamin Netanyahu is getting the first shot at forming a new government. Whether he'll succeed or not is another story.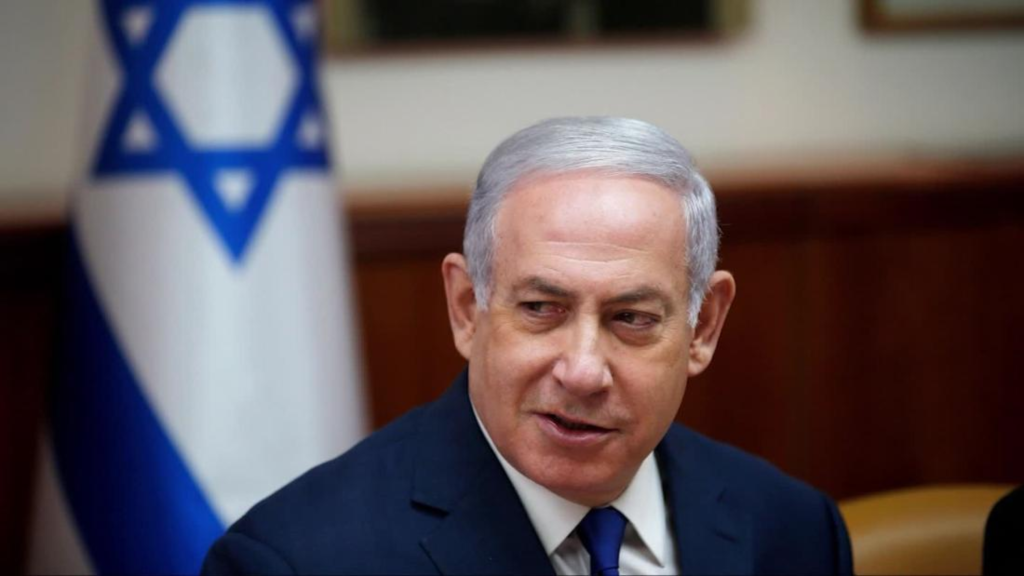 Just about a week after an election that, as expected, was too close to call, Israeli Prime Minister Benjamin Netanyahu has won the right to be the first party leader with a crack at forming a majority government in the Knesset, an outcome that could end up being as fruitless as the one he undertook in the wake of the elections in April of this year:
Israeli President Reuven Rivlin asked Prime Minister Benjamin Netanyahu on Wednesday to try forming a new governing coalition, moving the country into the next phase of its post-election haggling.

"The law gives you, Mr. Prime Minister, 28 days, starting tomorrow, to form a government," Rivlin said as the two stood together at the president's residence.

Rivlin's decision to offer Netanyahu the first go at forming a government came on the day that official results from last week's election were finalized, showing that the prime minister's Likud party had secured one seat fewer in the Knessett, Israel's parliament, than the rival Blue and White party headed by Benny Gantz. Neither of the two main parties is close to a 61-seat majority.

But a plurality of all the newly elected parliament members told Rivlin that they preferred Netanyahu, earning him the president's nod.

"I accept the mission," said Netanyahu, acknowledging the long struggle he is likely to face in building a majority coalition within Israel's fractured political system. "I do this knowing that I don't have a higher chance of forming a government but that I have less of an inability than Gantz."

Netanyahu's path to forming a governing coalition is lined with hazards. He has pledged to include ultra-Orthodox Jewish factions, and that probably will deter potential secular partners. He also has endorsed sharing power with Blue and White, but Gantz promised during the campaign never to join forces with Likud unless Netanyahu stepped down.

Adding to the drama and uncertainty, the prime minister faces a legal hearing Wednesday in three corruption cases involving allegations of bribery, fraud and breach of trust. The hearing could lead to his indictment.

If Netanyahu ultimately fails to assemble a majority in the Knesset, he will have to return the mandate to the president. By tradition, Gantz would then be given a chance to form a government.

Rivlin called the two candidates to his official residence two times this week in an attempt to broker a power-sharing arrangement between the major parties. But after three days of negotiations failed to produce a deal, he acted.

The president is obliged to select the candidate he thinks has the best chance of assembling a majority coalition. In a tally of recommendations from Knesset members, Netanyahu was preferred by one more member than Gantz, and Rivlin cited this slight edge.

"The probability of the prime minister forming a government is greater at this moment," Rivlin said.

(…)

Netanyahu has embraced the idea of sharing power with Gantz's party. Rotating the prime minister's job not only would let Netanyahu extend his decade in power, but it may be his best hope of avoiding prosecution over the next months. Observers here speculate the real negotiations will come down to who takes the top job first in a unity government.

"We need this unity, this national reconciliation," said Netanyahu. "We have been through a tough election campaign, and now we need to unite the people."

But Gantz doubled down on his pledge not to serve with Netanyahu.

"Blue and White, led by me, does not agree to sit in a government whose leader is facing a severe indictment," he said in a statement. "This issue, among a number of other critical factors, is more important to us than any delegation of ministerial posts or a rotation."

Netanyahu will have at least four weeks to build a 61-seat majority, and the possible options are many. Israelis are constantly shifting through the scenarios, which range from Netanyahu and Gantz sharing the prime minister's job to another collapse of the process, leading to Israel's third election of the year.
More from The Jerusalem Post:
Prime Minister Benjamin Netanyahu has been given the chance to form a government for the sixth time on Wednesday, after succeeding in his five terms in office but not having the opportunity to do so following the April election.

President Reuven Rivlin formally gave Netanyahu four weeks to form the government, after a meeting at the President's Residence with Blue and White leader Benny Gantz failed to bring about a breakthrough. The deadline will be October 24.

"Netanyahu had the best chance to form a government," Rivlin said in a speech alongside the prime minister.

A Channel 12 poll broadcast Wednesday night found that the public prefers Netanyahu go first in a rotation with Gantz. But to avoid another election, a majority of respondents would like to see Likud replace Netanyahu with another candidate.

The survey of 700 respondents representing a statistical sample of the population was taken by pollster Camil Fuchs. The margin of error was 4%.

Rivlin said he gave the mandate to Netanyahu because he received 55 recommendations from MKs, compared with Gantz's 54. He called upon parties to stop disqualifying each other and lamented that a unity government was not formed.

In his speech, Rivlin revealed that he had offered the possibility of passing a law enabling a prime minister to suspend himself while under indictment and have a vice prime minister take over until the prime minister is cleared. Such a bill could have enabled Gantz to run the country following a potential Netanyahu indictment. But Gantz rejected the idea.

Netanyahu already has a bloc of 55 MKs from his Likud Party and his allies in Yamina, Shas and United Torah Judaism. He would need Yisrael Beytenu, Labor-Gesher or Blue and White to join in order to form a government. All have repeatedly refused to do so.

"My inability to form a government is slightly less than that of Gantz," Netanyahu said in accepting the mandate.

Netanyahu called on Gantz to form a government led by him, citing security, diplomatic and economic reasons and raising the prospects of both war with Iran and a peace process with the Palestinians led by US President Donald Trump.

If Netanyahu fails, Rivlin could give the mandate to Gantz or to another candidate in Likud. He could also tell Knesset Speaker Yuli Edelstein that there is no candidate. If that were to happen, there would be 21 days in which any candidate could try to get 61 MKs together and form a government.

In his address, Rivlin noted that by law, after the candidate with a mandate fails to form a government, instead of giving the mandate to another candidate, the Knesset can choose a candidate with the support of 61 MKs.

"The people do not want additional elections," Rivlin said.

Gantz reiterated after Netanyahu was given the mandate that his party would not enter a government led by the premier while possible indictments are waiting in the wings. He blamed Likud for the failure to form a unity government, because Netanyahu's party refused to give up the other parties in its political bloc.

"Blue and White is committed to the idea of unity, but this requires negotiations among the two largest parties alone in order to reach agreement on the content and essence of the next government," Gantz said
This isn't the first time that Netanyahu will attempt to form a government, of course. After the first set of elections this year, which took place in April and appeared to enure to the benefit of Prime Minister Benjamin Netanyahu and his Likud Party, Netanyahu was given the chance to form a government. In that case, President Rivlin chose Netanyahu because his Likud coalition had come closet to the 62 seats needed for a Knesset majority. That effort ended in failure in May when it became apparent that Netanyahu would be unable to form a working majority in the Knesset thanks largely to the refusal of his former ally-turned-rival Avigdor Lieberman, who heads a small coalition of parties devoted to creating a more secular issue.
Among the issues that have been of utmost importance to Lieberman has been the exemption that Ultra-Orthodox Jews (called Haredim in Israel) have from serving in the military. Instead, they spend their time studying the Torah and, thanks to the protection of the ultra-orthodox parties in the Knesset and the outsized influence they have due to the fact that they are often crucial to the formation of a stable Knesset majority, that exemption has stood in place. In addition to the military service exemption, this group also receives various subsidies from the government since, for the most part, the men do not work and the women are not allowed to work.
As Israel has become more and more secular, the resentment against the preferences the Haredim receive has grown, with the military service exemption becoming the focus of the resentment. Additionally, the Israeli Supreme Court has ruled that the exemption is unconstitutional, but the Knesset has yet to act on a mandate from that Court to change the existing law.
Lieberman has latched on to the issue of Haredi military service as a political wedge. Lieberman is a political conservative like Netanyahu who represents a party made up primarily Jews from Russia and Eastern Europe who have emigrated to Israel over the years. These groups tend to be more secular in their religious attitudes and are apparently among the loudest group to express objections to the special treatment that Haredi receive.
It was the inability of Netanyahu to square accommodating Lieberman sufficiently on this issue while at the same time maintaining the support of the ultra-orthodox members of his coalition that led to the collapse of his efforts to form a government. As a result, the nation spent the better part of the summer locked in the same political battle it saw in the spring between Netanyahu's Likud Party and the "Blue and White" Party led by former Israeli Army Chief of Staff Benny Gantz. This time, Netanyahu appears to be getting the first shot because, even though, Gantz came away from the election with a narrow lead, it appears that it is Netanyahu who has the best shot at forming a majority in the shortest period of time.
As noted, Netanyahu has roughly four weeks within which to try to get his majority, but that period is actually somewhat shorter given the upcoming Jewish holidays, which will mean that business in the country will slow down significantly for the better part of a week. That period begins over the upcoming weekend with Rosh Hashanah and ends a week from next Wednesday with Yom Kippur. While Netanyahu would not be precluded from working during that entire period, it's likely that the pace of negotiations will slow down. In any case, Netanyahu has roughly four weeks to try to form a government. If he fails, President Rivlin has several options available him. He could give Gantz time to try to form a government. He could turn the matter over to a Knesset coalition. Or, he could admit failure yet again, setting Israel up for a third round of elections that would likely take place early in 2020.