Benjamin Netanyahu To Be Charged In Criminal Corruption Case
Israeli Prime Minister Benjamin Netanyahu is being charged with three charges of corruption even as he faces an election in just over a month.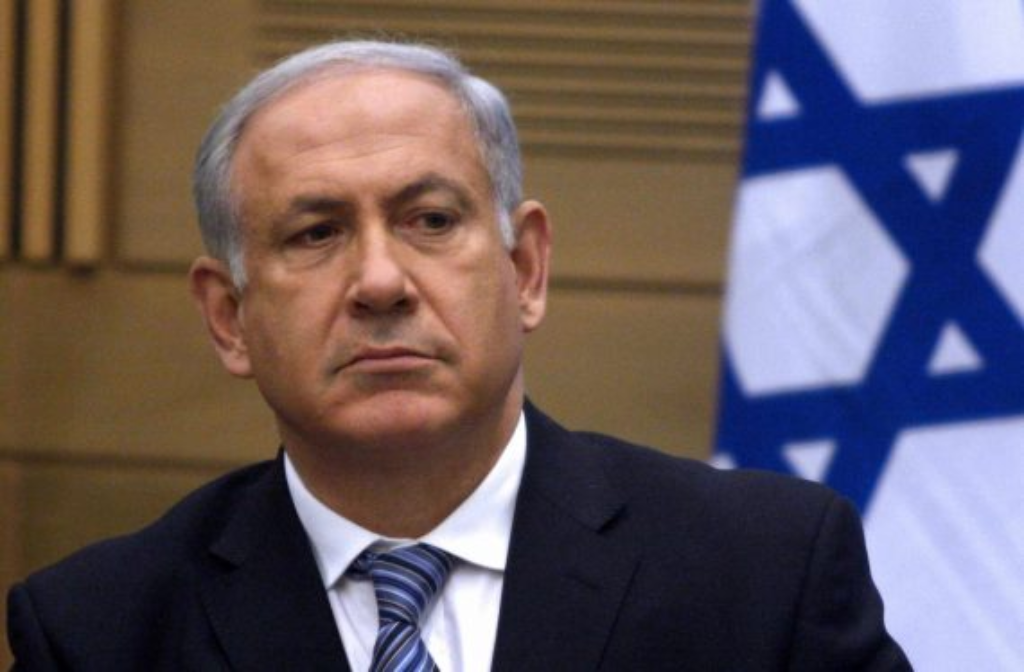 After holding on to the case for the better part of a year, Israel's Attorney General is moving forward with charges against Prime Minister Benjamin Netanyahu, the first time that an Israeli Prime Minister has been charged with a crime while in office:
JERUSALEM — Israel's attorney general announced his plans on Thursday to indict Prime Minister Benjamin Netanyahu on charges of bribery, fraud and breach of trust, imperiling Mr. Netanyahu's political future just 40 days before he is to stand for re-election.

The announcement by Attorney General Avichai Mandelblit was the culmination of a two-year investigation into Mr. Netanyahu's dealings with wealthy businessmen, including a Hollywood movie producer, Israeli newspaper publishers and the head of the country's largest telecommunications conglomerate.

Mr. Netanyahu, who is running for his fourth consecutive term as prime minister, is now entitled to a hearing to challenge the charges. If the case proceeds, he would be the first sitting prime minister to be indicted.

The police accused Mr. Netanyahu, 69, of trading lucrative official favors for gifts worth hundreds of thousands of dollars including cigars, Champagne and jewelry, and for flattering news coverage whose value was incalculable.

Mr. Netanyahu, who held office for three years in the late 1990s before reclaiming power a decade ago, was already facing a surprisingly stiff challenge from a popular former army chief heading into the April 9 election.

The attorney general's decision is likely to further buffet his re-election campaign.

For the past two years, as the corruption cases were the subject of intense news coverage, Mr. Netanyahu suffered relatively little harm in the polls.

He remains highly esteemed — even by many who have grown weary of his now-familiar flaws and vices — as the only Israeli politician with the stature and experience to lead a lonely democracy in a hostile region and represent its interests skillfully on the world stage.

He has worked hard to prepare his devoted right-wing followers for this moment, assailing the investigation as a "witch hunt" choreographed by the news media in cahoots with his enemies on the left.

But as an indictment became increasingly certain, he grew more strident and divisive, alienating even some of the right-leaning voters whose support he needs to win another term.

That, in turn, has bolstered his leading opponent, Lt. Gen. Benny Gantz, the former army chief of staff, and Mr. Gantz's argument that Israel needs a clean, fresh start. "Thank you for the last 10 years," Mr. Gantz has taken to saying, addressing Mr. Netanyahu. "We'll take it from here."

Mr. Mandelblit's decision could also hamper Mr. Netanyahu even if he does win re-election, by narrowing his options in forming a new governing coalition, and perhaps even sinking his chances of leading it.

(…)

Mr. Mandelblit's decision covered three separate investigations, though they followed a clear pattern.

In the first, the police said that the Hollywood producer Arnon Milchan, an expatriate Israeli, aided by the Australian billionaire James Packer, sent expensive cigars, jewelry and Champagne worth hundreds of thousands of dollars to the prime minister's residence in Jerusalem, and that Mr. Netanyahu in return promoted legislation that could benefit Mr. Milchan, though it was blocked by the Finance Ministry.

In the second, Mr. Netanyahu was accused of discussing with the publisher of Yediot Ahronot, one of Israel's biggest newspapers, the possibility of a deal for favorable coverage: He would press a competing newspaper, Israel Hayom, to curtail its free circulation, and in return Yediot Ahronot would treat Mr. Netanyahu more kindly. Israel Hayom is owned by Sheldon Adelson, the American billionaire casino owner who is a devoted supporter of Mr. Netanyahu's.

The deal was never completed, investigators said.

In the third case, the police said that Mr. Netanyahu had pushed regulatory actions through the Communications Ministry, which he controlled at the time, that were enormously lucrative to Shaul Elovitch, the principal owner of the Bezeq telecommunications giant. In return, Mr. Elovitch arranged for fawning coverage of Mr. Netanyahu and his family in Walla news, a popular website owned by Bezeq.

Normally under Israeli criminal procedure, Mr. Mandelblit's announcement would be followed in short order by his turning over the evidence to defense lawyers — which if history is any guide would quickly lead to a deluge of leaks. But Mr. Netanyahu asked that Mr. Mandelblit wait until after the election to avoid just that. Mr. Mandelblit has not said what he will do.
The Jerusalem Post has further detail on the charges and their expected political impact, as does The Times of Israel:
In a decision that drastically shakes up Israeli politics less than six weeks before general elections, Attorney General Avichai Mandelblit announced Thursday that Prime Minister Benjamin Netanyahu will be charged with criminal wrongdoing in three separate cases against him, including bribery in the far-reaching Bezeq corruption probe, pending a hearing.

The decision marks the first time in Israel's history that a serving prime minister has been told he faces criminal charges, and casts a heavy shadow over Netanyahu's re-election campaign.

Netanyahu will be charged with fraud and breach of trust in Cases 1000 and 2000, and bribery, fraud and breach of trust in Case 4000, unless he can persuade Mandelblit to reconsider in the course of the hearing process

The attorney general detailed the allegations in a 57-page document that was released on Thursday evening.

Mandelblit, in his decision, wrote that according to suspicions the prime minister "damaged the image of the public service and public trust in it" and is suspected of abusing his position and status, and of "knowingly taking a bribe as a public servant in exchange for actions related to your position."

"This is hugely significant — for the prime minister and for all of us," said Suzie Navot, a professor of constitutional and parliamentary law. "This was an investigation conducted with caution, with restraint — some would say too much restraint, over too long. The evidence was checked and re-checked." The attorney general knew full well how dramatic would be the political fallout, she said. "And yet the decision was taken to indict, in all three cases."

Despite reported recommendations from the state attorney and police that the prime minister stand trial for bribery in all of the cases, Mandelblit opted for the lesser charge of fraud and breach of trust in two of the affairs.

(…)

In Case 1000, involving accusations that Netanyahu received gifts and benefits from billionaire benefactors including Israeli-born Hollywood producer Arnon Milchan in exchange for favors, Mandelblit said he intends to charge Netanyahu with fraud and breach of trust — the latter being a somewhat murkily defined offense relating to an official violating the trust the public has placed in him. Milchan is not to be charged.

In Case 2000, involving accusations Netanyahu agreed with Yedioth Ahronoth newspaper publisher Arnon Mozes to weaken a rival daily in return for more favorable coverage from Yedioth, Mandelblit will seek to also charge the premier with fraud and breach of trust, while Mozes will be charged with bribery. The case is said to have been a contentious one in Mandelblit's office, with many prosecution officials reportedly arguing that Netanyahu should be charged with bribery, while Mandelblit considered not charging the prime minister at all.

In Case 4000, widely seen as the most serious against the premier, Netanyahu is accused of having advanced regulatory decisions that benefited Shaul Elovitch, the controlling shareholder in the Bezeq telecom giant, in exchange for positive coverage from the Elovitch-owned Walla news site. In that case Mandelblit announced he intends to charge Netanyahu with fraud and breach of trust, and both Netanyahu and Elovitch with bribery.
The possibility of criminal charges against Netanyahu has been hanging over Israel politics for the better part of a year now ever since Israeli police recommended that charges be brought against him in each of the three cases discussed above. While the Attorney General considered that request, Netanyahu's wife Sara was charged with defrauding the Israeli government to the tune of roughly $100,000 in improper expenses that were used for everything from lavish parties to upgrades to the Netanyahu's residence that are not properly considered the responsibility of the government. Those charges remain pending at this time, but the Attorney General, an ostensible political rival of the Prime Ministers, considered the recommendation that charges be brought against the Prime Minister himself. In that time, Netanyahu has been engaging in a campaign to discredit the investigation that is not dissimilar to the way President Trump has sought to discredit the Russia investigation, calling the investigation a "witch hunt," and questioning the political motives of the police and the Attorney General. The fact that these charges are being brought so close to the next election is only likely to increase those attack.
With that decision having been made, the questions now move on to what this means for Netanyahu's immediate future and for Israeli politics in general. This is especially true given the fact that Israel will be holding a General Election on April 9th at which Netanyahu and his party will face what was already a strong and growing challenge from retired Lt. Gen. Benny Gantz, the former Chief of Staff of the Israeli Army. Gantz has been campaigning on the idea that Israel needs "a fresh start" after ten years of rule by Netanyahu and the Likud coalition government. These charges seem only likely to lend credence to that argument, although it's unclear if they will be sufficient to lead to a change in government. According to a poll published in The Times of Israel that was taken prior to the announcement of charges, Gantz's party would win 44 seats in the Israeli Parliament while Likud would win 25, but both parties would fall short of the 61 seats needed for a majority. This means that either Gantz or Netanyahu would need to find a way to cobble together a coalition government through alliances with smaller parties to get it over the top. While Gantz would start out with a significant numerical advantage, it's likely that Netanyahu would find it easier to form alliances, especially if the current crop of right-wing and ultra-Orthodox parties that are part of his coalition stick with him after the election and notwithstanding the charges against Netanyahu. Another alternative is that forces inside the Likud Party could seek to oust Netanyahu due to these charges, or that he could agree to step down as Prime Minister as part of a plea deal. At least at this point, though, both of those outcomes seem unlikely. Instead,  Netanyahu and his party are likely to proceed forward, as are the charges against him, with the prospect that he could be forced to stand down anyway even if he is re-elected.
If Netanyahu is forced to step down, either due to a loss at the polls or because of the charges against him, it would be a significant political development for Israel. He has served as Israel's Prime Minister for nine years now and also served in the position for three years in the late 1990s. This makes him the longest continuously serving Prime Minister in Israel's history, and he will become the single longest serving Prime Minister (counting both terms in office) if he remains in office until mid-July 2019, surpassing David Ben Gurion, who served a total of thirteen years broken up into two terms in office. As such, he has become as much the face of Israel as any single person can claim to be at this point in history. Other than this, though, it's unclear that there would be much of a change in policy from Israel when it comes to foreign policy issues. There seems to be a general consensus in the country when it comes to issues such as policy toward the Palestinians, the settlements issue, and policy toward Iran. Given that, it's unlikely that a change at the top would have much of an impact on the issues that directly impact the United States and our interests. Nonetheless, a change in leadership would be a significant change for Israel and, potentially, for the entire region.