Israel at War: It's a Reckoning
A roundup of news and opinon.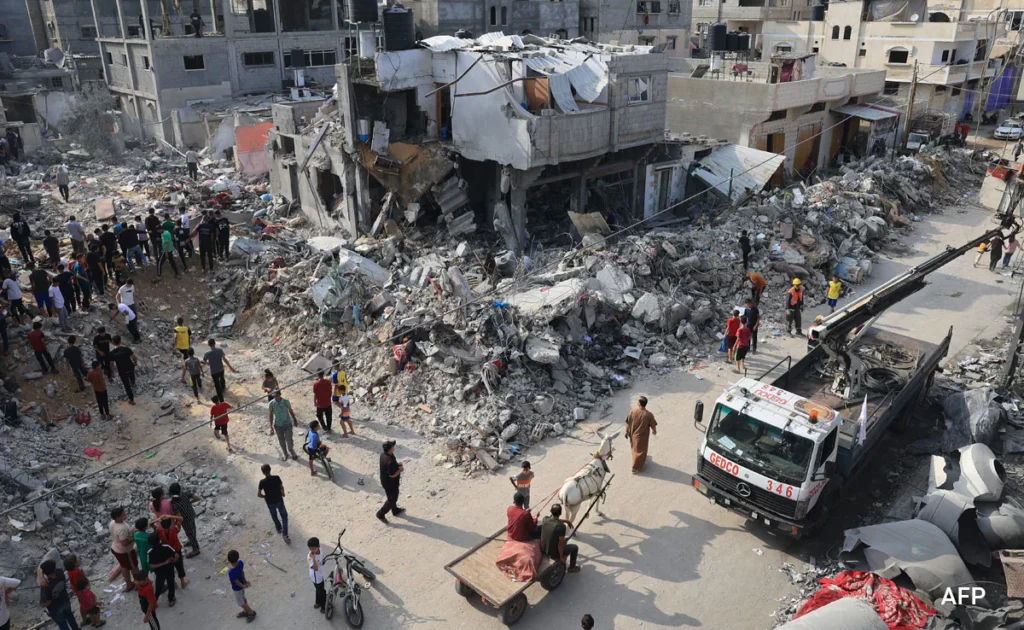 News
CNN ("Israeli defense minister orders 'complete siege' of Gaza, as conflict with Hamas enters third day"):
Israel's defense minister ordered a "complete siege" of Gaza on Monday, as the military said it had retaken control of Israeli communities near the coastal enclave that were stormed by Hamas gunmen in an unprecedented attack over the weekend.

Yoav Gallant said Israel would halt he supply of electricity, food, water and fuel to Gaza. "I have given an order – Gaza will be under complete siege," Gallant said. "We are fighting barbarians and will respond accordingly."

Israel has retaken control of all communities around Gaza and there is no ongoing fighting between Israeli forces and Hamas militants inside Israel, the Israeli military said on Monday, following continued assaults by both sides.

[…]

Hamas militants claimed late Sunday to be holding more than 100 hostages in Gaza, including high-ranking Israeli army officers, according to Mousa Abu Marzouk, chief deputy of Hamas' political bureau.

Videos on social media showed militants capturing multiple civilians, including children, as Israeli families across the nation made anxious pleas for the safe return of their loved ones.

In addition to Israeli captives, there are also other nationalities believed to have been taken hostage, including American, Mexican, Brazilian and Thai nationals – further complicating Israel's response to the Hamas attack.
Times of Israel ("Defense minister announces 'complete siege' of Gaza: No power, food or fuel")"
Defense Minister Yoav Gallant says he has ordered a "complete siege" of the Gaza Strip, as Israel fights the Hamas terror group.

"I have ordered a complete siege on the Gaza Strip. There will be no electricity, no food, no fuel, everything is closed," Gallant says following an assessment at the IDF Southern Command in Beersheba.

"We are fighting human animals and we are acting accordingly," he adds.
Reuters ("Clashes rage in Israel as Hamas fighters hold out 'longer than expected'"):
Israel's troops were battling on Monday to clear out Hamas gunmen more than two days after they burst across the fence from Gaza on a deadly rampage, and the army said it would soon go on the offensive after the biggest mobilisation in Israeli history.

Fighters were still holed up in several locations inside Israel after killing 700 Israelis and seizing dozens of hostages in a raid that shattered Israel's reputation of invincibility.

In Hamas-controlled Gaza, Israel carried out its most intensive retaliatory strikes ever, killing some 500 people since Saturday. Defence Minister Yoav Gallant said Israel's blockade would be tightened to prevent food and fuel from being brought into the strip, home to 2.3 million people.

Israel's chief military spokesman said troops had re-established control of communities that had been overrun, but that isolated clashes continued as some Palestinian gunmen remained active.

"We are now carrying out searches in all of the communities and clearing the area," chief military spokesperson Rear-Admiral Daniel Hagari said.

Earlier, another spokesman, Lieutenant Colonel Richard Hecht, acknowledged that it was "taking more time than we expected to get things back into a defensive, security posture".

The shocking images of the bodies of hundreds of Israeli civilians sprawled across the streets of towns, gunned down at an outdoor dance party and abducted from their homes were like nothing seen before in the decades-old Israeli-Palestinian conflict.

Hagari said 300,000 reservists had already been activated in just two days, adding to speculation that Israel could be contemplating an unprecedented ground assault of Gaza, a territory it abandoned nearly two decades ago.

"We have never drafted so many reservists on such a scale," Hagari said. "We are going on the offensive."

Palestinians reported receiving calls and mobile phone audio messages from Israeli security officers telling them to leave areas mainly in the northern and eastern territories of Gaza, and warning that the army would operate there.

[…]

Hamas fighters were continuing to cross into Israel from Gaza, the military said, adding that between 70 and 100 gunmen have been killed in the Beeri area since Saturday.

Fighter jets, helicopters and artillery struck over 500 Hamas and Islamic Jihad targets in the Gaza Strip overnight, with targets including Hamas and Islamic Jihad command centres and the residence of a senior Hamas official, Ruhi Mashtaa.

"The price the Gaza Strip will pay will be a very heavy one that will change reality for generations," Defence Minister Gallant said in Ofakim, one of the towns where calm was restored after a battle with Hamas fighters.

Prime Minister Benjamin Netanyahu's options for hitting Hamas, which controls the narrow Gaza Strip that is home to 2.3 million Palestinians, could be curtailed by concern for the many Israelis seized in the raid. A full-scale invasion of Gaza, which Netanyahu has tried to avoid in his long years in power, could endanger the lives of the hostages.

In a statement, the Israeli Air Force said it dropped some 2,000 munitions and more than 1,000 ton bombs on Gaza aimed at over 8,000 targets in Gaza in the last 20 hours. Among the targets were three rocket launchers directed at Israel, a mosque where militants were operating and 21 high-rise buildings that served militant activity.

Since Saturday, at least 493 people were killed and more than 2,750 people were wounded, said the Health Ministry in Gaza.

"The Zionist enemy's military targeting and bombing of homes inhabited by women and children, mosques and schools in Gaza amount to war crimes and terrorism," Hamas official Izzat Reshiq said in a statement.

Hamas's main international ally Iran congratulated Hamas on the attack, while denying involvement. Israeli forces and Lebanon's Iran-backed Hezbollah militia exchanged artillery and rocket fire.

Appeals for restraint came from around the world, though Western nations largely stood by Israel.
CNN ("At least 4 Americans killed in Israel attacks with death toll expected to rise, Schumer says"):
At least four Americans have been killed in the attacks in Israel, and US officials expect the death toll to rise, Sen. Chuck Schumer said Sunday.

The Senate majority leader said in a statement that he was briefed Sunday evening by senior national security and State Department officials.

"Unfortunately, we know there are Americans who were killed. The Administration told us that they know of four thus far, but, sadly, we know the toll will rise," Schumer, a Democrat, said in a statement.

Earlier Sunday, Secretary of State Antony Blinken said the US was "working overtime" to verify reports of missing and dead Americans after Hamas launched an unprecedented attack against Israel.

"We have reports that several Americans were killed. We're working overtime to verify that. At the same time, there are reports of missing Americans and there again, we're working to verify those reports," Blinken told CNN's Dana Bash on "State of the Union."

CNN reported earlier Sunday that at least three Americans were killed, according to an internal US government memo. The memo said the State Department was aware of additional Americans who have not been accounted for.

CNN has reached out to the State Department for comment.

Israeli Minister of Strategic Affairs Ron Dermer told Bash Sunday that Americans are among the "scores" of hostages being held in Gaza.

The US Embassy in Jerusalem, meanwhile, updated its contingency planning "for any potential evacuation by land or air," according to the memo. On Saturday, the embassy issued a "shelter in place" order for its personnel.
POLITICO ("At least 2 members of Congress were in Israel during attack"):
Both Rep. Dan Goldman (D-N.Y.), and Sen. Cory Booker (D-N.J.) were in Israel over the weekend while extremist group Hamas launched an unprecedented attack at the country's border with Gaza. Both congressmen have since left the country, according to their offices.

Goldman was in Israel for a Bar Mitzvah with his wife and three of his children, his spokesperson, Simone Kanter, said. "Congressman Goldman and his family sheltered from Hamas rocket fire in their hotel's interior stairwell until early Sunday morning, when they were able to safely depart for New York," Kanter said in a statement.

Booker arrived in Israel on Friday, according to his office, ahead of a summit on the Abraham Accords at which he was scheduled to speak Tuesday.

"Senator Booker and accompanying staff were in Jerusalem when Hamas launched their attacks against Israel on Saturday, and sheltered in place for their safety," spokesperson Maya Krishna-Rogers said in a statement. "We are grateful that Senator Booker and our colleagues were able to safely depart Israel earlier today."

The Saturday morning assault blindsided Israeli forces, leaving hundreds dead, wounded and kidnapped, including many civilians. Both congressmen took to social media to condemn Hamas' actions and offer their support for Israel in the hours and days after the attack.

"At a minimum, Congress must replenish — and expand — the Iron Dome as soon as possible," Goldman posted on X, formerly Twitter, early Sunday morning, referring to Israel's defense system against rockets. "I hope Republicans can get their House in order so we can pass emergency legislation to assist Israel in defending herself."
CNN ("'Nowhere to go': Ordinary Palestinians live in fear as Israel retaliates against Hamas"):
When the Palestinian militant group Hamas launched an attack on Israel Saturday morning, Palestinians living in the besieged strip had mixed feelings.

Some celebrated, taking pride in what they perceived as a victory against Israel. Others, however, were afraid, dreading a deadly retaliation.

The militant group's unprecedented incursion prompted vows of retribution from Israeli Prime Minister Benjamin Netanyahu, who declared on Saturday that his country was at war, pledging a "mighty vengeance for this black day."

Israel's Minister of Strategic Affairs Ron Dermer told CNN's Dana Bash on Sunday that more than 600 people have been killed in Israel, and that the death toll is likely to rise.

Israel Defense Forces (IDF) spokesperson Rear Adm. Daniel Hagari said Sunday that Israel destroyed around 800 targets in Gaza, including what he described as launching pads used by Hamas.
At least 413 Palestinians have been killed, including 78 children, the Palestinian Ministry of Health in Gaza said.

[…]

The Gaza Strip has been almost completely cut off from the rest of the world for nearly 17 years.

Governed by Hamas since 2007, the enclave is under strict siege by Egypt and Israel, which also maintains an air and naval blockade on Gaza. It has been described by Human Rights Watch as the "world's largest open-air prison."

Gazans have seen Israeli strikes ravage the strip on several occasions since Israeli forces withdrew from the territory in 2005. Fighting regularly takes place between Israel and Palestinian factions in Gaza, including Hamas and Islamic Jihad.

Overnight, Israel struck down at least 10 towers in Gaza that it said were used by Hamas, Hagari said Sunday, adding that tens of thousands of Israeli soldiers are operating on the ground around the Gaza Strip.

The IDF on Sunday said it is now focusing on taking control of the Gaza Strip, and urged civilians there to leave residential areas near the border immediately for their safety as Israeli military operations continued to target Hamas.

But most Gazans have no way of fleeing the besieged enclave. All crossings out of the territory are shut, with the exception of the tightly controlled Rafah crossing with Egypt.
Analyses
Lawrence Freedman, Comment is Freed ("Hamas attacks Israel"):
Israel is already hurting Hamas back with air strikes attacking infrastructure. More significantly Gaza is being deprived of much of its electricity and water supplies, and its internet has been hit. IDF Chief Spokesman Brig. Gen. Daniel Hagari told a press conference that airstrikes 'would significantly intensify and would eliminate all Hamas terror infrastructure, all houses of terror commanders, and all symbols of Hamas' rule.' But in the end these are buildings, and new buildings can always be found, and for that matter new fighters and leaders.

It has also called up reservists and appears to be preparing to once again re-enter Gaza. The pressure for it to do so will be considerable, but there are also reasons for caution.

First, Hamas will be prepared. This will be a tough fight. Even a limited incursion could be costly.

Second, the IDF neither has the capacity nor the staying power to take control of Gaza. This remains a territory of 2 million people, and as they have nowhere else to go, they will stay, still angry.

Third, for Israel the greatest danger is that the conflict spreads, stretching the IDF, and the Iron Dome, even more. The Lebanese group Hezbollah has praised the operation, and linked it to attempts by Arab governments to improve relations with Israel. According to its leader Hassan Nasrallah

[…]

If Israel wants to contain the conflict it needs to get it over as soon as possible. For the same reason it will serve Hamas best if it can be kept going, raising emotions throughout the region.

Israel, having concluded that it was secure because it had found ways to contain the Palestinians and then largely ignore them, now discovers that this is not so easy. The international attention these events have gained, and the dangers if the violence continues, may encourage new diplomatic initiatives – the Security Council will meet while US Secretary of State has been in touch with all interested parties other than Hamas – but with so much else going on this is not a propitious time. Perhaps Israel's new friends in the Gulf will identify a way forward, as the Saudis have tried to do in the past. Perhaps the shock of this latest round of fighting will encourage fresh thinking. It is not as if the history lacks examples of attempts to ease the conflict, some of which made progress.

Local initiatives are more likely. It is hard to see how the hostages can be released safely by a military operation. The Wall Street Journal reports that Egypt has already been asked by Israel to mediate. Egypt was involved with talks underway since May 2021 with Qatar and Hamas (in which Israel has had an input). These were about rebuilding Gaza after past fighting and easing the blockade, in return for a cease-fire. According to Haaretz, they broke down a month ago, when instead of more aid Qatar's representative in Gaza conveyed only Israel's warnings against any escalation. These could be revived, although even if a cease-fire now with an easing of the blockade, without Hamas being weakened for the future, would be seen as a defeat for Israel. But if we look back again to 1973 the long-term impact on Israel lay as much in how the fighting started as in how it ended. Being caught out by the first blow was a psychological victory for its adversary and the effects lingered.
The Economist ("The lessons from Hamas's assault on Israel"):
It is too soon to know how the next few weeks will unfold. Israel's prime minister, Binyamin Netanyahu, has vowed to exact "a huge price" and he is right: Hamas must be made to pay for its atrocities, which include the massacre of more than 250 young Israelis at a festival in the south. But Israel's response comes with grave risks. Sending idf ground troops into Gaza could draw them into bloody urban fighting—and endanger the hostages, too. The longer the fighting drags on, the greater the chance that violence spreads to the West Bank or Lebanon. The death of many civilians in Gaza, especially if seen as wanton, would harm Israel's standing in the world as well as being profoundly wrong in its own terms.

However, it is not too soon to be clear that this attack marks the end of a decades-old belief in Israel that Palestinian aspirations for sovereignty could be indefinitely put aside while the rest of the Middle East forged ahead. Whatever else emerges from this conflict, one thing will be a new search for answers to the question of how Israelis and Palestinians can live in peace.

Mr Netanyahu's policy of sidelining the Palestinians depended on three calculations, each of which has been thrown up into the air by the Hamas assault. The first is that, even if the Palestinian question was left to rot, Israelis could remain safe. As a result of the terrible casualties of the second intifada, which finished in 2005, Israel shut Palestinian populations away behind security walls. Superior intelligence and overwhelming firepower, including the Iron Dome anti-rocket system, meant that the armed threat from Palestinian fighters was manageable.

That notion now looks broken. One reason the intelligence services may have been distracted from Gaza is that the West Bank has been thrown into disarray by the expansionist aims of Israel's far right. In southern Lebanon Hizbullah has a fearsome arsenal, much of it supplied by Iran. No doubt, Israel will be able to re-establish its military dominance over the Palestinians. But even if its soldiers and spies believe that this ensures Israeli citizens are protected, voters themselves are unlikely to conclude that a return to the status quo is good enough.

The second assumption was that the existence of Hamas helps Israel deal with Fatah, the Palestinian party that runs the West Bank. It was assumed that divide-and-rule kept the Palestinians weak and that the influence of radical factions would undermine the credibility of moderates as partners for peace—all of which suited Mr Netanyahu just fine.

With these attacks, that notion has also run its course. One reason for Hamas to strike was that divide-and-rule has created the conditions in which Fatah has become decadent and out of touch; its leader, Mahmoud Abbas, is ailing. With this assault, Hamas is claiming to be the true voice of Palestinian resistance. Inter-Palestinian rivalry was supposed to protect Israelis; it has ended up making them targets.

The third assumption was that Israel could strengthen its position in the Middle East by pursuing regional diplomacy even as it left the Palestinians to fester. That view was endorsed by the signing of the Abraham Accords between Bahrain, Israel and the United Arab Emirates in 2020—and the addition of Morocco and Sudan later. Until this weekend, it had looked as if Saudi Arabia might join, too. Eventually, it still may, but Hamas has shown that the Palestinians have a say, too.

The coming operation against Hamas will only add to the sense that the time has come for a new approach. After Saturday's bloodshed, Israel cannot wreck Hamas only for it to remain in power in Gaza as if nothing had happened.

However, no simple alternative is on offer. The idf does not want to occupy Gaza—that is why the enclave is self-governed. The idea of an international peace-keeping force is also hard to imagine: no country wants to take on the responsibility. And yet, if the idf destroyed Hamas in Gaza and then marched back home again, who knows what destructive forces might fill the vacuum that was left behind.

Nobody should underestimate the difficulties that lie ahead. The second intifada turned young Israelis against talking to the Palestinians. This outrage will surely create a new generation of Israelis who cannot imagine how Palestinian factions could be a partner for peace. At the same time, Israel's right-wing coalition has been focused on annexing parts of the West Bank. It will redouble these efforts.

Despite that, hard-headed Israelis will need to grapple with the fact that they must once again start to deal with the Palestinian issue. Israel's security apparatus needs a counterparty to work with if it is to have any sway over the Palestinian territories. That means it needs a Palestinian interlocutor.
Haaretz Editorial Board ("Netanyahu Bears Responsibility for This Israel-Gaza War"):
The disaster that befell Israel on the holiday of Simchat Torah is the clear responsibility of one person: Benjamin Netanyahu. The prime minister, who has prided himself on his vast political experience and irreplaceable wisdom in security matters, completely failed to identify the dangers he was consciously leading Israel into when establishing a government of annexation and dispossession, when appointing Bezalel Smotrich and Itamar Ben-Gvir to key positions, while embracing a foreign policy that openly ignored the existence and rights of Palestinians.

Netanyahu will certainly try to evade his responsibility and cast the blame on the heads of the army, Military Intelligence and the Shin Bet security service who, like their predecessors on the eve of the Yom Kippur War, saw a low probability of war with their preparations for a Hamas attack proving flawed.

[…]

However, the military and intelligence failure does not absolve Netanyahu of his overall responsibility for the crisis, as he is the ultimate arbiter of Israeli foreign and security affairs. Netanyahu is no novice in this role, like Ehud Olmert was in the Second Lebanon War. Nor is he ignorant in military matters, as Golda Meir in 1973 and Menachem Begin in 1982 claimed to be.

Netanyahu also shaped the policy embraced by the short-lived "government of change" led by Naftali Bennett and Yair Lapid: a multidimensional effort to crush the Palestinian national movement in both its wings, in Gaza and the West Bank, at a price that would seem acceptable to the Israeli public.

In the past, Netanyahu marketed himself as a cautious leader who eschewed wars and multiple casualties on Israel's side. After his victory in the last election, he replaced this caution with the policy of a "fully-right government," with overt steps taken to annex the West Bank, to carry out ethnic cleansing in parts of the Oslo-defined Area C, including the Hebron Hills and the Jordan Valley.

This also included a massive expansion of settlements and bolstering of the Jewish presence on Temple Mount, near the Al-Aqsa Mosque, as well as boasts of an impending peace deal with the Saudis in which the Palestinians would get nothing, with open talk of a "second Nakba" in his governing coalition. As expected, signs of an outbreak of hostilities began in the West Bank, where Palestinians started feeling the heavier hand of the Israeli occupier. Hamas exploited the opportunity in order to launch its surprise attack on Saturday.

Above all, the danger looming over Israel in recent years has been fully realized. A prime minister indicted in three corruption cases cannot look after state affairs, as national interests will necessarily be subordinate to extricating him from a possible conviction and jail time.
Gidi Weitz, Haaretz ("Another Concept Implodes: Israel Can't Be Managed by a Criminal Defendant"):
How depressing and upsetting it is today to recall Benjamin Netanyahu's arrogance under interrogation about Case 2000, one of the three corruption cases against the prime minister. "This is classified, don't let it leak, okay?" he said, flattering the police investigators with the magic lure of security secrets. And then he explained his doctrine regarding Hamas and Hezbollah.

"We have neighbors," he said, "who are our bitter enemies … I send them messages all the time … these days, right now … I mislead them, destabilize them, mock them, and them hit them over the head." The suspect then continued his lecture: "It's impossible to reach an agreement with them … Everyone knows this, but we control the height of the flames."

This arrogant worldview, so disconnected from reality, isn't the only thing that blew up in Netanyahu's face, and ours, on Saturday morning. The other "concept" that collapsed was one many good people warned about: the idea that the leadership of the state could be entrusted to a criminal defendant.

History will judge everyone who lent a hand to this moral distortion – first and foremost the defendant himself and his fanatic supporters, party colleagues, and partners in the governing coalition, but also the media personalities and jurists who mobilized to kosher this abomination.

[…]

It's impossible to close your eyes to the reality. There's a clear connection between the corruption trial, the government's judicial overhaul, and the greatest failure since the Yom Kippur War of 1973, perhaps even since the establishment of the state.

Admittedly, the intelligence agencies failed inconceivably at foreseeing the actual attack. But they warned Netanyahu time and again in recent months that Israel's enemies had identified a historic weakness, making the likelihood of war higher than it has been since the Second Lebanon War of 2006.

Yet instead of quelling Justice Minister Yariv Levin, National Security Minister Itamar Ben-Gvir and Finance Minister Bezalel Smotrich due to this danger, Netanyahu prioritized ensuring his personal survival and the integrity of his coalition at the price of capitulating to insane, messianic racists. To this end, he turned his domestic rivals into enemies and systematically destroyed the connective tissue that, with great difficulty, held Israel society together.

He and his partners in this criminal organization forgot that Israel isn't Poland or Hungary, but first and foremost a country deeply embroiled in a national conflict. Consequently, it doesn't have the privilege of entertaining itself with dictatorial games.
My Take
I have very little to add to my analysis of yesterday. Regardless of Netanyahu's culpability in setting up the conditions for the attack, the manner of it—the wanton slaughter of innocents and taking of hostages—has outraged Israel and much of the Western world. I'm reminded of the Doc Holliday line from Tombstone: "Oh, make no mistake, it's not revenge he's after, it's a reckoning."
My prediction that the IDF will try to retake Gaza has already come true. But I trust Freedman's assessment that they lack the resources to do so, much less keep it. It's not at all clear to me what the end game for either side is.
Alas, my prediction that Israel will wantonly commit war crimes has also come true. They're deliberately bombing civilian infrastructure and cutting off water and electricity. As awful as it is, it's not obvious what the alternative is when the enemy is ensconsed among the civilian population in densely a packed urban environment. That the defense minister is referring to the Gazans as "human animals" is not a hopeful sign.
That Americans are among both the dead and the hostages shouldn't come as a surprise. A great number of American Jews are dual citizens, either in fact or in practice. But it certainly further complicates our policy calculations.