Reactions To Iran Nuclear Deal About What You'd Expect
The Iranian nuclear accords are barely 24 hours old and some people have already made up their mind about them.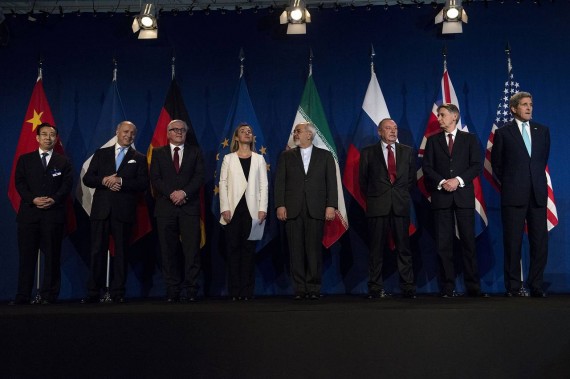 It's been just under twenty-four hours since the negotiators in Switzerland for the so-called 'P5 plus 1' talks concerning Iran's nuclear program announced their framework agreement and the reactions from the expected parties have been pouring out steadily notwithstanding the fact that we're essentially heading into a holiday weekend. Both on the domestic political front and internationally, the responses so far have been about what you'd expect.
Republicans on Capitol Hill, for example, were denouncing the deal before the ink was dry, and possibly before they'd had any real opportunity to think about the terms of the agreement:
Republicans on Thursday ripped the emerging nuclear deal with Iran, and Speaker John Boehner (R-Ohio) demanded that lawmakers be able to review details of the framework before any international sanctions are lifted.

"After visiting with our partners on the ground in the Middle East this week, my concerns about Iran's efforts to foment unrest, brutal violence and terror have only grown," Boehner said in a statement after leading a GOP delegation through Israel, Iraq, Jordan and Saudi Arabia.

"It would be naïve to suggest the Iranian regime will not continue to use its nuclear program, and any economic relief, to further destabilize the region," the Speaker said.

Meanwhile, Senate Foreign Relations Committee Chairman Bob Corker (R-Tenn.) vowed to press forward with legislation allowing Congress to put its fingerprints on the Iran deal, saying "the administration first should seek the input of the American people."

Defense hawks on Capitol Hill blasted the deal as too weak and warned that it would essentially put nuclear weapons in the hands of the Iranian regime.

"Iran remains the world's worst state sponsor of terrorism. Iranian aggression is destabilizing the Middle East. And Iran continues to hold multiple Americans hostage," said freshman Sen. Tom Cotton (R-Ark.), who earlier had penned a controversial letter to Iranian leaders in a bid to derail the nuclear talks.

"I will work with my colleagues in the Senate to protect America from this very dangerous proposal," he said, "and to stop a nuclear arms race in the world's most volatile region."
Senator Mark Kirk went even further than most of his colleagues, and officially became the first Republican politician to analogize the accord to Munich and the Nazis:
Sen. Mark Kirk blasted the nuclear deal with Iran on Thursday, saying the Obama administration's diplomacy was worse than Britain's attempts to appease Nazi Germany and predicting Israel would soon be pulled into a war with Iran.

The Illinois Republican trashed a deal struck by global powers with Tehran, concluding in a phone interview "that Neville Chamberlain got a lot of more out of Hitler than Wendy Sherman got out of Iran," a reference to a top State Department negotiator on the deal.

But Kirk wasn't done, forecasting that lifting any more sanctions on Iran "dooms the Middle East to yet another war," one that Israel will have to clean up, perhaps in a nuclear fashion.

"We should be a reviewing presence to see how this unfolds," Kirk said of Congress' role, adding: "Which we all know is going to end with a mushroom cloud somewhere near Tehran."

Kirk's office called to clarify that Kirk was referring to a nuclear test in Iran.
Things are pretty much the same among the Republican candidates for President:
[T]he fledgling 2016 GOP field appears united in their skepticism of Iran's intentions.

"The reported details of the Iran deal include significant concessions to a nation whose leaders call for death to America and the destruction of Israel. Iran remains a major destabilizing force in the region, working against American interests," former Florida governor Jeb Bush said in a statement Thursday. "Nothing in the deal described by the administration this afternoon would justify lifting US and international sanctions, which were the product of many years of bipartisan effort. I cannot stand behind such a flawed agreement."

Former Texas governor Rick Perry also accused the White House of making too many concessions to Iran and hinted at the additional strain the deal could put on U.S.-Israeli relations.

"Americans and our allies are right to be wary of a nuclear deal w/ Iran that is riddled with concessions by the Obama Administration," he wrote in a tweet Thursday.

In a Fox News op-ed, former Hewlett Packard CEO Carly Fiorina stressed her belief that the Iranian government cannot not be trusted to honor the conditions of the deal.

"The Iranian government has repeatedly, flagrantly violated sanctions put in place by the United Nations. We know that they have flat-out lied about every nuclear facility they have built over the last three decades," Fiorina wrote. "This is not the behavior of a potential ally or of a partner. These are the actions of a country trying to bluff its way into persuading the United Nations, the United States, and its allies to allow it the freedom to develop a nuclear weapon for military purposes."

Florida Senator Marco Rubio, who is slated to announce his presidential bid in a matter of weeks, conceded Thursday evening that he had not reviewed the details of the deal but nonetheless said it seemed like the White House was "spinning diplomatic failure" on twitter.

Wisconsin Governor Scott Walker went a step further, calling the deal "dangerous" in a tweet published Thursday. That opinion mirrors language used by the administration's critics, who have suggested the agreement is a threat to Israeli national security.
And, of course, Israeli Prime Minister Benjamin Netanyahu came out with his expected response almost as soon as he was finished speaking with President Obama yesterday afternoon:
JERUSALEM — Prime Minister Benjamin Netanyahu said the framework agreement announced Thursday by six world powers and Iran to curtail the latter's nuclear ambitions "would threaten the survival of Israel" and pave the way to an Iranian nuclear bomb.

Netanyahu, who has threatened to use military force to prevent Iran from obtaining a nuclear weapon, spoke with President Obama on Thursday night and expressed Israel's strong opposition to the preliminary agreement, according to the prime minister's office.

Netanyahu said the framework's parameters "would legitimize Iran's nuclear program, bolster Iran's economy, and increase Iran's aggression and terror throughout the Middle East and beyond."

If finalized, the preliminary deal would not block Iran's path to the bomb, he added. Rather, he said, "it would pave it."

Israeli Minister of Intelligence Yuval Steinitz told reporters earlier that Israel would counter any Iranian nuclear threat through diplomacy and intelligence. But, he added, "if we have no choice, we have no choice. . . .The military option is on the table."

In a controversial address to Congress last month, in which he challenged President Obama's efforts to strike a deal with Tehran, Netanyahu warned against a "bad deal." He argued that more economic sanctions should be deployed against Iran, until the Islamic republic dismantles its uranium-enrichment program.

Israeli officials and defense analysts here say now that a loose framework agreement has been reached, Israel will press hard to persuade the United States and other nations involved in the negotiations — such as France, Germany and Britain — to either walk away from a final deal or insist on harsh measures to compel Iran to yield to intrusive oversight of its nuclear program.

"The most important thing that Israel can do now is to make sure that a deal with Iran can give as much . . . breakout time as possible," said Meir Javedanfar, an expert on Iran at the Interdisciplinary Center in Herzliya, Israel, a college and research center, referring to the time it would take Iran to construct a nuclear bomb.
As I said above, none of these reactions are entirely surprising. Congressional Republicans have been critical of the very idea of negotiating with Iran to begin with, unless of course it involves negotiations where Iran agrees to give up everything and the West gives up nothing. Senate Republicans made that clear last month when, for no particular reason other than what could only be characterized as a conscious effort to undermine the Administration's negotiating position, 47 of them signed on to an "open letter" to Iran that essentially told Tehran that they shouldn't believe that the United States would actually live up to whatever was agreed to in Switzerland. Long before then, of course, Republicans like Senator Corker, along with many Democrats, started working on legislation that is still pending in Congress that would tighten sanction on Iran and attempt to give Congress a veto over whatever the President agreed to on behalf of the United States. Many of the Republican candidates for President signed on to this letter, either as Senators or in subsequent statements, and the GOP talking points on the deal were essentially set long before the terms of this agreement were ever announced. The one exception to that was Rand Paul who, bizarrely, said after the fact that he had signed the letter to "strengthen" the President's bargaining position even though it should have been obvious beforehand that it would have the opposite effect.
As I said yesterday, while the outline of the accord seems promising on paper, whether or not it actually turns out to be a good deal will depend on whether or not its complied with, both by the Iranians and by the international community. If the Iranians balk on inspections, or try to complicate the work of the IAEA then the rationale for the deal is going to fall apart fairly quickly. At that point, the United States will likely be faced with the need to reimpose whatever sanctions have been lifted, and consider imposing even tougher sanctions. A collapsed agreement would also strengthen the hand of those forces, both in the United States and internationally, who clearly seem to believe that the only solution for the Iranian nuclear "problem" is military action. But all of that is in the future, and we can't say for sure what will happen. The deal could be a stunning success, after all, and lowered tensions with Iran could be just what the Middle East needs to deal with ISIS, which honestly seems to me to be the more immediate threat not just to nations that could be the target of international terrorism but to the nations of the Middle East whose territorial integrity is threatened by a force like ISIS. In any case, rather than condemning the deal before the ink is dry, it seems to me that the more rational response is to wait and see what happens. If the Iranians are serious about complying, then that will be good for everyone, well except for the warmongers that is.