Rand Paul Tries To Explain Why He Signed The Cotton Letter To Iran, And Fails
Rand Paul now says he signed the Cotton Letter to strengthen the Administration's bargaining position.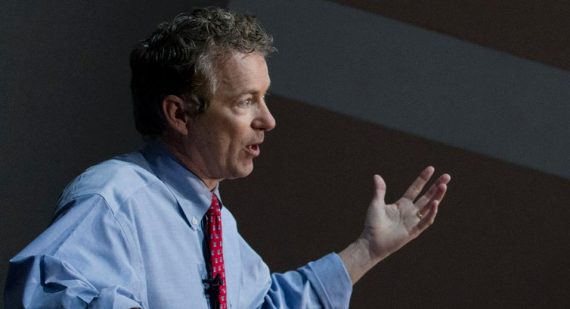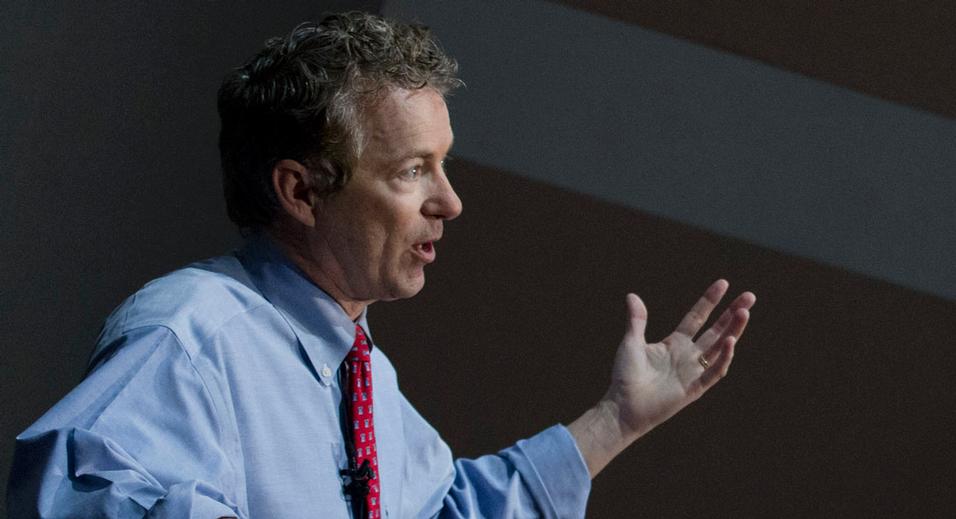 Rand Paul was, of course, among the 47 Senators who signed the "Open Letter" to the leaders of Iran signed by nearly all of the Republican members of the United States Senate which purported to remind the Iranians about the potential role of Congress with regard to any deal that might be reached on Iran's nuclear program from the ongoing talks in Geneva. Now, though, Senator Paul, apparently in response to criticism from both the left and some of his own supporters, has said he really only signed the letter to help President Obama:
During a town-hall meeting with employees of a cloud computing company, Kentucky senator and potential 2016 presidential candidate Rand Paul said he signed Arkansas Senator Tom Cotton's letter to Iran's leaders to help the Obama administration craft a better deal.

"We wrote laws putting sanctions on Iran," Paul said. "My goal in supporting those was to get them to the negotiating table. I don't want to push them away. I have not favored more sanctions during the negotiations-I want the negotiations to succeed."

Dan Brian, a technical writer at Dyn, looked skeptically at Paul as the senator answered his question. "I want the president to negotiate from a position of strength," said Paul. "I want him to be able to go to the Iranians and say, 'Congress is going to have to vote on this, because Congress put these sanctions in place. To remove them, Congress will have to vote on it, so you will have to give up more.'"

When the town hall ended, Brian went back to work unsatisfied. "I found the answer to be kind of ridiculous," he said. "The Senate, taking on foreign policy like that, seemed to be out of its jurisdiction. For him to say that it put the president in a position of strength-I thought that was wrong."
It's not surprising that Mr. Brian found Senator Paul's explanation for signing on to the Cotton letter to be unpersuasive, because it really comes across as a ridiculous argument that some adviser came up with after the fact to justify something that Senator Paul, and no doubt many of his fellow Republican Senators, didn't really put very much thought into. As I noted when I first wrote about the letter, it should have been obvious from the beginning that the letter would serve no purpose other than to undermine the negotiation position of the United States and the European nations in Geneva while simultaneously strengthening hardliners in Iran who have been arguing against a deal to begin with. It should have been obvious that the letter would be used by these hardliners to reinforce their argument that the United States cannot be trusted to live up to whatever deal might be agreed to, which would undermine the ability of any moderates in the Iranian government to push their argument for a deal forward. Finally, it should have been obvious from the beginning that rather than the mythical "better deal" that Israeli Prime Minister Netanyahu talked about in his speech to Congress earlier this month, the letter would be more likely to result in no deal at all, which would likely cause the Iranians to accelerate their nuclear program without any real international observation at all.
It won't come as a surprise, then, that this seems to be exactly what has happened, and that the letter has in fact undermined the Administration, and the Europeans, in the negotiations in Geneva:
 A key European diplomat said Thursday that the letter to Iran from Senate Republicans "was not helpful" to ongoing international nuclear talks with Iran, as other officials lowered expectations for reaching a framework deal this month.

German Foreign Minister Frank-Walter Steinmeier was reacting to a letter signed by 47 Senate Republicans warning Tehran that any nuclear deal it strikes with President Barack Obama will be nonbinding and easily undone.

Steinmeier added that to call the missive unhelpful was "an understatement."

Germany is among the six nations conducting talks with Iran in an effort to prevent Tehran from acquiring a nuclear weapons capability. In addition to the United States, the others are France, Britain, Russia and China.

Steinmeier elaborated in German-language remarks to his country's media Thursday morning.

"It's not just a matter of U.S. politics. It has an impact on the talks in Geneva. Because now of course mistrust is growing on the Iranian side about whether our side is really serious about negotiations," according to a translation from German network Deutsche Welle.

According to sources close to the negotiations, the letter may have given Iran more leverage in the nuclear talks.

"The game that was played in the past is that we are credible and the Iranians are not credible," said one. "The letter is creating the advantage for the Iranians. It is hurting our position in the negotiations."
This outcome could have been seen from the beginning, of course, and it leads to one to the rather obvious conclusion that the real purpose of the letter was in fact to undermine the negotiations and to make any deal in Geneva less likely.
Daniel Larison comments:
Even if one were inclined to believe Paul's weak excuse for the terrible decision to sign the letter, the fact remains that the stunt had the opposite effect of the one that Paul claims to have wanted. The decision to sign the letter may be consistent with Paul's support for Corker's Iran legislation (though Corker himself didn't feel compelled to sign on), but that just reminds us that Paul has made the wrong callon that as well. Finally, signing the letter aligned Paul with a senator who has bluntly stated that he desires the negotiations to be derailed. The most generous explanation is that Paul didn't understand what Cotton was trying to do, and that is almost more damning than if he did understand.
So, either Senator Paul's read of the situation was so wildly off base before he signed the letter than one has to question his judgment on a whole host of issue or, more likely, this is a position that Paul has come up with after the fact to justify something that he is being rightly criticized for doing. Either way, it doesn't make him look very good.