U.S., World Powers, Reach Temporary Nuclear Deal With Iran
Small steps from both sides in the Iranian nuclear negotiations, but too early to say that we've reached a solution.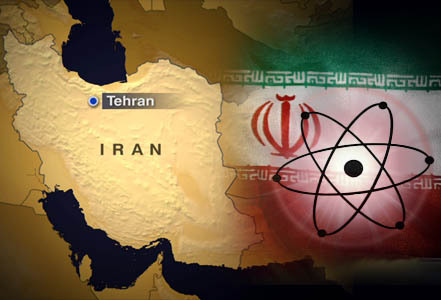 Just a few weeks ago, it had seemed like we were on the verge of a temporary deal with Iran regarding its nuclear weapons program. Secretary of State Kerry had traveled to Geneva, where talks had been going on for several weeks between the so-called "P-6" group of nations and the representatives of the Iranian government in the wake of the election of Iran's new President. For much of that weekend, it seemed like a deal was imminent notwithstanding the expected objections that were already coming from Israeli Prime Minister Benjamin Netenyahu and, of course, conservatives in the United States, both of whom seem to reject the idea of any deal with Iran other than one that doesn't involve Iran giving up everything in exchange for, well, nothing. Before the weekend was over, though, the deal had fallen apart over the specific details of the agreement and the perception among some involved in negotiations that Iran wasn't giving up quite enough to justify granting even a minor amount of relief from financial sanctions. So, Secretary Kerry and the Foreign Ministers who had arrived in anticipation of a final went home, leaving their deputies behind to try to resurrect a deal.
As it turned out, it didn't take long for that to happen. Secretary Kerry and the rest of the Foreign Ministers were back in Geneva late last week and, last night, word came down that the parties had reached agreement on a temporary deal that would purportedly put a halt to Iranian uranium enrichment in exchange for the lifting of a small portion of the sanctions that Western nations had imposed on the Islamic Republic:
GENEVA — The United States and five other world powers announced a landmark accord Sunday morning that would temporarily freeze Iran's nuclear program and lay the foundation for a more sweeping agreement.

It was the first time in nearly a decade, American officials said, that an international agreement had been reached to halt much of Iran's nuclear program and roll some elements of it back.

The aim of the accord, which is to last six months, is to give international negotiators time to pursue a more comprehensive pact that would ratchet back much of Iran's nuclear program and ensure that it could be used only for peaceful purposes.

Shortly after the agreement was signed at 3 a.m. in the Palace of Nations in Geneva, President Obama, speaking from the State Dining Room in the White House, hailed it as the most "significant and tangible" progress of a diplomatic campaign that began when he took office.

"Today, that diplomacy opened up a new path toward a world that is more secure," he said, "a future in which we can verify that Iran's nuclear program is peaceful and that it cannot build a nuclear weapon."

In Geneva, the Iranian foreign minister, Mohammad Javad Zarif, said he hoped the agreement would lead to a "restoration" of trust between Iran and the United States. Smiling and avuncular, he reiterated Iran's longstanding assertion that its nuclear program was peaceful, adding that the Iranian people deserved respect from the West.

Secretary of State John Kerry, who flew to Geneva early Saturday for the second time in two weeks in an effort to complete the deal, said it would "require Iran to prove the peaceful nature of its nuclear program."

Iran, which has long resisted international monitoring efforts and built clandestine nuclear facilities, agreed to stop enriching uranium beyond 5 percent, a level that would be sufficient for energy production but that would require further enrichment for bomb-making. To make good on that pledge, Iran will dismantle links between networks of centrifuges.

Its stockpile of uranium enriched to 20 percent, a short hop from weapons-grade fuel, would be diluted or converted into oxide so that it could not be readily used for military purposes. Iran agreed that it would not install any new centrifuges, start up any that are not already operating or build new enrichment facilities.

The agreement, however, does not require Iran to stop enriching uranium to a low level of 3.5 percent, or to dismantle any of its existing centrifuges.

The accord was a disappointment for Israel, which had urged the United States to pursue a stronger agreement that would lead to a complete end to Iran's enrichment program. But Iran made it clear that continuing enrichment was a prerequisite for any agreement.

The United States did not accept Iran's claim that it had a "right to enrich" under the nuclear non-proliferation treaty. But American officials signaled last week that they were open to a compromise in which the two sides would essentially agree to disagree on how the proliferation treaty should be interpreted, while Tehran continued to enrich.

In return for the initial agreement, the United States agreed to provide $6 billion to $7 billion in sanctions relief. Of this, roughly $4.2 billion would be oil revenue that has been frozen in foreign banks.

This limited sanctions relief can be accomplished by executive order, allowing the Obama administration to make the deal without having to appeal to Congress, where there is strong criticism of any agreement that does not fully dismantle Iran's nuclear program.
Given that the details of this deal only started leaking out around 9:00pm Eastern last night, and that President Obama didn't address the nation about it until around 10:30 last night, there hasn't been very much time for detailed reaction to the plan, but, so far at least, the reactions that have come out are about  what you'd expect. Israel Prime Minister Benjamin Netenyahu, predictably, denounced the deal, asserting that it would "make the world a more dangerous place." Here  in the United States, the initial response from Republicans on Capitol Hill seems fairly negative, and one Republican, Senator John Cornyn, even suggested in a late night Tweet that this deal was somehow intended to be a distraction from the political problems the Administration was facing vis a vis the Affordable Care Act.  I'm sure we'll hear more from the critics of Obama's Iran policy later today and as the week goes on, but it strikes me that there are several things worth keeping in mind here as we attempt to judge this agreement while the ink is still drying.
First of all, this is, as the President made clear last night, a temporary deal that is intended to last only six months while the parties attempt to reach a longer-term deal that would lead to a permanent end to Iranian enrichment of uranium beyond the 3.5%-5% level needed for a nuclear energy program, and to place that program under a much broader system of international monitoring that would ensure that they aren't trying to develop nuclear weapons while telling the world they are engaging in research and development of an energy program, activities which are permitted on the relevant nuclear non-proliferation treaties. As we sit here today, of course, we can't tell whether those longer term negotiations will succeed, or even whether Iran will comply with the agreements that were reached yesterday in Geneva. However, at least on paper, what we have is a deal in which Iran is agreeing to freeze significant parts of its nuclear program and, in exchange, the West has agreed to suspend relatively small portions of the financial sanctions that have been placed on Iran while also gaining the right to gain access to Iran's nuclear research sites to ensure that the Iranians are indeed complying with their obligations under the new agreement. While skepticism is always warranted in these situations, this seems like a good first step toward the goal of a longer term deal that leads to more permanent action by Iran and, potentially, better relations between Iran and the rest of the world.
Second, the suggestion from Prime Minister Netenyahu that this deal makes the world more dangerous seems to me to be little more than overblown rhetoric. If nothing else, getting Iran to temporarily agree to hold back on further enrichment about 5% and dismantle its network of centrifuges means that this march toward a nuclear weapon that he and his supporters in Israel and the United States claim Iran has been on for the past decade or so means that we've at least slowed that progress down just a little bit. Furthermore, the Iranians have claimed all along that their nuclear program has nothing to do with weaponizing and everything to do with research and energy program. With this deal, we've actually obtained the means by which to test that assertion. If the Iranians are being honest with that assertion, then we can expect them to both comply with what they've agreed to in Geneva and to continue negotiating toward a long-term deal that allows them to continue pursuing those two legitimate goals while simultaneously ensuring that the means of enforcing compliance, international sanctions, largely remain in place and subject to further tightening should they not comply with the Geneva agreement or not negotiate in good faith. Contrary to Nentanyahu's fear-mongering, I'd argue that this is a good step in the right direction. Whether it gets us to the goal that both the U.S. and its European partners, and the Israelis agree upon vis a vis Iran's nuclear program is what future negotiations are all about.
Third, I would suggest that this agreement, even though it is only temporary, provides some pretty stark evidence that the sanctions against Iran that were designed to bring it to the negotiating table have actually worked. For the past several years, the United States has worked hard to get other Western nations to agree to enforcement of financial sanctions that made it next to impossible for the Iranians to gain access to billions of dollars in oil revenues and other assets sitting in foreign banks, mostly in Europe. The impact of this at home has, according to all reports, been quite severe. The value of Iran's currency has plummeted in recent years, which has led to massive price increases for the basics of life for the average Iranian, and the inability to access foreign currency reserves has reportedly hit the Iranian military and Revolutionary Guard quite hard. The deal reached in Geneva today relaxes a small portion of those sanctions and will result in some ~$7 Billion being released to them, which is actually a fairly small portion of the Iranian cash being held in various banks around the world, and those sanctions will only be lifted for a short period of time. If Iran wants access to the rest of the money, they're going to have to agree to a longer term deal. If they fail to comply or negotiate in good faith, the sanctions that were lifted will be reimposed. Clearly, the sanctions were hurting Iran enough to cause them to make the agreement they did, which suggests to me that they have some strong financial incentives to agree to a longer term deal.
Finally, as the critics start to come out of the woodwork, I think that they are obligated to answer a very critical question. Namely, if they are objecting to this deal, then what, exactly, is their alternative? So far this morning, I'm seeing people on the right saying that the only acceptable alternative is for Iran to immediately and completely dismantle its entire nuclear program, or at least its centrifuges. One problem with that attitude, of course, is that this misses entirely the point of what the Geneva negotiations were all about. The parties were quite obviously aiming for a temporary deal that would allow both sides to save face while also engaging in good faith demonstrations that would show that they are indeed willing to take some of the steps that would be necessary to reach a final deal. Given the fact that negotiations between the West and Iran had basically been moribund for much of the time that Mahmoud Ahmadinejad served as President of Iran, that seems to me to be a good first step forward. The other problem with this all-or-nothing position, of course, is that it is a pretty unrealistic view of how diplomacy works. As with all other negotiations, it's rare that one side gets everything they want, at least not without having to give something up in return.
There are plenty of reasons to be skeptical about this deal, and about whether the Iranians will both comply with its terms and negotiate in good faith toward a longer term agreement. However, at first glance this seems to me to be a good step in the right direction, and a far better alternative than the idea that the only way to deal with Iran is to become more and more bellicose to the point where military action would seem to be our only option. As Winston Churchill once said, "To jaw-jaw is always better than to war-war." So, while it's far too early to say that we've averted an eventual path toward war, there at least seems to be some hope that we have. Since this is only a temporary deal, why not at least give diplomacy a chance?
Update: Jazz Shaw has this response to my final point:
There's nothing wrong with continuing to talk to Iran regarding their nuclear program. In fact, for all Western nations it's pretty much a requirement, as we are honor bound to seek a diplomatic resolution to problems before resorting to a military one. But when signing off on "deals" we need to at least show some concrete progress. There is nothing here which can't be reversed in the blink of an eye in terms of what Iran is "giving up" while there will be no taking back the economic – and public relations – windfall the Iranians will reap from it. I'm not sure if the world is any more dangerous as a result of this, as both Pipes and Netanyahu infer, but it's certainly difficult to see how it's any less dangerous, either. Iran has great cause to celebrate from this one, but I don't see why anyone else should be doing any dancing. If there was any victory for the West here, it was just a chance for John Kerry to put a feather in his cap for being involved in getting a relatively toothless piece of paper signed.
I don't dispute that what Iran has given up here could be easily reversed, but then again that's true of what we've given up in the form of a relatively small part of the financial sanctions against Iran that have been lifted. As I noted, if the Iran wants access to the tens of billions of hard currency currently frozen in banks around the world, it's going to have to demonstrate something far more than what it has today. However, I think it's important to emphasize again that this is a temporary deal, one that is meant as much to create the groundwork for the good faith necessary for a longer term deal as it is anything else. As such, I'm not sure it's fair to criticize it using criteria that would be better applied to a final deal, which this most certainly is not. If it turns out this temporary deal reveals that Iran cannot be trusted to live up to even what it has agreed to here, then we will have to proceed accordingly. If, however, they demonstrate that they can be trusted, then that strikes me as an important step forward. As President Reagan said regarding nuclear negotiations with the Soviet Union, it's time for a little "trust, but verify."