Congress Trying To Undercut Obama's Iran Deal?
Some Members of Congress are talking about pushing a bill imposing new sanction on Iran despite the deal reached in Geneva yesterday.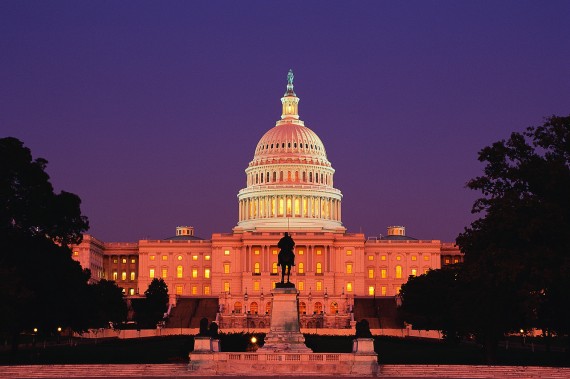 The domestic reception to the temporary deal struck over the weekend regarding Iran's nuclear program has set of a series of different reactions on Capitol Hill that don't necessarily adhere to traditional political boundaries. While there does seem to be more negative reaction, or at least skepticism, from Republicans and support from Democrats, there is also a quite healthy dose of concern from both sides of the aisle about the details of the deal and assertions from both sides that, notwithstanding the deal, Congress may still go forward with consideration of a bill that would tighten the sanctions against Iran, thus potentially place the President in the politically awkward position of possibly being forced to use his veto pen for the first time on a bill directed at the Iranian nuclear program. While it may be some time before we get to that stage, if we ever do, The Hill notes that leading Democrats and Republicans have been critical of the deal in the short amount of time since it was announced:
Top lawmakers on both side of the aisle on Sunday voiced skepticism about the newly struck agreement with Iran, and vowed to keep up the pressure with sanctions.

Senior members in both chambers said that, at first glance, Iran got the better end of the deal with western powers, China and Russia – effectively exchanging looser sanctions for very little progress in impeding Tehran's nuclear capabilities.

Some powerful lawmakers have said they're willing to seek new sanctions now, but delay their implementation until after the six months covered by the current deal. But others weren't even willing to go that far.

Sen. Chuck Schumer (N.Y.), the No. 3 Democrat in the chamber, called the deal disproportionately good for Iran, and that it was only strong sanctions that gave the United States and its allies any leverage over Tehran.

"This disproportionality of this agreement makes it more likely that Democrats and Republicans will join together and pass additional sanctions when we return in December," Schumer said in a Sunday statement.

In fact, House Majority Leader Eric Cantor's office pointed out Sunday that the Virginia Republican and Schumer – rarely allies on any issue - had sounded similar concerns about the deal, and the impact sanctions have had on Iran.

President Obama and top members of his administration, like Secretary of State John Kerry, have stressed that the pressure has been successful – but that pressing ahead with further sanctions could "derail" the new deal.

House Majority Whip Kevin McCarthy (R-Calif.), House Minority Whip Steny Hoyer (D-Md.), Senate Foreign Relations Chairman Robert Menendez (D-N.J.) and Sen. Lindsey Graham (R-S.C.) are among the lawmakers to say they'd be open to putting sanctions in place for six months down the line.

Senate Majority Leader Harry Reid (D-Nev.) had vowed last week to move ahead with sanctions legislation, but has yet to comment on the agreement finalized this weekend in Geneva.

Menendez added Sunday that he expected any Senate deal on sanctions to allow the U.S. to immediately restart sanctions if Iran fails to live up to its part of the deal.

"Given Iran's history of duplicity, it will demand ongoing, on-the-ground verification," Menendez said. "Until Iran has verifiably terminated its illicit nuclear program, we should vigorously enforce existing sanctions."
The idea of Congress being some kind of bulwark against what hardliners here in the United States are, along with Israeli Prime Minister Benjamin Netenyahu, calling a "dangerous" deal seems to be gaining hold if this piece by Jonathan Tobin at Commentary is any indication:
While the president is right to think that no American ally can deter him from pursuing détente with the murderous Iranian regime-as his disdain for both Israel and Saudi Arabia makes clear-there is one factor that could obstruct his misguided attempt to essentially withdraw the U.S. from the Middle East: Congress. Only Congress has the ability to keep Obama honest on Iran.

While much of the mainstream media reacted to the Iran deal with relief at an opportunity to step back from the need to confront the nuclear peril, congressional reaction was both sober and appropriately critical. Both Republicans and Democrats rightly pointed out that the agreement the president grabbed was an unsatisfactory retreat from his past promises. Does this matter? In one sense, the answer is no. Congress is powerless to prevent Obama from signing any deal he wants with Iran. His executive powers allow him to release the billions in frozen assets that are being use to bribe the Iranians to sign the piece of paper in Geneva. But the sanctions that have squeezed Iran's economy cannot be abrogated by presidential fiat. It will take congressional approval to do that, and if Iran is allowed to keep its nuclear toys and go on enriching uranium, that won't happen.

(…)

As most members of Congress seem to recognize, the choice here was not between war and an unsatisfactory nuclear deal. They rightly disagree with the idea that Iran is too strong to be further opposed or that it is unrealistic to suppose the West can force the regime to give up their nuclear dream. While the signal of weakness from the administration to the Iranians may have convinced them they need not fear the use of force or continued sanctions, a determined stand by Congress may be the only thing that can act as any sort of deterrent against an Iranian nuclear breakout.

(…)

While Congress can't stop the president from embarking on this potentially disastrous course of action toward Iran, it can make it impossible for him to further reward the ayatollahs if they continue their past policy of deceiving the West. The president may hope that once agreements are signed, the world will stop caring about Iranian nukes. But the House and the Senate should use their power of the purse to obstruct such a craven retreat from American responsibility. They are the only ones who have any hope of keeping Obama honest on Iran. And they should not be intimidated from doing so by anti-Semitic slanders.
There are several portions of Tobin's argument that are, of course, just factually incorrect. For example, it simply is not the case that the Geneva deal dismantles the sanctions against Iran in any significant respect. All it does is lift a portion of those sanctions on a temporary basis in return for the concessions that the Iranians have made with regard to their nuclear program, including delays in enrichment and the downgrading of material that has been enriched beyond a certain point. This is a fairly standard diplomatic "carrot and stick" approach that typifies nearly every agreement made at the international level, especially a temporary one like this that's meant to be lay the groundwork for a broader agreement. If the deal falls apart at some point, or if the Iranians end up not complying, then there isn't anything preventing President Obama from reimposing the sanctions in question. Indeed, based on some of the details that I've read at least part of the "lifting of sanctions" that's taking place involves a one-time act that will allow Iran access to foreign currency reserves that have been frozen for years, it does not mean that the will be allowed any future access to those funds during the six month period that started yesterday.
The bigger question, though, is how much Congress ought to get involved in what is clearly a delicate diplomatic situation. Here we are in a situation where the United States, through the President and Secretary of State, has negotiated a deal along with the leaders of five other nations that is designed to get some degree of cooperation from the Iranians and Members of Congress and the Senate are talking openly about passing legislation that would attempt to increase the sanctions pressure on Iran at the same time that we're trying to use the promise of slightly lessened sanctions to get them to make the necessary concessions to make real progress.
While I'm ordinarily one of those people who supports the idea of Congress asserting more authority over an increasingly Imperial Presidency, it's long been the case that foreign policy and diplomatic has been an area where Congress and the Courts generally defers to the President. The reasons for this are, of course, rather obvious. First of all, the Constitution clearly places significant authority in this area in the President's hands while at the same time giving Congress, or at least the Senate, oversight authority through its duties to approve appointees to diplomatic posts and ratify treaties entered into by the President (which, for a lot of technical reasons best not gotten into here, does not include the Geneva deal). Secondly, when working on the international stage it is always preferable that the United States speak with a single voice, which is a consensus which has generally existed throughout U.S. history. If the President is making one policy while Congress is passing lesson that seemingly contradicts him, it makes it difficult for foreign nations to understand what U.S. policy actually is. Finally, there's the old adage that 'politics stops at the water's edge,' which generally has been seen to mean not that Congress doesn't criticize Administration foreign policy, but at least that it doesn't try to deliberately undercut it. Given all of this, the prospect of a bipartisan group of Congressman and Senators publicly attacking the Geneva deal before they'd really had a chance to digest it was somewhat of an unusual spectacle yesterday, and one wonders what impact it will have on policy vis a vis Iran if it continues.
It's worth noting, of course, that there's a strong possibility that what we're hearing regarding opposition to the Geneva deal from Capitol Hill is meant far  more for domestic consumption than it is as a direct challenge to the President's authority or judgment. On both the left and the right, there are domestic political groups for whom any concession toward Iran is seen as a betrayal. This covers not just groups like AIPAC, which maintains strong allegiances with politicians on both sides of the political aisle, but also Evangelical and Christian groups on the right who see any action that looks like a concession toward Iran quite negatively. For politicians who feel obligated to maintain close ties to such groups, especially hard-right Republicans with regard to the "religious right," mouthing the words of opposition is something that you have to do as a matter of course. Not exactly a profile in courage, I know, but when you have religious groups infusing themselves into a foreign policy debate that's what happens.
In any event, Congress now has a decision to make. Does it try to do the "popular" thing and push for increased sanctions on Iran at the same time the President and other foreign leaders are trying to work out a longer term deal with Iran, or does it let the process play itself out for now? The wise choice and the politically compelling choice in this situation are not necessarily the same thing.