Trump Imposes New Sanctions On Iran. They Won't Work.
The Trump Administration unveiled new sanctions against Iran yesterday. They're unlikely to accomplish the entirely unrealistic goals the President claims to have in mind.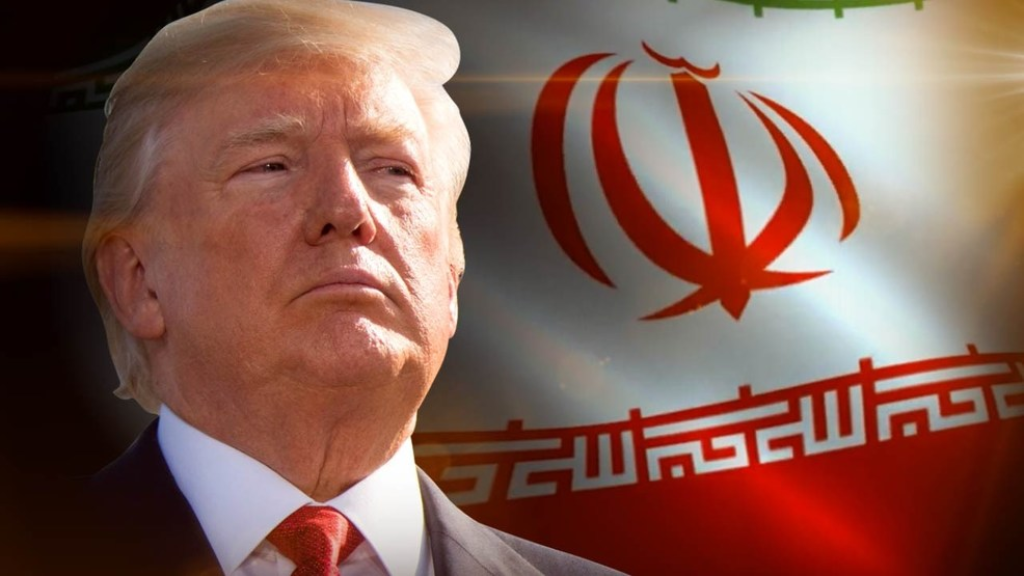 Days after abruptly calling off a military strike against Iran that was meant to be a response to that nation shooting down an American reconnaissance drone that the Pentagon says was flying over international waters, President Trump has imposed new sanctions against the Islamic Republic aimed primarily at the nation's Supreme Leader:
WASHINGTON — President Trump announced on Monday that he was imposing new sanctions on Iran, stepping up a policy of pressuring the nation's leaders and further squeezing the Iranian economy in retaliation for what the United States says are recent aggressive acts by Tehran.

The move came on top of actions taken by the administration this spring to cut off all revenues from Iranian oil exports, the lifeblood of the nation's economy.

The new sanctions are aimed at preventing some top Iranian officials from using the international banking system or any financial vehicles set up by European nations or other countries. But the Iranian officials most likely do not keep substantial assets in international banks, if any at all, or use those institutions for transactions, and any additional pressure from the new sanctions is likely to be minimal.

The largely symbolic nature of this round of sanctions indicates that the Trump administration is running low on arrows in its economic quiver. It now finds itself in a waiting game, as it watches for whether the latest clampdown on oil exports, which was announced in late April, will force the Iranian leaders to surrender to American demands in exchange for economic relief.

Speaking in the Oval Office, Mr. Trump said the new sanctions order would bar Ayatollah Ali Khamenei, the supreme leader of Iran, and his office from access to the international financial system. The Treasury Department said it was also imposing sanctions on eight Iranian military commanders, including the head of a unit that the Americans say was responsible for shooting down an American drone last Thursday.

Mr. Trump acted at a time of rising concerns over Iran. Those have been prompted in part by declarations from Tehran that it is amassing more nuclear fuel, the latest evidence that Mr. Trump's withdrawal last year from a nuclear containment deal is pushing Iranian leaders to violate terms they had been abiding by until now.

"We will continue to increase pressure on Tehran," Mr. Trump said as he sat at his desk in the Oval Office preparing to sign an executive order. "Never can Iran have a nuclear weapon."

While he warned on Monday that his restraint has limits, Mr. Trump has signaled that he prefers tightening sanctions to launching an immediate military strike to try to alter Iran's behavior and force political change in Tehran.

But critics said the new sanctions would have little substantive effect and could further inflame tensions.

"Symbolic politics at its worst," said Robert Malley, the president and chief executive of the International Crisis Group and a former senior Obama administration official on the Middle East. "At every level it is illogical, counterproductive or useless."

Treasury Secretary Steven Mnuchin said the administration would add Mohammad Javad Zarif, Iran's foreign minister and its top negotiator on the nuclear deal, to the sanctions list this week. (In his announcement about the sanctions on the supreme leader, Mr. Trump misspoke and said "Ayatollah Khomeini," who died in 1989, rather than "Khamenei.")

The inflation rate in Iran has risen to about 50 percent and many Iranians are dissatisfied with the economy, but authoritarian leaders have historically shown they can withstand stress from sanctions for many years. Some Iranian citizens also blame the United States government for the devastation of their economy, and they point to the shortage of critical medicine, even though Trump administration officials say they do not intend to limit humanitarian aid.

Iranian officials could choose to carry out nonfatal attacks on United States or international interests, as they did with the downing of the drone, to try to get the Trump administration to ease sanctions. Iran's naval commander, Rear Adm. Hossein Khanzadi, said on Monday that the military was capable of shooting down other drones that violate Iranian airspace.

Mr. Trump said on Monday that he was willing to negotiate with Iran — "I think Iran, potentially, has a phenomenal future" — but insisted Iranian leaders would have to end their pursuit of nuclear weapons, as well as halt uranium enrichment, "fueling of foreign conflicts" and "belligerent acts directed against the United States and its allies."

(…)

Mr. Trump's rollout of sanctions and the effort to end all oil exports, along with an insistence by Mr. Pompeo that Tehran meet 12 expansive demands mostly unrelated to the nuclear program, "set a spark to the escalatory cycle we're seeing today," said Dalia Dassa Kaye, a Middle East expert at RAND Corporation, a research group in California.

"The administration argued maximum pressure would bring Iran to the negotiating table, but instead it brought provocative Iranian actions that are not likely to end without Iran getting something concrete on sanctions relief," she said. "Talk about wanting to talk is not likely to be enough."

China and Russia, who also signed the nuclear deal, have joined European nations in opposing the sanctions. European officials are trying to persuade Iran to stay in the agreement and are expected to speak with Mr. Trump about his Iran policy at the Group of 20 summit meeting this week in Japan.

Mr. Trump and his top foreign policy aides say further squeezing Iran will compel its leaders to buckle to demands to limit their nuclear program in ways that go beyond the terms of the 2015 deal, which was negotiated by the Obama administration and opposed by many Republicans, Israel and Arab nations in the Persian Gulf.

Hesameddin Ashena, an adviser to President Hassan Rouhani of Iran, said on Twitter that the "U.S.'s claim that it wants negotiations without preconditions while it increases sanctions and pressure is not acceptable."
In response to the newly announced sanctions, Iran is calling them "the end of diplomacy" and that listing sanctions would be a pre-condition to any meeting between President Trump and any Iranian official:
Fresh sanctions levied by the United States drew an intense reaction from Iran on Tuesday, with a senior official saying they spell the "permanent closure" of diplomacy between the two countries.

Meanwhile, Iranian President Hassan Rouhani mocked President Donald Trump, calling the measures "outrageous and idiotic" and saying the White House is suffering from a "mental illness."

Trump announced new sanctions on Monday against Iran's supreme leader, Ayatollah Ali Khamenei, and his associates. The measures deny Khamenei and senior Iranian military figures access to financial resources and block their access to any assets they have under U.S. jurisdiction.

U.S. officials also said they plan sanctions against Iranian Foreign Minister Mohammad Javad Zarif.

In a televised speech, Iran's President Rouhani called the sanctions "hilarious" and a "stupid and ugly act."

The measures were in a part a response to Iran shooting down a U.S. surveillance drone that it said entered its airspace. The U.S. says it was flying in international airspace.

Rouhani said that incident "raised the nation's confidence" and showed "we are not scared of the U.S. but we have strategic patience."

(…)

Iran's foreign ministry spokesman, Abbas Mousavi, responded that the sanctions, adding to other measures already squeezing his country's economy, made negotiations impossible under the current circumstances.

The sanctions mean "the permanent closure of the path of diplomacy with the desperate government of the United States," Mousavi said in a tweet.

Mousavi's statement echoed that of Iran's U.N. ambassador, Majid Takht Ravanchi, who warned Monday that the situation in the Persian Gulf is "very dangerous" and said any talks with the U.S. are impossible in the face of escalating sanctions and intimidation.
Daniel Larison comments:
The new sanctions on Khamenei will have no practical effect on his finances, but they do send a political message that kills off whatever minuscule chance of negotiating might have still existed. Obviously, designating Zarif for sanctions will be just as harmful to the prospect of talks. These moves prove that the administration is not and never has been serious about negotiating with Iran. Imposing more and more sanctions simply increases tensions and deepens mistrust, and we have to assume that this is what the administration wants.

(…)

There are a few things worth noting about Trump's announcement. First, he gets Khamenei's name wrong and refers to him as the Ayatollah Khomeini, who has been dead for three decades. This is the sort of amateurish screw-up that shows how unserious and poorly-informed Trump is when it comes to engaging with Iran. Second, he rattles off a list of Iranian activities, some real and some imagined, that he wants Iran to stop. That confirms that Trump is on board with the full list of Pompeo's preposterous demands, and he is not concerned only with the nuclear issue. Trump said:

We will continue to increase pressure on Tehran until the regime abandons its dangerous activities and aspirations including the pursuit of nuclear weapons, increased enrichment of uranium, development of ballistic missiles, engagement in and support for terrorism, fueling of foreign conflicts, and belligerent acts directed against the United States and its allies.

Trump slips in the lie about nuclear weapons as part of the usual laundry list. That tells us that the president and his officials are determined to continue lying about Iran and its nuclear program to justify their destructive policy, and it tells Iran that there is nothing they can do that can possibly satisfy the administration short of total capitulation. 
Realistically speaking, it is hard to see how this latest round of sanctions, are supposed to achieve the Administration's supposed goal of putting pressure on the regime to return to the negotiating table. As Larison notes., these sanctions are primarily meant to target Iran's Supreme Leader Ali Khamenei and its Foreign Minister Mohammed Javad Zarif, are supposed to bring Iran to the negotiating table. We've tried similar sanctions against Russian oligarchs close to Russian President Vladimir Putin in the wake of the 2014 annexation of the Crimean Peninsula and they've had no effect whatsoever on Russian policymaking or its approach to the west. There's no reason to believe that the impact of these new sanctions will be any different. Indeed, the return to a sanctions policy in the wake of the Administration's unsupportable rejection of the Joint Comprehensive Plan of Action (JCPOA) has failed to do anything to bend the Islamic Republic to the Administrations will. Instead, as Iranian novelist Salar Abdoh described last week in The New York Times it has instead increased the suffering of the Iranian people and resentment of the United States inside Iran:
The devastating impact of American sanctions is everywhere: The stores are often empty; the restaurants, mostly deserted. On the adjacent Hafez Avenue, a deafening silence pervades the shopping complex specializing in selling mobile phones.

One of the few stores on 30 Tir Street that still attracts customers is run by Abbasi, a retired army officer who repairs household gadgets — people cannot afford to buy new stuff. "Well, isn't this already war?" he asked, without much rancor. It's a question many Iranians ask themselves these days.

Since the Trump administration reimposed sanctions last year, Iran's oil exports have fallen by more than half, the Iranian rial has lost more than 60 percent of its value against the dollar in the past year and inflation has reached 37 percent. The Iranian economy contracted by 4 percent in 2018 and is expected to contract by 6 percent this year.

The sanctions are ultimately about individual lives: a relative's immunosuppressive meds after a liver transplant suddenly skyrocketing in price and nearly disappearing from the market; a painter of some renown ceasing to practice her craft after 30 years because of the now prohibitive cost of art material; young professionals without jobs leaving Tehran in large numbers to try their luck in smaller, less expensive towns.

The price of paper has increased fivefold; the price of car parts, four times. Most fruits have become luxury items, many families can't afford meat and factories in the provinces are shutting down

(…)

After the easing of sanctions, the Iranian economy seemed to make significant strides. According to the Central Bank of Iran, the economy grew 12.5 percent between March 2016 and March 2017. European manufacturers like Peugeot were preparing for major investments.
Four years later, the hopes and aspirations of an entire nation wishing to come in from the cold have been destroyed. Iran finds itself at the threshold of war with the United States after having signed a nuclear deal it did not pull out of.

Whether you are for or against the Islamic Republic, when the Islamic Revolutionary Guard Corps, the most prominent military force of your country, is being labeled a terrorist organization while the channels of economic exchange between your country and others are barred and your major export — oil — is being choked, the ordinary Iranian may be forgiven for thinking that war is just a matter of time.

The last time there was a definitive test of wills between Iran and another country was Saddam Hussein's invasion in the 1980s. Iran, which was completely dependent on Western technology and military ware before the revolution, intensified its efforts during and after the war to develop self-reliance.

(…)

Sadi Shirazi, the great 13th century Persian writer, has a tale about a king at sea. A member of his retinue who has never seen so much water will not stop wailing and wants to return to land. The king's adviser has a solution: Throw the man who cannot swim into the water and he will quickly learn the attraction of being on a safe ship.

The Trump administration's policy of "maximum pressure" on Iran smacks of throwing the country into the sea to bring it to its senses. Except that Iran learned to swim during its war with Iraq. Iran does not recognize the king and doesn't see the ship as a safe haven. After all, the entity that threw it into the current once can and will do it again.
The predictable result of the destructive Iran policy has been to destroy the hopes and aspirations of Iranians and to deprive them of the things they need to live and work. This is a policy that cuts off the sick from access to their medicine and ruins the lives of innocent strangers in a vain effort to compel a government these people don't control to abandon what the government believes to be core security interests. The weakest and most vulnerable members of society pay the highest price for policies they can't change, and the demands are so onerous and excessive that no self-respecting government would ever agree to them.
The results of this new sanctions policy have been rather obvious. After euphoria in the wake of the JCPOA and the subsequent lifting of sanctions that have been in effect for a decade or more, the Iranian people find themselves facing economic misery yet again, and they seem well aware of who is responsible for their current condition. As Daniel Larison notes, it is because of the United States that people in need of medical attention are cut off from the supply of vital medication due either to shortages or prices they simply cannot afford. They are being made to pay the price of policies being implemented by a government they really don't have control over and they are being told they will continue to suffer until their rulers agree to demands that no government is ever going to agree to.
The strategy behind these sanctions is obvious. By imposing economic pain on the Iranian people, the Trump Administration believes that it can force the Iranian government back to the negotiating table to not only renegotiate the terms of the JCPOA but also to eventually capitulate when it comes to issues such as ballistic missiles and its support for groups like Hezbollah and the regime of Syrian President Bashar Assad. As Adboh's Op-Ed makes clear, it seems to be having the opposite effect while at the same time punishing the Iranian people, who Trump officials claim to be helping by essentially seeking to force regime change in Tehran by means short of military action.
As Larison goes on to note, this entire policy is based on a view of Iran that simply doesn't comport with reality:
The core assumption of this policy is based on a deeply flawed view of Iran. The administration assumes that sufficient pressure will lead to desperation and then that desperation will lead to surrender. It is much more likely that increasing desperation will make the Iranian government increasingly defiant and more willing to take risks. If the U.S. seeks to increase its leverage, Iran is likely to do the same thing. Trying to strangle a nation into submission naturally provokes struggle and resistance because it is normal to fight back when someone seeks your demise.

It would be wrong to strangle a population of more than 80 million people even if it yielded some change in regime behavior, but to do this when there is no realistic chance of "success" is to inflict collective punishment for its own sake. No U.S. interests are served by crushing Iranians with hardship and poverty, and nothing good can come from a campaign to destroy the lives and livelihoods of tens of millions of people. The Iranian people are not our enemy, but our government is waging relentless economic war on them anyway. This is outrageous, it is wrong, and the next administration must act quickly to bring it to an end.
The other miscalculation that the United States is making here is that increasing the pain of the Iranian people will turn them against the government. To be sure, as we've seen at many points in the past, the rule of the Mullahs is not entirely popular with the people, many of whom are old enough to remember the relative prosperity that the country experienced prior to the 1979 revolution. This is one of the reasons why a relatively moderate leader like Hassan Rouhani was able to win the Presidency after eight years of the confrontational, and ultimately unproductive, eight years of former President Mahmoud Ahmedinejad. Further evidence of that split can be seen in the so-called Green Revolution protests in 2009 after Ahmedinejad's controversial re-election. At the same time, though, it's clear that the Iranian people are as prideful as Americans, and they know without having to rely on propaganda from their own government who exactly is responsible for their current economic condition. That's why it seems unlikely that sanctions will accomplish anything other than making the Iranian people more miserable and the government less likely to back down.