Trump Taking Ill-Advised Militaristic Position Regarding Iran
The Trump Administration is taking an unnecessarily militaristic approach toward Iran, and that poses real dangers for the country and for the Middle East.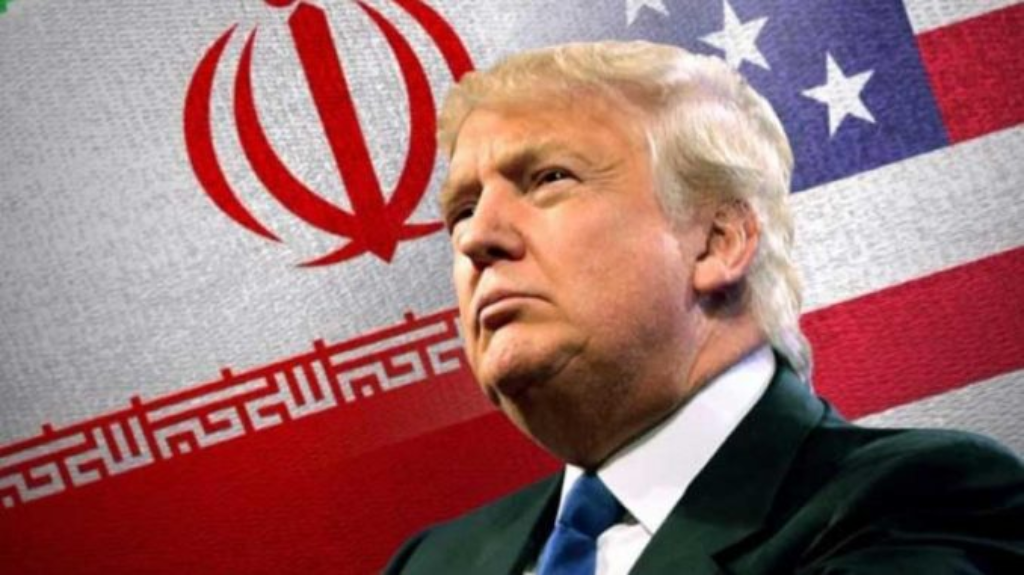 Politico notes that President Trump and his Administration are escalating the militaristic rhetoric against Iran as well as threatening new sanctions in response to what, in the end, is a very minimal response by Iran to America's failure to comply with the terms of the Joint Comprehensive Plan of Action (JCPOA), the 2015 deal that opened Iran's nuclear program to international inspection for the first time in history:
President Donald Trump has moved closer to a military conflict with Iran than at any time in his presidency, redirecting warships to the Middle East to respond to what officials said Monday are heightened Iranian threats to U.S. troops and facilities.

The USS Abraham Lincoln aircraft carrier is headed to the region earlier than planned ahead of Iran's expected announcement on Wednesday that it will pull back on some of its commitments under the Iran nuclear deal, which the U.S. quit a year ago on Trump's order. The White House, meanwhile, is expected to impose even more sanctions on Iran in the coming days.

Taken together, Trump's "maximum pressure campaign" against the Islamic Republic and its latest attempt at gunboat diplomacy may be reaching a hazardous crescendo.


"I don't think either side wants to go to war, but this is the kind of brinksmanship that could get out of hand," said Alex Vatanka, senior fellow at the Middle East Institute.

The situation has escalated swiftly since Trump designated Iran's Islamic Revolutionary Guard Corps as a terrorist organization last month, a move some top Pentagon officials warned could lead to retaliation by Iran or its proxies against the United States and its allies, including Israel.

The rising tensions are now sparking fears that a sudden move on either side, even if unintended, could spiral into a military conflict.


"It's a standard part of the Iranian playbook: Under pressure, you don't give in, you don't submit, you strike back," said Suzanne Maloney, an Iran scholar at the Brookings Institution.


Like others, however, Maloney expressed concern about the rhetoric coming from the White House, where hawkish national security adviser John Bolton, who has a track record of calling for the overthrow of the Iranian regime, has been a main architect of the tougher policy.


Regional experts are also keeping a close eye on Secretary of State Mike Pompeo, a former lawmaker who harbors intense dislike for the Iranian regime. Pompeo and Bolton are believed to be more willing to do at least limited battle with Iran than Trump, who has long expressed wariness of getting entangled in wars in the Middle East. At times, that has led to mixed signals from the White House.


"The fact is we can't put any faith in what this administration says, and that's what really scares me," Maloney said.


The potential for Iranian retaliation in the region has put U.S. officials on edge, especially in Iraq, where Iranian-armed Shia militias have attacked American troops and facilities in the past. Approximately 5,200 U.S. military personnel remain in the country.


"There has definitely been an uptick in threat reporting directed at the U.S. Embassy in Iraq," a U.S. official told POLITICO. "It's more than we've seen in a long time, and it suggests the de facto moratorium on attacks on U.S. facilities by Iranian sponsored groups is fraying."


Acting Defense Secretary Patrick Shanahan on Monday called the decision to send the Lincoln battle group from the Mediterranean Sea closer to Iran sooner than planned — along with bomber aircraft — "a prudent repositioning of assets in response to indications of a credible threat by Iranian regime forces."


"We call on the Iranian regime to cease all provocation," Shanahan added. "We will hold the Iranian regime accountable for any attack on U.S. forces or our interests."

In addition to the deployment of the Abraham Lincoln and its carrier battle group to the region, the Pentagon also announced that several B-52s will be deployed to the Middle East:
Four B-52 bombers are being deployed to the Middle East in response to what administration officials said earlier this week are threats of a possible attack by Iran or allied fighters on American troops in the region. Two of the bombers are expected to leave Tuesday from Barksdale Air Force Base in Louisiana, arriving at Al Udeid Air Base in Qatar on Wednesday, CBS News national security correspondent David Martin reports.

White House national security adviser John Bolton said on Sunday that the U.S. was deploying a bomber task force and the USS Abraham Lincoln Carrier Strike Group to the U.S. Central Command region, an area that includes the Middle East. Bolton said the movement was in response to "a number of troubling and escalatory indications and warnings." He didn't provide details, but said the U.S. wants to send a "clear and unmistakable" message to Iran that "unrelenting force" would meet any attack on U.S. interests or those of its allies.

"The United States is not seeking war with the Iranian regime, but we are fully prepared to respond to any attack, whether by proxy, the Islamic Revolutionary Guard Corps, or regular Iranian forces," he said.

A Defense Department official told CBS News' Martin earlier this week the U.S. has detected "a number of preparations for possible attack" on U.S. forces at sea and on land.


"There is more than one avenue of attack or possible attack that we're tracking," the official said.
While the B-52 is probably bests known as one of the weapons of the Cold War era that was intended to be used as part of a nuclear strike, the planes, many of which have been in service for 50 years and are expected to last another half century, are also capable of carrying an extensive conventional weapons arsenal. This would include bombs of varying strengths and cruise missiles capable of being launched from the air and directed at targets hundreds of miles away without requiring the B-52 itself to be anywhere near enemy airspace. Needless to say, the plane is large enough that the conventional weaponry it can launch or drop is capable of inflicting significant damage if properly targeted.
All of this comes at the same time that the Administration is threatening new sanctions and Iran is taking some minimal steps to respond to the U.S. decision to abandon the JCPOA last year:
WASHINGTON — Iran's president declared on Wednesday that the country would stop complying with two of its commitments under the Iranian nuclear deal, pushing the growing confrontation between Washington and Tehran into new and potentially dangerous territory.

The announcement by President Hassan Rouhani came exactly a year after President Trump withdrew entirely from the 2015 agreement, which limited Iran's capacity to produce nuclear fuel for 15 years.

But Mr. Rouhani did not follow Mr. Trump's path and renounce the entire agreement. Instead, he notified European nations that he was taking some carefully calibrated steps, and that he would give Europe 60 days to choose between following Mr. Trump or saving the deal by engaging in oil trade with Iran in violation of American unilateral sanctions.

"The path we have chosen today is not the path of war, it is the path of diplomacy," he said in a nationally broadcast speech. "But diplomacy with a new language and a new logic."

Secretary of State Mike Pompeo called Iran's announcement "intentionally ambiguous."


"We have to wait and see what Iran's actions actually are," Mr. Pompeo said at a news conference in London with his British counterpart, Jeremy Hunt.


But the Trump administration is already planning to issue a new set of sanctions against Iran to further devastate its economy and to pressure the clerical government in Tehran into negotiating a new nuclear agreement. Many believe that the administration is far more interested in forcing Iran's leaders from power as a result of the economic pressure.


A senior White House official, Tim Morrison, said new sanctions against Iran would be announced "very soon."


"Iran has a choice," Mr. Morrison, the National Security Council's arms control director, told a conference organized by the Foundation for the Defense of Democracies, a Washington-based institute focused on national security matters. "At some point even the mullahs will get it.
Mr. Rouhani said that starting on Wednesday, Iran would begin to build up its stockpiles of low enriched uranium and of heavy water, which is used in nuclear reactors — including a reactor that could give Iran a source of bomb-grade plutonium. If the Europeans fail to compensate for the unilateral American sanctions, he said, Iran will resume construction of the Arak nuclear reactor, a facility that was shut down, and its key components dismantled, under the deal.

Mr. Rouhani then threatened a potentially more severe step. If the Europeans do not find a way to help Iran "reap our benefits," especially in petroleum exports and banking transactions, in 60 days Iran will end the limits on the enrichment of uranium, he said. Currently, it is enriching small amounts, and only to a level of 3.67 percent, which is suitable for nuclear power plants — but not for nuclear weapons.


Without economic progress, he said, "we will not consider any limit" on enrichment, suggesting that it could rise to levels closer to something that could be used in weapons. Iran has never been known to produce weapons-grade material.


China, a signatory to the accord, urged restraint on all sides but put the blame for the confrontation squarely on Washington, which it said had escalated tensions. At a press briefing, Geng Shuang, spokesman for the Ministry of Foreign Affairs, praised Iran for adhering to the nuclear agreement that Mr. Trump has abandoned, and reiterated his country's endorsement of the agreement and opposition to United States sanctions against Iran.


Russia's foreign minister, Sergey V. Lavrov, at a meeting in Moscow with Mohammad Javad Zarif, Iran's foreign minister, complained about the "unacceptable situation" created by the "irresponsible behavior of the United States," but did not respond directly to Mr. Rouhani's comments.
Iran's decision, while concerning, is fairly limited as Daniel Larison notes:
Because the U.S. has been violating its part of the agreement for a year, Iran is within its rights under the deal to take these steps. Iran is otherwise still fulfilling its end of the bargain. The Iranian government's goal is to pressure the other parties to the agreement by raising the prospect of the collapse of the deal in the future. The important thing to bear in mind is that this is a very limited set of measures, and it shows that Iran doesn't want to exit the deal if it doesn't have to. Tightening U.S. sanctions in spite of its compliance for the last three years have made it increasingly difficult to justify remaining party to an agreement from which it derives no benefits. The Trump administration has been relentlessly pushing to make Iran abandon the deal, and that means that U.S. sanctions are responsible for provoking this response.

The Trump administration wants to force Iran out of the deal, so a measured response from Iran doesn't give them what they have been looking for. Iran hawks have always hated the deal because it deprives them of a pretext for conflict, and that is why they have been trying so hard to wreck the deal from the beginning. Hard-liners in the administration want a crisis with Iran over the nuclear issue as soon as possible. The Iranian government is still giving the Europeans, Russia, and China time to give them an incentive to stay in the deal, and they are assuming that the other parties want to avoid a crisis as much as Iran does.
There really is nothing surprising in the course of action that the Trump Administration is pursuing right now. Indeed, from the time that he entered the race for President, Trump has revealed nothing but outright contempt for the JCPOA notwithstanding the fact that there was clear evidence that it was working. Trump alleged, for example, that President Obama, Hillary Clinton, and Secretary of State Kerry had negotiated what he often referred to as the worst deal in history. During the time in the late summer of 2015 that Congress was considering the agreement, Trump co-hosted a rally in Washington with fellow Republican candidate for President Ted Cruz that sought to rally support against the agreement.  That effort failed, but it cemented Trump as the principal anti-JCPOA candidate in the race.
After he took office, the President continued to attack the agreement but was initially hesitant to completely walk away from it. In May 2017, for example, Trump lifted another set of sanctions pursuant to the requirements of the JCPOA. Later in the year, Trump again stopped short of withdrawing from the agreement but at the same time declined to certify to Congress that Iran was in compliance with the agreement, which many observers saw as the first step in a process that would lead to a full repudiation of the agreement. This decision to decertify compliance came despite the fact that Secretary of Defense James Mattis and Secretary of State Rex Tillerson both said on the record that Iran was complying with its obligations and that staying in the agreement was in the national interests of the United States. The also took this step despite the fact that the International Atomic Energy Agency (IAEA), which is charged with monitoring Iran's compliance with the agreement, has said each time it has been required to report on the status of the agreement that Iran is living up to its obligations under the agreement. Finally, in May of last year, Trump pulled the trigger and withdrew the United States from the agreement, thus setting in motion the decision to reimpose sanctions that were announced today. Despite all of that, it has become clear that the Trump Administration's policies regarding Iran aren't working, that the JCPOA remains intact despite the American withdrawal, and that it appears self-evident that Trump's policies were never intended to work.
It is perhaps frustration over the fact that the decision to withdraw from the JCPOA is not having its desired impact that the Administration's rhetoric against the Islamic Republic is become increasingly belligerent. The other possibility, of course, is that Trump has become more and more receptive to the rhetoric of advisers such as John Bolton who, as Larison notes in another post, has made no secret of his desire for military action against Iran:
Bolton has had a longstanding interest in starting war with Iran, and before he joined the government he left no doubt that the related goal he had foremost in mind was toppling the Iranian government. He also has a reputation for manipulating and distorting intelligence to suit his purpose, so when Bolton is the one pushing the interpretation of the evidence we should be even warier than usual. Coming on the heels of the administration's embarrassing failure in Venezuela last week, it would not be surprising if Bolton hoped to change the subject. As we mark one year since Trump's irrational and destructive decision to renege on the JCPOA, we should also expect the administration to be trying to provoke an incident that it can try to use as vindication for its policy of relentless hostility and collective punishment. The administration probably shouldn't be calling too much attention to their Iran policy at the moment, since that would remind the public that it is the U.S. that has been behaving like the rogue state for the last year.

It is always possible that hard-line elements inside the Iranian government are prepared to become more aggressive and dangerous in response to a series of U.S. provocations from reimposed sanctions to designating the IRGC as terrorists to trying to shut off all of their oil exports, but we need to remember that the administration desperately wants Iran to take aggressive action so that they can use that to justify further escalation. The "warnings and indications" that Bolton cited in his statement over the weekend are admittedly vague ones, and in keeping with his record of threat inflation Bolton is seeking to make routine warnings seem more alarming and dangerous than they are. The Iranian government would be foolish to take Bolton's latest bait, but that doesn't mean that the U.S. can keep poking them in the eye without expecting an undesirable and adverse reaction. Bolton is not only hoping to provoke an Iranian reaction, but he also wants to create an incident that he can use to ensure that the president goes along with his aggressive plans.

In the end, of course, it is the President that makes the decisions, not the National Security Adviser, so Bolton, and Secretary of State Mike Pompeo, who appears to share Bolton's views, has only as much influence as the President is willing to give him. Based on current actions and rhetoric coming out of Washington, it appears that these two Iran hawks are winning the battle for the President's ear, and that could have disastrous consequences going forward.