Trump's Selection Of John Bolton Has The World Rightfully Concerned
From Europe to the Middle East, to Asia, America's allies are concerned about what the selection of John Bolton as National Security Adviser means going forward. They should be, and so should every American.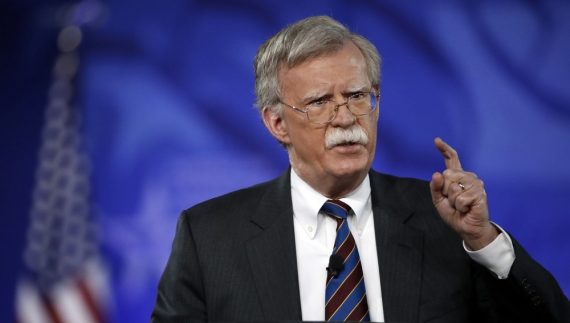 The appointment of John Bolton to be President Trump's new National Security Adviser has raised concern across the globe:
BRUSSELS —  President Trump's decision to make John Bolton his new national security adviser ricocheted around the globe on Friday, unsettling allies and raising alarm that a hawk who advocates military action against North Korea and Iran will have the president's ear.

From Berlin and Jerusalem to Seoul and Tokyo, U.S. allies who have long felt that Trump's unconventional rhetoric on foreign policy often did not translate to concrete policy are bracing for a shift. Following the nomination last week of the hawkish Mike Pompeo to become secretary of state, Bolton's elevation means that Defense Secretary Jim Mattis is the lone survivor in a ring of advisers who pushed Trump to hew closer to conventional foreign policy positions.

Now, as U.S. policy on North Korea and Iran reaches a crucial juncture in coming weeks, Bolton's regime-change rhetoric toward both nations may lead to a hardening of policy, allies believe. Europeans, who widely support a 2015 deal to restrict Iran's nuclear program, fear its imminent demise. Some Israelis — even those who criticized the pact — are also concerned. And in South Korea and Japan, there are fears that Trump is preparing for war if talks with North Korean leader Kim Jong Un fail to yield breakthroughs.

"We would desperately wish to see the United States in a constructive leading role as a steward of the international system," said Norbert Röttgen, chairman of the foreign affairs committee of the lower house of the German Parliament. He said he worries that Washington is moving in the opposite direction.

"We are concerned that the policy is coming closer to the rhetoric," he said. Trump "has now surrounded himself with people who share his intuitions and his general views."

In Europe, the home of Washington's closest and oldest allies in NATO, the appointment fueled deeper worries that the Trump administration was further pulling back from international diplomacy and free trade that shaped the globe in the U.S. image after World War II.

Even before the Bolton move, E.U. leaders were gathered for a two-day summit in Brussels that was dominated by concerns about Trump's tariffs on steel and aluminum, a reversal after years in which Washington was the capital pushing harder for free trade. The shift toward Bolton is likely to exacerbate the growing transatlantic divisions.

It comes days after E.U. and U.S. officials clashed over the future of the Iran nuclear deal, which Europeans are trying desperately to preserve ahead of a key deadline for U.S. adherence to the pact.

The Trump administration has said it will not sign a new sanctions waiver for Iran by May 12 unless changes are made to the agreement on grounds that Tehran has not lived up to the "spirit" of the deal. Bolton has long been a critic of the accord, which Europeans see as critical to avoiding war in their immediate neighborhood.

"With the appointment of Mike Pompeo on the one side, and John Bolton on the other, the group of personalities who have never made any mystery of their opposition to the nuclear deal with Iran is growing," said Pierre Vimont, a retired senior French diplomat who has been involved in past negotiations with Iran.

Others were sharper in their criticism

"A nightmare comes true," Reinhard Bütikofer, a German member of the European Parliament, wrote on Twitter.

The fears were less widely shared in Israel, where many are critical of the Iran deal and where Bolton's appointment was widely welcomed by members of Prime Minister Benjamin Netanyahu's right-wing government. Education Minister Naftali Bennett called Bolton an "extraordinary security expert, experienced diplomat and a stalwart friend of Israel."

But even in Jerusalem, his return stirred some concern.

While Netanyahu has lobbied for the United States to "fix or nix" the Iran nuclear deal, some Israeli security officials have warned against a complete collapse of the pact — a prospect that may be more likely with Bolton as national security adviser. They argue that a flawed agreement is better than none at all. Bolton has said that the deal was a "strategic mistake" and should be "abrogated."

Meanwhile, Israel is likely to be at the sharp-end of any conflict with Iran, something Bolton has repeatedly floated.

Writing in the New York Times in 2015, Bolton suggested that Israel should bomb Iran's nuclear facilities, while the United States simultaneously provided support for Iran's opposition in order to bring about "regime change."

"There are two views on Bolton among the Israeli security establishment," said Ofer Zalzberg, an analyst with the International Crisis Group. "There is a concern that he's primarily an ideologue and there's a risk to stability, and others who say he has decades of experience."

Nor did Bolton's ascension give hope to Palestinians already infuriated by the U.S. Embassy's move to Jerusalem.

The appointment of Bolton, who has argued that the Palestinians do not have a right to self-determination, "adds insult to injury," said Hanan Ashrawi, a member of the Palestine Liberation Organization's executive committee.

"This is unprecedented, this lethal combination of hard-liners, Israel-firsters, who are in charge of decision making in the U.S."

Bolton, a vocal advocate of moving the U.S. Embassy to Jerusalem, has suggested a "three-state solution" in which the occupied West Bank is handed over to Jordan, and Gaza to the Egyptians.
Bolton's appointment is being viewed with concern perhaps nowhere more nervously, though, than in Asia where the prospect for either a diplomatic breakthrough or renewed aggression with North Korea seems to vary back and forth on a daily basis:
HONG KONG — President Trump's decision to name John R. Bolton as his national security adviser stirred concerns in Asia on Friday about a hardening of American foreign policy that could set the stage for conflict in an already tense part of the world.

Mr. Bolton has taken a hard line on North Korea, and he has expressed skepticism about South Korea's role in arranging a meeting between Mr. Trump and Kim Jong-un. Mr. Bolton recently said Mr. Trump should tell the North Korean leader that unless he quickly commits in talks to total denuclearization, Mr. Trump should try "something else" — hinting at a pre-emptive American military strike.

After months of painstakingly building a relationship with the departing national security adviser, Lt. Gen. H.R. McMaster, South Korean officials now have to manage their "very bad chemistry" with Mr. Bolton, "who is all about sticks," said Lee Byong-chul, senior fellow at the Institute for Peace and Cooperation in Seoul.

"We will have to see if Bolton opens his mouth and launches his verbal attacks against the North," Mr. Lee said. "That will give North Korea an excuse to step away from its summit proposal. The Trump-Bolton team then will ramp up pressure. And we will hear more talk about a pre-emptive strike and see tensions rising again on the Korean Peninsula."

Some saw Mr. Bolton's appointment as a sign of confusion within the Trump administration, coming so soon after the announcement of the North Korea talks and the firing of Secretary of State Rex W. Tillerson, who advocated for negotiating with Pyongyang.

The appointment "adds to the perception of the U.S. basically being a headless chicken, which is bad for the world," said Koichi Nakano, a political scientist at Sophia University in Tokyo.

The initial reaction from South Korea's government was muted, a reflection of the delicate dance the country's president, Moon Jae-in, is attempting as he tries to draw the United States toward engagement with North Korea.

A senior aide to Mr. Moon tried to play down fears that Mr. Bolton's hawkish stance on the North could derail the latest efforts at dialogue, saying that Mr. Trump himself — not his aides — was pushing for a summit meeting with Mr. Kim.

The adviser, who spoke on condition of anonymity given the diplomatic sensitivities, said that Mr. Bolton would be a trusted adviser to Mr. Trump and that South Korea planned to consult with him as it sought to resolve tensions on the Korean Peninsula.

Mr. Bolton has derided South Korea for trying to play peacemaker with Pyongyang, saying the South was "like putty in North Korea's hands" and that "there's a sucker born every minute."

There was no immediate reaction from North Korea, which has recently refrained from its usual bellicose attacks on the United States. In the past, the North has refused to deal with Mr. Bolton, calling him "human scum" and a "bloodsucker."
The concerns about Bolton are well-founded, of course. During his time in the State Department, his later tenure as U.S. Ambassador to the United Nations, and the statements he's made in writing and during his numerous Fox News Channel appearances in the intervening years have established him as being one of the most hawkish commentators on the right. On Iran, for example, he has been a harsh critic of the Joint Comprehensive Plan Of Action (JCPOA), the deal that led to internationally supervised inspections and limitations on Iran's nuclear research program that only came about because of a unified sanctions regime that would be hard to reconstruct. Beyond criticizing the deal, though, Bolton has also been a consistent advocate for a much more confrontational approach toward the Islamic Republic, including repeated occasions over the past decade where he openly advocated for military strikes either by a U.S.-Israeli combined for or a unilateral Israeli attack. On North Korea, he has been largely dismissive of the recent seemingly warming of relations between the DPRK and South Korea and the proposal for direct talks between North Korean leader Kim Jong Un and President Trump. Most recently, for example, he called for preemptive war against North Korea even as the rest of the world was hoping for a diplomatic breakthrough.
The Editors of The New York Times put it best:
 Over a 30-year career in which he served three Republican presidents, including as United Nations ambassador and the State Department's top arms control official, Mr. Bolton has largely disdained diplomacy and arms control in favor of military solutions; no one worked harder to blow up the 1994 agreement under which North Korea's plutonium program was frozen for nearly eight years in exchange for heavy fuel oil and other assistance. The collapse of that agreement helped bring us to the crisis today, where North Korea is believed to have 20 or more nuclear weapons.

(…)

On Iran, Mr. Bolton and the president are in sync, with both arguing that the United States should withdraw from the nuclear agreement by a May deadline. In March 2015, he argued in a New York Times op-ed that only military action like Israel's 1981 attack on Saddam Hussein's Osirak reactor in Iraq or its 2007 destruction of a Syrian reactor "can accomplish what is required."

Going to war in either of these cases would not only create unnecessary bloodshed, it would be disastrous for the United States and its allies, South Korea and Japan. The Iran deal has substantially halted the nuclear program and needs to be maintained. Negotiations between the United States and North Korea, given a new impetus by Mr. Trump and Mr. Kim, need to be tested.

Mr. Bolton's position on Russia, that NATO must have a strong response to the Kremlin-linked poisoning of a former Russian spy in Britain, is somewhat better than Mr. Trump's. But his rejection of a two-state solution to the Israeli-Palestinian conflict and endorsement of a book by the anti-Muslim activist Pam Geller are unacceptable positions for a top American official.

Mr. Bolton is certain to accelerate American alienation from its allies and the rest of the world. Congress may not be able to stop his appointment, but it should speak out against it and reassert its responsibilities under the Constitution to authorize when the nation goes to war.
To be sure, the selection of Bolton to replace McMaster, as with the decision to replace Rex Tillerson with Mike Pompeo, signals that we're likely to see a far more hawkish turn in foreign policy from this White House than we've seen to date. As a practical matter, that likely means that Trump will go ahead and pull out of the JCPOA before the upcoming May deadline and that we'll be seeing a more confrontational attitude toward North Korea that will either make the idea of talks between the U.S. and the DPRK far less likely or simply guarantee that nothing will come of those talks. Both of those moves will be strongly opposed by America's allies in Europe and in Asia, and will just go further to alienate the United States from the rest of the Western world at a time when unity in the face of threats such as the continued terrorist threat from groups like ISIS and al Qaeda, a resurgent Russia, and a rising China. Notwithstanding the fact that this President seems obsessed with spending ever more on an already bloated military budget, all of this will serve to make the United States weaker internationally at a time when what we need is strength, allies, and a decisive and coherent foreign policy. Instead of that, we've got pseudo-strength, alienated allies who can't be sure if they can count on the United States in a crisis, and a rambling and incoherent foreign policy. That's a recipe for disaster, and other than the Secretary of Defense, there doesn't appear to be anyone sane left in this Administration. That doesn't bode well for the future.