North Korea Moves Goalposts, Threatens To Cancel Trump-Kim Summit
Not surprisingly, the North Koreans are pushing back against American efforts to force them into a corner on denuclearization.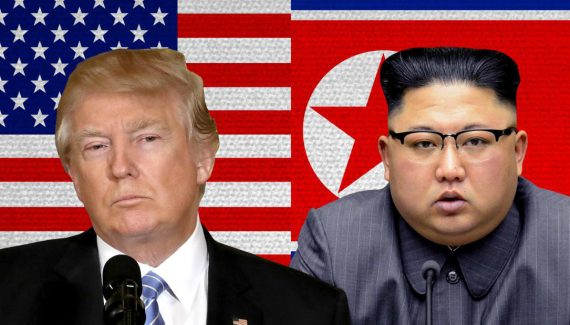 Seemingly out of the blue the North Korean government has thrown cold water on the negotiation process leading up to the planned June 12th summit meeting between President Trump and North Korean leader Kim Jong Un, threatening to cancel the meeting due both to the resumption of regular military exercises and apparent American demands regarding denuclearization:
SEOUL — North Korea is rapidly moving the goal posts for next month's summit between leader Kim Jong Un and President Trump, saying the United States must stop insisting it "unilaterally" abandon its nuclear program and stop talking about a Libya-style solution to the standoff.

The latest warning, delivered by former North Korean nuclear negotiator Kim Gye Gwan on Wednesday, fits Pyongyang's well-established pattern of raising the stakes in negotiations by threatening to walk out if it doesn't get its way.

This comes just hours after the North Korean regime cast doubt on the planned summit by protesting joint air force drills taking place in South Korea, saying they were ruining the diplomatic mood.

If the Trump administration approaches the summit "with sincerity" for improved relations, "it will receive a deserved response from us," Kim Gye Gwan, now vice foreign minister, said in a statement carried by the North's official Korean Central News Agency on Wednesday.

"However, if the U.S. is trying to drive us into a corner to force our unilateral nuclear abandonment, we will no longer be interested in such dialogue and cannot but reconsider our proceeding to the DPRK-U.S. summit," he said, using the abbreviation for North Korea's official name. He also questioned the sequencing of denuclearization first, compensation second.

Analysts said they were not surprised by these latest developments in what has been a year of diplomatic whiplash.

"The U.S. and South Korea hold an exercise, which contains some strategic strike elements to it. U.S. officials can't seem to get on the same page regarding denuclearization and what is required of North Korea," said Ken Gause, a North Korea leadership expert at CNA, a Virginia-based consulting firm. "At some point, North Korea was going to cry foul."

Trump and Kim Jong Un are due to meet in Singapore on June 12, which would be the first time a North Korean leader had met with a sitting U.S. president.

Trump and his top aides, including Secretary of State Mike Pompeo and national security adviser John Bolton, have repeatedly said that the United States wants the "complete verifiable irreversible denuclearization of North Korea" — a high standard that Pyongyang has previously balked at.

Bolton, known for his sharply hawkish views, has said that North Korea must commit to a disarmament similar to "Libya 2004." He was undersecretary of state for arms control in 2004, when Libyan leader Moammar Gaddafi agreed to give up its nuclear program in return for sanctions relief.

But this is not a tempting model for North Korea. Seven years after surrendering his nuclear program, Gaddafi was overthrown, then brutally killed by opponents of his regime.

North Korea lashed out at Bolton, whom the regime derided as "human scum" while he worked in the George W. Bush administration, and at the suggestions that North Korea should be dealt with in the same way that the Bush administration dealt with Libya and Iraq.

"This is not an expression of intention to address the issue through dialogue. It is essentially a manifestation of awfully sinister move[s] to impose on our dignified state the destiny of Libya or Iraq, which had been collapsed due to the yielding of their countries to big powers," Kim Gye Gwan said.

The "world knows too well that our country is neither Libya nor Iraq, which have met a miserable fate," he said, harking back to North Korea's previous criticism of Bolton. "We shed light on the quality of Bolton already in the past, and we do not hide a feeling of repugnance towards him," the vice minister said.

In negotiations over the years, North Korea has repeatedly threatened to walk out over disagreements — and has on occasion actually walked out. In that respect, Wednesday's announcement is not surprising and underscores analysts' warnings that North Korea will not give up its nuclear weapons easily.
This latest announcement came just hours after the DPRK had suspended a series of pre-summit talks over the issue of a planned upcoming joint military exercise between the United States and South Korean forces. That exercise, known as Max Thunder, has been held every year for at least the last ten years and has often resulted in protests from the North Koreans. Both the South Korean Defense Ministry and the Pentagon responded to the North Korean statement regarding the military drills by stressing, as they have in the past, that the drills will go forward and that they are primarily aimed at enhancing the skills of pilots and other elements of the military and ensuring defensive readiness of American and South Korean forces and that none of the elements of the drill touch upon offensive actions against the DPRK . In their statement, the North Koreans strongly disagreed, calling the agreement "a flagrant challenge to the Panmunjom Declaration and an intentional military provocation running counter to the positive political development on the Korean Peninsula." The declaration that the North Koreans are referring to here is the joint agreement signed by Kim Jong Un and South Korean President Moon Jae In which, among other things, the leaders agreed to pursue a formal end to the Korean War that goes beyond the armistice signed in 1953 and to pursue the "denuclearization" of the Korean Peninsula.
The second statement from North Korea, though, came in response to statements that National Security Adviser John Bolton, who has been on the job for just over a month, made in several appearances on Sunday morning news programs two weeks ago in which he equated the U.S. approach to the talks with North Korea to what happened with Libya in the aftermath of the Iraq War:
The White House is looking at Libya as one example of how it will handle potential negotiations with North Korea on dismantling its nuclear program, John Bolton, US President Donald Trump's national security adviser, said Sunday.

But experts say the Libya model is a dangerous one to trot out when discussing North Korea.

Libyan leader Moammar Gadhafi agreed to abandon his nuclear ambitions in exchange for sanctions relief in the early 2000s. Within years, Gadhafi was overthrown and killed by rebels backed by Washington.

Analysts who study North Korea say Pyongyang often cites Gadhafi's case to show that only nuclear weapons can deter the United States in the long-term to ensure the survival of the Kim Jong Un regime.

Bolton appeared to use the Libya case as an example of how North Korea might develop the trust of international partners, just days after after Kim committed to the "complete denuclearization" of the Korean Peninsula during a historic summit with South Korean President Moon Jae-in.

"One thing that Libya did that led us to overcome our skepticism was that they allowed American and British observers into all their nuclear related sites. So it wasn't a question of relying on international mechanisms. We saw them in ways we had never seen before," Bolton told CBS News.
The Korean Central News Agency specifically addressed those comments in the statement it issued last night:
High-ranking officials of the White House and the Department of State including Bolton, White House national security adviser, are letting loose the assertions of so-called Libya mode of nuclear abandonment, "complete, verifiable and irreversible denuclearization," "total decommissioning of nuclear weapons, missiles and biochemical weapons" etc. while talking about formula of "abandoning nuclear weapons first, compensating afterwards."

This is not an expression of intention to address the issue through dialogue. It is essentially a manifestation of awfully sinister move to impose on our dignified state the destiny of Libya or Iraq which had been collapsed due to yielding the whole of their countries to big powers.

I cannot suppress indignation at such moves of the U.S., and harbor doubt about the U.S. sincerity for improved DPRK-U.S. relations through sound dialogue and negotiations.

World knows too well that our country is neither Libya nor Iraq which have met miserable fate.

It is absolutely absurd to dare compare the DPRK, a nuclear weapon state, to Libya which had been at the initial state of nuclear development.

We shed light on the quality of Bolton already in the past, and we do not hide our feelings of repugnance towards him.

If the Trump administration fails to recall the lessons learned from the past when the DPRK-U.S. talks had to undergo twists and setbacks owing to the likes of Bolton and turns its ear to the advice of quasi-"patriots" who insist on Libya mode and the like, prospects of upcoming DPRK-U.S. summit and overall DPRK-U.S. relations will be crystal clear.

We have already stated our intention of denuclearization of the Korean peninsula and made clear on several occasions that precondition for denuclearization is to put an end to anti-DPRK hostile policy and nuclear threats and blackmail of the United States.

But now, the U.S. is miscalculating the magnanimity and broad-minded initiatives of the DPRK as signs of weakness and trying to embellish and advertise as if these are the product of its sanctions and pressure.
These reactions from the North are hardly surprising, of course. As Gerry Mullany notes at The New York Times, this kind of rhetoric and behavior on the part of the DPRK is part and parcel of what we have seen in the past from the North Koreans, which has included everything from routine complaining about the military exercises that the United States and the South Koreans to agreeing to deals with regard to their nuclear program that they later back out of or violate outright even while pretending to live up to. Additionally, as Choe Sang-Hun and Jane Perlez note in another piece in the Times, this move by the North is merely a reminder of the true colors of the Pyongyang regime and a reminder that the road to negotiations with the North is not going to be an easy one and that success is by no means guaratted, Furthermore, it's worth noting that much of what we're seeing here is an effort by the North Koreans to not be seen as merely being compliant with demands from the United States and South Korea in the weeks leading up to the still-planned summit between Kim and Trump in Singapore. In that sense, it's not dissimilar from the same kind of back and forth we see in other diplomatic contexts, and it's still possible that the talks will ultimately go forward notwithstanding the roadblocks that were apparently hit yesterday.
All that being said, it should not come as any surprise at all that Bolton's statements would end up being interpreted as a warning by the North Koreans. Indeed, as I noted at the time, the fate of Libya (and Iraq) compared with that of other nations sends a strong signal to the North that the Administration doesn't seem to understand:
In the case of Libya, which gave up its nuclear and WMD research efforts in the wake of the Iraq War in what the leadership at the time clearly believed would be a move that would help ensure their long-term survival. Instead of survival, though, Libya ended up finding itself the target of the United States, the United Kingdom, and France in a civil war that ended with the collapse of the Gaddafi regime and the death of Gaddafi himself. The North Koreans most likely learned a similar lesson from what happened to Saddam Hussein, another autocratic leader who gave up his weapons of mass destruction only to see his country invaded and him being forced into hiding and eventual capture, after which he faced a trial and ultimately execution.

On the other side of the table, the North Koreans are no doubt aware of the fate of other nations that have pursued nuclear weapons programs notwithstanding the objections of the international community. With Indian and Pakistan, for example, we have two nations that pursuant nuclear weapons development notwithstanding international pressure and which both now possess what is likely a sufficient nuclear deterrent to ensure their survival. Finally, of course, we have the Joint Comprehensive Plan Of Action (JCPOA) and the manner in which the Iranians were treated. Rather than being attacked like the Libyan and Iraqi governments, the Iranians obtained an international agreement that allowed them to largely escape a crippling sanctions regime and, to at least some degree of the Islamic Republic back into the world community from which North Korea has been excluded for the better part of the time it has existed. Notwithstanding the fact that the Trump Administration and much of the news media likes to paint the Kim regime, and Kim Jong-Un himself as unhinged, their actions to date indicate quite the opposite and that they are very much acting in quite a rational manner. Given that, the fact that the United States is looking to a model that led to the leader of an authoritarian regime being killed by a mob and his body dragged through the streets  is likely not going to go over very well in Pyongyang
That appears to be exactly what happened in the wake of Bolton's remarks. As I've said in the past, demanding that the DPRK give up whatever nuclear weapons it already is likely to be a non-starter in any negotiations with the North for the reasons I've noted above. Furthermore, as Daniel Larison notes, this reaction to Bolton's statement should have been entirely predictable:
As long as the administration insists on "complete, verifiable, and irreversible" denuclearization, it is difficult to see what agreement the U.S. and North Korea could reach in the months and years to come. Disarming North Korea of its nuclear weapons is and has long been an unrealistic goal, and if the U.S. wants to get anything out of talks with North Korea it should be willing to settle for much more modest concessions. Diplomacy with North Korea is definitely the right way forward, but the administration and all other parties have to approach negotiations with the understanding that North Korea is going to remain a nuclear-armed state for the foreseeable future. Once that is understood and accepted, the U.S. and its allies may be able to secure important limitations on North Korea's weapons and missile programs and it makes real progress towards a lasting peace treaty possible. If the U.S. and its allies can't or won't accept this, the standoff from last year is very likely to resume and grow much worse. That is probably what Bolton and other hard-liners are counting on, and we have to hope that they are disappointed.
Larison is, of course, absolutely correct. Kim's reaction to Bolton invoking the so-called "Libya model" is something that the Trump Administration should have seen coming and should be prepared to address if they really want these negotiations, and the June summit, to go forward. Additionally, this entire incident is yet another piece of evidence against the argument that many Americans have put forward regarding the regime in North Korea, namely that its leaders are in some way "insane" or suicidal to the extent that they would even seek to provoke the United States by launching a nuclear, or even conventional, first strike against the United States or its allies. The fact that the North Koreans are objecting to Libya as a model for any talks with the US conclusively shows that they aren't insane at all. Libya gave up its WMD research program and Gaddafi ended up being dragged through the streets until dead. Iraq gave up its WMD program after the end of the Persian Gulf War and Saddam ended up dead. Ukraine gave up the Soviet weapons that were on its soil and ended up losing Crimea. From the North Korean perspective, giving up nukes would be a step down the road to regime suicide. *That*, from their perspective at least, would be a sign of insanity. What they're doing is completely rational, and in light of the rhetoric from people like Bolton and others, totally understandable.
As I said, in the end, it's likely that what we're seeing here is an effort by the DPRK to make its position clear rather than a real setback on the road to the summit. As of now, that summit is still going forward as scheduled, and I suspect that, in the end, it will happen. If it's going to be any kind of success, though, then the United States needs to understand that it will not succeed at all if they approach the talks as a one-sided affair where the North Koreans make all the concessions. Additionally, it's likely that we'll have to accept, for the foreseeable future, the reality of a nuclear-armed North Korea. If we do that then, as Larison says, we might actually accomplish something. If we don't then all these negotiations will be a waste of time, and we could be headed toward something far more confrontational on the Korean Peninsula. Of course, that may be exactly what Bolton and others in the Administration want.