Bolton Sees Libya As Model, North Korea Likely Sees It As a Warning
The United States is apparently looking to Libya as a guide for upcoming talks with North Korea. The DPRK most likely sees the fate of that nation and its leader as a warning.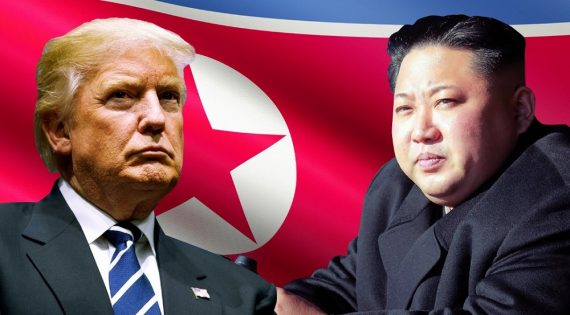 Yesterday in appearances on two Sunday morning shows, National Security Adviser John Bolton suggested that the United States is anticipating that the issue of North Korean denuclearization would follow the model laid out in dealings with Libya during the George W. Bush Administration:
President Trump's new national security adviser, John Bolton, floated the idea of using the "Libya model" to denuclearize the Korean peninsula on Sunday, despite the fact that North Korea has previously cited Libya's disarmament and subsequent destabilization as a reason to distrust the U.S.

Bolton was referring to the process by which the U.S. and its allies relieved Libya of its weapons of mass destruction starting in 2003. Appearing on Fox News Sunday and CBS News' Face the Nation on Sunday, he explained that the White House has "very much in mind the Libya model from 2003, 2004," a process which moved quickly after the U.S. was able to confirm Libyan dictator Muammar Qaddafi's intentions and verify his regime's full disclosure about their weapons programs. Like in Libya, the U.S. will look to dismantle North Korea's nuclear, chemical, and biological weapon programs, he added.
As Peter Baker notes in The New York Times, though, notes that it's likely that the North Koreans learned a far different lesson from what happened in Libya than Bolton apparently has:
WASHINGTON — When John R. Bolton looks at North Korea, he sees Libya. It is not a perfect comparison, he acknowledges, but if there is a model for how to peacefully rid a hostile dictatorial state of its nuclear program, he points to the disarming of Libya some 15 years ago.

It is easy to grasp why the United States views that as a success. A ruthless despot with a history of sponsoring terrorism surrendered his efforts to build a catastrophic weapon. But that despot, Col. Muammar el-Qaddafi, might not see it as such a good deal today. No one will ever know for sure because he is dead. Which is why North Korea might not find it such an uplifting model either.

The divergent vantage points on Libya may be instructive to understand how President Trump and Mr. Bolton, his new national security adviser, are approaching the coming talks with the North Korean leader, Kim Jong-un. The divide also underscores the challenges Mr. Trump and Mr. Bolton face: As they seek to replicate the feat of eliminating Libya's nuclear program, analysts said, they could face distrust because of the unexpected turn of events that led to Colonel Qaddafi's demise.

Mr. Bolton, who served under President George W. Bush, views Libya through the experience of those heady days in 2003 and 2004 when Colonel Qaddafi agreed to transfer his nuclear equipment to a facility in Tennessee. Mr. Kim may remember what came later, when President Barack Obama and European allies launched military action against Libya in 2011 to prevent a threatened massacre of civilians, in the process enabling rebels not only to topple Colonel Qaddafi but also to hunt him down and kill him.

Would Colonel Qaddafi have given up that nuclear weapons program if he had known what was to come? Would the United States and Europe have used force against a nuclear-armed country? Not likely. And therein lies the rub with North Korea. Mr. Kim and his father built a nuclear arsenal for the very purpose of ensuring the security of their state against the kind of intervention that happened in Libya, which is why North Korea has insisted the United States promise not to invade as part of any deal.

"I heard directly from the Chinese that the Libyan model did not inspire confidence in Pyongyang," said Antony J. Blinken, a deputy secretary of state under Mr. Obama. "I would be very concerned that the combination of Libya and then Trump tearing up the Iran agreement sends exactly the wrong message to Kim Jong-un and undermines whatever hope exists for negotiations."

Mr. Bolton raised the Libya example in weekend interviews on "Face the Nation" on CBS and "Fox News Sunday," his first television appearances since becoming national security adviser early this month.

"We have very much in mind the Libya model from 2003, 2004," he said on Fox. "There are obviously differences. The Libyan program was much smaller, but that was basically the agreement that we made."

The most important comparison, he said, would be testing North Korea to see if it had genuinely made an unqualified determination to abandon its nuclear weapons. "It would be a manifestation of the strategic decision to give up nuclear weapons," Mr. Bolton said on CBS. "Doesn't have to be the same as Libya, but it's got to be something concrete and tangible. It may be that Kim Jong-un has some ideas and we should hear him out."

In the history of the atomic age, only four countries have voluntarily given up nuclear weapons. South Africa ended its secret nuclear program in 1989, destroying a half-dozen bombs. Ukraine, Belarus and Kazakhstan all gave up the nuclear weapons that were stationed on their territory after the Soviet Union collapsed in 1991 and they became independent nations.

But Ukraine has found reason for second-guessing. The Budapest Memorandum that sealed its denuclearization in 1994 included promises by the United States, Britain and Russia to respect the country's sovereignty and borders. But in 2014, Russia annexed Crimea and supported Russian separatists in eastern Ukraine. Given that, a member of Ukraine's Parliament said at the time that "now there's a strong sentiment in Ukraine that we made a big mistake" in giving up its weapons.

Others like Brazil and Taiwan sought nuclear weapons but abandoned the efforts short of building bombs. Iran was not known to have weapons but did have a nuclear program that seemed intended to develop them when it signed an agreement with Mr. Obama's administration in 2015 to give up its program — the same agreement Mr. Trump has excoriated and threatened to rip up by May 12.

Similarly, Libya did not have nuclear weapons but had a program to develop them when it changed course in 2003. Colonel Qaddafi initiated secret negotiations with the Bush administration and the British to dismantle his program in exchange for easing international sanctions.

The decision reflected years of effort to end the country's isolation. But the key agreement came just days after Iraq's deposed leader, Saddam Hussein, was found in a spider hole in Iraq after an American invasion that had been justified as an effort to rid a dangerous regime of weapons of mass destruction. Colonel Qaddafi signaled that he did not intend to suffer the same fate.
As Steven Taylor noted yesterday, there is plenty of reason to be skeptical about what the coming weeks, months, and years may portend with respect to North Korea, the Korean Peninsula, and the United States. One of the primary reasons for that is that, notwithstanding all of the media reports, it seems rather clear that what the United States means by "denuclearization" is far different from what the North Koreans mean. Additionally, it's being reported in at least some circles that the Trump Administration is insisting that the North Koreans agree in advance that the idea of the talks ultimately leading to the DPRK not only foregoing from testing nuclear weapons and ballistic missiles but also that it gives up whatever weapons it has developed. The North Koreans, on the other hand, seem to view denuclearization as including the withdrawal of American forces from South Korea and the removal of South Korea, and possibly Japan, from the protection provided by the U.S. "nuclear umbrella." For reasons that are more related to concerns about Chinese influence in the region than the Kim regime, the United States is unlikely to agree to this kind of condition. Given that, the prospects for an agreement of any kind are not nearly as sunny as some of the recent press reports would seem to make it out to be.
This would seem to be especially true if Bolton is speaking for the Administration when he says that we should look to Libya as the model for how to deal with North Korea, and presumably he is. As Baker notes in his analysis and I've noted myself before, the story of what happened in Libya, as well as other nations, sends a clear signal to the DPRK that I don't think most Americans understand.
In the case of Libya, which gave up its nuclear and WMD research efforts in the wake of the Iraq War in what the leadership at the time clearly believed would be a move that would help ensure their long-term survival. Instead of survival, though, Libya ended up finding itself the target of the United States, the United Kingdom, and France in a civil war that ended with the collapse of the Gaddafi regime and the death of Gaddafi himself. The North Koreans most likely learned a similar lesson from what happened to Saddam Hussein, another autocratic leader who gave up his weapons of mass destruction only to see his country invaded and him being forced into hiding and eventual capture, after which he faced a trial and ultimately execution.
On the other side of the table, the North Koreans are no doubt aware of the fate of other nations that have pursued nuclear weapons programs notwithstanding the objections of the international community. With Indian and Pakistan, for example, we have two nations that pursuant nuclear weapons development notwithstanding international pressure and which both now possess what is likely a sufficient nuclear deterrent to ensure their survival. Finally, of course, we have the Joint Comprehensive Plan Of Action (JCPOA) and the manner in which the Iranians were treated. Rather than being attacked like the Libyan and Iraqi governments, the Iranians obtained an international agreement that allowed them to largely escape a crippling sanctions regime and, to at least some degree of the Islamic Republic back into the world community from which North Korea has been excluded for the better part of the time it has existed. Notwithstanding the fact that the Trump Administration and much of the news media likes to paint the Kim regime, and Kim Jong-Un himself as unhinged, their actions to date indicate quite the opposite and that they are very much acting in quite a rational manner. Given that, the fact that the United States is looking to a model that led to the leader of an authoritarian regime being killed by a mob and his body dragged through the streets  is likely not going to go over very well in Pyongyang