North Korea Halts Nuclear And Ballistic Missile Tests
The Kim regime has announced the end, for now, of its nuclear and ballistic missile testing programs. To understand why they made this concession, one needs to read between the lines.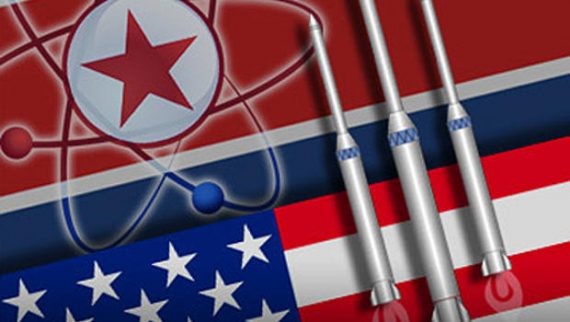 Last night, North Korea once again surprised the world with the announcement that it was ending its nuclear and ballistic missile test programs, but the devil here is in the details:
SEOUL, South Korea — North Korea's leader, Kim Jong-un, announced early Saturday that his country no longer needed to test nuclear weapons or long-range missiles and would close a nuclear test site.

"The nuclear test site has done its job," Mr. Kim said in a statement carried by North Korea's state media.

Mr. Kim's announcement came just days before a scheduled summit meeting with President Moon Jae-in of South Korea; Mr. Kim is also planning to meet with President Trump soon. It was the second time in two days that he made what appeared to be a significant concession to the United States but in reality cemented the status quo. North Korea already had stopped testing its weapons.

Mr. Kim made no mention in his latest remarks of dismantling the nuclear weapons and long-range missiles North Korea has already built. On the contrary, he suggested he was going to keep them.

Still, Mr. Trump welcomed what Mr. Kim said. "North Korea has agreed to suspend all Nuclear Tests and close up a major test site," the president said in a Twitter message. "This is very good news for North Korea and the World — big progress! Look forward to our Summit."

Mr. Moon's office also praised the announcement. "We view the North's decision as a significant step toward the denuclearization of the Korean Peninsula the world has wished for," said Yoon Young-chan, a spokesman for Mr. Moon.

Despite the enthusiasm, American officials have watched Mr. Kim with a mix of satisfaction and wariness.

The North Korean leader's move could be tactical — putting the United States on the defensive in advance of talks on its nuclear arsenal. By extending an olive branch, American officials said, North Korea is putting pressure on the United States to accept a deal before Mr. Kim agrees to give up North Korea's nuclear weapons.

Mr. Kim could also be trying to drive a wedge between the United States and South Korea, since President Moon has put great emphasis on ending more than six decades of conflict on the Korean Peninsula.

On Thursday, Mr. Moon said Mr. Kim had made a similar gesture, saying the North no longer insisted on the withdrawal of American troops from the Korean Peninsula. But White House officials privately dismissed the remarks, saying removal of the troops was never on the table.

Caution toward Mr. Kim's peace overtures also punctuated the reaction of officials from Japan, which North Korea has long threatened with missile strikes. The defense minister, Itsunori Onodera, who was visiting Washington when Mr. Kim announced the suspension of nuclear and missile tests, said the move was "not sufficient" because it did not clearly state whether the suspension included the short and midrange missiles that could hit Japan.

Mr. Onodera also emphasized that a suspension was far short of denuclearization. "What the international community expects is that North Korea abandon all weapons of mass destruction and ballistic missiles in a complete verifiable and irreversible manner," he said. "It is not a time to relax pressure by the international community, but we must keep applying pressure with an aim that they abandon their nuclear weapons and missiles."

In a statement after a meeting of the Central Committee of his ruling Workers' Party, Mr. Kim said his country required no further nuclear and long-range missile tests because it had already achieved a nuclear deterrent. It was now time to focus on rebuilding the economy, he said.

"From April 21, North Korea will stop nuclear tests and launches of intercontinental ballistic missiles," the Korean Central News Agency said, quoting Mr. Kim.

It also said the North would "shut down a nuclear test site in the country's northern side to guarantee transparency in suspending nuclear tests."

To officials and analysts in South Korea, Mr. Kim's decision to shut down his country's only known nuclear test site, in Punggye-ri in northeastern North Korea, and his moratorium on long-range missile tests, are some of the "trust-building steps" that they have hoped Mr. Kim would take to help improve the mood for dialogue in Washington.

Mr. Kim spent last year conducting a series of nuclear and intercontinental ballistic missile tests, raising tensions and a risk of war with the United States. But he has initiated a dramatic about-face since January with a sequence of diplomatic maneuvers, including a summit meeting with President Xi Jinping of China in Beijing last month in his first trip abroad as leader, and his invitations to Mr. Moon and Mr. Trump for summit talks.

(…)

His latest announcement came one day after North and South Korea installed what officials said was the first-ever hotline between their top leaders, another sign of improving relations on the divided Korean Peninsula.

Mr. Moon was expected to use the hotline, which was installed in his office, to talk with Mr. Kim before the two leaders hold their summit meeting on the Korean border next Friday. But no date has been set for their first call.

The two Koreas have run a telephone hotline at the so-called truce village of Panmunjom — the site for the inter-Korean meeting — for years. Duty officers from both sides man their telephones at Panmunjom daily in case one side calls the other. The line has been cut off at times when bilateral relations have soured, but communications there have been restored.

But the two countries have never run a direct hotline linking their top leaders' offices, officials said.

The hotline telephones were installed on Mr. Moon's desk in Seoul, the South's capital, and in the State Affairs Commission in Pyongyang, the North's capital.
More from The Washington Post:
TOKYO — North Korean leader Kim Jong Un has declared that he will suspend nuclear and missile tests starting Saturday and that he will shut down the site where the previous six nuclear tests were conducted.

The surprising announcement comes just six days before Kim is set to meet South Korean President Moon Jae-in, a precursor to a historic summit between Kim and President Trump. The U.S. president is set to meet Kim at the end of May or beginning of June, although a location has not yet been set.

Both Moon and Trump have been saying that North Korea is now willing to "denuclearize," a term that means different things to the two sides.

"North Korea has agreed to suspend all Nuclear Tests and close up a major test site," Trump tweeted shortly after the announcement from Pyongyang. "This is very good news for North Korea and the World — big progress! Look forward to our Summit."

But Kim's statement on Saturday made no mention of North Korea giving up its program. It simply signaled a freeze, apparently because the leader is satisfied with the rapid progress the country made last year, developing what it said was a "super large heavy warhead" and a missile capable of carrying it to the U.S. mainland.

As such, it "will stop nuclear tests and launches of intercontinental ballistic missiles" effective immediately, he said.

"We no longer need any nuclear test or test launches of intermediate and intercontinental range ballistic missiles, and because of this the northern nuclear test site has finished its mission," the official Korean Central News Agency quoted Kim as saying.

There has been considerable skepticism among North Korea experts that Kim, having poured so much money and effort into the program, not to mention his personal prestige, would give it up so readily.

Many pointed out that Kim's statement does not in any way suggest that he's about to do so.

"There is nothing in North Korea's statement that signals a willingness to give up their nukes," said Benjamin Silberstein, a North Korea researcher at the University of Pennsylvania.

"On the contrary, the tone of the message is one of confidence and strength," he said.

Others point out that North Korea has been sending signals through what it has not been saying. It's not talking about the U.S. strike on Syria, about the U.S. military conducting drills in South Korea, or about the "heinous" and "hostile" United States.

It hasn't even commented on the return of national security adviser John Bolton, a man the regime once derided as "human scum and a bloodsucker."

This is a sharp change from its usual tirade of vitriol against the United States, especially at this time of year, when the U.S. and South Korean militaries are practicing war drills on the southern half of the peninsula.

It also hasn't been using one of its favorite phrases, about being a "strong nuclear power," since March 10 — the day after Trump agreed to meet with Kim. Previously, the phrase had appeared in the Rodong Sinmun, the mouthpiece of the Workers' Party, on a daily basis.

"That's not a coincidence," said Peter Ward, a North Korea researcher at Seoul National University. "I think North Korea is on a serious drive for peace right now."
This latest development comes after four months of what has been what has seemed like a rabid and radical sea change in the political situation on the Korean Peninsula after a year which saw both increasingly bellicose rhetoric out of Pyongyang and, most especially, between Kim Jong Un and President Trump. It was also a year that saw the DPRK take seemingly dramatic steps forward in both its nuclear testing program and its ballistic missile program to the point where American authorities were openly saying that North Korea would soon have the capability of hitting essentially the entire continental United States. Amid all of this, speculation about a second war on the Korean Peninsula became an open topic of discussion even though everyone agreed that such an event would be an unmitigated disaster for everyone concerned.
The tide began to turn, though, on New Years Day when Kim Jong Un appeared to extend an olive branch to the Republic of Korea.  While Kim was not specific at that point about what he had in mind, he did mention some specifics, such as North Korean participation in the upcoming Winter Olympic Games. Soon after that speech, we saw the first joint talks between the two nations in nearly a decade. These meetings led to developments such as the re-establishment of a military hotline between the two nations that had been shut down by the DPRK and an agreement that allowed North Korean athletes to participate in the Winter Olympics, with both nations marching together during the Opening Ceremonies at the start of the games. The two nations also agreed to have a joint women's hockey team during the games. Additionally, North Korea was represented at the Opening Ceremonies by a delegation led by Kim Jong Un's sister and during the Closing Ceremonies by a delegation led by a top General. Perhaps most significantly, the period since January 1st has not seen any additional nuclear or ballistic missile tests on the part of the North Koreans and the United States and South Korea decided to postpone their annual joint military exercises, which would have otherwise taken place at almost the same time as the Olympics themselves.
The past four months have also brought significant, and surprising, developments on the international front. The most notable of these, of course, is the announcement that President Trump had accepted an invitation to meet with Kim Jong Un sometime later this year, with some speculation that it could take place as early as May although it now appears that June or later in the summer may be a more likely date. That announcement was accompanied by the news that Kim had reportedly said that he would accept the idea of denuclearization as a goal of such talks, but it seems clear that what Kim, and the Chinese, have in mind when they talk about denuclearization is quite different from what the Trump Administration has in mind. Most recently, of course, Kim spent several days in Beijing meeting with Xi Jinping and other Chinese officials. As I said in my post on that meeting, it seems clear that the purpose of that meeting was to reassure Kim that, despite recent years in which China appeared to be losing patience with the Kim regime, China still had his back and to reassure the Chinese that Kim was not about to spin out of China's orbit. Most recently, it was announced that Presidents Moon and Kim would meet at the end of April in what many are assuming will be a prelude to the anticipated summit meeting between Trump and Kim, the details of which appear to still be up in the air.
Now comes this latest announcement, and it's easy to view everything through rose-colored glasses and think that we are coming to an era of "peace in our time" on the Korean Peninsula. In reality, the situation is far more complicated.
As Steven Taylor notes in his post today on the differences with which the North Koreans and the United States and its allies are interpreting the idea of what "denuclearization" of the Korean Peninsula, there appears to be a significant amount of misunderstanding about what the North Koreans are actually saying here, and what it likely means for the upcoming talks. As the highlighted portions of the excerpts from the Washington Post article post make clear, last night's announcement does not state that the North is giving up its weapons or its missiles. Instead, what the North Koreans are saying here is that they no longer have a need for testing for either program. The obvious implication from this is that they believe that they have achieved, for now, what they aimed to achieve when they engaged in the latest round of testing. This most likely means that they have at their disposal at least some type of nuclear arsenal sufficient enough to give Kim Jong Un the sense of security that the Kim regime has been looking for ever since they embarked on these programs in the 1990s.
As with everything else that the North Koreans have done for decades, of course, the question of what exactly it is that Kim Jong Un is up to here. On some level, it seems as though Kim is being foolish in giving up what seems to be a fairly strong bargaining chip without getting anything in return from either South Korea and/or the United States. While the Kim family may be a family of ruthless dictators they've never struck me as being foolish either. When Kim's grandfather and father made aggressive moves and concessions in the past, there was always something they were looking for. At times it was some kind of relief from the sanctions that have been imposed on the nation over the past thirty years or more, or food aid during the times of famine that struck the country in the past.
The most important goal of each of the Kim's, though, has been the search for guarantees that the territorial and political sovereignty of the DPRK will be accepted by the rest of the world. Up until now, of course, that has largely been guaranteed by the military realities of the situation in Korea. Even before the North Koreans developed their nuclear capability, they possessed, and continue to possess a substantial conventional deterrent capability that made it clear that any effort to attack the north would be met with widespread retribution. The area of North Korea immediately north of the Demilitarized Zone is home to a substantial army and of artillery and rockets capable of hitting metropolitan Seoul and nearby Inchon, home to millions of civilians and thousands of American and South Korean soldiers and their families. Even though the DPRK would ultimately lose any such war, they would take with them tens if not hundreds of thousands of casualties, and the kind of crisis that essentially has made it unlikely that there would ever be an attack on the north. Add into this the fact that, as yesterday's announcement makes clear, the North has for now achieved some kind of nuclear deterrent, and the security of the Kim regime seems to be secure for the foreseeable future.
This time, it seems clear that the younger Kim is looking for something that has eluded both his grandfather and his father, some sense of international legitimacy. Notwithstanding the fact that the nation has been protected by China, and to a lesser extent by Russia, since the end of the Korean War, the DPRK has had the status of being a pariah state for a long, long time. To a large degree, of course, this is a well-deserved bad reputation given both the internal repression that the regime has engaged in for more than sixty years and the fact that it has openly backed other rogue regimes in nations such as Iran. By making seemingly important concessions as Kim has made over the past several months, Kim has managed to get to the point that neither his father nor his grandfather were able to achieve the kind of international recognition that comes from a meeting with the leader of the most powerful nation on Earth, the President of the United States. The fact that he's been able to do that by giving up very little while appearing to make major concessions is what we really ought to be paying attention to, because I have a feeling that President Trump could very well be walking into a diplomatic trap, not unlike the one that President Kennedy walked into when he met with Nikita Khrushchev in Vienna in 1961.