Trump Accepts Kim's Offer to Meet
North Korea's Dear Leader has baited the President of the United States into a trap.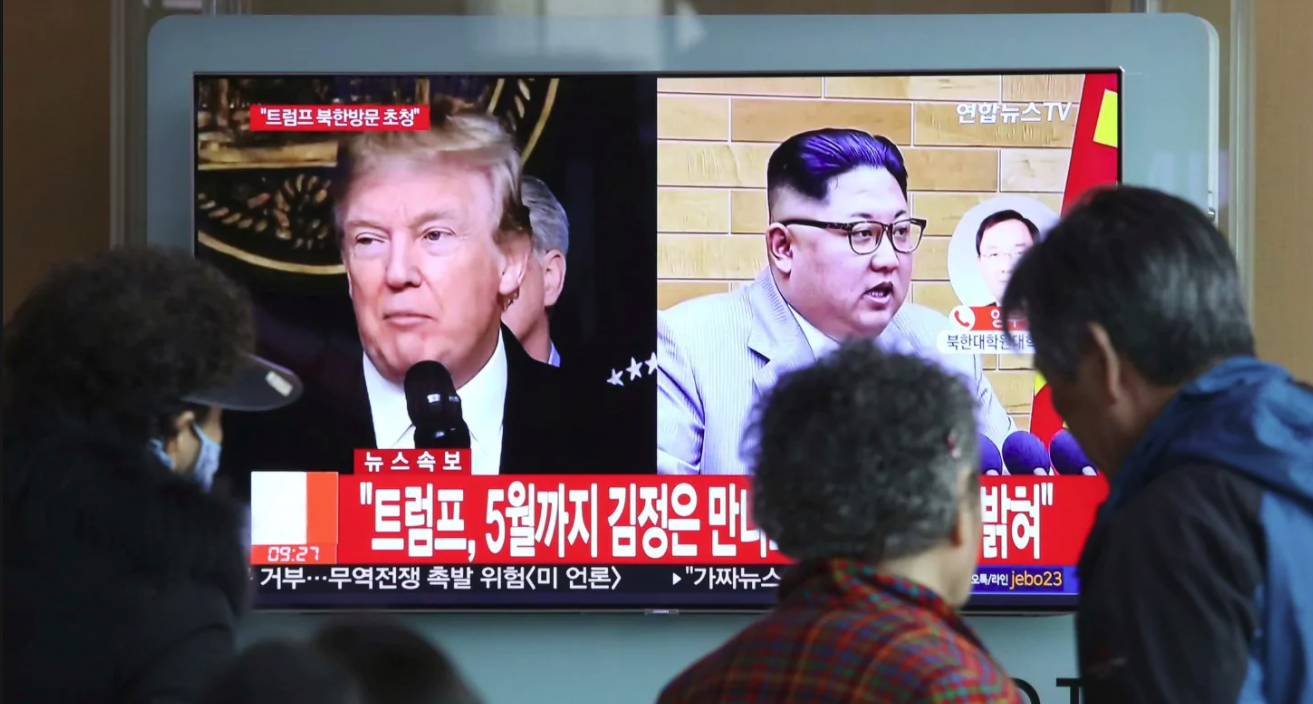 North Korea's Dear Leader has baited the President of the United States into a trap.
NYT ("Trump Accepts Kim Jong-un's Invitation to Discuss North Korean Nuclear Program"):
North Korea's leader, Kim Jong-un, has invited President Trump to meet for negotiations over its nuclear program, an audacious diplomatic overture that would bring together two strong-willed, idiosyncratic leaders who have traded threats of war.

The White House said that Mr. Trump had accepted the invitation, and Chung Eui-yong, a South Korean official who conveyed it, told reporters that the president would meet with Mr. Kim within two months.

"He expressed his eagerness to meet President Trump as soon as possible," Mr. Chung said at the White House on Thursday evening after meeting the president. Mr. Trump, he said, agreed to "meet Kim Jong-un by May to achieve permanent denuclearization."

The president expressed his optimism about the meeting in a post on Twitter, saying that Mr. Kim had "talked about denuclearization with the South Korean Representatives, not just a freeze."

"Also, no missile testing by North Korea during this period of time," Mr. Trump added. "Great progress being made but sanctions will remain until an agreement is reached. Meeting being planned!"

Mr. Chung, whose talks with Mr. Kim on Monday in Pyongyang resulted in the invitation, noted that the North Korean leader said he understood that joint military exercises with the United States and South Korea would go ahead as scheduled after the end of the Paralympic Games this month.

For Mr. Trump, a meeting with Mr. Kim, a leader he has threatened with "fire and fury" and has derided as "Little Rocket Man," is a breathtaking gamble. No sitting American president has ever met a North Korean leader, and Mr. Trump himself has repeatedly vowed that he would not commit the error of his predecessors by being drawn into a protracted negotiation in which North Korea extracted concessions from the United States but held on to key elements of its nuclear program.

Meeting Mr. Kim now, rather than at the end of a negotiation when the United States would presumably have extracted concessions from North Korea, is an enormous gesture by the president. But Mr. Trump and Mr. Kim share a penchant for bold, dramatic moves, and their personal participation in a negotiation could take it in unexpected directions.
That's putting it mildly. Candidate Barack Obama was repeatedly lampooned, by Democratic and Republican opponents alike, for his assertions that he would be willing to meet with the likes of Iran's ayatollah's "without preconditions." Presidents simply don't do that, as it lends the prestige of the office to the opponent while risking colossal embarrassment. While Obama never admitted the mistake—apparently, that's no longer allowed in American politics—he would later explain that "without preconditions" didn't mean "without any preconditions" and that, of course, he wouldn't meet before the outlines of a deal had been negotiated.
Jeffrey Lewis, director of the East Asia Nonproliferation Program for the James Martin Center for Nonproliferation Studies at the Middlebury Institute of International Studies at Monterey, is regarded by most national security professionals as the go-to guy on these issues. He's yet to pen a piece for Foreign Policy, where he writes regularly, but he took to Twitter last night to point out the problem with Trump's move:
North Korea has been seeking a summit with an American president for more than twenty years. It has literally been a top foreign policy goal of Pyongyang since Kim Jong Il invited Bill Clinton

I wonder if Trump's "aides" have explained that to him. Or, if in their toddler-handling, they have led him to believe that this offer is something unusual. Or perhaps he imagines that only he can go Pyongyang.

This is literally how the North Korean film "The Country I Saw" ends. An American President visits Pyongyang, compelled by North Korea's nuclear and missile programs to treat a Kim as an equal.

To be clear — we need to talk to North Korea. But Kim is not inviting Trump so that he can surrender North Korea's weapons. Kim is inviting Trump to demonstrate that his investment in nuclear and missile capabilities has forced the United States to treat him as an equal.
WaPo's Karen DeYoung offers a slightly different take ("Trump's bellicosity secures a diplomatic coup — for now"):
For the moment, at least, it appears to be a clear-cut victory — the biggest foreign policy win of his young administration. President Trump has brought his arch-nemesis, North Korean leader Kim Jong Un, a.k.a. "Little Rocket Man," to the table to negotiate away his nuclear arsenal.

Optimists declared a major breakthrough. Even pessimists acknowledged that Trump's hard line against Pyongyang, after decades of less forceful U.S. effort, played a significant role in moving one of the world's most vexing and threatening problems in a potentially positive direction.

But in the afterglow of the surprise announcement — hinted by Trump in a teasing visit to the White House press room and soon confirmed by South Korea's national security adviser, standing in the West Wing driveway — questions were fast and furious.

Were direct talks between Kim and Trump, two notably volatile leaders who have traded public insults for more than a year, the best way to start what are sure to be complicated negotiations? Was the administration, whose thin bench of experienced experts seems to be growing slimmer by the day, ready to face those wily and untrustworthy North Koreans? The talks, U.S. and South Korean officials said, would take place before the end of May.

By some assessments, this is really a victory for Kim, who for years has sought proof of his status and North Korea's power by dangling the offer of leader-to-leader talks with the United States.

Some analysts said it remains unclear what Trump is prepared to put on the table opposite Kim's apparent offer to stop testing nuclear weapons and ballistic missiles and discuss denuclearization. "Sanctions? Normalization? Peace treaty?" tweeted Victor Cha, the expert who was once Trump's choice as ambassador to South Korea, before he voiced concern that the White House was contemplating a pre-emptive military strike against Pyongyang.

According to a senior administration official, who briefed reporters on the condition of anonymity, the answer is not very much.

There would be no reward for talks themselves, the official said. Trump would expect a dismantled nuclear weapons program, with complete "verification," and "will settle for nothing less."

But "President Trump has a reputation for making deals," the official added. "Kim Jong Un is the one person able to make decisions in their uniquely totalitarian system and so it made sense to accept the invitation with the one person who can make decisions instead of repeating the long slog of the past."

Trump has a vibrant track record of surprise announcements that have distracted attention, at least temporarily, from concern over tariffs and border walls and the growing threat to his presidency posed by the special counsel investigation into Russian interference in the 2016 election.

At the same time, he has claimed a long string of successes over the past 14 months that others have challenged as lacking a strategy for long-term sustainability, from the currently robust economy to the defeat of the Islamic State in Iraq and Syria.

The North Korea gambit may be his highest-wire act of all.

"A Trump-Kim summit is a major diplomatic gamble," tweeted Richard Fontaine, president of the Center for New American Security. "But let's see if it actually comes off. Recall that yesterday, we were set to impose steel tariffs on Canada."

Among experts, there were widely divergent views of what had happened, and why, and what the risks were.

"Beyond the initial shock value of the invitation from Kim Jong Un to Trump," and Trump's acceptance, "I think the real underlying questions are still what are they going to negotiate," said Lisa Collins, a fellow with the Korea Chair at the Center for Strategic and International Studies. "Two months doesn't give working-level officials much time to pull things together."

"It's certainly the start of talks. Whether or not it's a true breakthrough in terms of change in North Korea's calculus, I'm still a little skeptical," she said. "I tend to be more of a pessimist.

Adam Mount, a senior fellow at the Federation of American Scientists, said it was "absolutely right to extend the nuclear and missile test pause" declared by Pyongyang during talks last week with the Seoul government. "It will help repair ties with South Korea and keeps us back from the brink of war."

"Unfortunately," Mount said, "denuclearization is a distant fantasy." The administration "has not equipped itself for success. They have not laid the groundwork for credibility in talks [and] lack leadership with experience in international negotiation. . . . In accepting the invitation outright, Trump has already lost much of his leverage over the terms and agenda of the talks."

The "better play," he said, "is to start by offering a credible plan to stabilize the peninsula and halt nuclear and missile tests sustainably, and then build out to a more ambitious agreement."
The notion that "there would be no reward for the talks themselves" is laughable: the talks themselves are the reward! The administration's desired end state—"a dismantled nuclear weapons program, with complete verification"—is the Holy Grail US administrations have been seeking for the last quarter century. If we can achieve that—and it's admittedly highly unlikely—then legitimating Kim would have been a worthwhile tradeoff. But, again, there's a reason US Presidents don't show up for summits before their team has a deal in place.